When it comes to exploring Chiang Rai temples, I start with a simple mnemonic: "White, black and blue." (If these words mean nothing to you right now, I promise that will soon change!)
To be sure, while things to do in Chiang Rai aren't only limited to temples, I do find that these sacred structures make a good foundation. You can build your entire itinerary on your exploration of them, if you want to!
In order to assist you with this, I'll be listing off some other incredible Chiang Rai attractions once I've finished with the temples. Let's not get ahead of ourselves, however.
Where to Stay in Chiang Rai
Regardless of which Chiang Rai temples end up being your favorites, I recommend staying close to the center of town. This will serve you well, whether you use public transportation in order to access the sacred sites I'm about to mention, arrange a car through your accommodation or use an ordinary taxi (or the Grab application, depending on where you're going) to get around.
As I've mentioned in other posts, my personal favorite Chiang Rai hotels are pretty fixed. I love the chic yet simple Le Patta Chiang Rai, both for its well-equipped guest rooms and lovely pool, and for its delicious daily breakfast. Baan Jaru, meanwhile, offers a decidedly homier feel, though if you're lucky enough to score the "bungalow" it can still have a pretty luxe ambiance.
My Favorite Temples in Chiang Rai
Wat Rong Khun, aka the White Temple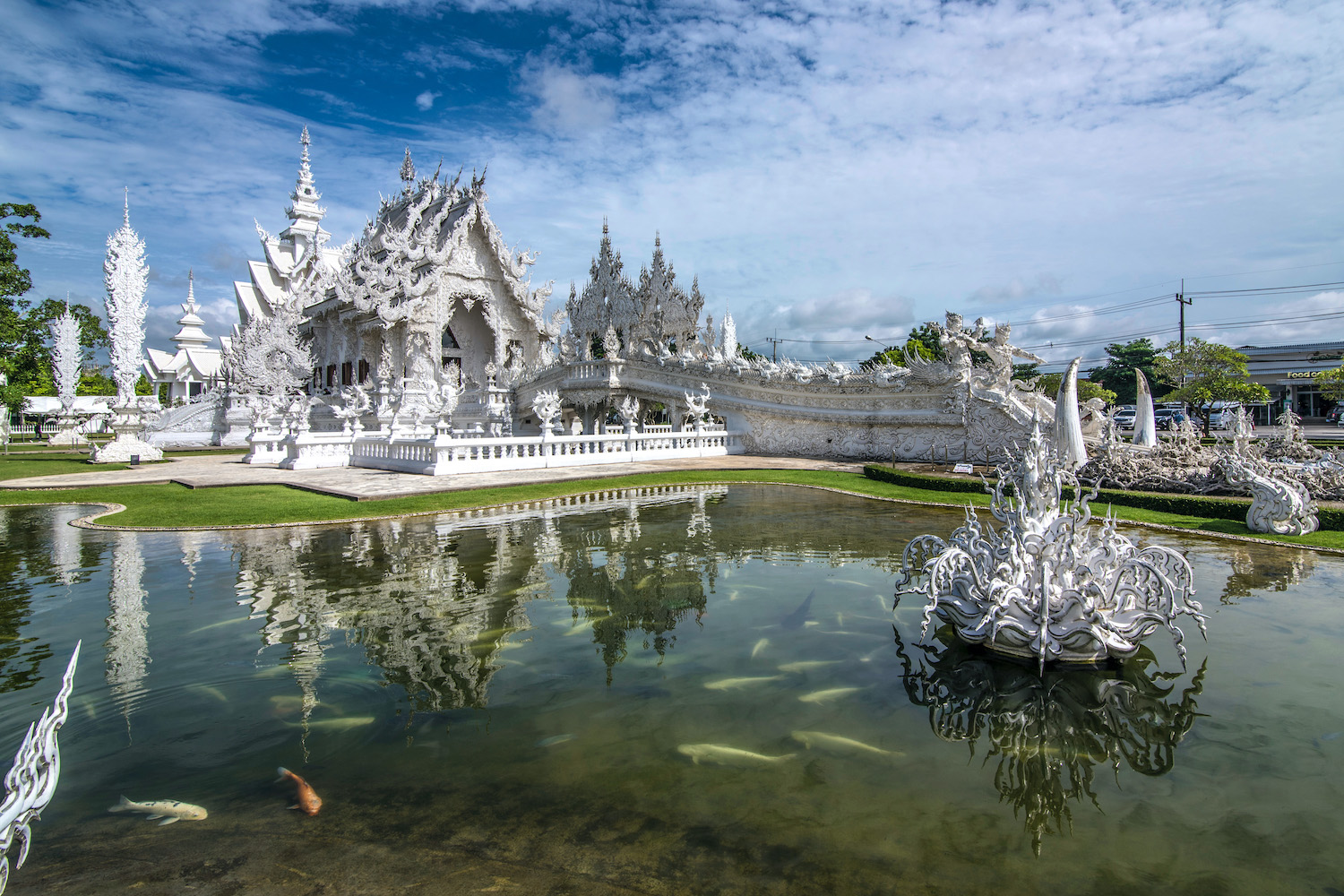 What is the white temple of Chiang Rai made of? Glass and plaster, according to the information I gleaned during my last visit. Regardless of its stunning appearance, Wat Rong Khun is a priceless and strange experience. I recommend getting to this temple, built by eccentric Thai artists Chalermchai in 1997, as early as possible to avoid crowds.
Baan Dam, aka the Black House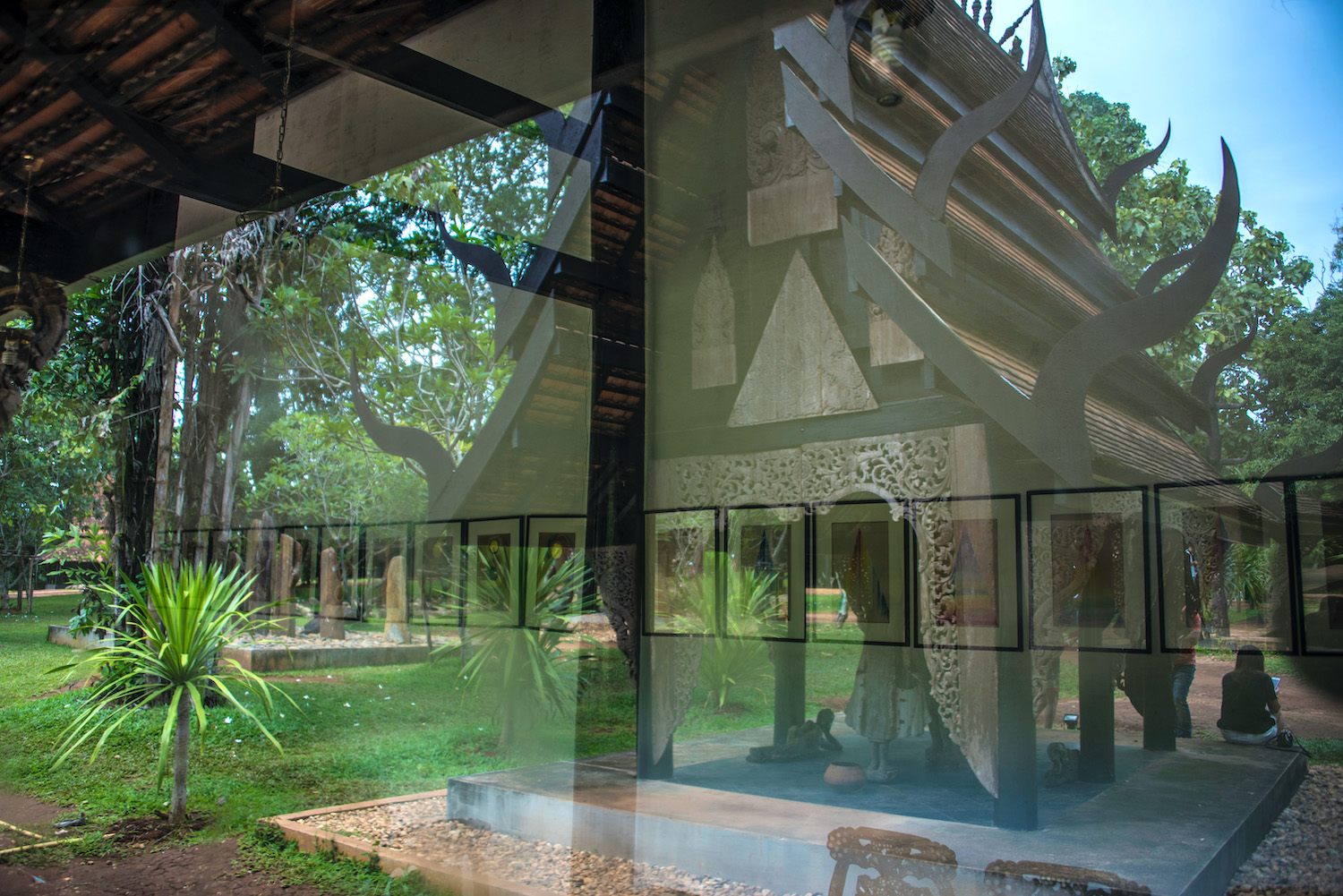 Continue your tour of Chiang Rai temples by heading from the white temple (which is south of the city) to the Black House, which is north. You can get here via public transport, but it's easiest to get a taxi to Baan Dam, the brainchild of modern artist Thawan Duchanee and some of his proteges. Black houses, more accurately—there are more than a dozen structures here.
Wat Rong Suea Tan, aka the Blue Temple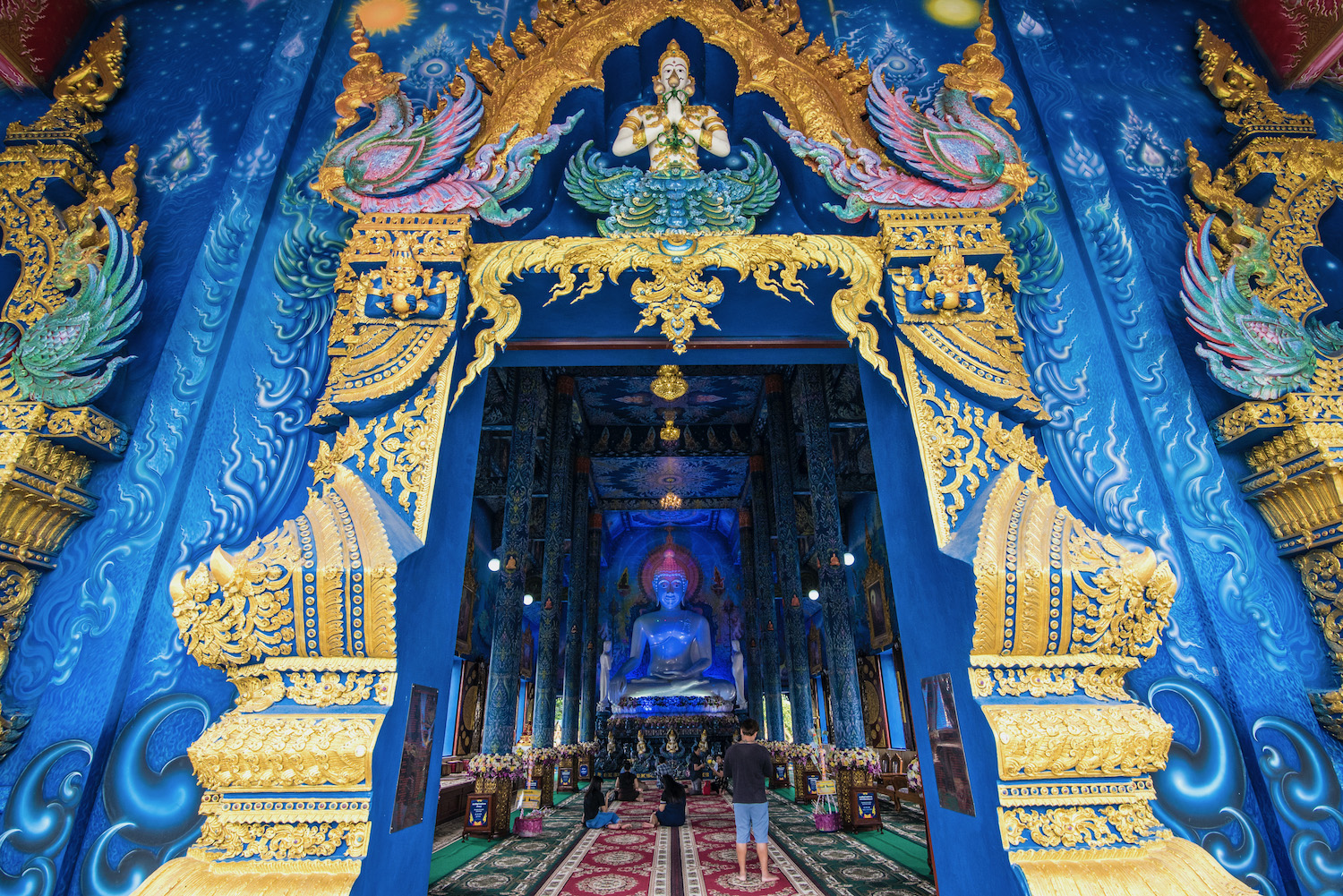 It's only a short ride south from the Black House to the Blue Temple of Wat Rong Suea Tan. What is Chiang Rai known for? The cobalt interior of this temple and its translucent blue Buddha, for one. TIP: After you finish exploring the blue temple, make the short walk to Chivit Thamma Da, a riverside cafe that's one of my favorite luxe lunch experiences in Thailand.
Wat Huay Pla Kang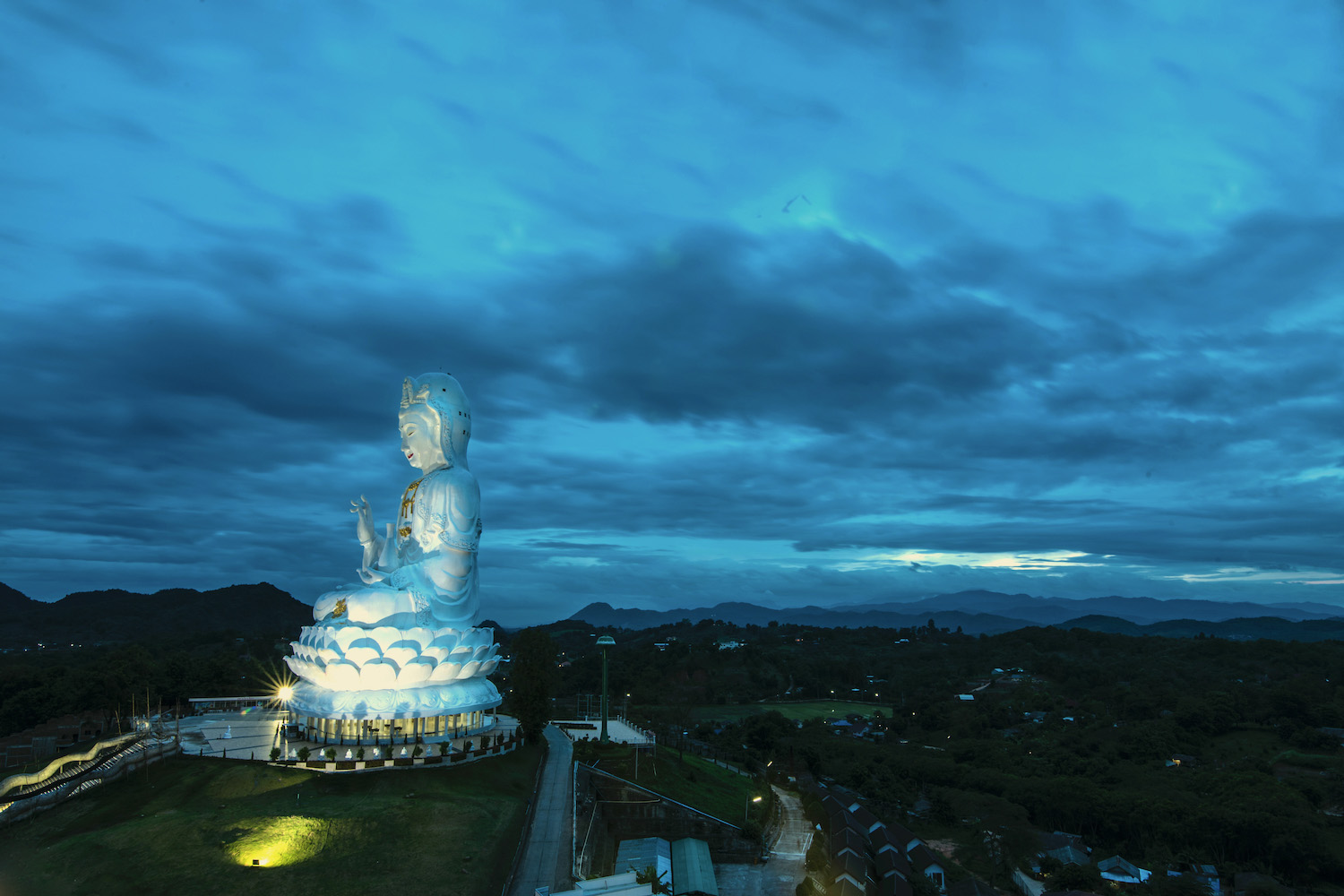 The only example of Chiang Rai temples (at least in this section of the piece) that's far outside the immediate city center, Wat Huay Pla Kang requires a taxi or Grab ride ride of about 20 minutes one-way. For your efforts, you'll be rewarded with the majesty of a massive Guan Yin statue amid rolling mountains, both of which are best viewed from the pagoda next door.
Wat Jet Yod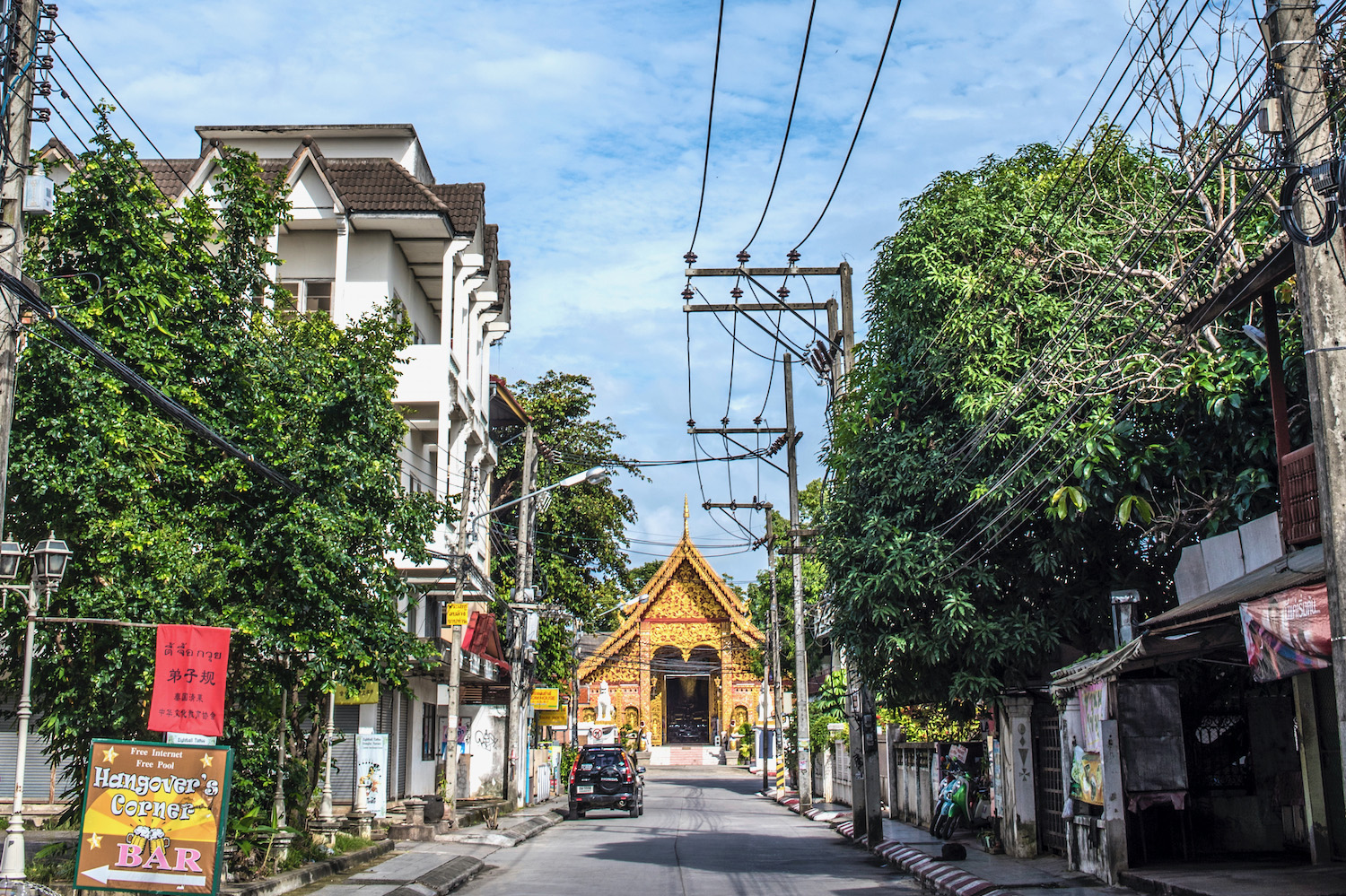 How long should I spend in Chiang Rai? 2-3 days is fine for most travelers, with the lower end being more appropriate for those to stay within the city center. Speaking of the city center, the unassuming Lanna-style Wat Jet Yod is walking distance from many of the Chiang Rai hotels I recommended a few paragraphs up; it's arguably the most "central" of all these temples!
Temples in the Golden Triangle
When you venture into Thailand's Golden Triangle, you aren't just going for the architecture. Whether because of the idyllic Mekong River scenery or the Burmese and Lao culture accents, this is one of Thailand's richest regions. On the other hand, there are outstanding temples here, including Wat Phrathat Doi Wao in Mae Sai and Wat Prathat Du Khao, which you can reach by walking about 15 minutes from the Saam Liam Trong Kham monument.
The contrast of temples in the Golden Triangle with Chiang Rai temples in the city center is dramatic but not jarring. Unless you are only constrained to a day or two in Chiang Rai, I wouldn't recommend a visit to the city without a day trip to the Golden Triangle. To me, these are sister destinations, which perfectly reinforce one another.
Other Chiang Rai Attractions
The good news? I've written a detailed Chiang Rai itinerary, which you can see here. The better news? I'll summarize it below, in case you're too lazy to click it:
The "White, Black and Blue" temples
Chiang Rai Clock Tower
Coffee farms like Doi Chaang
Chiang Rai Night Bazaar
Other FAQ About Chiang Rai Temples
What is the White Temple in Chiang Rai called?
The White Temple, which is probably the most famous of all the Chiang Rai temples, is officially called Wat Rong Khun or วัดร่องขุ่น in Thai.
What is Chiang Rai white temple made of?
The White Temple, which is the best known among all temples in Chiang Rai, is primarily made of plaster, although some part of the structure are made of glass and wood.
How old is the white temple?
The White Temple was built in 1997, if you can believe it—it seems more ancient than this. If we're being technical, however, rather than being a temple, Chiang Rai famous attraction "the white temple" is actually more of an architecture museum.
The Bottom Line
Chiang Rai temples aren't the only thing to do in this underrated northern city, but they can (and should) form the basis of your trip. Once you finish explore Chiang Rai-proper, temples and otherwise, move on to the Golden Triangle, which is one of the most enchanting regions in all of Southeast Asia. Want to make sure your Thailand trip is one for the record books, in Chiang Rai and elsewhere in the Kingdom? Commission a custom Thailand itinerary—and let me sweat the details!