When it comes to the best Thai food, I have good news and I have bad news.
The good news? After having lived in Thailand for more than two years on several separate occasions, I've curated a list of dishes (and places to eat them!) that far exceeds the Khao San Road Pad Thai you've probably already downed several times.
The bad news? Although I consider myself very knowledgeable about what to eat in Thailand, this list—and my knowledge—is ever-evolving. You might just have to return to Thailand a dozen times to eat everything. Tragic, I know!
Debunking Myths About Thai Food
Is all Thai food spicy? No, and as someone with a high tolerance for heat, that is disappointing to me. But only slightly, as I truly enjoy the broad spectrum of flavors Thai food spans. Indeed, this is just one misconception many people have about Thai food (to say nothing about how many dishes in Thai restaurants throughout Europe and the Americans, and even within Asia, are not ones you would ever see at a restaurant in Bangkok, Chiang Mai or Phuket).
Another wrong idea people have when it comes to authentic Thai cuisine is that "real" Thai food is somehow inaccessible, or requires you to visit obscure stalls in remote (and even dirty) street food markets in order to taste it. In fact, some of the most delicious and affordable Thai food can be found in mall food courts in major Thai cities. These hidden treasures balance the home-cooked flavor of street food stalls with the sanitation (and air conditioning!) of modern shopping centers!
The Best Thai Food (Besides Pad Thai)
Jok (โจ๊ก) – Thai-style congee
During the most recent time I lived in Bangkok, I loved visiting the Jok stall of a friendly woman off Thanon Suan Phlu. She was a bit fickle—I could never be sure whether or not she'd actually be there—but she had the best stuff in town; it was maybe my favorite neighborhood breakfast. In particular, I love how she'd break a raw egg into the hot pork-based rice porridge, which would slowly cook it as I ate its ginger-spiced goodness.
Khaaw Man Gai (ข้าวมันไก่) – Hainanese chicken rice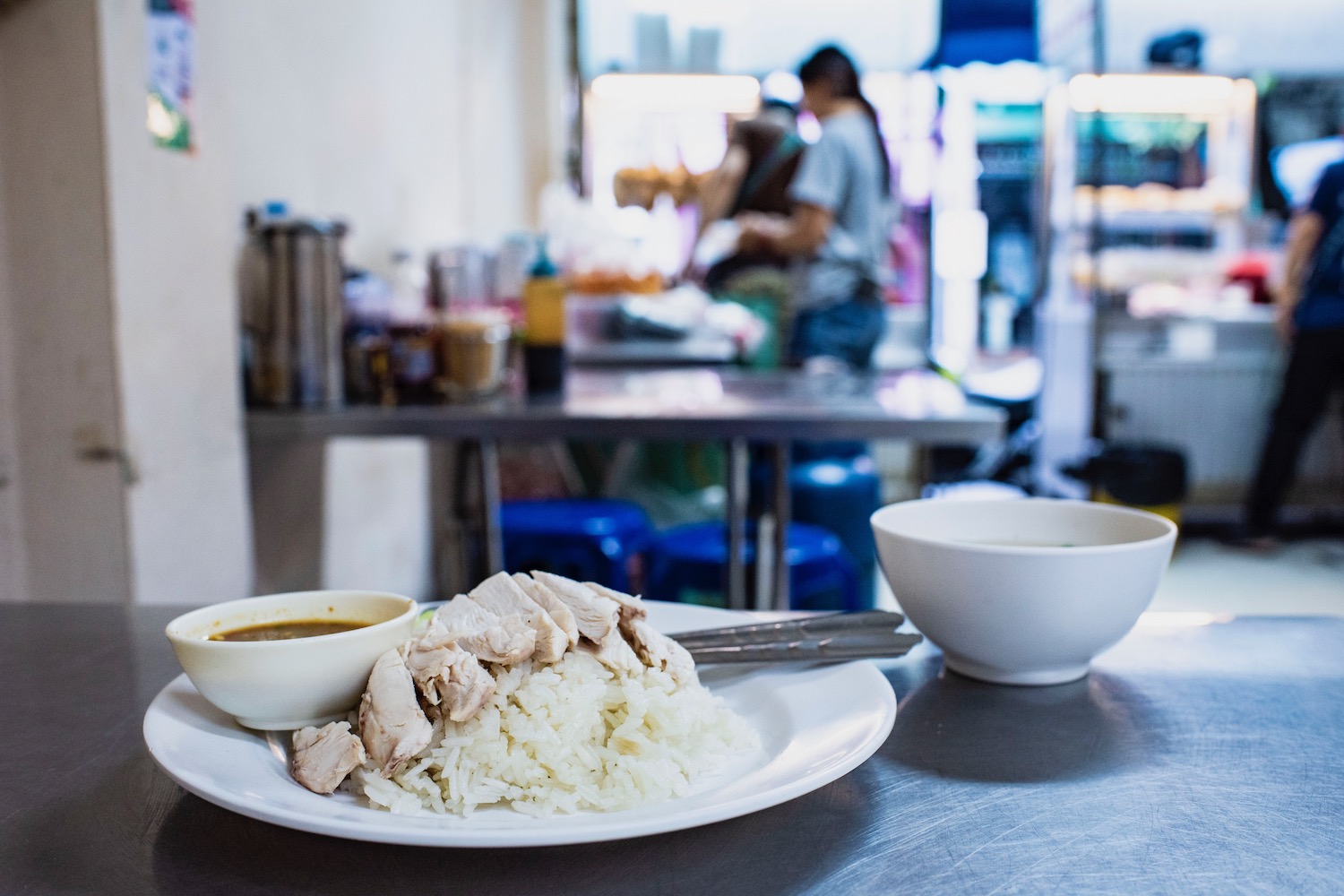 Another contender for best Thai breakfast (at least nearby where I used to live) is Khaaw Man Gai, or Hainanese chicken rice. While every country in Southeast Asia claims this as their own, I'm partial to the Thai version. It's typically served with a spicy dipping sauce (Nam jim jaew), although the real highlight is the greasy juices of the chicken (man), which drip into the rice, flavoring it. Alternatively, choose Khaaw Man Gai Thood, which is fried.
Khaaw Mook Gai (ข้าวหมกไก่) – Thai-style chicken biryani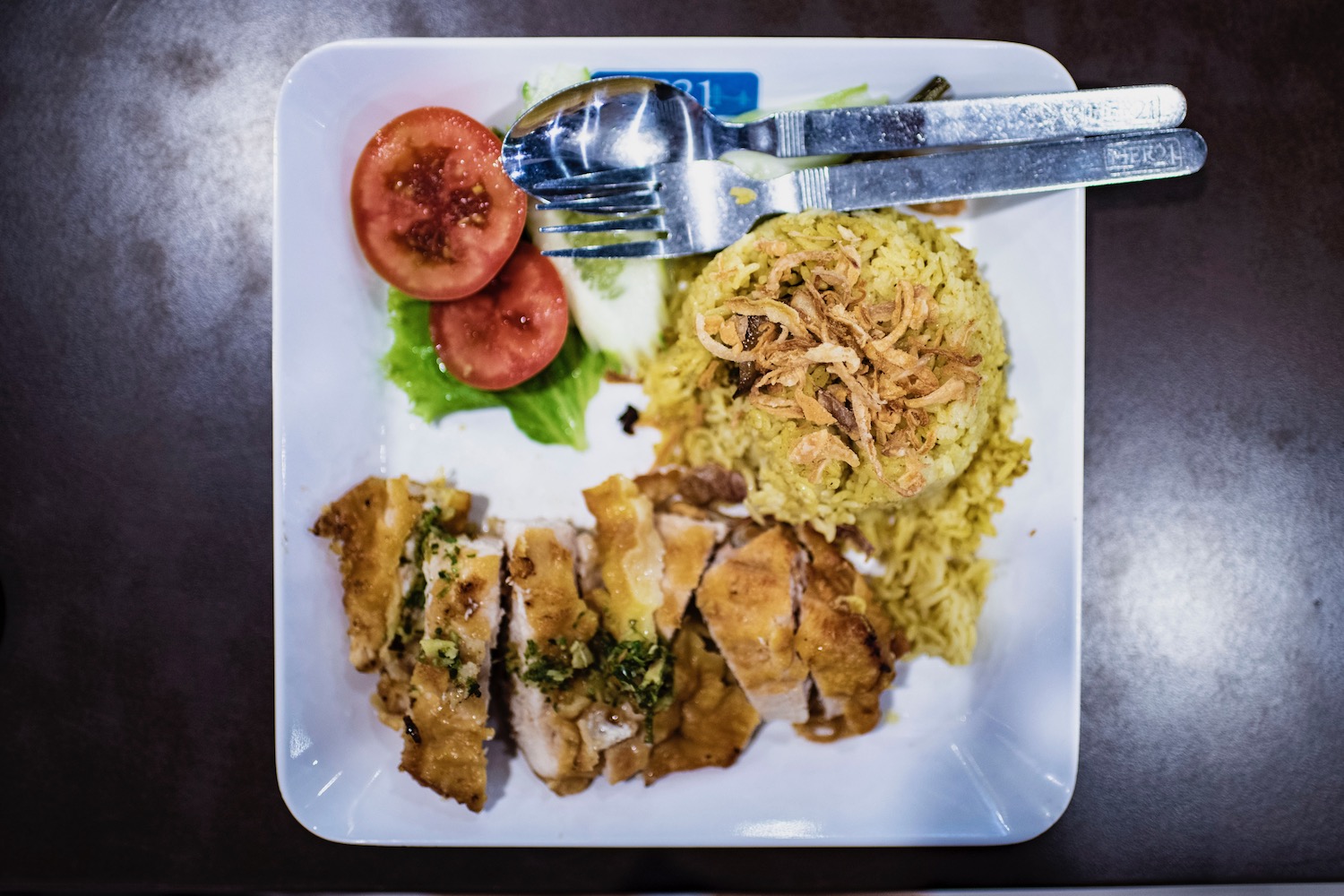 Interested in discovering Thai Muslim food? Whether within Bangkok food courts (more on those in a second) or in the South (I once walked 2 km in Koh Samui to find some!), this Thai-style chicken biryani has a delicious, delicate flavor, particularly if yours (and the fried onions that top it) is fresh-made! Coming back to the question of food courts, my favorite place in Bangkok to enjoy Khaaw Mook Gai is at Terminal 21 Mall, near Asok station.
Som Tam (ส้มตำ) – Thai-style papaya salad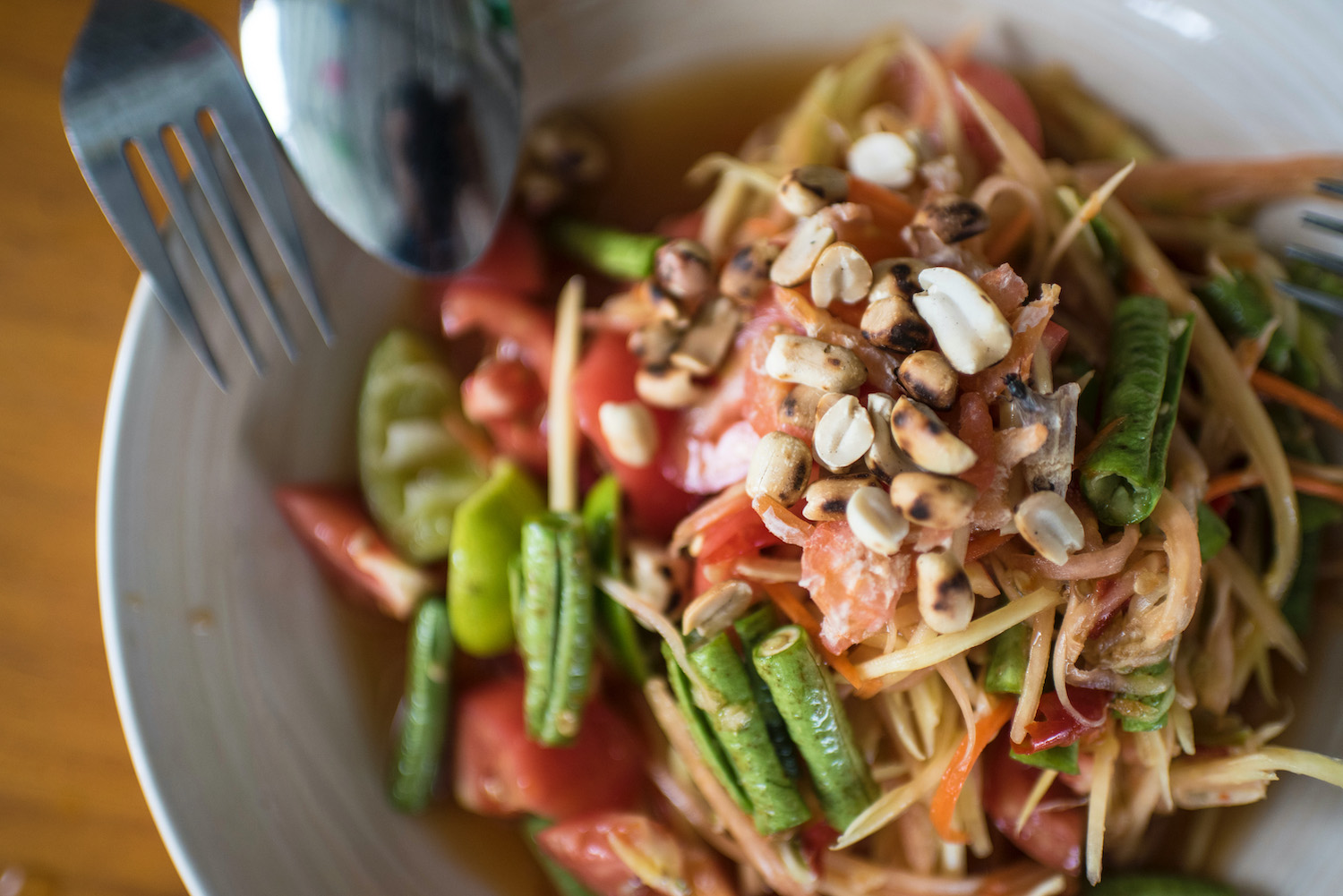 If, on the other hand, you're on the hunt typical Isaan food, there is no more representative dish than spicy Som Tam papaya salad, especially served with khaaw niaw (sticky rice) and gai yang (grilled chicken). Not able to travel to Ubon Ratchathani, Udon Thani or any other city in Thailand's rough-and-tumble northeast? You can find this dish on most any street anywhere in the country—the best som tam in Bangkok is usually at one of these places—and even at many fine Thai restaurants.
Pad Grapraw Gai (ผัดกระเพราไก่) – Stir-fried chicken with holy basil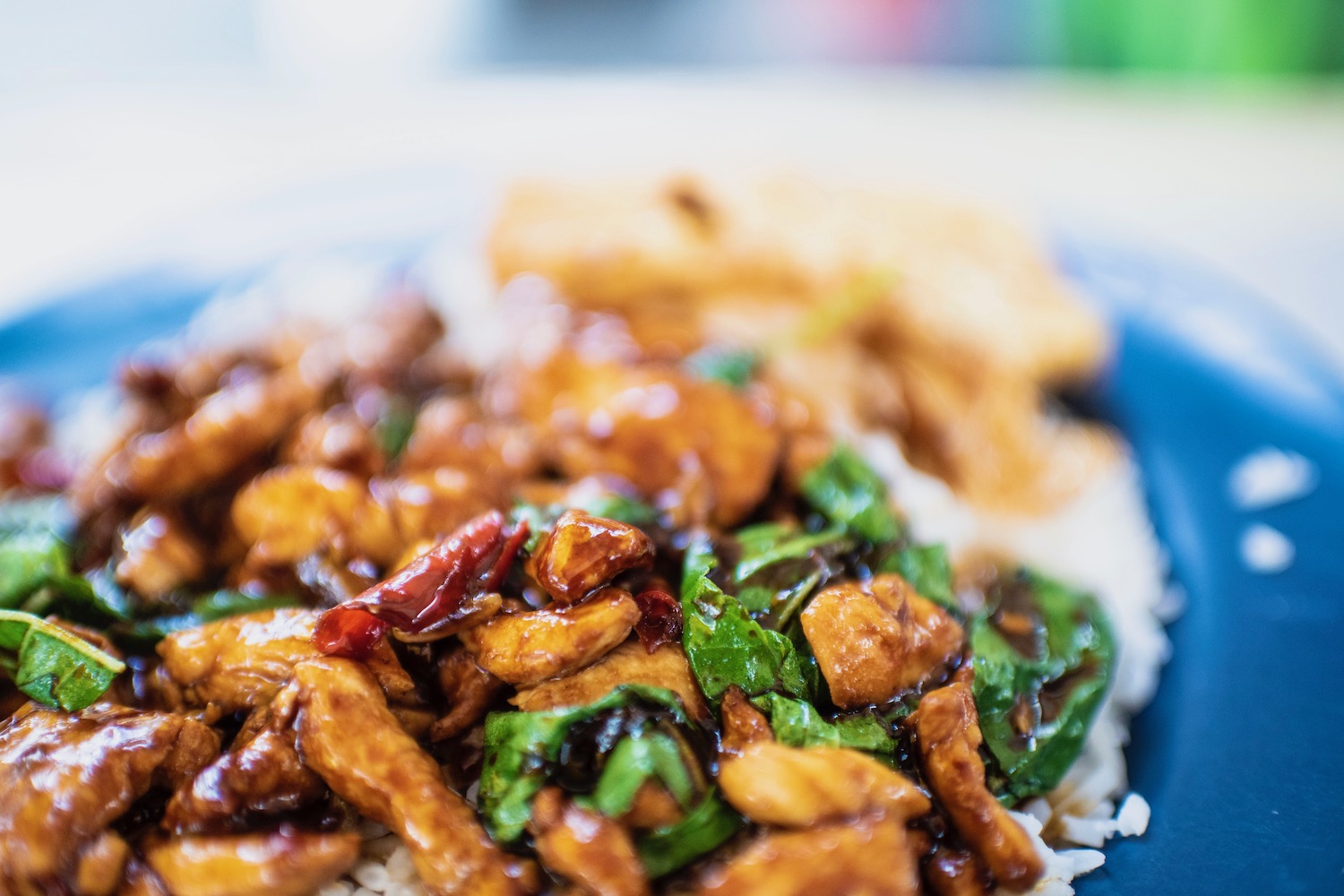 Pad Grapraw Gai is probably my favorite Thai stir fry, hands-down. This is one I definitely prefer to have on the streets, however—and not just because they'll really take to heart your "phet dai" (spicy, please!) declaration. The secret to a great ga pow gai (Thais often don't fully or properly pronounce words) is a fried egg (kai daaw) on top. In Bangkok, I love the yellow-tarped stall just outside BNH Hospital on Soi Convent!
Miang Kham (เมี่ยงคำ) – Shared appetizer plate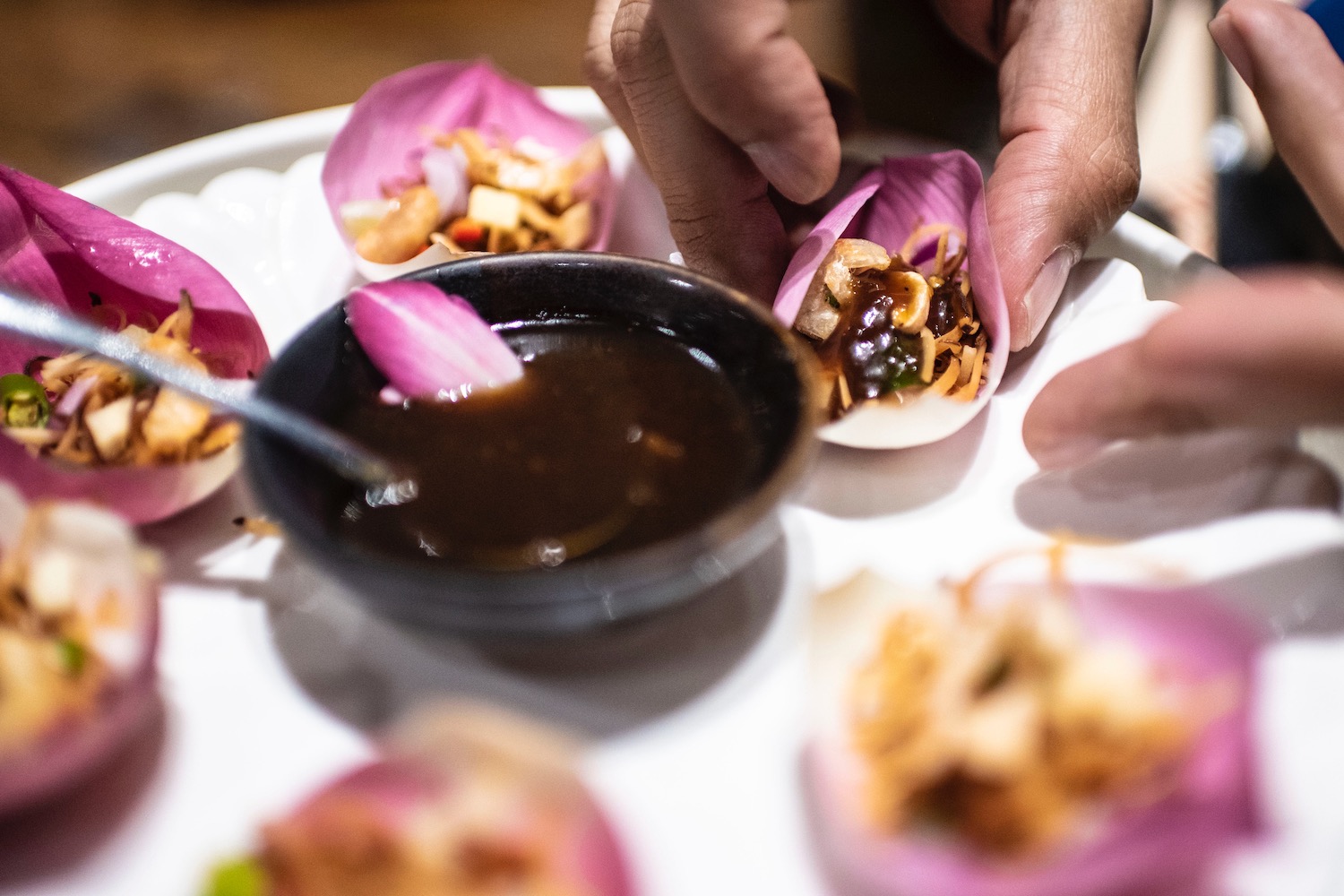 Although it's not necessarily (only) a fixture of fine Thai cuisine, I do tend to see Miang Kham served as an appetizer before a sit-down Thai meal in air conditioner, as opposed to on the streets. As far as what you wrap up in the leaves (which are traditionally betel leaves, although I'm partial to the beautiful lotus petals Chili restaurant in Siam Paragon uses) that varies, though some staples include roasted coconut shavings, shallots or chilis.
Khaaw Niaw Ma Muang (ข้าวเหนียวมะม่วง) – Mango with Sticky Rice
The king of Thai desserts, mango with sticky rice is something I try not to indulge in very often. Part of this is due to price: While local stalls will serve this sweet-and-sticky treat for 20 or 30 Baht, you can easily pay as much as 200 in more touristic places. At any rate, wherever you do decide to eat Khaaw Niaw Ma Muang and whatever the price point, make sure it's topped with plenty of gati (coconut milk) and also some toasted coconut pieces, if possible.
Amazing Food Cities in Thailand
Where can you find the best food in Thailand? Apart from Bangkok, which as Thailand's capital boasts a great cross section of Thailand's culinary culture, here are some of my other favorite cities for eating in Thailand:
Chiang Mai
Chiang Rai
Ubon Ratchathani
Sukhothai
Phuket Town
Want to know the specific places to find the best regional food in Thailand, be it delicate northern Thai cuisine, or mouth-on-fire curries in the spicy south?
Commission a custom Thailand itinerary!
What About Fine Dining in Thailand?
I'll be honest: Most of the best dishes I've ever eaten in Thailand have cost less than 100 Baht. Within this being said, I won't completely write off nice restaurants in Bangkok, or the idea of fine dining in Thailand as a whole. On the other hand, given how much great Thai food is also very cheap, I generally reserve the largest part of my dining budget in Bangkok (and throughout Thailand, for that matter) for foreign food. Sometimes, you just need a good burrito (or even an amazing burger—they're surprisingly hard to find, given the questionable quality of beef in Thailand!).
When it comes to "nice" examples of where to eat in Thailand, most of the notable ones are located in the capital. If you're sightseeing in the old city of Rattanakosin, for example, I'd recommend taking a boat over to Thonburi, where Supatra River House has been a favorite riverside lunch and dinner spot of mine for years. Back in the new city, I personally love the set lunch options on offer at Celadon, which is located within the Sukhothai Hotel on Sathorn Road.
FAQ About Thai Food
What is the most popular Thai food?
Pad Thai noodles are probably the most popular and ubiquitous Thai dish around the world. Other contenders are Gaeng Kiaw Wan Gai (green curry with chicken) or Cha Thai Yen (Thai iced tea with milk).
Why is Thai food so popular?
Thai food is popular for three main reasons: A) A complex flavor palette that includes spicy, sour, sweet and salty tastes; B) Availability in cities and countries all around the world; and C) The semblance of being more "exotic" than other Asian foods, such as Chinese and Japanese.
Is Thai food health or unhealthy?
Many people perceive Thai food as being inherently healthy, but this is not necessarily the case. Popular Thai dishes like Pad Thai are fried in oil, while many Thai entrees and desserts are made with coconut milk, which is high in fat and sugar content.
The Bottom Line
Although you could argue that the best Thai food is whatever is local and fresh, I've made some more specific recommendations. Whether you stay in Bangkok or travel northward and southward to the origins of my favorite Thai dishes, I've recommended a wide range of Thai culinary adventures, from the spicy som tam papaya salad of Isaan, to the Thai-style chicken biryani breakfasts you're likely to enjoy at  food stalls in Thailand's largely Islamic south. Want to take a Thailand food trip that doesn't leave a single delicious stone un-turned? Commission a custom Thailand itinerary—I'll sweat the details while you sweat from the heat of chili peppers!