Khao San Road wasn't the first place I ever stayed in Bangkok, but I did spend a couple of nights there on my first trip to Thailand. I'd just come back from Cambodia with an American couple I'd met there, who encouraged me to book a hostel there, rather than heading back in Bangkok's modern core as I'd planned to do.
"It's awesome," they'd insisted, citing buckets of beers, cheap Pad Thai and banana roti and the sheer number of other 20-something foreigners around. Although I did follow in their footsteps, I've never stayed at Khao San Road since, even though I've returned to Bangkok literally dozens of times since then.
So, is Khao San Road worth visiting? Well, it depends how you define "visit," and what you expect to experience when you do.
Khao San Road Isn't Awful, But…
I can't lie: There are some things that make Khao San Road worth visiting, and maybe even worth choosing as your base under some circumstances. When I stay there in 2010, for example, I was able to book a surprisingly authentic place, which was housed within an old teak house just steps from the chaos and neon lights. Moreover, I took advantage of Khao San's location near the old city of Rattanakosin—I still chalk my sixth-sense knowledge of this district up to "getting lost" there over a decade ago.
Nor can I attack people who do love Khao Sao Road for the reasons I hate it. Who am I say to say that it isn't valid to spend your few days in Bangkok split between a dive bar and a massage parlor, or seeing more white people than you would on a normal day in your home country? In all cases, a trip to Khao San Road (or a stay there) requires mindfulness and awareness above all.
Pros and Cons Staying at Khao San Road
Pro: Convenience to Bangkok's Old City
If you look at a map of Bangkok, you'll realize Khao San Road is less than 20 minutes by foot from many major tourist attractions, including the Grand Palace, Sao Ching Cha (Giant Swing) and Wat Saket (Golden Mountain). It's also surprisingly close to many off-the-beaten path local neighborhoods—the streets around Koh San Road are extremely local and anything but touristy.
Con: Lack of public transport
Most people who find Khao San overrated dislike it because of reasons directly related to the experience of being there. For me, however, its impracticality is a huge factor. You can't reach Khao San Road using any of Bangkok's rail systems; you can only go via taxi (whose driver will usually scam you), unless you are comfortable taking a river boat or local bus—most tourists are not.
Pro: Cheap accommodation, food and drink
On the other hand, there is an extremely practical element of staying at Khao Sao Road. Namely, that there are plenty of affordable hotels, hostels and guest houses where you can sleep, and just as many restaurants and bars where you can eat or drink during your waking hours. While not especially adventurous or authentic, staying in Khao San will leave you well-rested and well-fed, albeit maybe a bit hungover.
Con: Sleazy people everywhere
I can't lie: The people (mostly foreigners, with some Thais added in for good measures) is most of what maakes Khao San terrible. While I don't want to draw conclusions about what inspires some people to visit Khao San Road, the reality is that when cheapness is the primary draw of a place, it will attract cheap people. Additionally, Khao San is something of a sex tourism hub, so expect plenty of creeps (and hookers).
Pro: Seeing it for yourself
At the end of the day, you shouldn't take my word for Khao San Road, or for anything else about Bangkok or Thailand, for that matter. In this way, the main advantage of visiting Khao San is that you can see it for yourself. That way, any opinion you end up adopting after the fact is entirely your own, even if you end up strongly disagreeing with me. (If you do, by the way, I invite you to tell me in a comment below.)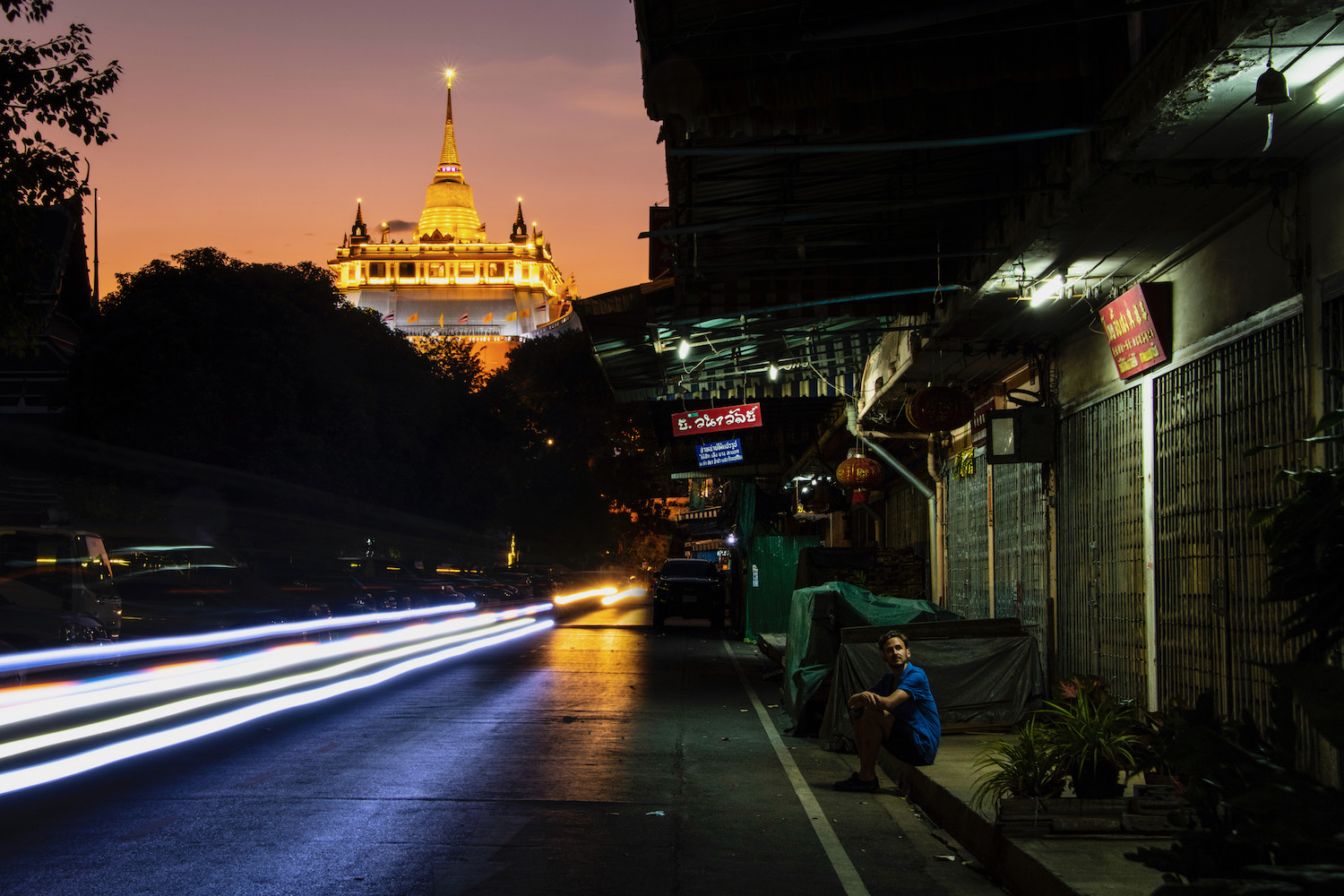 Alternatives to Khao San Road
Want to stay somewhere with backpacker prices, but without Khao San Road's seedy ambiance? Or simply want to stay close to the Old City, but not here? These are some great alternatives to Khao San Road:
Chinatown/Yaowarat: Located just south of Rattanakosin, Bangkok's Chinatown is home to some of the city's best food, not to mention several MRT stations
Phaya Thai: While you don't have to stay in a hostel to make this central district worth it, cheap accommodation does sweeten the deal of a great location at the terminus of the Airport Rail Link
Asok: The bad news? Soi Cowboy is no less sleazy than Khao San's seediest stretches. The good news? Bangkok's Asok intersection is more convenient than Khao San, if you want the sleaze without the long taxi ride
Get personalized answers to your most pressing Thailand questions, and not just those related to Khao San Road, when you
hire me to plan your trip
.
Other FAQ About Khao San Road
Why is Khao San Road famous?
Khao San Road is famous because for decades, it's been Bangkok's premier backpacker hub. Secondarily, many travelers who visit Thailand in search of sleazy and seediness know that Khao San is a great place to find it. These facts are also part of why Khao San's detractors hate it.
How do I get to Khao San Road?
Khao San Road is not one of Bangkok's most accessible districts, in spite of being its most popular. From either Bangkok airport, you'll really need to take a taxi or bus, as is necessary from Hua Lamphong or Bang Sue railway stations. In reality, the only public transport that reaches Khao San are public boats along the Chao Phraya River which are easy to use, but intimidate most foreign tourists.
What is there to do in Khao San Road at night?
Khao San Road is one of Bangkok's most active nightlife areas, with dozens of bars and clubs available on the main drag alone. If this isn't enough for you, various bars and restaurants have also popped up in nearby, including near tourist attractions such as Sao Ching Cha (Giant Swing) and Wat Saket (Golden Mountain).
The Bottom Line
Is Khao San Road worth visiting? I'd definitely suggest seeing it with your own eyes, though I probably wouldn't recommend sleeping there. Well, unless you simply plan to leverage its convenience to destinations within Bangkok's old city—then, it might make sense. However, many foreigners use Khao San Road as a crutch: To be in Thailand, ostensibly, but in a version of Thailand that serves mostly to embody unfair clichés about the Kingdom and its people. Want more sage advice before booking your own trip around Thailand? Commission a custom itinerary today!