For a less nimble blogger, creating a Bangkok travel guide would be a difficult task, maybe even an unruly one. It's easy for me, however, given that I've lived there on three separate occasions, to say nothing of my dozens of trips before, between and after those residential stints.
Intellectually, I approach my recommendations Bangkok attractions, day trips and restaurants from the standpoint of a quasi-local. On the other hand, I present and organize my suggestions in a way that reflects the time sensitivity necessary for your trip, which will almost certainly be a short one.
Although I'll stop short of presenting a complete Bangkok itinerary, it will be easy for you to read between the lies of this post and create one. No matter what type of traveler you are, and whether you're looking for things to do in Bangkok for three days or otherwise, Bangkok starts here.
Where to Stay in Bangkok
I've written a complete article about where to stay in Bangkok, but if you don't feel like reading it, I'll recommend a couple of areas and hotels convenient to my Bangkok travel guide here. In my more detailed article, I outline that you have two basic choices about where to base yourself in Bangkok: The Old City and the New City. (There are subdivisions within both of these, but I won't go into them for a few more paragraphs.)
If you want to stay in the Old City (in particular on Rattanakosin island, on the east bank of the Chao Phraya), I recommend either the luxurious Chakrabongse Villas, or the simpler (but adjacent) Riva Arun. The best Bangkok hotels in the New City, meanwhile, range anywhere from the spartan Diamond City Hotel not far from the airport rail link, to the Eastin Grand Hotel in Sathorn, to the ultra-luxurious Rosewood Bangkok.
My Favorite Things to Do in Bangkok
Dig Deep into Bangkok's Old Citi(es)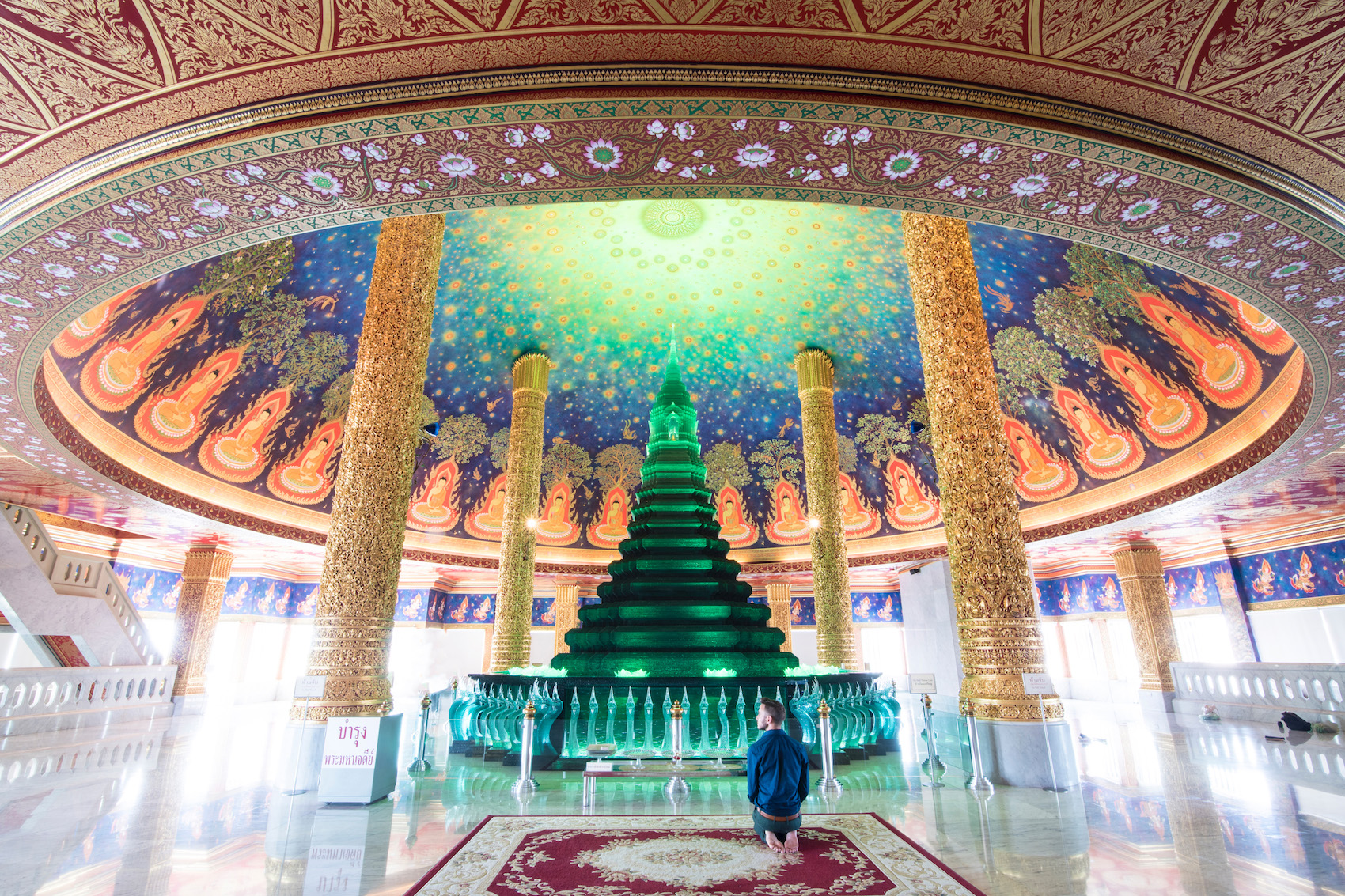 Searching for the best temples in Bangkok? Famous ones include Wat Pho (Temple of the Reclining Buddha) and Wat Arun (Temple of Dawn), in Rattanakosin and Thonburi, respectively. Lesser-known temples and shrines I also love include the Wat Pak Nam "space temple" deeper into Thonburi, Erawan Shrine just across from CentralWorld Mall in Ratchadamri and Wat Saket, aka the "Golden Mountain," from which you can get one of Bangkok's most enchanting sunset views. The Grand Palace, meanwhile, is home to Wat Phra Kaew, the Temple of the Emerald Buddha.
Devote a Full Evening to Chinatown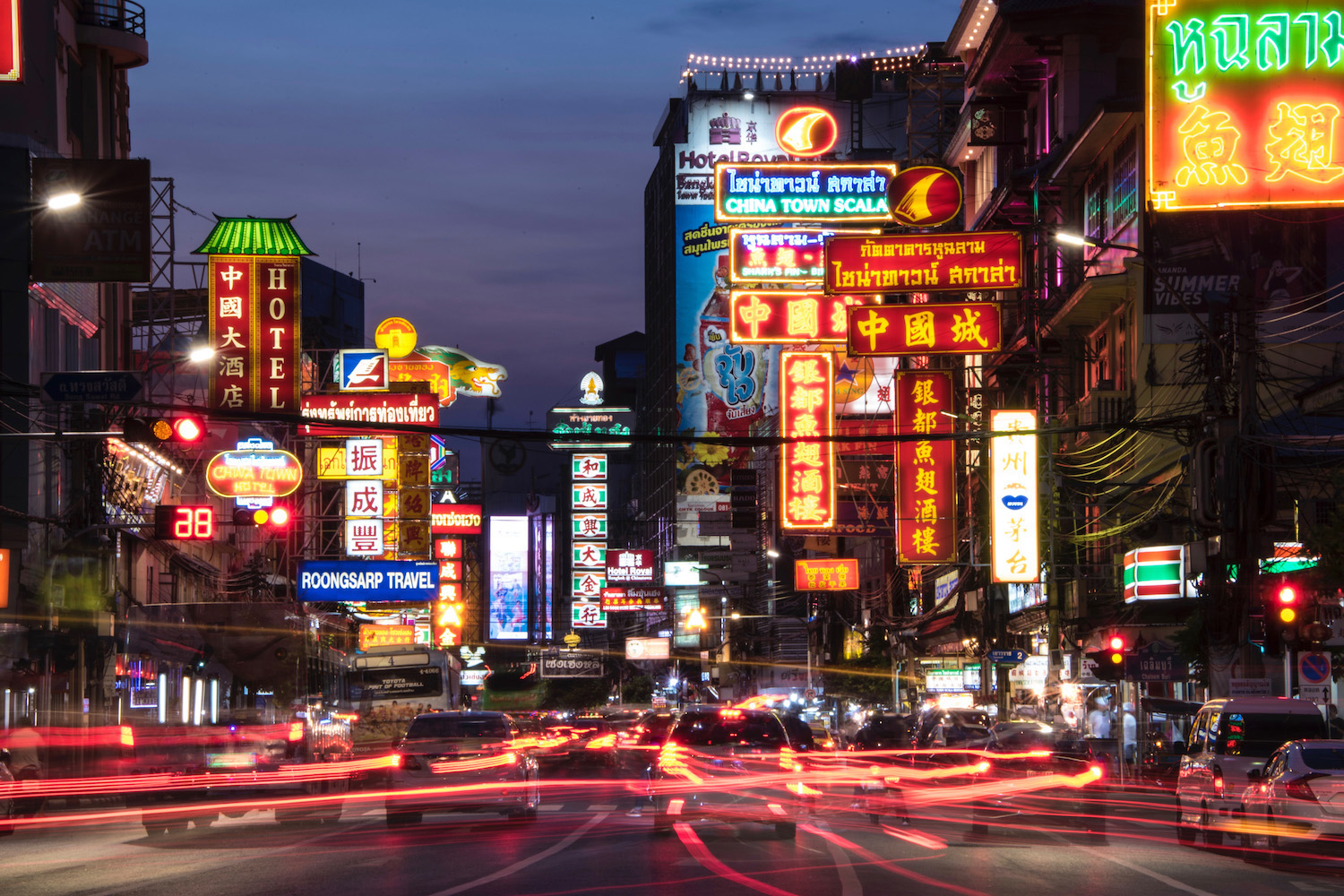 Whether you dine at Bangkok Chinatown restaurants like the understated dim sum joint Canton House, or brave the somewhat chaotic street food scene, Yaowarat is a logical place to continue exploring Bangkok once the sun has set on the old city. Hop in a tuk-tuk and head down to this exciting part of town, whether you have a cocktail at one of the many shophouses converted into gin bars, say your prayers at the magnificent Wat Traimit marble temple or practice your long exposure photography skills in front of the Chinatown Gate.
Embrace Your Inner Shopaholic
Earlier I mentioned CentralWorld, which is one of almost countless malls along Rama I and Sukhumvit Roads in the heart of Bangkok. To be sure, whether you visit relatively basic malls like MBK Center near National Stadium, classics like Siam Paragon and Terminal 21, or upscale retail establishments like Central Embassy and Phrom Pong area's Emquartier, shopping is one of the most accessible things to do in Bangkok. It's also a very practical choice to make, given that the free AC you enjoy inside malls saves you from the city's unrelenting heat! No matter how many days in Bangkok you decide to spend, you'll want to enjoy some retail therapy.
(And Your Inner Foodie—Duh!)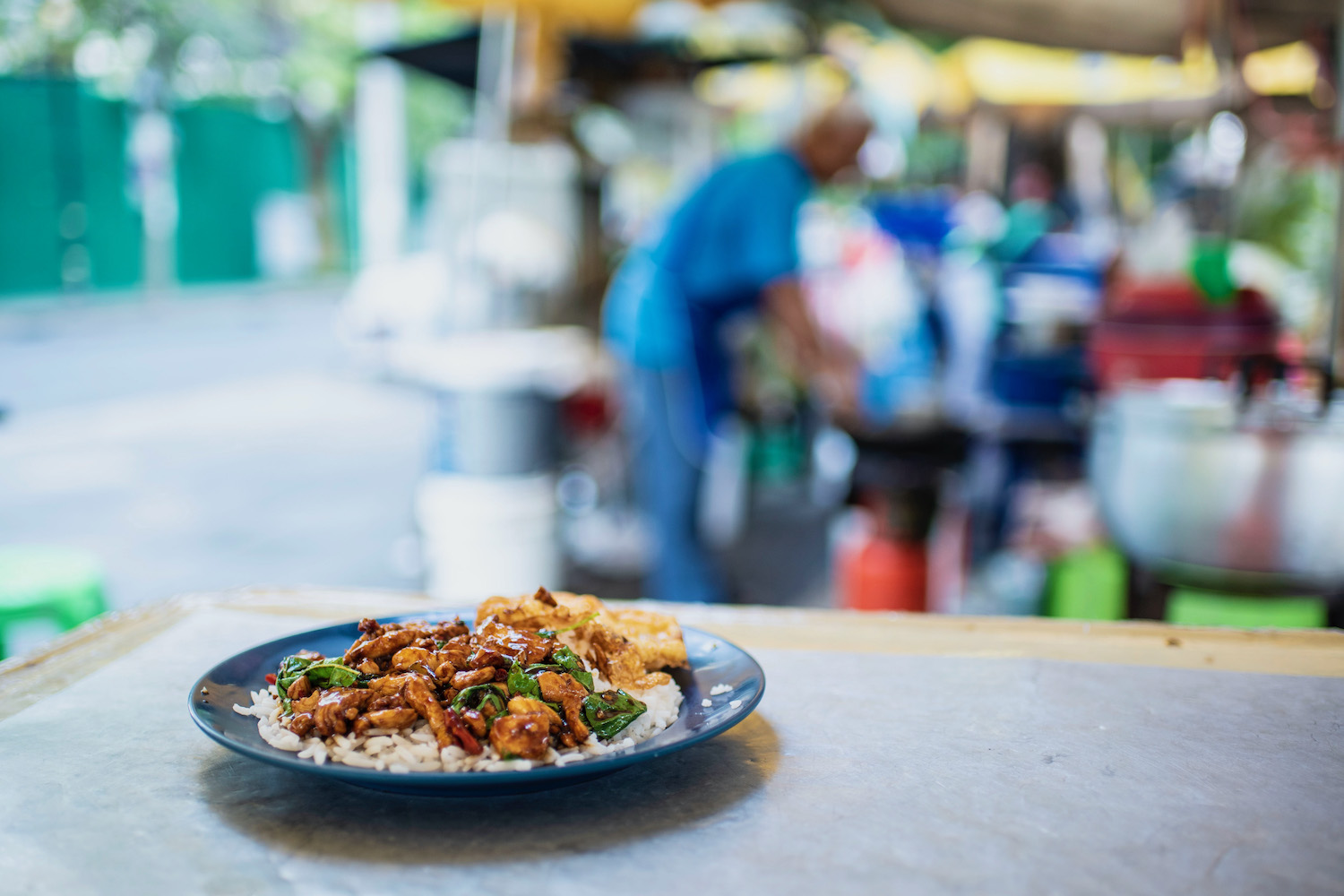 Here's a hack you might not be expecting: Much of the best street food in Bangkok is not on the streets. Rather, basically all the malls I listed above have their own food courts, where you can enjoy clean and safe versions of dishes you might otherwise only find on the street. You're welcome! Of course, if you're feeling more adventurous, you can always enjoy street eats in spots such as Convent Road in Silom, Soi Suan Phlu 8 in Sathorn and of course, Chatuchak Weekend Market (which, in spite of its name, is also located closed to Kamphaeng Phet MRT station than to the Chatuchak Park one).
Make a Point of Taking Day Trips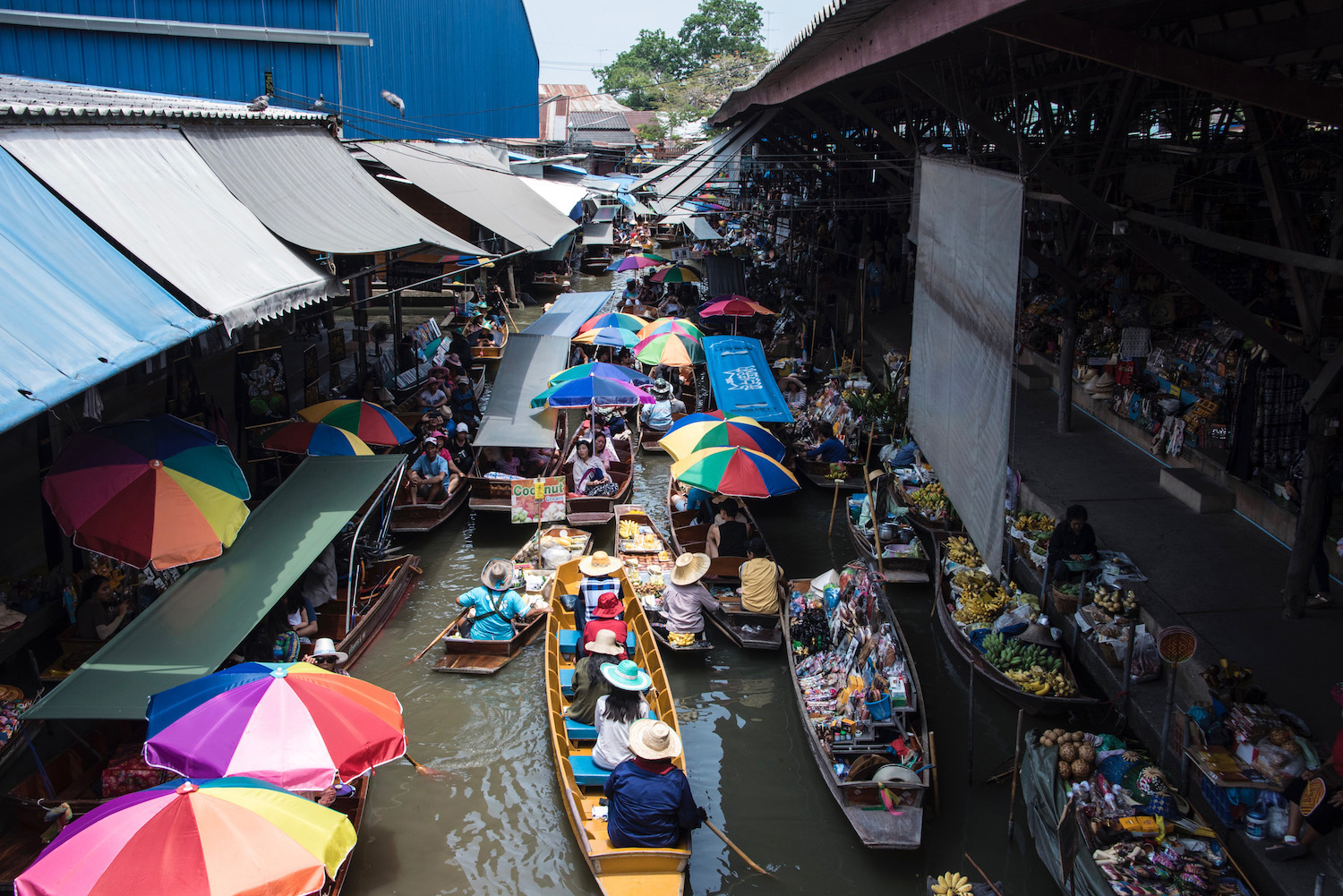 The sheer number of day trips from Bangkok you can take is staggering, especially when you consider how much there is to do in the city. Obvious choices include the ancient city of Ayutthaya to Bangkok's north and Pattaya, a coastal city (though not really a "beach" one) to the south and east. Other great places to visit on a day trip include various floating markets (the most famous of which is Damnoen Saduak in Samut Songkhram province) and Maekhlong Railway Market. Other destinations, such as lush Kanchanaburi and Koh Samet island, are better seen on weekend trips.

How Many Days Should You Spend in Bangkok?
For a long time, 3 days in Bangkok was my gold-standard answer for how long you should stay in Thailand's capital. Now, having lived there (on more than one occasion), I can clearly see arguments why you might want to spend more or less time in Bangkok. On the low end, if you've only got a week or two in Thailand, it makes sense that two full days in Bangkok might be all the doctor ordered, at least to start with—you'll likely need to come back here at the end of your trip.
Likewise, given all the things I've listed in this Bangkok travel guide (to say nothing of how delightful it is to discover Bangkok's many neighborhoods), it makes sense that you would want to spend longer in Bangkok—and I'm not just talking about expanding your Bangkok 3-day itinerary into four or five. Staying in Bangkok for a week or longer is especially enjoying, because it allows you to feel as if you're living there (even though—trust me on this one—living in Bangkok is definitely not for everyone).
Is Bangkok Underrated or Overrated?
This segues perfectly into the next question some of you are asking yourself, namely "is Bangkok worth visiting?" While, as I've just expressed, I don't necessarily think living in Bangkok if for everyone, I do think every traveler to Thailand needs to visit Bangkok at least once. I'm biased in saying this: During my first trip to Thailand, more than a decade ago, I'd had no intentions of setting foot in the capital. It was only because my crappy point-and-shoot camera busted when I was on Koh Mak that I stopped in Bangkok at all. (I immediately fell in love, in case you couldn't infer that.)
In general I would say that Bangkok is underrated, primarily because most people travel there either with wrong instructions or wrong intentions—usually both. For example, there is a certain subset of tourists that just wants to go wild, be it along foreigner-infested Khao San Road or on seedy Soi Cowboy, which is probably my least-favorite street of Sukhumvit Road. Even people who arrive in Bangkok wanting to have the best experience are often seriously misguided about where to go in Bangkok. You're here, however, so that thankfully won't include you.
Other FAQ About Travel in Bangkok
What can you do in Bangkok for 3 days?
With three days in Bangkok, you can spend one day in the "old" cities of Rattanakosin and Thonburi, another exploring modern districts such as Siam, Silom, Sukhumvit and Sathorn and a third taking day trips, whether to ancient Ayutthaya, or the sprawling Chatuchak Weekend Market. Have a longer amount of time to spend? Thankfully, many of the things to do in Bangkok in three days can be spread out to four, five or longer.
Is Bangkok worth visiting?
Absolutely! Whether you prefer modern experiences like shopping malls and skybars, or visiting ancient temples like Wat Pho and the Grand Palace, Bangkok is one of the most dynamic cities in the world, and the indisputable hub of Southeast Asia. If you're searching for what to do in Bangkok today, the possibilities are basically endless!
Is Bangkok safe for tourists right now?
Bangkok is safe in the sense that violent crime is relatively rare—petty theft is another story. As as certain other dangers, including traffic accidents, respiratory irritation from constant pollution and even occasional political demonstrations. With all this being said, Bangkok is much safer than most cities in the United States and Latin America.
The Bottom Line
Whether you've come here seeking a general Bangkok travel guide, to decide how many days to spend in Bangkok or wanting a complete itinerary for Thailand's capital, I'm confident you've now found what you've needed. I'm biased—I lived here on several occasions after all—but I think Bangkok is one of the best cities in the world, and certainly among my favorites. Focus your energy on the city-center, divided between ancient Rattanakoskin or Thonburi and futuristic Silom, Siam and Sukhumvit, or take day trips to destinations like spiritual Ayutthaya and lush Kanchanaburi. Don't want to leave your Thailand trip to chance? Commission a custom Thailand itinerary today!