When I learned that it had snowed in Kyoto, I was sweating inside an old shophouse in Bangkok's Chinatown. This was by design—staying in the shophouse I mean, not sweating.
Well, it was by design, but not mine. The shutters on the turn-of-last-century edifice were not airtight; its high ceilings and general cavernousness meant that it usually took longer than Prus and I were ever there for cool air from the cheap electric wall unit to fill the entire space.
We were like a couple of local boys those two days, eating pa tong go alongside our backalley breakfasts of yen dafo and pork wonton soup. We were like an old couple: We walked amid the lights of Yoawarat Road as it illuminated, hands clasped together in the moments we had space to do so and coming apart, as necessary, to let others (most other old couples) pass.
An old couple telling old wives' tales. "You know this can go far a million baht a bag?" he asked and used his spoon to pull a disc of fish maw out of the soup we were sharing as one of three appetizers that night.
I laughed to indulge him, with little interest in verifying his contention. And then I remembered the fact that it had snowed in Kyoto: It never had done so when I lived there; I could've still been there, now, had I wanted to.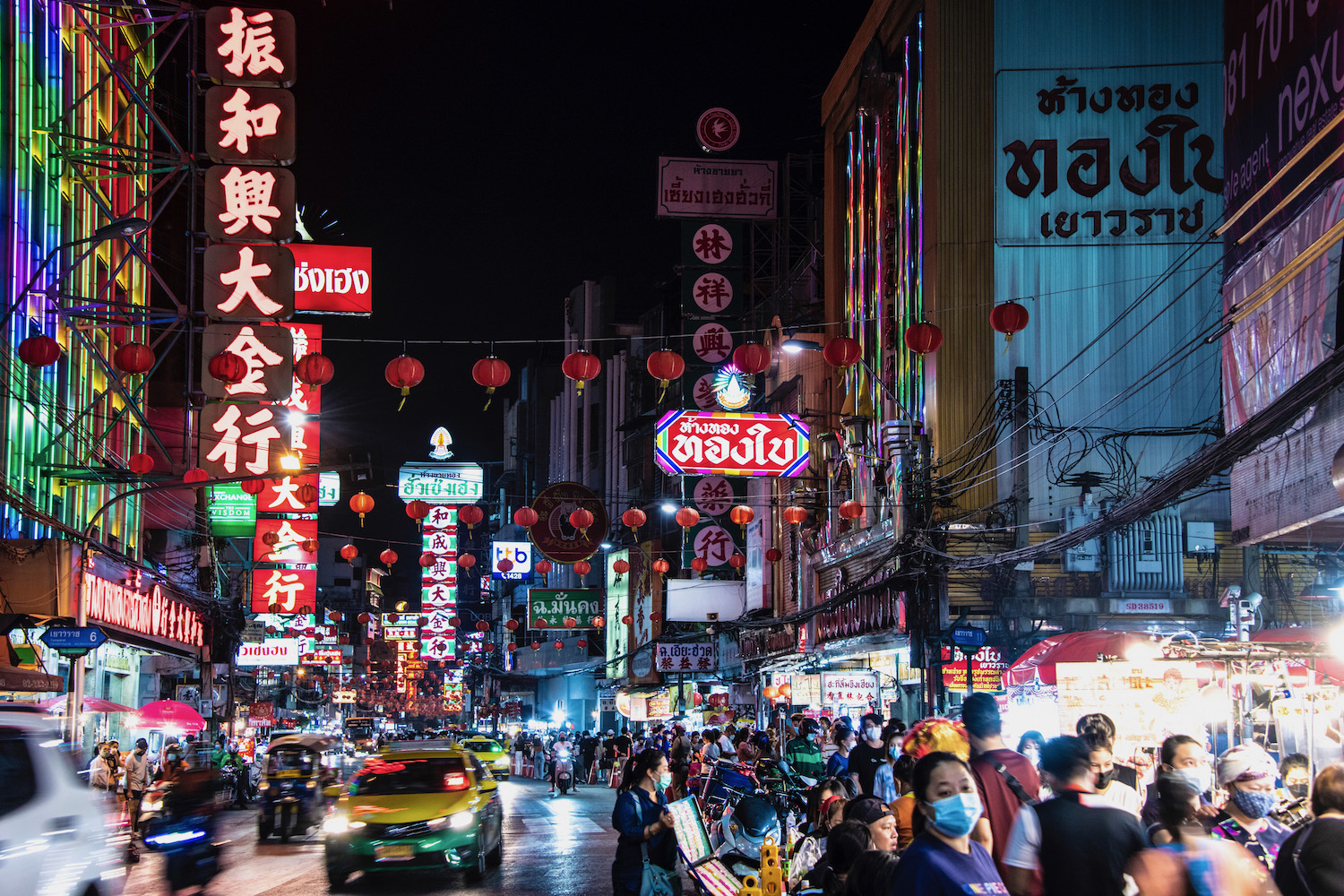 I could've been in Kyoto the second-to-last Sunday morning of January 2022, but instead I was on my way to Kanchanaburi, Thailand. As Prus and I crossed the Pinklao bridge into Bangkok's Thonburi district, the memory of our life in Chinatown faded behind us like the Grand Palace. Had we been there two days, or two years?
"How far away are we?" He asked about 30 minutes in, referring to Wat Sampran, more popularly known as the Dragon Temple.
"After you turn up there—'in 800 meters,' Siri echoed—it's about 5 km away," I said, suddenly realizing that we'd be headed almost due east.
Prus grabbed my hand in his and cracked my knuckles one by one. I winced each time, not so much in pain but in fear that I would feel it.
We arrived to the temple and, as I suspected, the light was coming from precisely the wrong direction.
Prus, taking photos with a smartphone that naturally corrected for such things, was nonplussed. "I'm sure your photos will turn out fine," he reassured me as we reached the top of the building via the inside of the dragon, a barren concrete cylinder that wholly wasted the creative potential its exterior gave it.
As we left the dragon and its bad light behind, the scenery became more bucolic and then, more dramatic. Karstic mountains rose over dammed rivers where lotuses bloomed as far as the eye could see. Esperanza and bougainvilleas and the occasional fruit seller lined the road.
"Those daengmo are poison," Prus pointed to a songthaew filled with perfect-looking watermelons, which apparently became so on account of copious pesticide use.
The scenery was bucolic and dramatic and familiar, but only vaguely. My sister and I had come here by minivan during her first (and thus far only) trip to Thailand nearly a decade ago, via a minivan from Bangkok's southern bus terminal because we were too late to reach Thonburi Railway Station. Stephanie had been crammed in the backseat between two large local women; a pirated copy of that year's Resident Evil film, dubbed in Thai and subtitled in Russian, had played at full blast nearly the entire journey.
Middle-of-the-road 90s music played at mid-volume as Prus and I cruised along in his Camry, which was opulent by comparison to the van of yesterday. About an hour after leaving Wat Sampran we arrived at Wat Tham Suea.
"We didn't make it here back then," I told Prus, referring to Stephanie and myself in 2012, as we took the most unsafe-seeming funicular I've ever ridden from the parking lot to the base of the viewing tower.
Once there, we climbed at least eight flights of stairs to the top, before realizing that a balcony on the third or fourth floor actually provided the best view. The temple's Buddha was ensconced in some kind of manmade cave, I suppose as an homage to the so-called "Tiger Cave" beneath the complex. Behind the temple, the riverine landscape of Kanachanaburi seemed to extend on and on forever.
It appeared as if the karsts and rice fields and palms and tributaries would never stop proliferating as they approached the horizon, as if neither Bangkok nor Chiang Mai nor any points beyond existed at all.
After tolling each of the bells that hung around the balcony, we descended down through the tower. The interior featured dramatic murals, painted as if they depicted Hindu deities or the Gautama Buddha, instead of Thailand's ruling Chakri dynasty.
Back at ground level I stood behind a line of locals, who had queued up in order to touch the statue's massive fingers—Prus was not among them, which made me wonder where he had gone.
Feeling slightly frantic after a cursory search turned up no sign of him, I noticed that tiny pieces of gold leaf were rustling across the cheap tiles decorating the ground. Just then, I turned and saw his smiling face.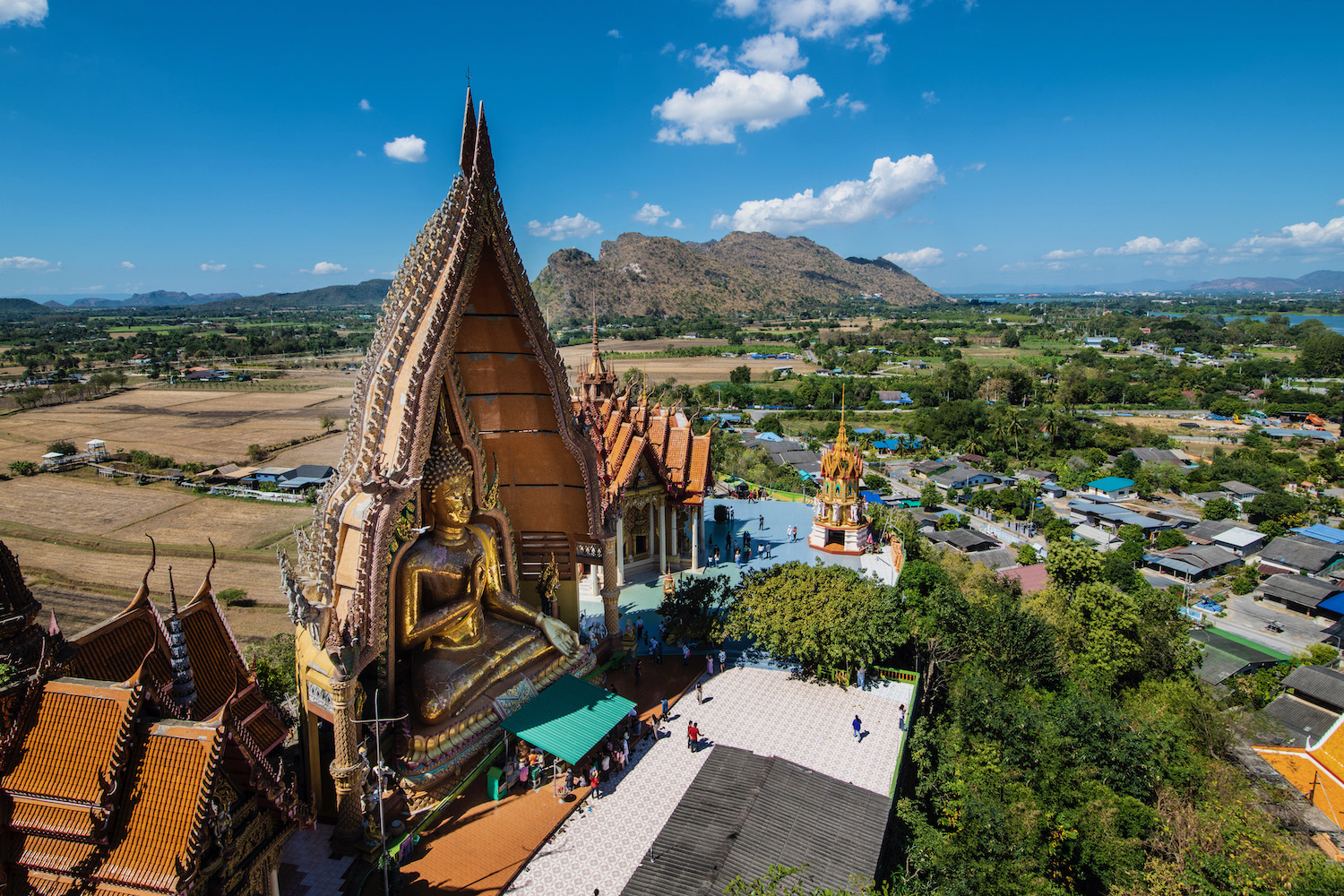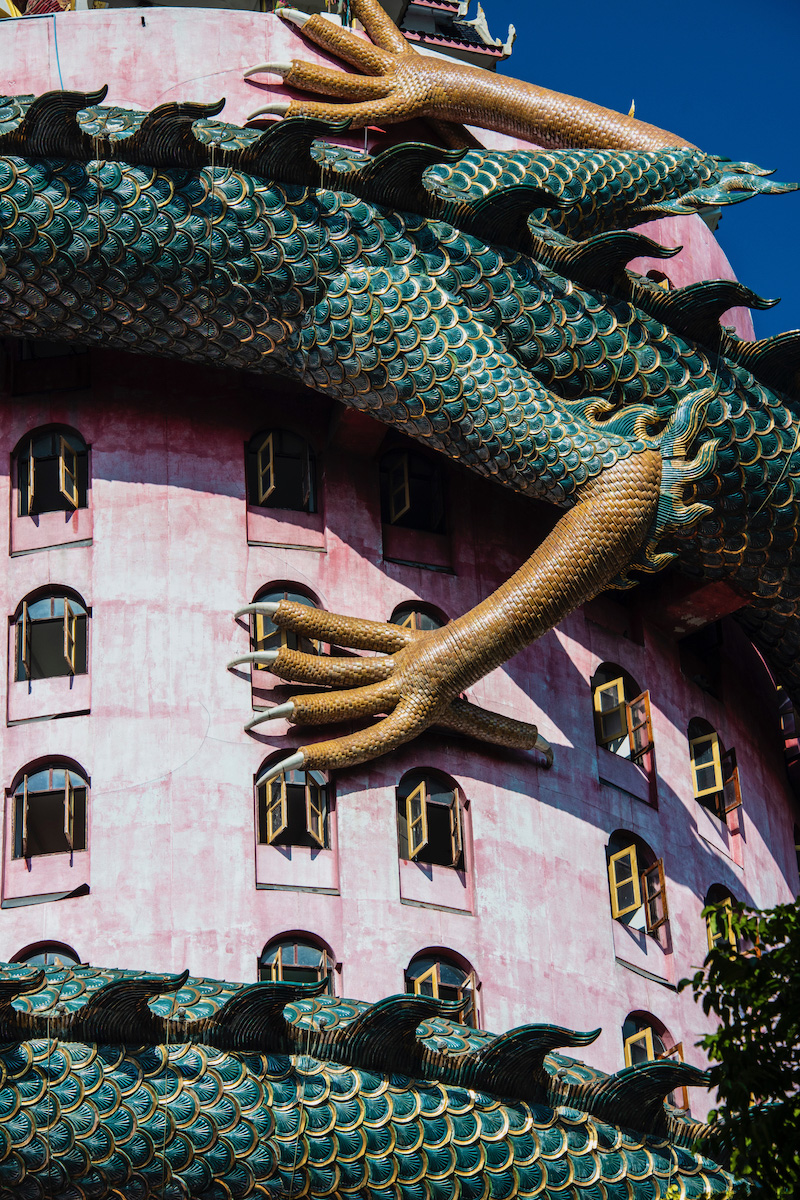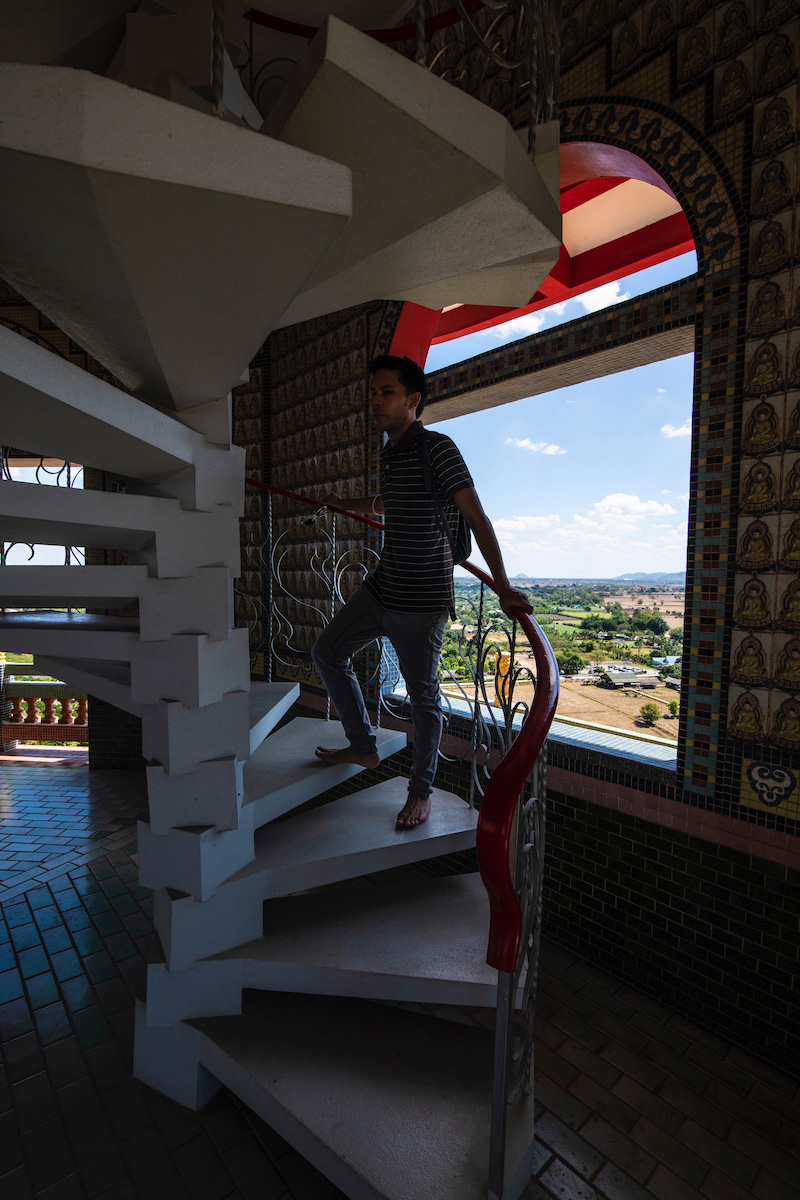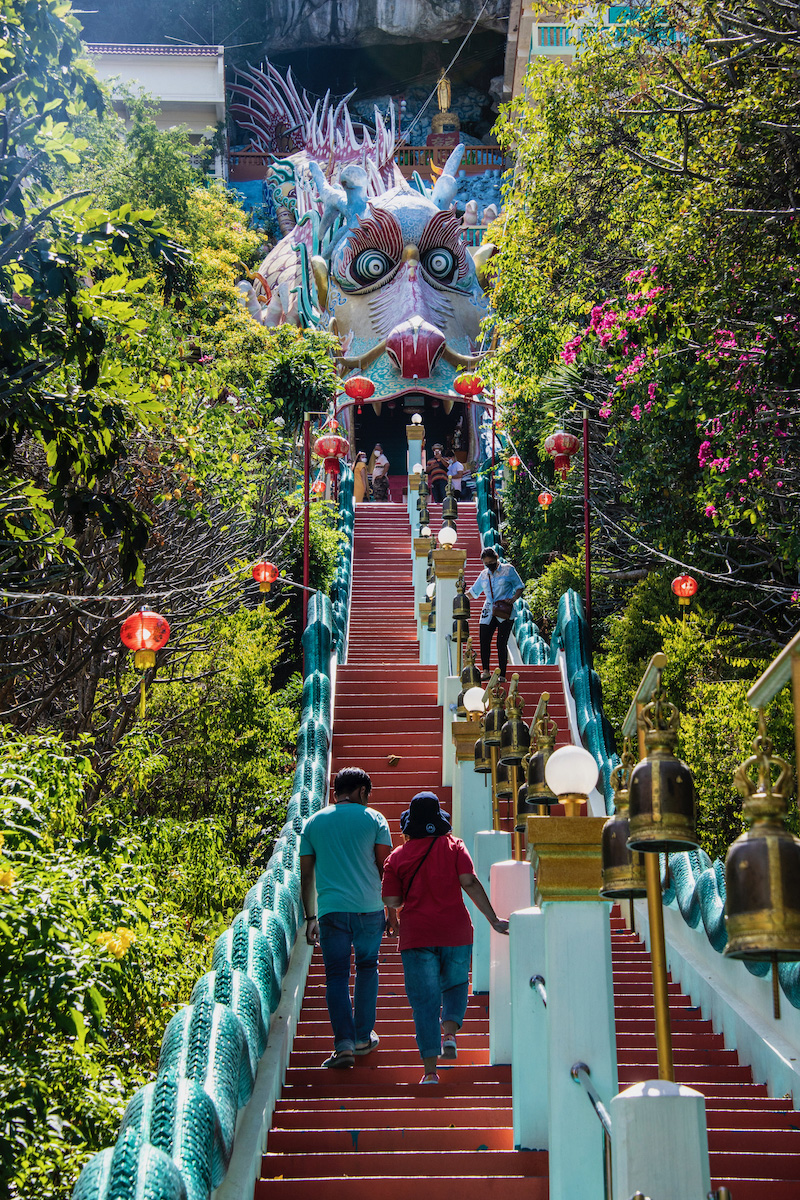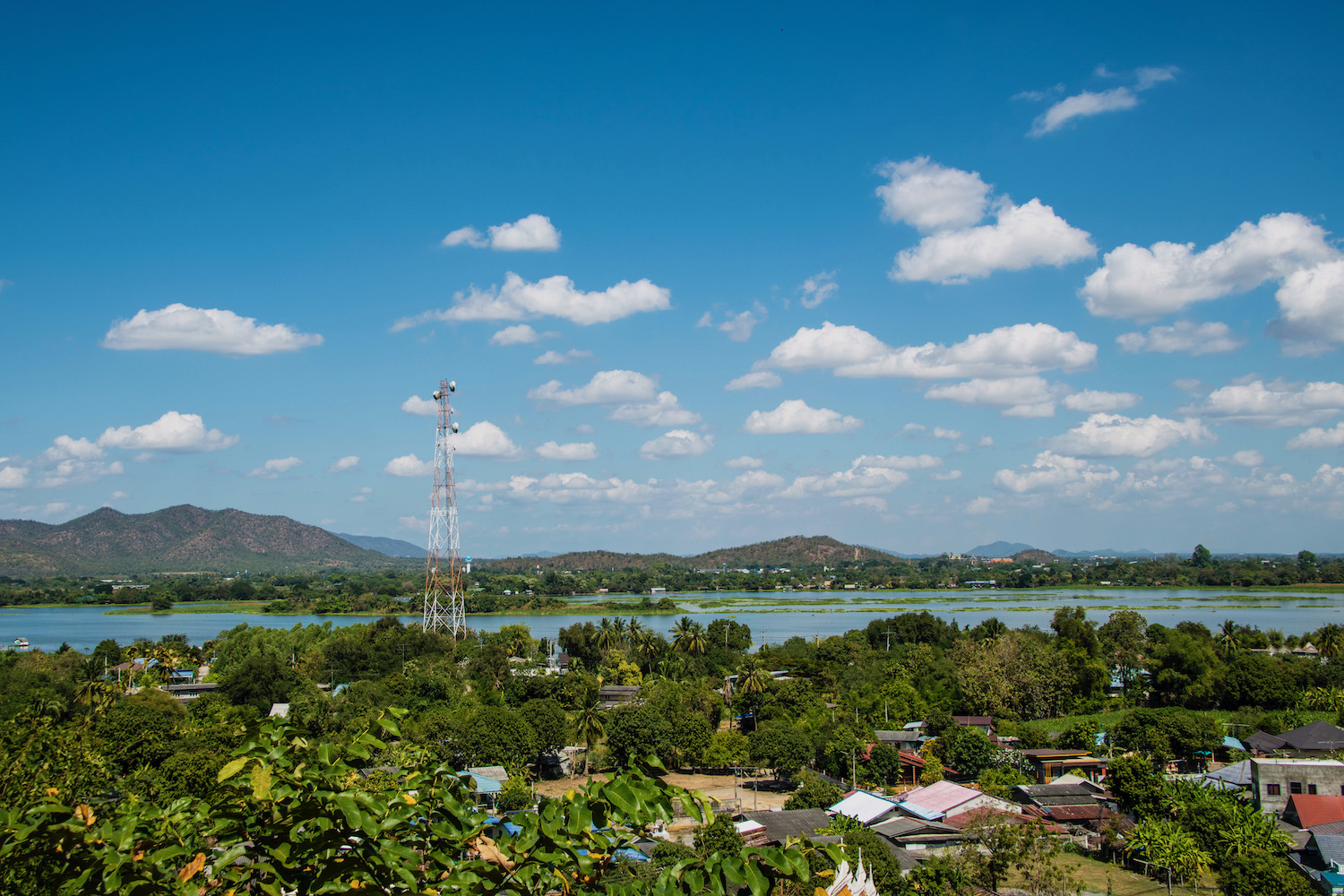 I left Kyoto willingly, but without the proper facts or perspective to make the decision I did. Had I known that Japan would still maintain a nearly-closed border nearly seven months after I left, I probably would've stayed—my visa was valid until March 30, more than two months from now.
Are abandonment issues still abandonment issues if you're the one doing the abandoning?
Before arriving in Kanchanaburi town, Prus and I made a stop at our third and final temple of the day. Like Wat Sampran, Wat Ban Tham is a dragon temple, and one that also happened to be backlit when we visited. Unlike Wat Sampran, Wat Ban Tham necessitates a grueling hike, one made even more difficult by the oppressive heat and the fact that my backpack weighed at least 50 pounds.
By the time we reached the top, I was legitimately exhausted, which is a way I almost never feel, even after much longer hikes.
A statue of ยมบาล stood at the entrance to the golden stupa marking the precipice. "It's like we've arrived in hell," Prus joked, referring to its role in Buddhist mythology. The irony was not lost on me.
As we made our way back down, first through the cave system the people who built the temple seamlessly integrated into it, and then through the dragon itself (this one, I'm happy to report, was much more creatively inspired than Wat Sampran's), I made a self-deprecating comment about my appearance.
"Don't worry," Prus reassured me. "No one else besides me can see you—you're a ghost."
It only took 15 minutes from the time we opened the doors of the sweltering car until we arrived at our guest house, which was charming but not really "in town" as its Booking.com listing had advertised it. My favorite feature of our room was the fact that the open space just behind it had been livened up with no less than a dozen plants, like a wilder—frankly, more Thai—version of a Japanese garden.
"We should have one of these in our place," Prus joked, although I knew part of him was serious.
The guest house was charming, but lacking amenities or space, so we decided to pass the time until our sunset boat tour at a floating restaurant on the riverside.
As I tore into yam takrai, a lemongrass salad with prawns I hoped were caught within the preceding 24 hours, the platform our table sat atop undulated on the waves a passing boat made as it sped by way. Across the water, the sun descended behind the palms that rose above the local village.
"Do you think this one cost a million baht?" I asked Prus, poking a piece of stir-fried fish maw with my fork.
He laughed, but said nothing. Old couples don't need to congratulate each other for remembering their bad jokes.
The boat ride hammered home just how far our guest house was from the center of town. It also humbled me—I hadn't realized that Kanchanaburi was so rural. Most of the pastel-painted tenements along the river were homes, not hotels; monks swept the stairs of the temples we passed for themselves, not to clean up for tourists, who weren't coming.
"You know," Prus said, as we approached the famous Bridge Over the River Kwai. "There's no such thing as the 'River Kwai.' It's really called the Khlong River."
We passed under the bridge's iron ties, and the captain docked at the small marina on the north bank of the river. After walking around the town center for just a second—there's not much on offer—we walked up on the bridge to find the perfect spot to take a picture together.
"Get down on one knee," Prus said half-jokingly, as the camera shutter clicked the first of nine preset shots. I obliged him half-seriously.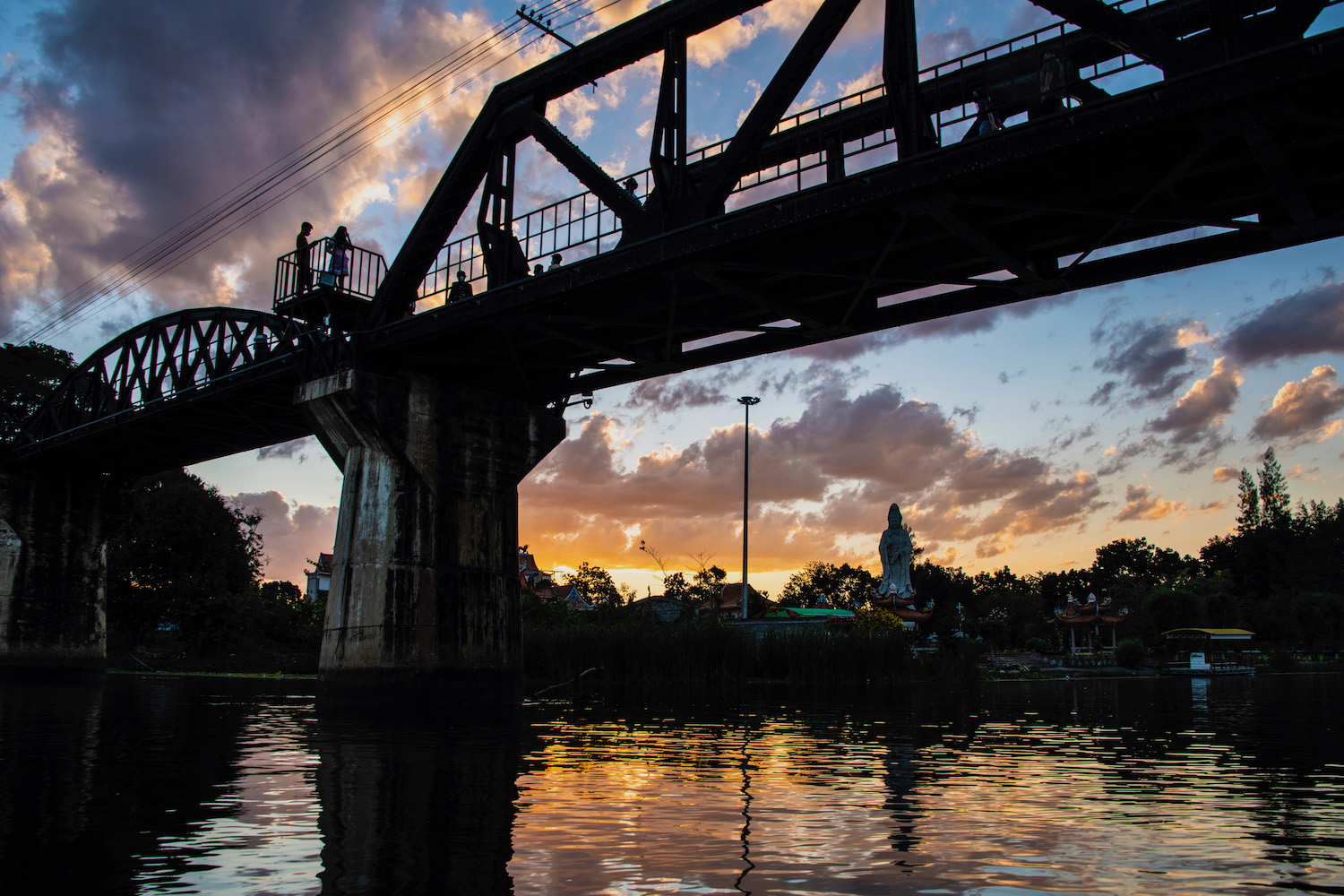 The road to Erawan National Park and the Srinakarin Dam is a 65-kilometer straight shot, which means that Prus and I had little to do but get into arguments over trivial things. Tensions flared but never flamed as we sped past roadside Buddhas and dodged soi dogs who ran into the path of the car.
I became fixated on his insistence that we visit the Dam, rather than just the national park and its namesake waterfall. He told me he'd wanted to take me there to show me all the beautiful hotels floating in the manmade lake.
I interpreted it a different way. "When you decided you were coming here with me, I offered to book a better hotel for us," I lamented as we sat down on a bench overlooking the water. "I guess you wish you hadn't declined it now."
"That's not what I meant," Prus put his arm around my shoulder and kissed my head. "I just want to help you broaden your horizons."
As you might imagine, I also misinterpreted this comment. What's that thing they say about idle hands? I wonder if there's a Thai version involving ยมบาน.
Thankfully, we arrived to the national park with seven tiers of waterfalls to hike up—there would be no idling for at least the next couple of hours, at least not for our bodies.
My mind, too, was occupied. In addition to the fact that many Thais chose to continue wearing their face masks in the middle of nowhere, some even wore them into the water, many strapped into life jackets in spite of water being less than a meter deep. Global society is strange when this sort of profound failure is seen as any sort of success.
By the time we got to the seventh waterfall, I think I'd declared at least the fifth and sixth tiers my favorite; the fourth was unspectacular and strange; the third had been nice but utterly inhospitable to swimming.
Upon reaching the seventh, Prus and I continued our trek even farther, scaling a tertiary trail to an even more private pool so that we might swim, decompress and enjoy one another in a way that didn't disturb the peace, particularly the peace of those poor souls who wore N95 respirators in the water or life jackets on dry land.
Prus stood in the water and held me like a baby; we looked one another deeply. Both of us wanted to say something—the same thing, or at least the same sort of thing, I think—but held back and just enjoyed the moment.
Walking back from the waterfall, more soaked from sweat than I was in water when I was actually swimming, snow-covered Kyoto was the farthest thing from my mind.
When it finally did enter my mind again, I fixated not on wanting to see the lamé of Kinkaku-ji behind thick, falling flakes, but on the harsh reality: My six-month stint in Japan had begun in earnest over a year ago; when I ended it willfully six months ago, I released any possibility or expectation my 15-month visa should've given me.
Gripping Prus' hand in mine made me see this in starker terms: If I was still there, traipsing through the Sagano Bamboo Grove or along the Philosopher's Path in white-out conditions, I wouldn't be here feeling like I do now.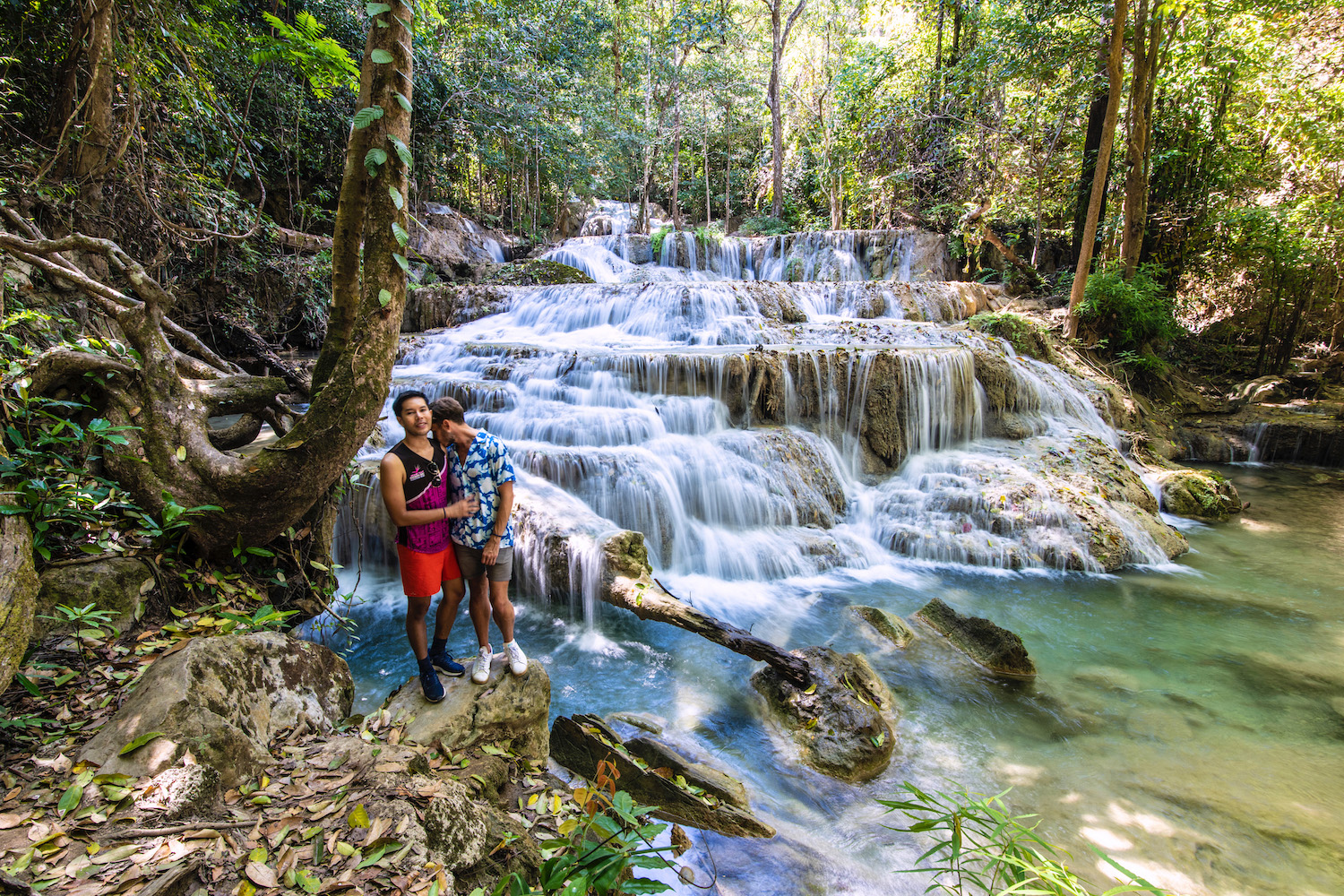 After returning to the car, Prus and I made the 65-kilometer straight shot back to town, albeit without any notable disagreement this time.
Well, minus the fact that by the time we got to our destination and realized how cumbersome parking would be, I was hungry to the point of argumentativeness. Prus bought me two freshly-friend pieces of gai thood to assuage my pangs of hanger.
Eventually, we walked through the town's fresh market and procured a smorgasbord of Thai favorites; Prus suggested we walk down to a temple on the water, where monks swept the stairs we passed for themselves but also for us; there were no other tourists.
As we sat there in the setting sun, he cracked my knuckles again. I relaxed and felt what he intended to make me feel; I didn't scream this time.
Other FAQ About Traveling from Bangkok to Kanchanaburi
How do I get from Bangkok to Kanchanaburi?
Most travelers take a train from Bangkok's Thonburi train station (NOTE: This is not the main station, nor is it in the city center), which runs twice per day between Bangkok and Kanchanaburi. On weekends, a train departs from Hualampong and/or Bang Sue Grand Central Station and comes back the same day; your other options are to take a bus or minivan, or to rent a car and drive.
Is Kanchanaburi worth visiting?
Kanchanaburi is a charming weekend trip from Bangkok, but it's not going to change your life. I'd recommend visiting if an opportunity to do so easily presents itself. On the other hand, don't stress too much if you can't make it. Kanchanaburi isn't going anywhere.
Is there a train from Bangkok to Kanchanaburi?
Trains do travel between Bangkok and Kanchanaburi, but the journey isn't always straightforward. Twice-daily services depart Bangkok's Thonburi station, which is across the Chao Phraya River from the old city center. You can depart from city-center stations (either Hualamphong or Bang Sue) if you travel on Saturday or Sunday, but these are "day trip" routes that are inhospitable for travelers who wish to stay the night.