If you find yourself disappointed in every Isaan travel guide you find online, I don't blame you. The obscure northeastern "bump" of Thailand is not a conspicuous tourist destination; it's no wonder so many of my colleagues have done a poor job representing it.
With this page, which will evolve the more deeply I explore the Isaan region myself, I hope to rectify this deficiency to the best of my ability.
Whether you're deliberately seeking to experience Thailand off the beaten path, or have navigated here somewhat unwittingly, Isaan starts here.
Why Should You Visit Isaan?
If you've never thought to visit Isaan (well, at least not until Google or social media led you to my Isaan travel guide), I don't blame you. It's never a part of Thailand I thought to visit either. I didn't even really know of it as a destination until 2014, when I was celebrating Loy Krathong with a Thai friend of mine at his family's hotel in Ayutthaya. He was telling me about a candle festival and a type of larb made with raw, bloody meat. (I still haven't seen the festival—and I don't even like cooked larb. Som tam papaya salad is much more my speed!)
Still, his descriptions interested me. So much so that I started researching Thailand's wild northeast, and realized a couple of interesting facts. Most notably, that in spite of the fact that no one talks about them, there are a number of interesting and accessible destinations in the region. In fact, there are some spots you might call tourist traps, at least if more Westerners realized how amazing they were!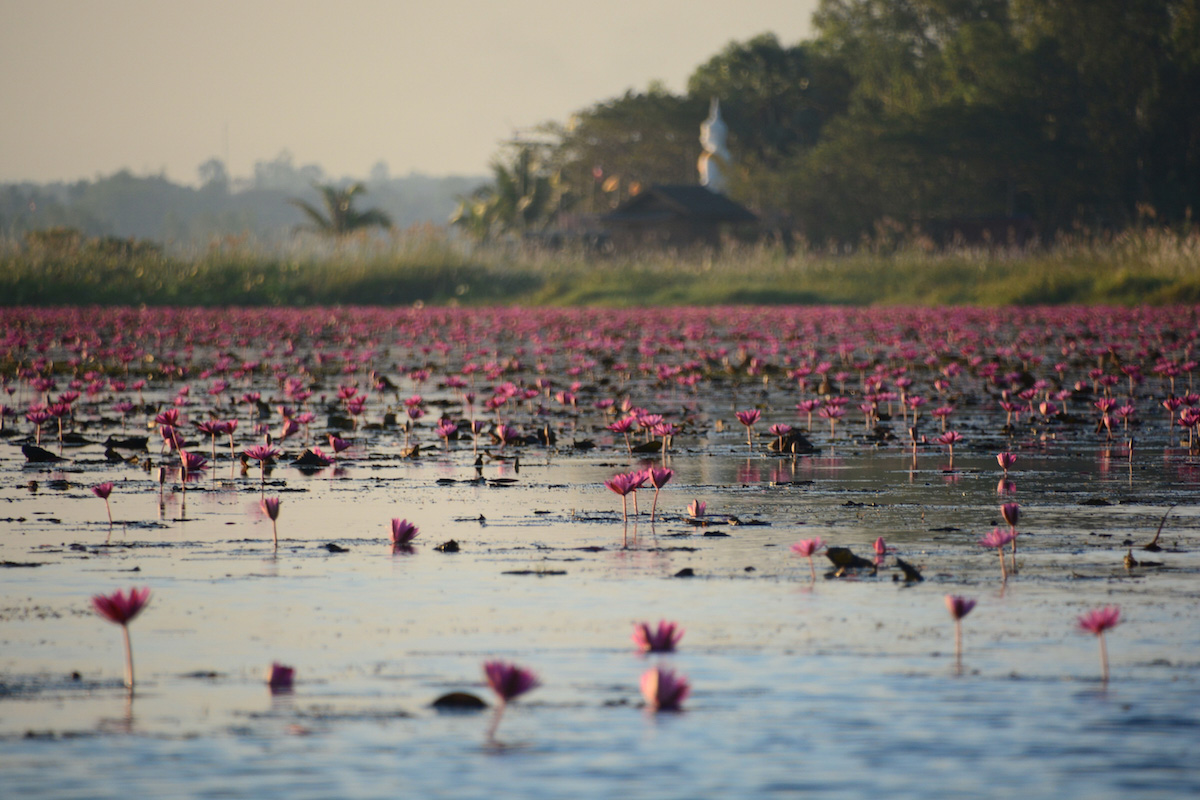 Places to Visit in Isaan
The Red Lotus Sea
If you've ever read about a red lotus lake in Thailand (well, unless you did so on my other website—I go into it pretty deeply there), I have good news and I have better news. The good news is that it's an easy day trip from Udon Thani, one of the largest and most accessible cities in Isaan. The better news? Assuming you're able to travel in January or February, when the blooms reach their peak, Talay Bua Daeng is one of the most beautiful places you'll ever visit in Thailand.
Preah Vihear Temple
Another key attraction of Isaan, Thailand actually sits within Cambodia, although it was once accessible from the Thai side. The reason I decided to mention Preah Vihear anyway is because many people come to Isaan expecting to be able to visit this 11th-century marvel. The good news is that crossing the border to reach here (at Chong Jom, specifically) is rather easy, though I'd recommend sorting out your Cambodia visa beforehand.
Sam Phan Bok
If you've ever heard of the Thailand Grand Canyon, it probably won't have been on any of my websites. That's because my trip to Ubon Ratchathani, the nearest city to Sam Phan Bok, took place a few weeks too early. Rains were still falling, which meant that the waters of the muddy Mekong still entirely covered this canyon's grandeur, much to my dismay. Do yourself a favor and avoid coming any earlier than October, or any later than March. As both my Isaan travel guide and others advise, this is a recipe for travel disaster.
Khao Yai National Park
A lush wonderland of waterfalls, elephants and forests, it's no wonder that Khao Yai National Park is among the top attractions in Isaan, Thailand. Like most destinations in this part of the Kingdom, Khao Yai is far more popular among Thais than foreigners—it's close enough to Bangkok to be a possible weekend or long-weekend trip from the capital. Many direct buses to Pak Chong, the nearest town to the park entrance, leave Bangkok every day.
Mekong River
Irrespective of where in Isaan you travel and why, it's difficult to avoid the mighty Mekong River, either as a physical presence or a cultural one. In some cases, such as if you're crossing from Udon Thani (or, more specifically, adjacent Nong Khai) into Laos, the sleepy ambiance of river communities might be something you seek out. On the other hand, in the case of Sam Phan Bok, you might indeed be hoping the waters have receded.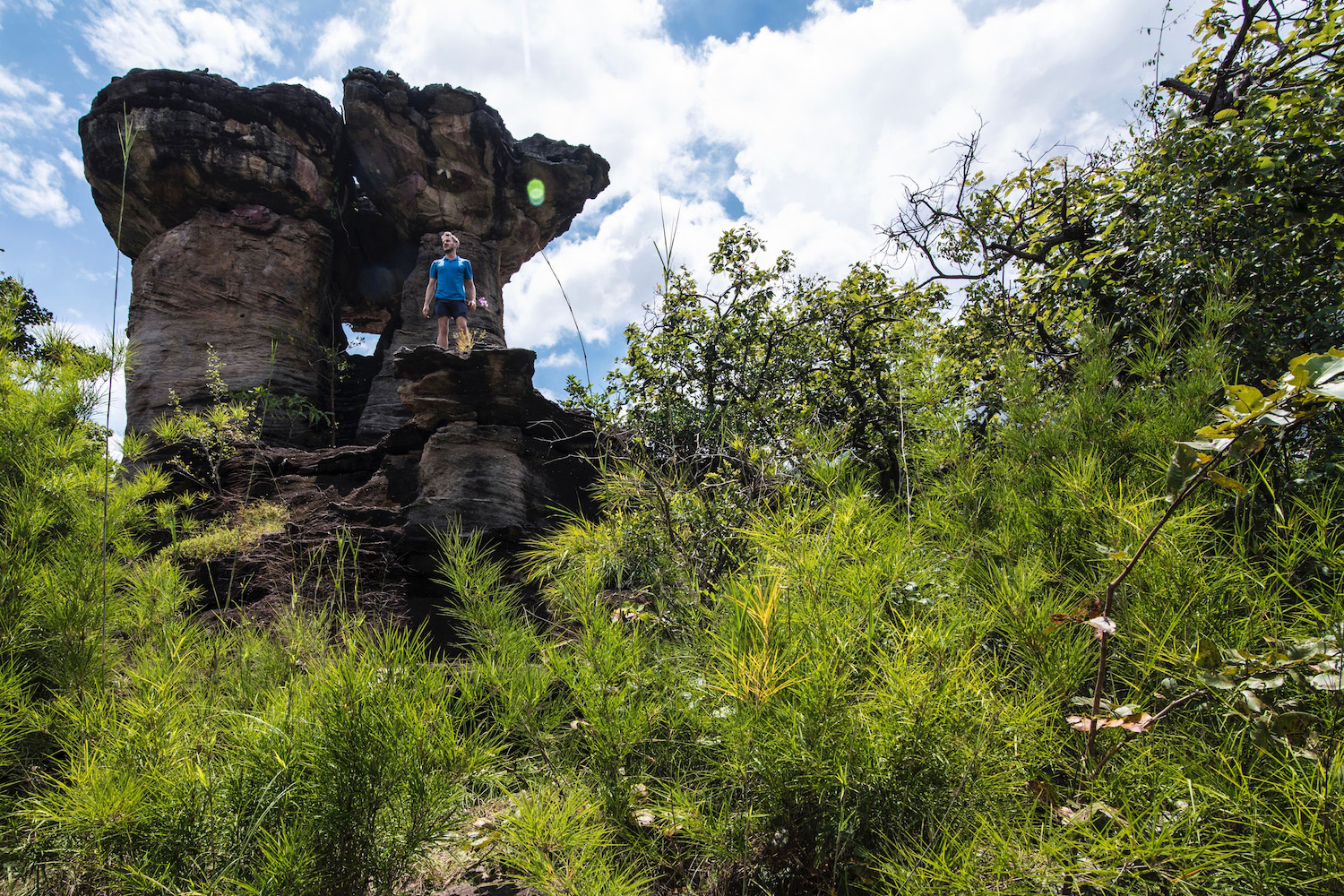 The Best Time to Visit Isaan
I've written a broader article on when to visit Thailand, and the good news is that Isaan mostly follows the recommendations I've made within it. In fact, I'd say Isaan is a lot safer of a bet than many other places in Thailand when it comes to avoiding wet weather, albeit for a somewhat sad reason: The region is plagued by chronic drought, even when other parts of Thailand are getting daily rain.
To be sure, although you'll want to visiting during the dry season to enjoy sunrise on the the Red Lotus Sea or if you actually want to see the Grand Canyon at all, you should prepare yourself for an eventuality. Apart from January and February (and only certain weeks of those months, in certain years) Isaan, Thailand is one of the most unforgivingly hot places in Thailand. Don't even try to come in April or October!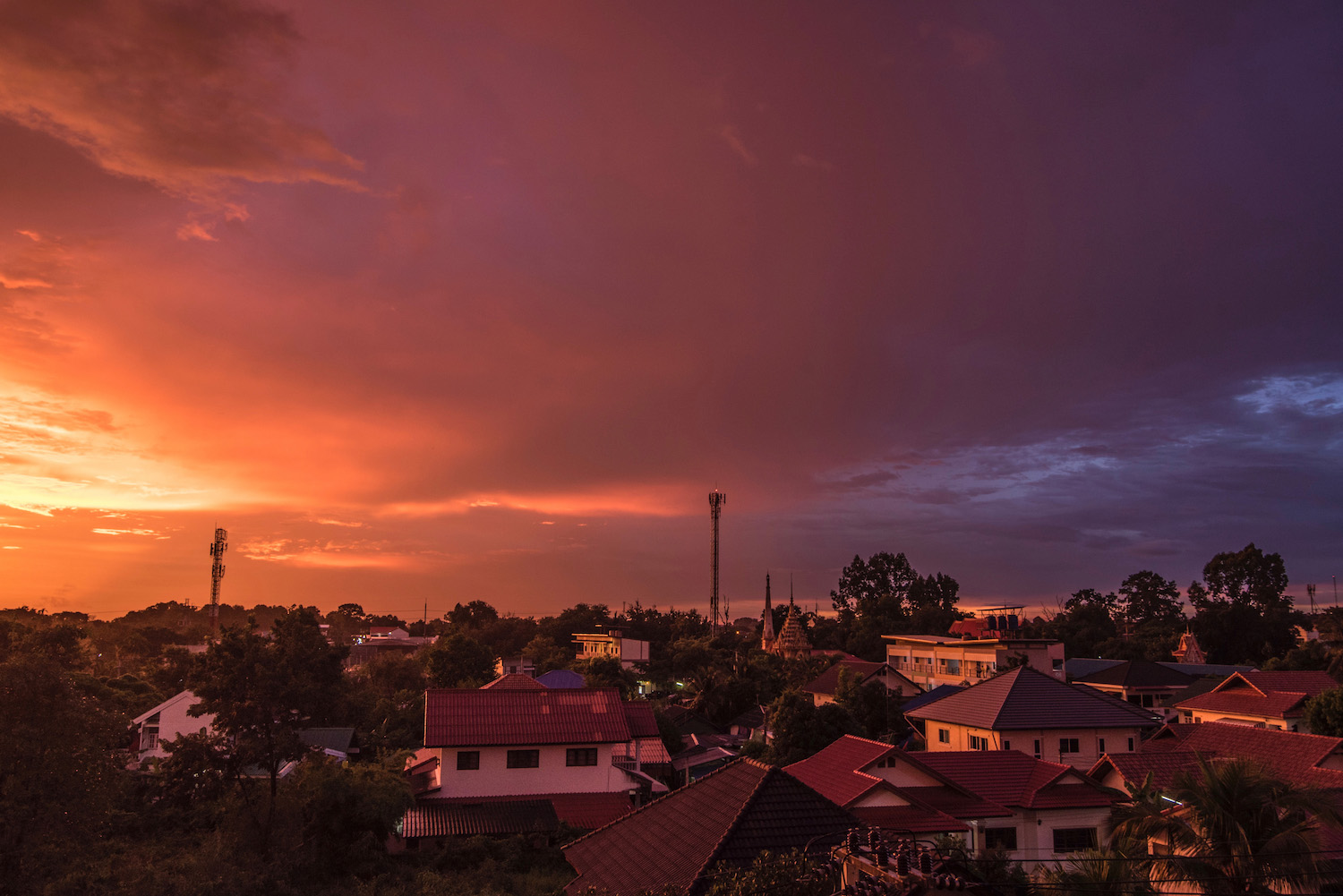 How Can You Incorporate Isaan Into Your Thailand Itinerary?
There are unique places to visit in Thailand throughout the Kingdom—and not just in Isaan. With this being said, given how oddball so much of traveling here is, it might make sense to place Isaan between more "mainstream" destinations. For instance, you might begin and in Bangkok and head north to Chiang Mai or Chiang Rai, then continue south and eastward to Isaan before looping back down to the capital.
Or, heading over the Mekong into Cambodia or Laos. Indeed, assuming you're not taking a dedicate Isaan-and-Isaan-only trip, following the cultural threads of Thailand's neighbors from Isaan into neighboring countries is a great way to continue your itinerary. Click here to learn more about how I can plan a personalized Southeast Asia trip for you.
Other FAQ About Visiting Isaan
What places to visit in Isaan?
Isaan has all manner of destinations, from large cities like Udon Thani, Khon Kaen and Nakhon Ratchasima (Korat), to natural attractions such as Sam Phan Bok (aka the Grand Canyon of Thailand) and the Red Lotus Sea, and cultural relics from the Sukhothai, Ayutthaya and Khmer periods. Isaan also offers intangible travel experiences beyond destinations you can add to a bucket list—namely, an authentic look into rural Thai life.
What is Isaan known for?
Among foreigners, Isaan really isn't known at all, apart from those who make it to extremely popular destinations like Khao Yai National Park, a popular day trip from Bangkok for expats. As more people visit Isaan, my hope is that it will become known for the authentic glimpse into Thai culture a trip there provides.
What does "Isan" mean in Thai?
In the Sanskrit language, from which Thai is derived, the word Ishan means "northeast direction." However, the same does not hold for the modern Thai language—the phrase for "northeast" in today's Thai language is dtaawan ook chieng nuea.
The Bottom Line
I hope the last several paragraphs have inspired you more than other Isaan travel guides online. Whether you come for the spicy food and unique culture, or for surprising tourist attractions like the "Red Lotus Sea" and Thailand's answer to the Grand Canyon, a trip to Isaan allows you to get away from the crowds of Bangkok and Phuket, while still enjoying experiences that are conspicuously Thai. Well, Thai or Khmer or Lao—due to Isaan's proximity to Cambodia and Laos, it make a great jumping-off point for adventures elsewhere in Southeast Asia, both culturally and geographically.