I've wanted to visit the biggest Buddha in Thailand since the moment I first saw it on a random Thai person's Instagram. And so, when I decided I was going to brave Thailand's complicated entry scheme in order to visit the Kingdom in early 2022, it—Wat Muang Buddha in Ang Thong (which means "Golden Basin" in Thai), this is—was near the top of my bucket.
The only problem? There's almost no information online, neither in English nor in Thai, on how to reach the Thailand Big Buddha. Thankfully my friend Nath, with whom I'd traveled to the Koh Yao islands a few years earlier, was committed not only to going with me, but to getting us there is one piece.
That's the good news. The better news? I've decided to write an article detailing our travails (and bragging, a bit, about the riches they bore) so that you have a much easier time of it than we did.
How to Reach Wat Muang Ang Thong from Bangkok
Nath and I began our journey to the big Buddha in Thailand just after dawn on January 1, at Chatuchak Park MRT station. Soon came our first surprise of the trip: Minibuses, which used to depart from the main Mo Chit bus station, now leave from a separate section. A big thank you to our scrupulous taxi driver! Once we arrived in Ang Thong city, a little less than two hours north of Bangkok without traffic, we were quickly shocked again.
"There are no taxis or buses here," the local policewoman said (in Thai), "and I don't think there are any motorbikes available right now." Before I could start sobbing, however, she gave Nath and I our first gift of 2022. "But my colleague can drive you if you don't mind waiting for a minute." Wait a minute we did; less than 15 later we were at the entrance to Wat Muang, which is just 10 minutes by car or motorbike (you'll likely need to rent one of these, or hire a motorcycle taxi from the bus station.
What to Do at the Wat Muang Buddha
Visit the famous viewpoint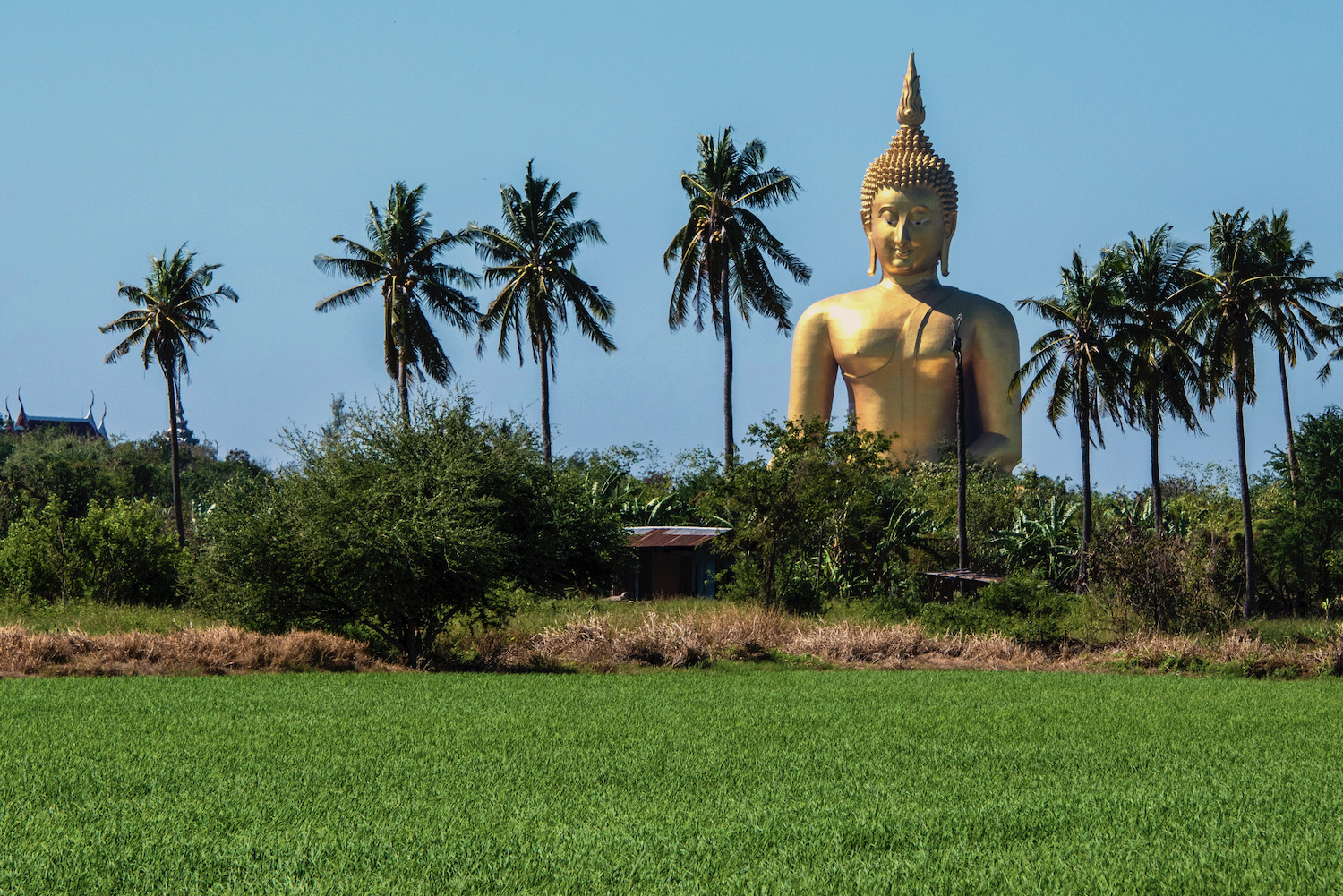 Although I appreciated the kindness of the police officer, he dropped us somewhat far away from the place I first wanted to visit, a rice field I ascertained from Google Maps was just to the east of the statue. Because local roads aren't well mapped, however, it took us about 30 minutes of trail and (mostly) error to reach it—I don't think Nath was happy with me as we trekked. However, once he saw the same "money shot" I did, I believe that all was right in the world.
Touch the Buddha's fingers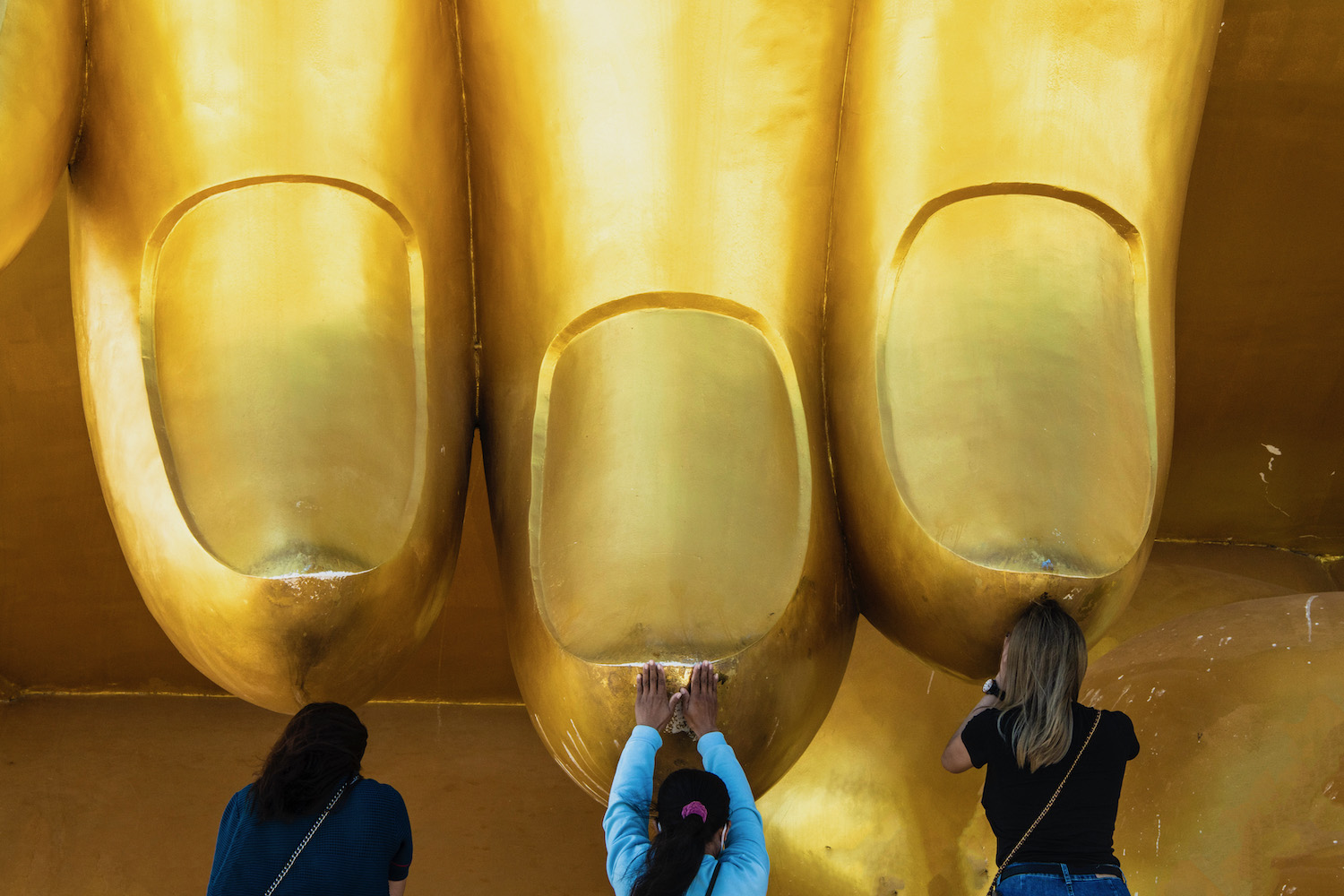 Although the view of the big Buddha in Thailand is iconic, many local people visit the 302-foot statue (which opened in 2008 and is the biggest Buddha in Thailand) for luck. Specifically the way in lines (quite long ones on New Year's Day, it turns out) to be able to touch the Buddha's fingers. Both Nath and I were more interested in photographing this spectacle than waiting.
Find the Buddha's good side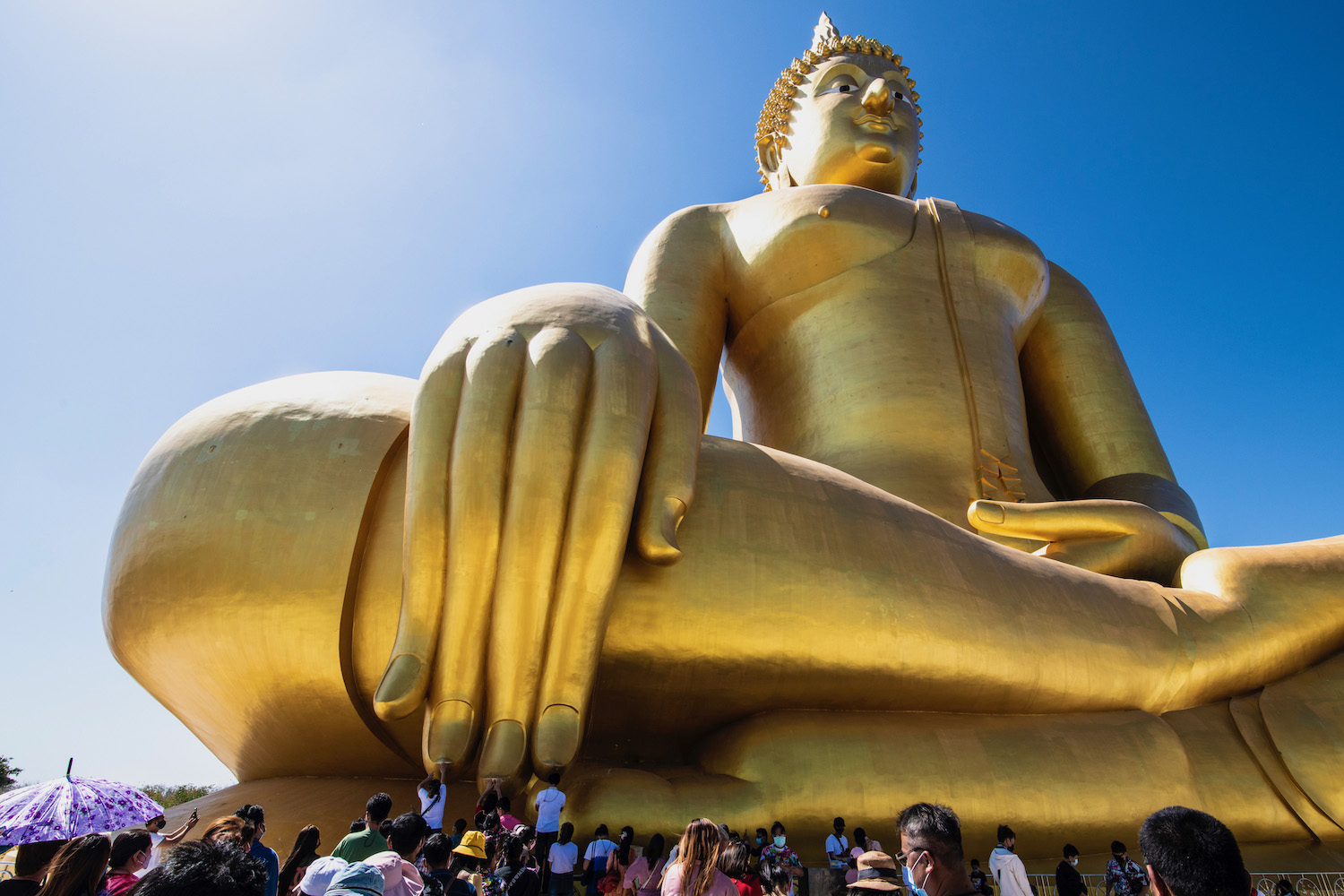 I don't know about you, but sometimes when I visit a place that's visually stunning, I find myself overwhelmed, as a photographer. I don't really know where to start photographing it, so I kind of go all over and snap dozens or even hundreds of photos within a few minutes. I recommend walking around the entire base of Wat Muang Ang Thong both to find the statue's best angle, as well as to catch it in the most suitable light.
Eat local food
I was surprised to learn, after finishing up at the big Buddha in Thailand, that the restaurant just outside the entrance served meat. Often times, in many Buddhist places around the world (such as Japan's Mt. Koya), only vegetarian fare is available. Nath and I both had Pad Grapaw Gai (stir-fried chicken with holy basil), but dozens of other dishes were available at this extremely local restaurant.
Get back to the station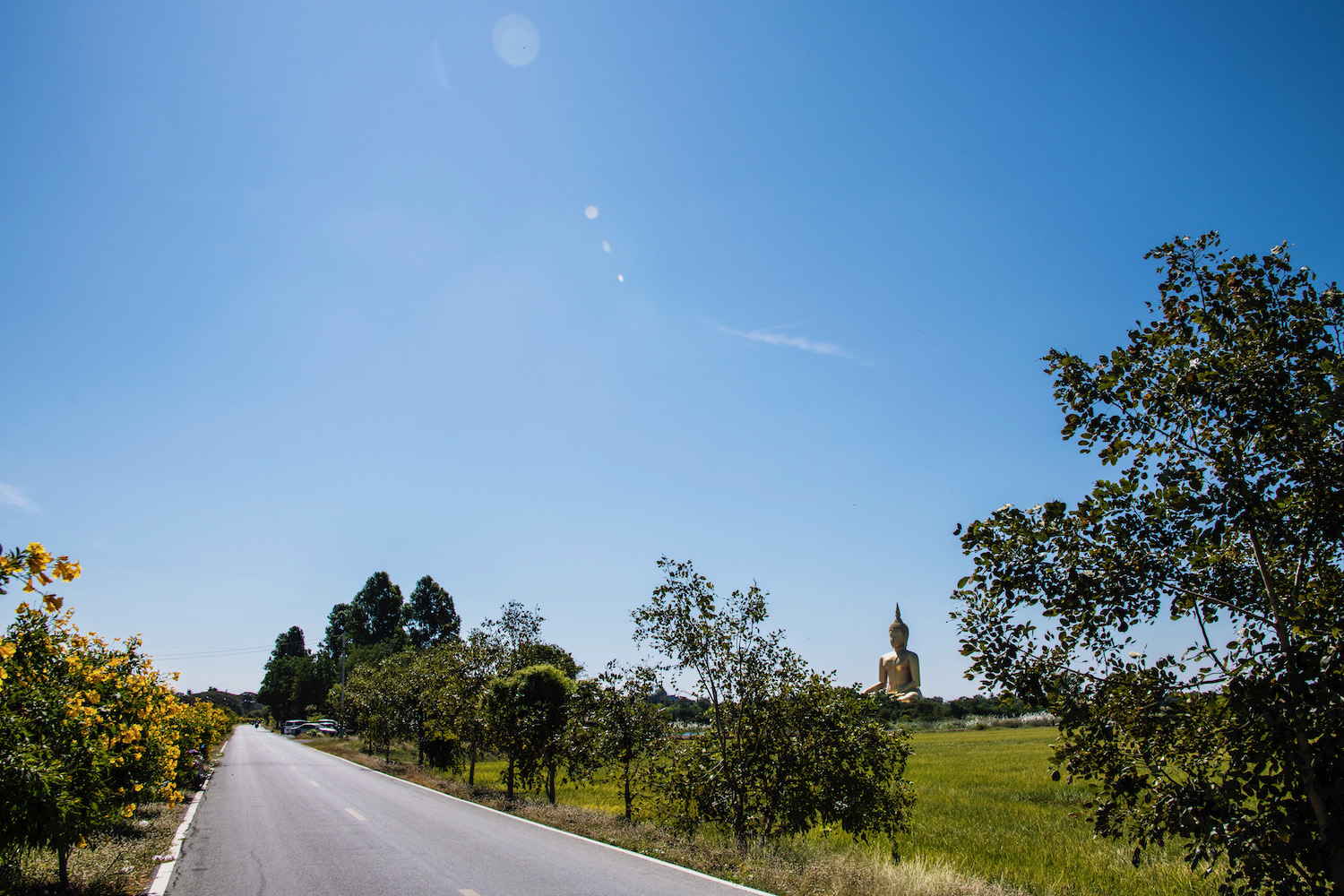 Before we made our way from the bus station to the temple, the police officers who helped us gave us the phone number of a motorcycle taxi driver who could pick us up. Or motorcycles taxis, as Nath though. It turns out they only sent one; we had to cram on the back of his back, and hold on for dear life as we sped through the rice fields and amid the fragrant, yellow flowers of the esperanza bushes along the road. Life is an adventure or nothing at all, right?
Is Wat Muang Ang Thong a Good Day Trip from Bangkok?
I'll be honest: If I hadn't been traveling with a Thai person, my day trip to the Big Buddha could've quickly gone to shit. While I wouldn't have minded walking the hour or so it takes to reach the statue from the bus station, I'm not sure this is sustainable for most tourists. In order to mitigate potential stress, I have three potential recommendations. Once is to stay the night in Ang Thong city, and ask your hotel to arrange round-trip transport.
The second, assuming you're set on visiting the big Buddha in Thailand on a day trip but without renting a car, would be to hire a round-trip taxi all the way from and back to Bangkok—except this to cost around 2,000 Baht for the day. The final option would be to rent a car in Bangkok, or to rent a motorbike in Ayutthaya (which sits between Bangkok and Ang Thong) or in Ang Thong-proper, assuming you can find one.
Other FAQ About Visiting the Ang Thong Big Buddha
Where is the Big Buddha in Thailand?
The Big Buddha of Wat Muang is located in Ang Thong city, about two hours north of Bangkok in the province of the same name. To get here, you can either rent a car and self-drive, or ride a public minibus from Bangkok's Mo Chit bus station to Ang Thong city, and try your luck at getting onward transport for the 10-km journey to the statue.
What is the biggest Buddha in Thailand?
Wat Muang Ang Thong is the biggest Buddha in Thailand, with a height of 92 meters or 302 feet. It's the second-tallest Buddha in Southeast Asia and the ninth-tallest in the world, although it's not especially famous. Most tourists instead visit the Big Buddha statues in Phuket above Patong Beach, or in Koh Samui near Bo Phut and the airport.
Is the Golden Buddha real gold?
Wat Muang Ang Thong is made of concrete that's been painted in gold; this is the case for most Buddhas in Thailand. However, the Golden Buddha instead Wat Traimit in Bangkok's Chinatown is indeed solid gold. Make sure to get a glimpse of it when you visit Bangkok.
The Bottom Line
Visiting the biggest Buddha in Thailand used to be a nightmare, but it's just gotten a lot easier. This is because I did the work—with a major, major assist from my Thai friend Thai—of getting there mostly blind so you don't have to. Even if you did have to walk over coals to visit this Buddha, Thailand's tallest, it would still be work it. Once you're done admiring the golden statue from near and afar, enjoy local Thai food at one of the food stalls just outside the entrance. Stumped on what to do once you get back to Bangkok? Check out my Bangkok travel guide, or consider hiring me to plan your trip to Thailand for you.