At this point, I can't remember how long ago it was that I first learned about a place called the "Red Lotus Sea." Once I knew it existed, however—and once I knew how easily accessible it was—I knew I had to go.
My first challenge, however, was deciding when that would be. I know for sure I wasn't living in Thailand at the time, although I was planning several trips to the Kingdom (as I almost always am when not residing there).
Whether you simply want to tick this wild wonder off your bucket list, are asking yourself "where is the Red Lotus Sea?" or are searching more generally for things to do in Udon Thani (the city of the Isaan region that's closest to it), you'll want to continue reading.
How to Reach the Red Lotus Sea
When my good friend (and longtime travel companion) Dora told me she'd be meeting me in Thailand many Januarys ago, I knew this would be the perfect time to visit the Red Lotus Sea. Although it was her first trip, there's never a bad time to discover the most amazing destinations of amazing Thailand. After several days in Bangkok and a couple of nights on Koh Lipe, we flew to Udon Thani, where we hunkered down until the wee hours of the next morning.
This last part is key. Although the Red Lotus Sea (ทะเลบัวแดง or Talay Bua Daeng in Thai) is theoretically within day-trip distance of Udon Thani's city center, it's really best if you have at least one night in the city. I'll explain the reasons for this (and show them, using some incredible photos you're going to love), over the next several paragraphs.
Tips for the Best Red Lotus Sea Trip
Arrange transport the day before
Getting to Udon Thani Lotus Lake is not possible by public transport, at least not if you want to have the same experience Dora and I had. Moreover, it is unlikely your hotel's reception desk will be open at the time you need to leave. Arrange your taxi (or, if your hotel has its own car service, a driver) before you go to sleep the night you arrive in Udon Thani.
Rise well before the crack of dawn
Another secret about the Red Lotus Sea? While it's beautiful at any time of day, it's really at its most stunning around sunrise. This is generally sometime around 6 a.m. in Udon Thani in January and February, which means you should leave the city center well before 5. When arranging your transport, check the exact sunrise time, and plan to leave an hour before that.
Make sure to get your own boat
Although sharing a boat with Thai tourists can be a good opportunity to practice your language skills if you're studying Phaasa Thai, it might be best to get your own ride if you want to enjoy the tranquility of the lake. The good news is that the boat only costs a few hundred baht (you can haggle the price), so this probably won't be an issue if you've already paid for a taxi.
Bring some different lenses
Even if you don't consider yourself a travel photography aficionado, you should definitely bring your best skills to the Red Lotus Sea. Your best skills, and your best equipment: There are just as many shots that call for a wide-angle lens as there are those than demand one capable of zooming. In fact, it's difficult to balance the need to stay present with the desire to photograph everything.
Don't bother outside of January or February
When you visit the Red Lotus Lake, Thailand weather rules (namely, that there's only a wet and dry season, or a hot and hotter one) don't apply. Specifically, the flowers only bloom in January and February, as I mentioned earlier. While there many be some scattered lotuses on the lake if you come outside these months, it won't be the spectacle you're expecting.
Pictures of the Red Lotus Sea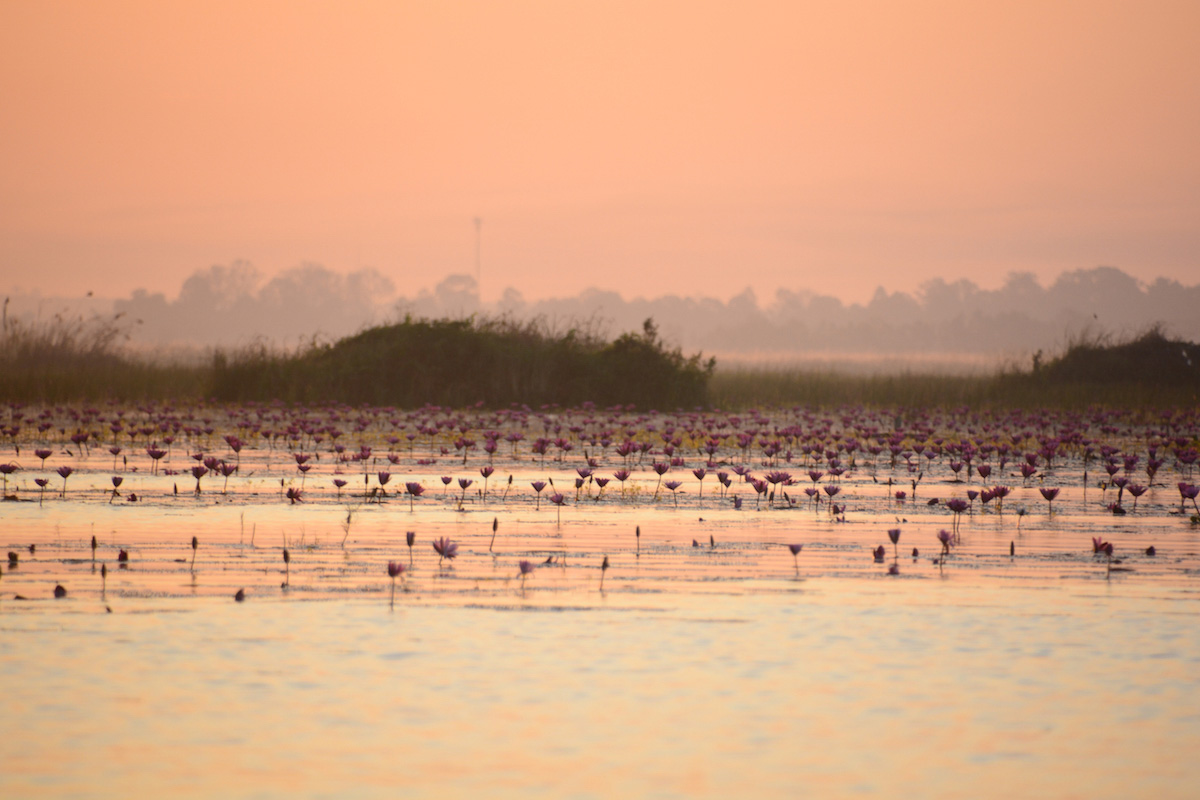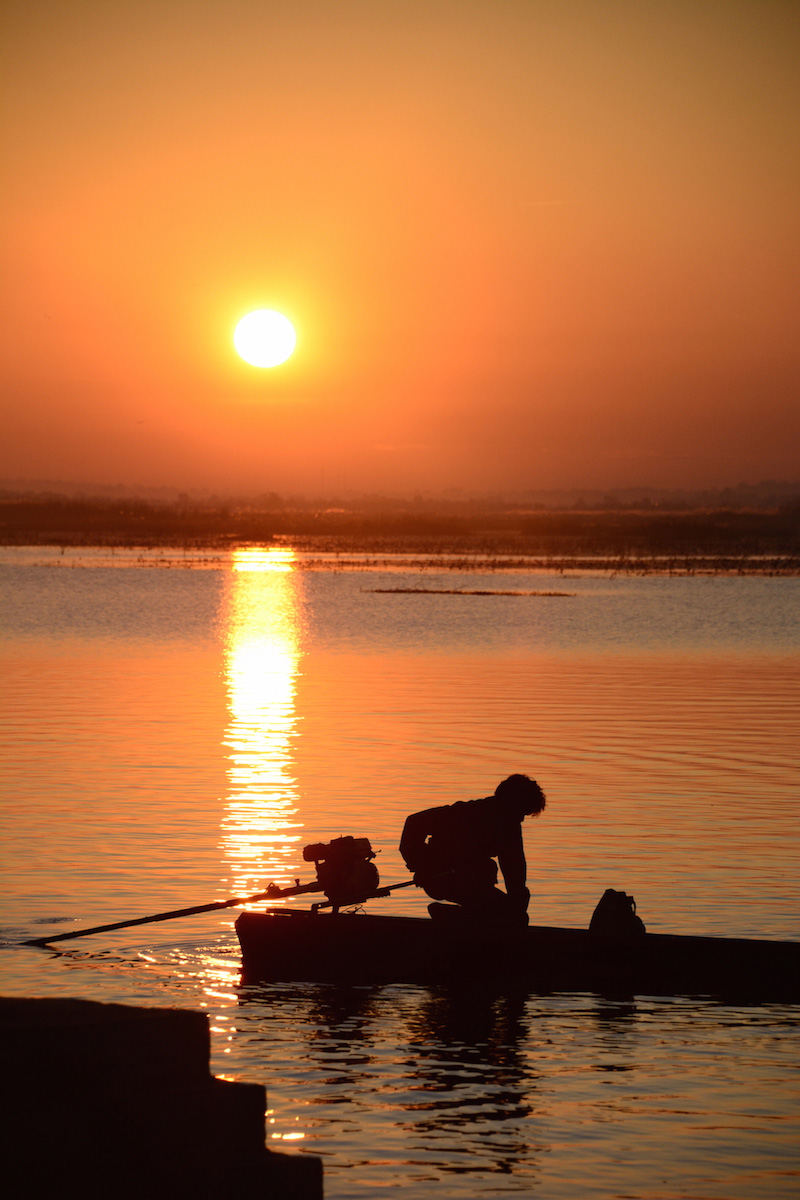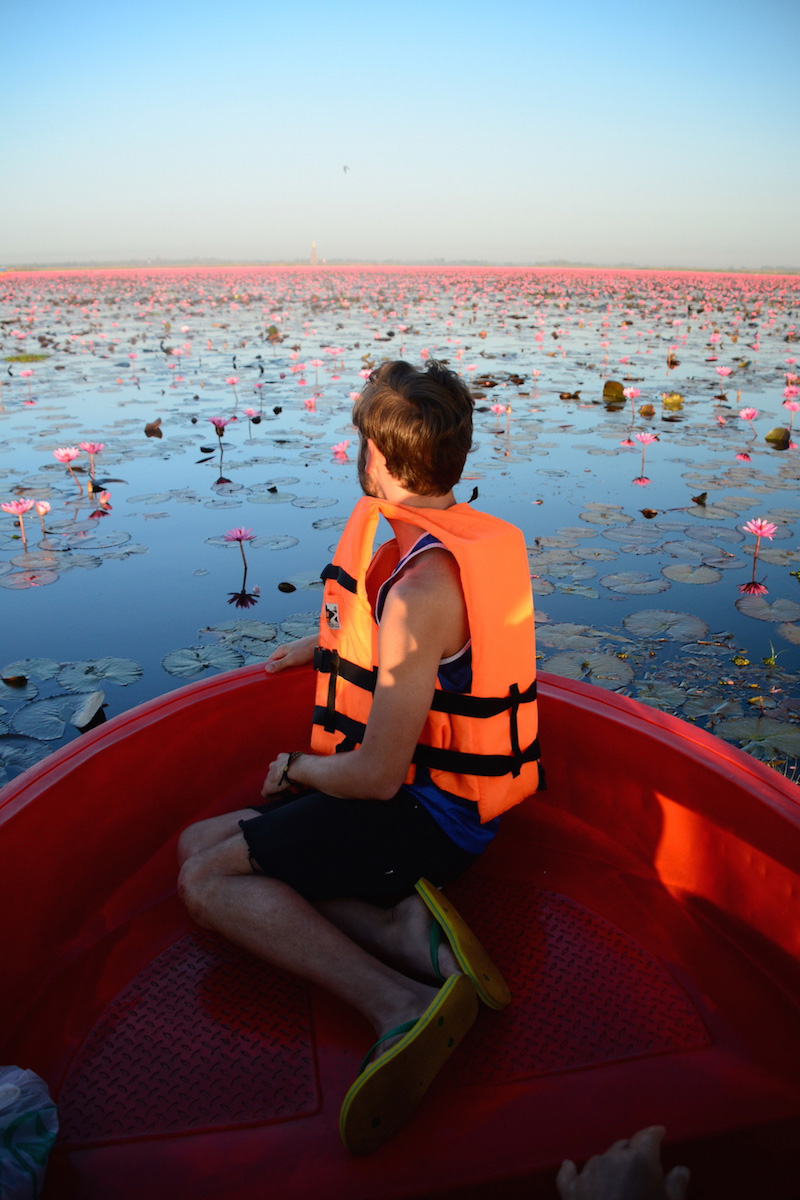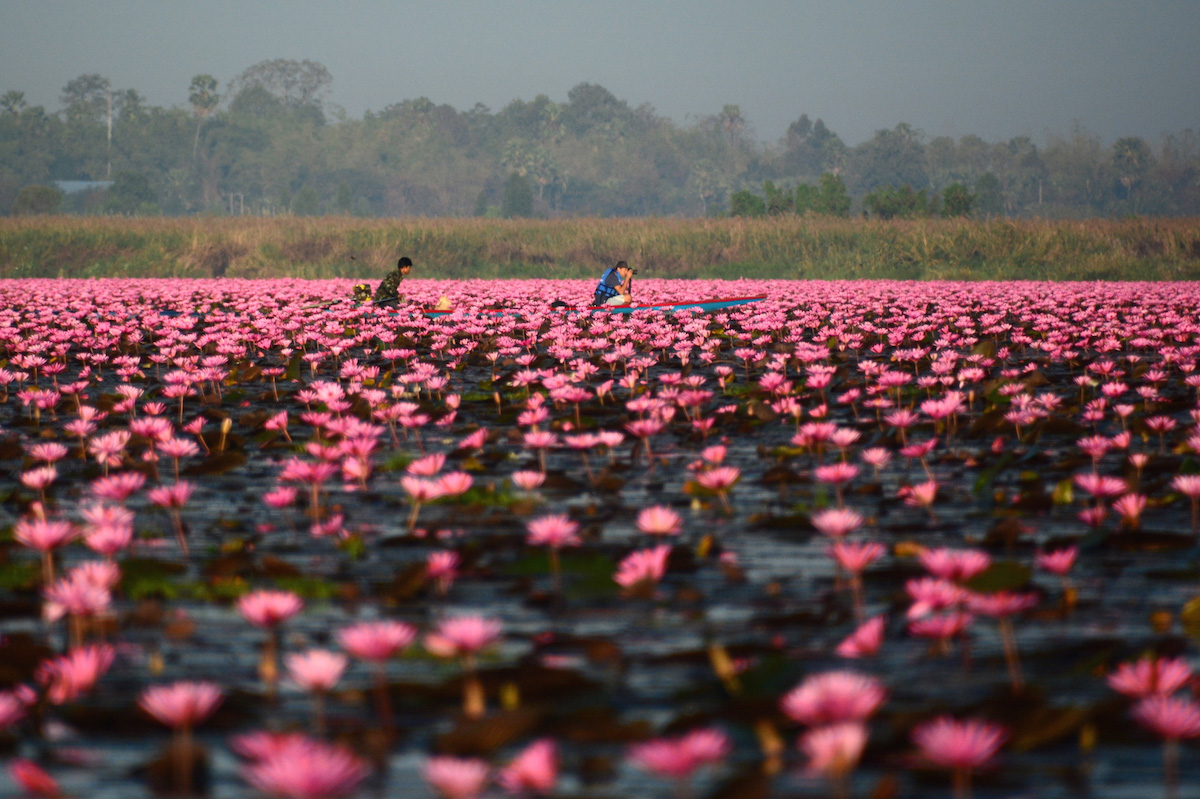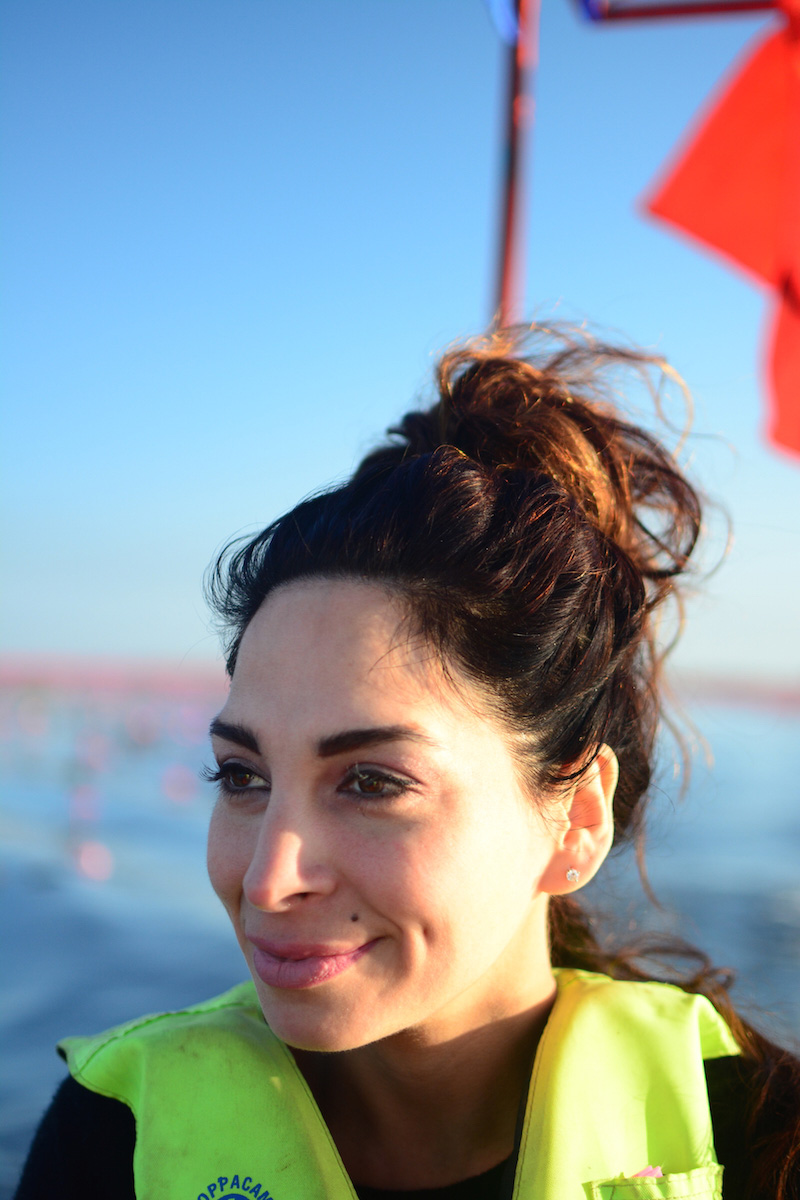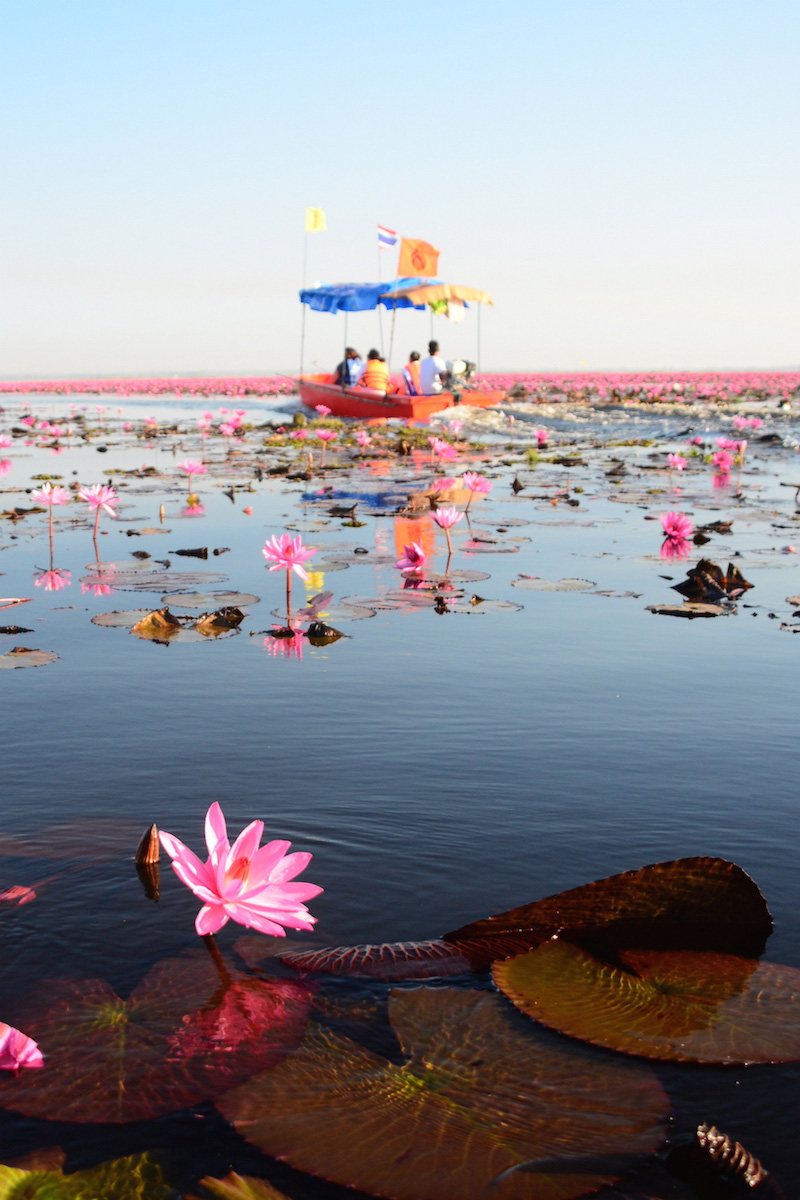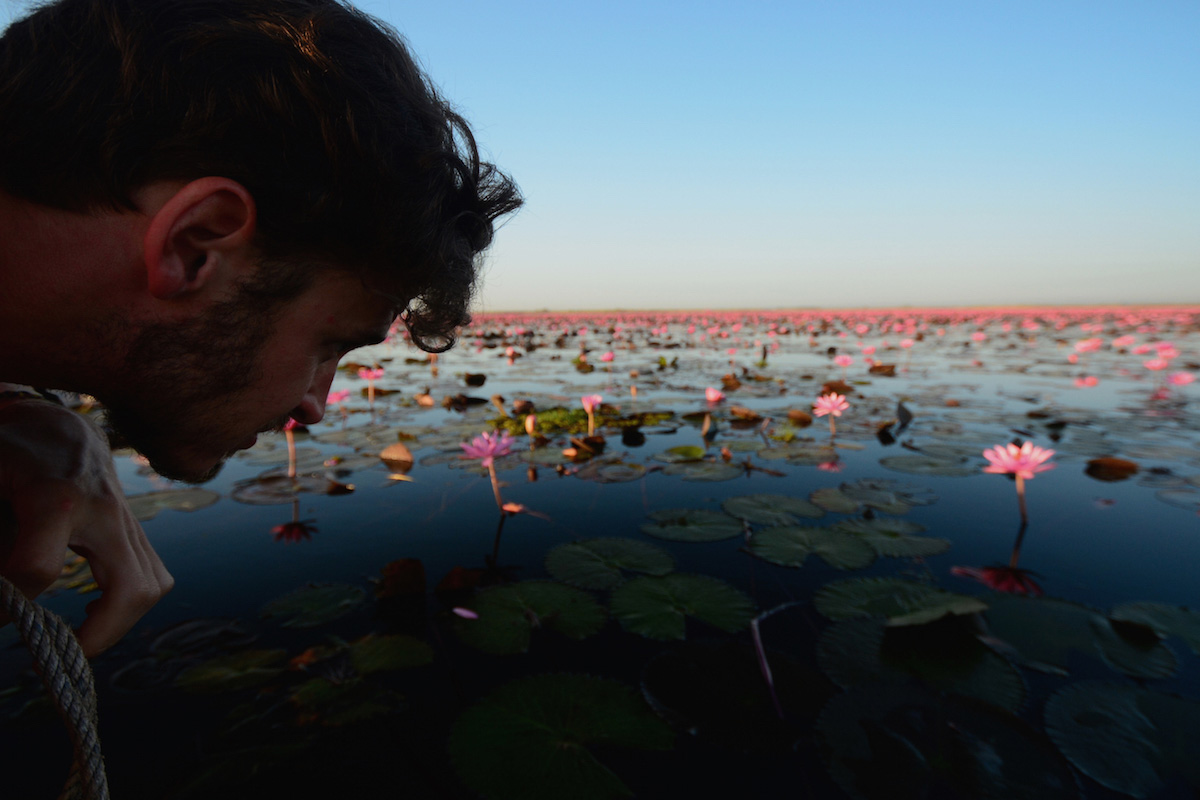 Where to Stay in Udon Thani
The bad news? Udon Thani, in spite of being one of the largest cities in Isaan, is far from being cosmopolitan or even all that interesting. The good news? Hotels in the compact city center are plentiful and cheap, and will serve the purpose of providing a place to sleep before you rise before the crack of dawn to boat atop a sea of red lotus blossoms.
In particular, when Dora and I visited the Red Lotus Sea, we stayed at the comfortable and well-positioned Lion King. Other Udon Thani hotels include the boutique-style historical property The Old Inn and the luxurious Centara Grand Hotel and Convention Center.
Other FAQ About Visiting Thailand's Red Lotus Sea
Where is the Red Lotus Sea?
The Red Lotus Sea, known in Thai as Talee Bua Daeng, is located in the country's northeastern Isaan region near the border with Laos. In particular, it's located in Udon Thani province, about an hour's drive away from the city and airport of the same name.
How do I get to Red Lotus Sea?
To get to the Red Lotus Sea, you'll first need to fly to Udon Thani. From there, you'll need to proceed to Udon Thani city and spend the night. While you could theoretically go straight to the lake, you really do want to come here at sunrise; it's best to stay the night in the city and set off first thing the next morning.
What time of year do lotus flowers bloom in Thailand?
Lotus flowers, at least at the Red Lotus Sea near Udon Thani, tend to bloom from about late December until mid-February, with a peak bloom around the last week of January or the first week of February. Lotuses also tend to bloom in the morning, which is why it's such a good idea to head here at sunrise.
The Bottom Line
Where is the Red Lotus Sea? It deserves a spot on your Thailand bucket list—and a commitment from you to tick it off. Boating out onto the lake is truly a magical experience, particularly if you follow my advice and depart Udon Thani at least an hour before the sun rises. A horizon of endless lotus blossoms would always be a beautiful sight, but is unforgettable bathed in the bountiful light of early morning. Of course, no matter when (which is to say which time of day) you visit the Red Lotus Sea, the real key is making sure you go during January and February, which is the only time you can see sure the bua daeng are in bloom. Otherwise, you'll be flying all the way to Udon Thani for a boat trip on an ordinary lake!