I've created this Chiang Rai travel guide as a monument to my love for this city. So much do I adore this underrated gem that I'd say it's the main reason I venture to Thailand's north.
Not to mention, when it comes to iconic places in Thailand, Golden Triangle scenery is hard to beat. (I think of Chiang Rai and the Golden Triangle as one in the same, from a traveler's perspective, even though they offer very different experiences.)
Over the course of my Chiang Rai itinerary, I'll explain how to make the most of your time in Chiang Rai, interspersed with personal anecdotes about why I've come to love this part of Thailand so much. I'll also address the eternal Chiang Mai vs. Chiang Rai debate—you won't want to miss that.
Where to Stay in Chiang Rai
Apart from everything else I'm about to cover in this Chiang Rai travel guide, my favorite aspect of the city (and province) is how much it feels like home. This was true from the moment I arrived there the first time, and checked into Baan Jaru. Run by a local family on the same property as their actual home, it has all the best elements of a boutique hotel and a homestay, right in the heart of the city. Get the bungalow if you can!
If it's unavailable, of course, you needn't worry. Many ordinary hotels in Chiang Rai are welcoming and homey as well. This is true for more modest properties such as Le Patta Chiang Rai, which is one of the most well-balanced places I've ever stayed in Thailand, as well as Mora Boutique Hotel, which manages to combine five-star luxury with a down-to-earth ambiance that never feels stuffy. Now, let's talk about what to do in Chiang Rai.
Things to Do In and Around Chiang Rai
Start With "White, Black and Blue"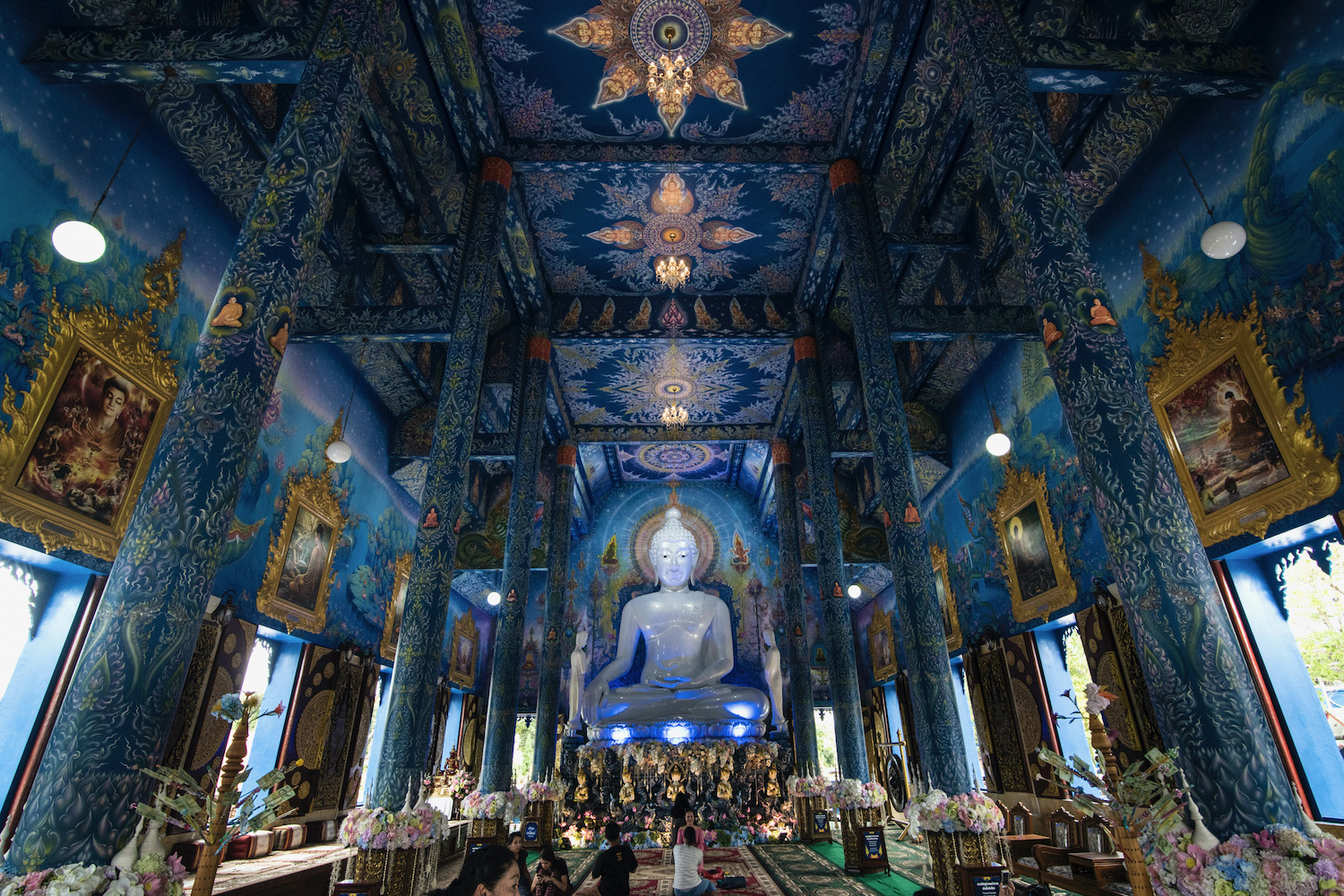 Start your trip with an excursion to Wat Rong Khun, aka the Chiang Rai "white temple," which is located south of town. Although you can go here via public transport, I'd recommend a day taxi: That way you can head straight north to Baan Daam, aka the "black house" and then back south a bit to the "blue temple" of Wat Rong Suea Ten. (TIP: End your sacred morning with lunch at the fabulous Chivit Thamma Da!)
Watch the Clock Tower Light Up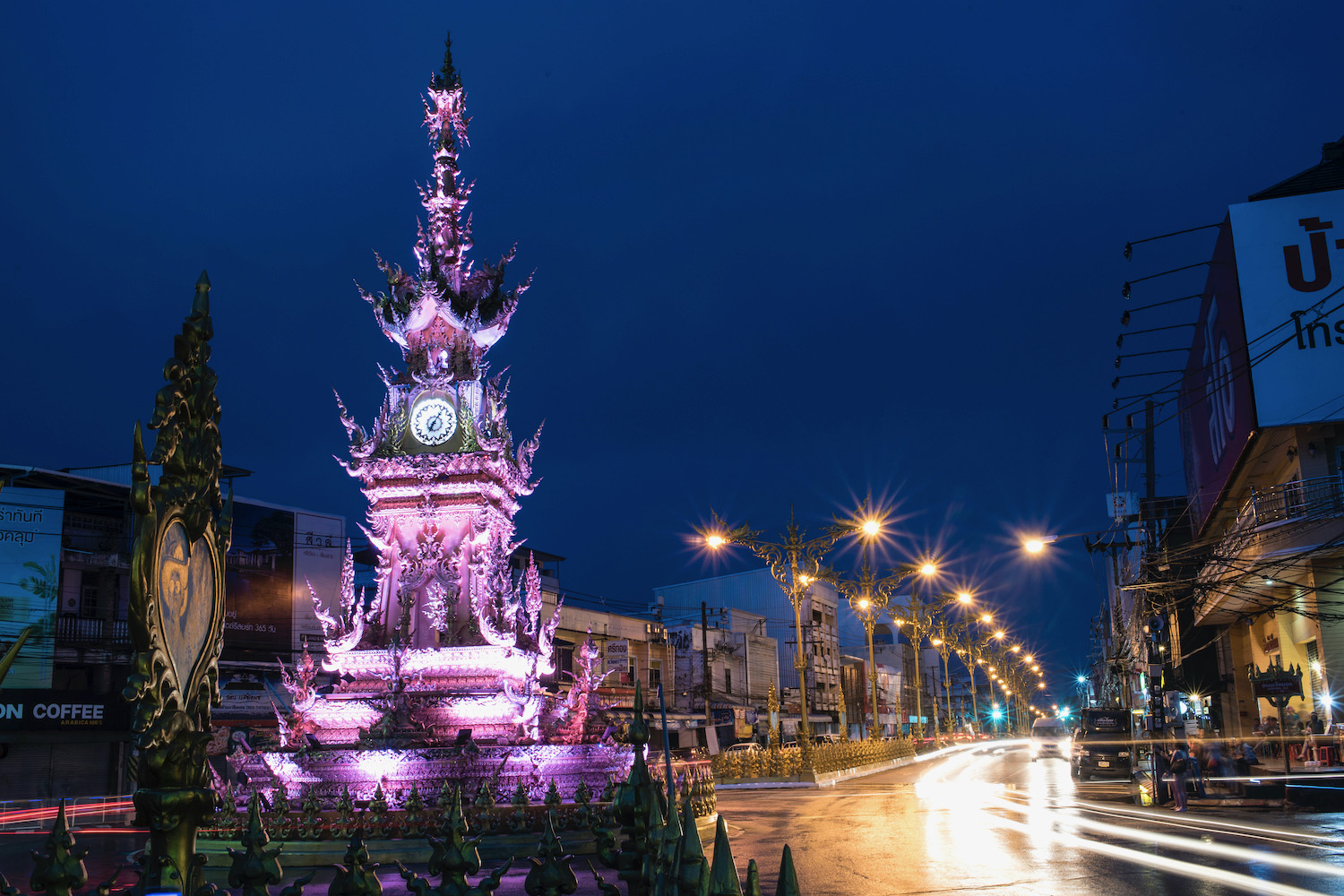 Chiang Rai Clock Tower is probably the most easily accessible of all the things to do in Chiang Rai I've mentioned in this post. Located right at the center of town—if you come before nightfall, enjoy a dinner of authentic Khao Soi curry soup at Four Stars nearby while you wait—this gleaming monument lights up in a spectacular fashion. Another adjacent attraction worth visiting is the Northern-style Wat Jet Yod temple.
Explore the Golden Triangle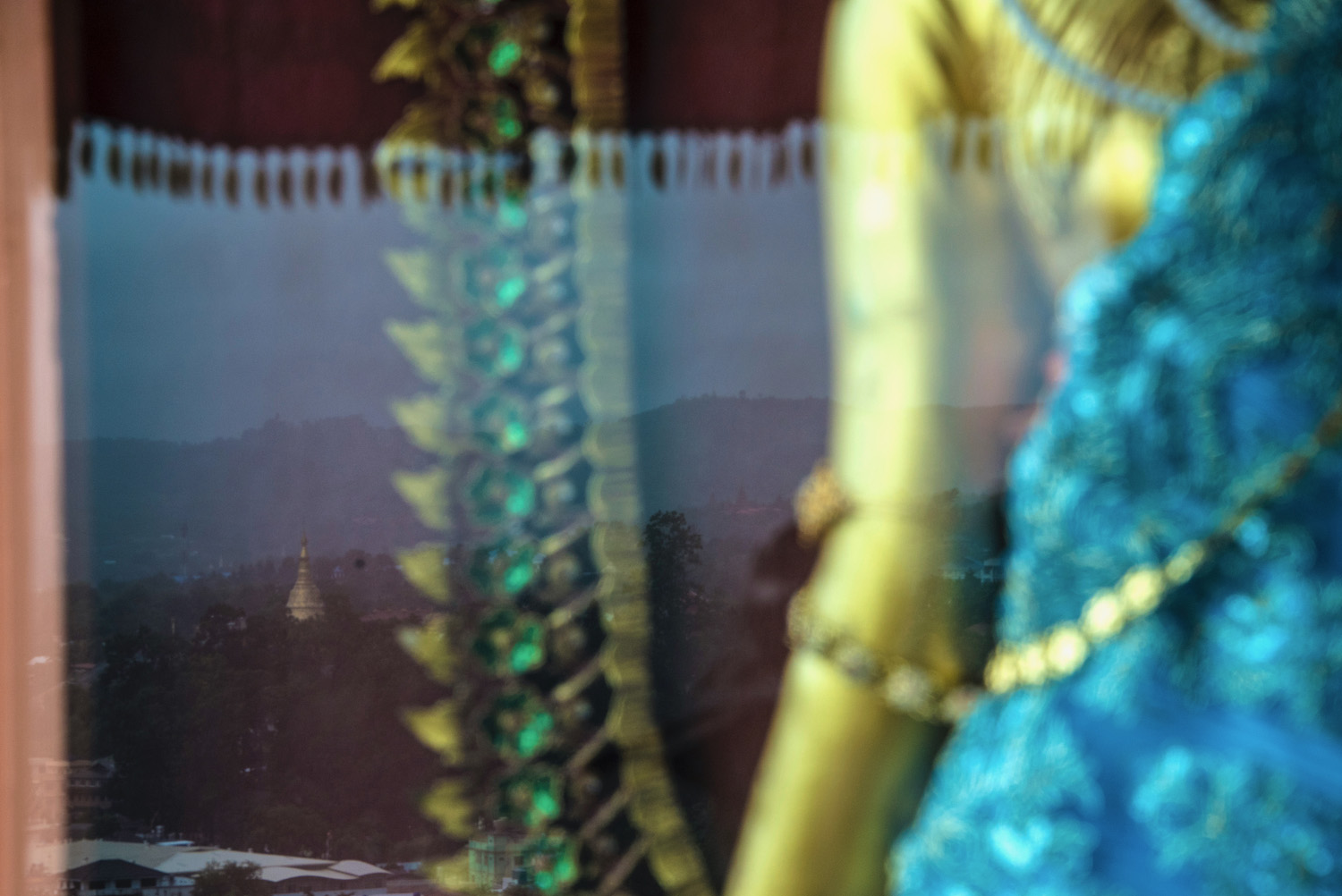 You can use public transit fo get from Chiang Rai to Golden Triangle. A local bus will take you from the city center to Mae Sai, located near the Burmese border, where you can hire a songthaew pickup truck to the Saam Liam Trong Kham monument itself. From there, you may be forced to hitchhike to Chiang Saen, a Mekong River town where you can touch down before heading back to Chiang Rai. Or you could just arrange a taxi for the day!
See the Sunset Behind the Goddess of Mercy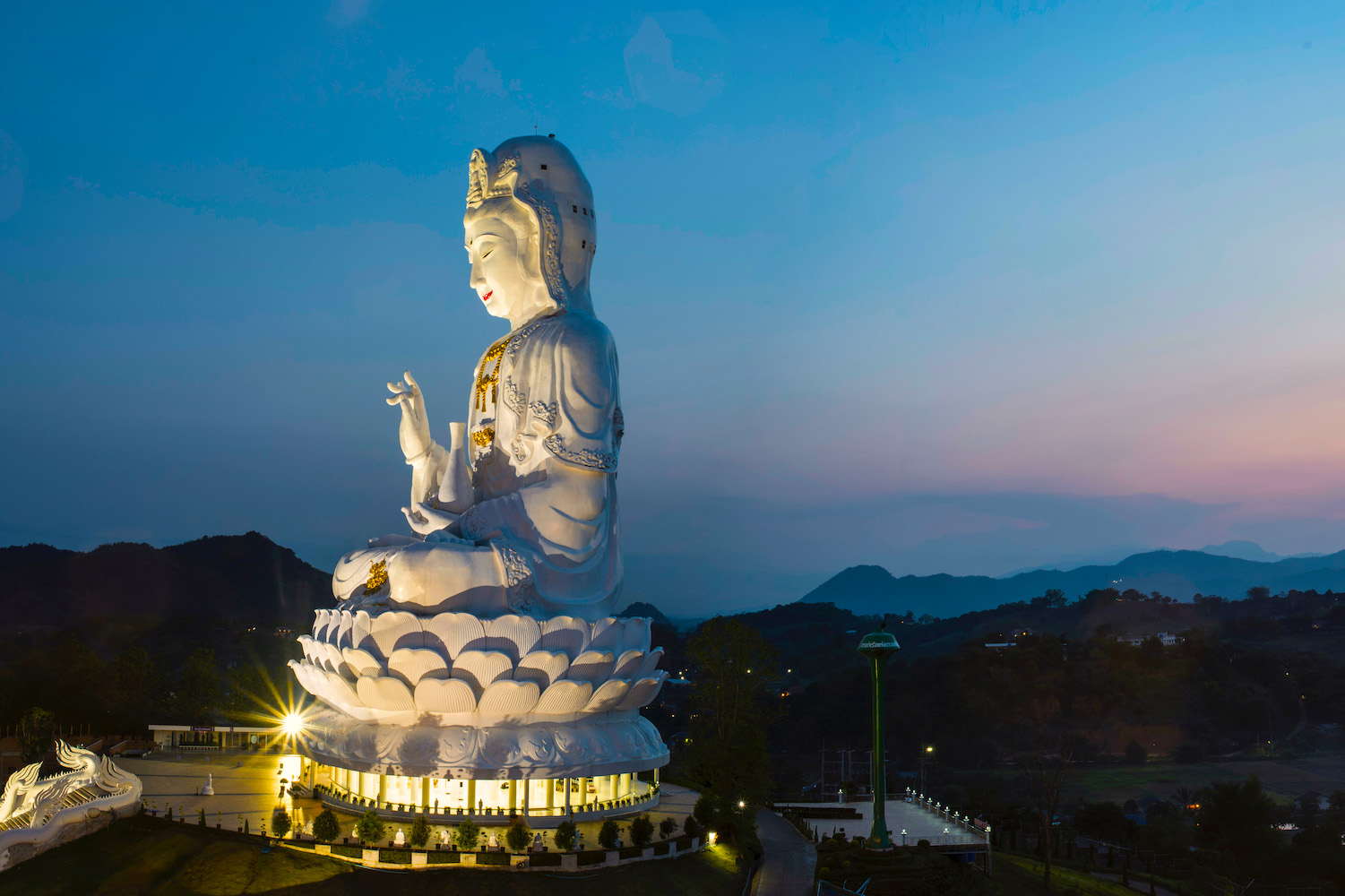 Speaking of which, I apologize that private car is the easiest (and in many cases only) way to tick items I've listed in my Chiang Rai travel guide. On the other hand, the relative seclusion of places like Wat Huay Pla Kang, a massive seated Guan Yin statue about 20 minutes by car from the city, is part of what makes them so special. For the best sunset view, ascend the pagoda just next to the Lady Buddha!
Visit a Coffee or Tea Plantation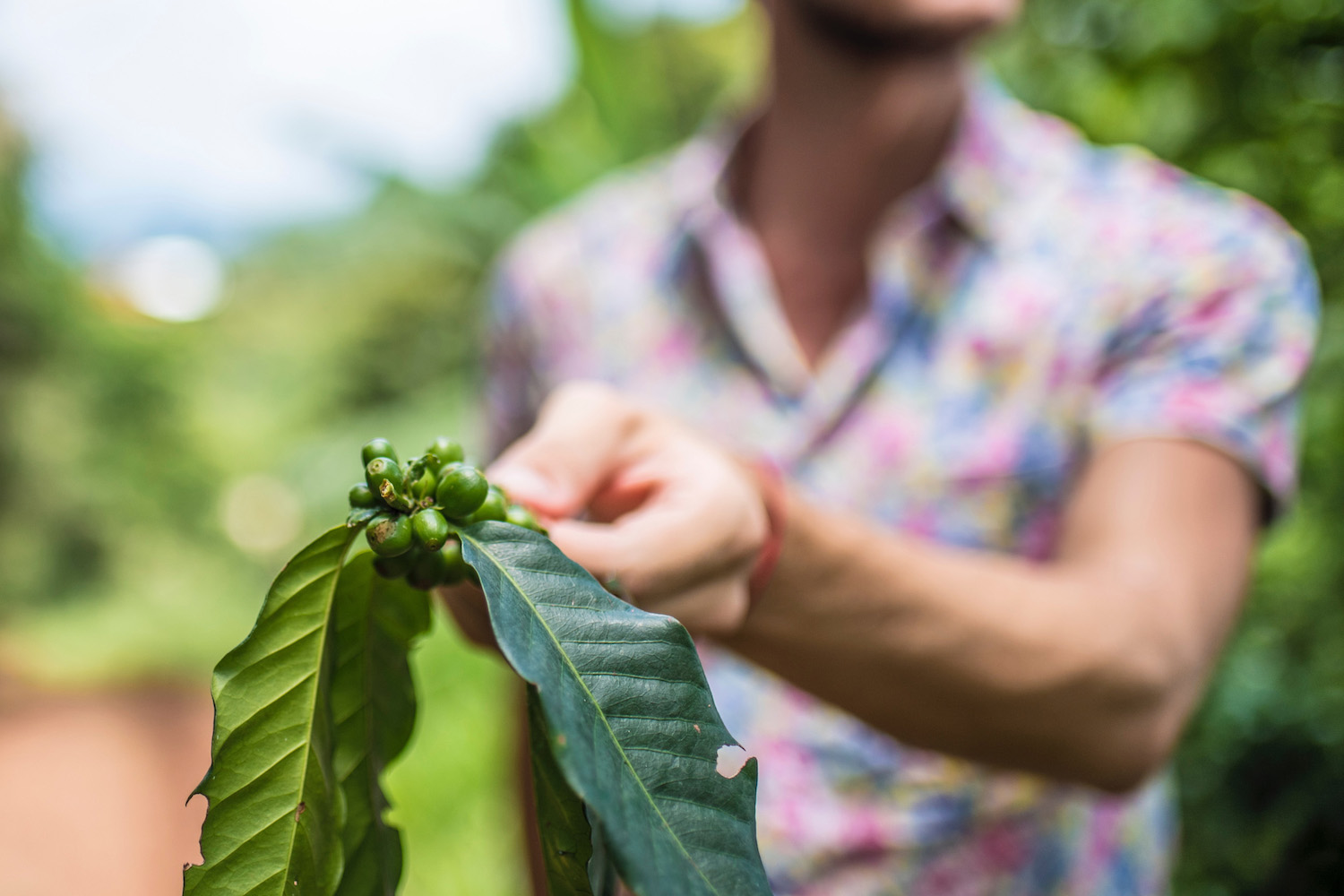 Whether you end up choosing to visit a Chiang Rai coffee farm or one of the province's tea plantations is up to you. For the former, my personal favorite is Doi Chaang (the namesake of the famous Thai coffee chain), which pairs well with a hike to Khun Korn Waterfall. For tea, the best option is Choui Fong, which like any coffee farm requires transport via private car, ideally arranged with your hotel.
Chiang Rai vs. Chiang Mai
I won't go all existential here—I'm not going to address questions like "is Chiang Mai worth visiting?"—but I do think it's important to compare these two cities. If only because they often get lumped together (for some good reasons, and also some lazy ones), and because I definitely have a preference for which is better to visit between them. Can you guess which it is?
Of course, it's not that things to do in Chiang Rai are all amazing and Chiang Mai is without redemption—this is far from the truth. I love the wealth of temples in Chiang Mai's old city, and the wealthy of ethical elephant experiences on its periphery, as two very easy examples. With this being said, the authentic energy of Chiang Rai is hard to find in Chiang Mai (or at least it was before Covid-19—let's see what happens after!).
Other Places to Visit in Northern Thailand
Whether you travel from Chiang Mai to Lampang, or head to destinations that are even wilder (such as Tak and Loei), northern Thailand really only begins in mainstream spots like Chiang Rai and Chiang Mai. The former Lanna Kingdom, which was an independent and powerful nation in the days when modern Thailand was taking shape in Sukhothai, this region has culture (and cuisine) distinct from the rest of Thailand.
Heading south to Sukhothai (which, geographically if not culturally, is more part of central Thailand than the north) is just one option after finishing up in Thailand's northern reaches. Read my article about whether Isaan is worth visiting to determine whether you might head to Thailand's underrated, rough-and-tumble northeastern region once your Chiang Rai trip ends.
Other FAQ About Travel to Chiang Rai
How many days do you need in Chiang Rai?
I recommend spending no less than two full days in Chiang Rai. This allows you to spend one day in the city center, tracing the "white, black and blue" temple trail, plus watching sunset behind the historic Clock Tower before dining on delicious khao soi soup. You can either spend day two entirely in the Golden Triangle, or head there early in the morning to enjoy your second sunset at Wat Huay Pla Kang, aka the massive Guan Yin statue.
Is Chiang Rai worth visiting?
Chiang Rai is my favorite city in northern Thailand—I'd absolutely say it's worth visiting. If you don't enjoy unique architecture such as the surreal White Temple or the macabre black house, you'll love the spicy, delicately flavored food and the magnificent landscapes of the Golden Triangle on all your Chiang Rai vacations.
Is Chiang Rai expensive?
Chiang Rai is one of the most affordable destinations in Thailand—it's not expensive at all. While budget travelers can easily travel in Chiang Rai for around 1,000 Thai Baht (~30 USD) per day, $100 per person, per night will get you a luxurious hotel and allow you to get around primarily by taxi and private transfer. In many ways, Chiang Rai is the city Chiang Mai was 15-20 years ago, and that it's still reputed to be.
The Bottom Line
Whether you came here searching for a detailed Chiang Rai travel guide, or were simply wondering whether or not the city is worth visiting, I trust you have your answer. From the temples and khao soi shops of the city center, to the enchanting river vistas of the Golden Triangle Chiang Rai, this underrated (but easily accessible) part of Northern Thailand deserves to be a lot more famous than it is. On the other hand, I'm kind of glad that I (and, I guess now, you) have it all to myself—ourselves, if you come too. Make the most of Chiang Rai and the entire rest of the Kingdom when you commission a custom Thailand itinerary.