A special excitement takes root in me every time I travel from Chiang Rai to Golden Triangle, whether I'm onboard a local bus or arrange a car through my hotel. This magical part of Thailand, which juts up against Laos and Myanmar, is one of the Kingdom's greatest travel treasures.
Indeed, even if you consider yourself well versed in the destinations of Thailand, Golden Triangle experiences and scenery will delight you. Spend the morning peering into Burmese territory from an enchanting temple, and the afternoon learning about the opium trade that once domination this region.
The Golden Triangle is often the beginning of adventure and not the end, and I've covered this base, too. Whether you continue from Thailand to Laos or just want to explore more of Northern Thailand, you'll want to read all the way to the end.
Where to Stay in the Golden Triangle
Most travelers go from Chiang Rai to Golden Triangle as a day trip—for all intents and purposes, this is how I'm structuring this post. My favorite hotels in Chiang Rai tend to exemplify what I call my "three Cs": Chic, comfortable and centrally located. A favorite hotel property of mine is Le Patta Chiang Rai, while Baan Jaru is a guest house with a homier feel.
Some Golden Triangle hotels do exist, from the ultra-luxe Four Seasons Tented Camp along a rural stretch of the Mekong, to various, simply city properties in Mae Sai and Chiang Saen. Unless you have the money for the Four Seasons, however (and want to enjoy the extremely high-end experience on offer there), I'm not sure there's much advantage to staying in the Golden Triangle itself.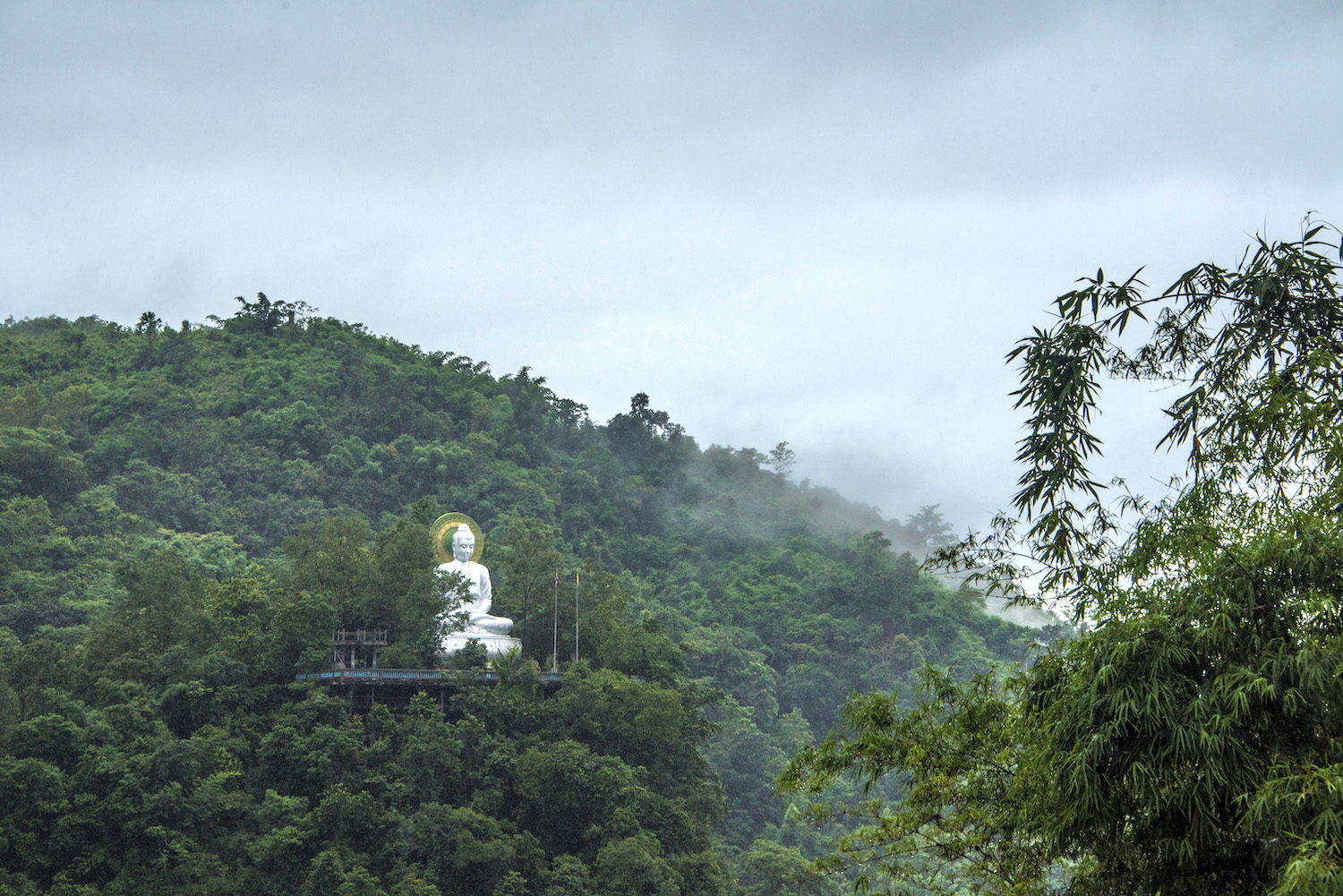 Things to Do in the Golden Triangle
Start in Mae Sai
Is the Golden Triangle worth visiting? I think you'll get a good idea of this almost as soon as arriving in Mae Sai, accessible via direct bus from Chiang Rai, and also easy to reach if you travel by private car. Located on the border with Myanmar, the town (which is now world-famous as the home of the stranded Thai soccer time) has a decidedly Burmese feel.
Try Your Hand at Hiring a Song Thaew
Getting from Chiang Rai to Golden Triangle is easier if you have your wheels, but it's also less fulfilling. One of my personal favorite ways to travel in this part of the Kingdom (and, in particular, to travel onward from Mae Sai) is to hire a song thaew, or a pick-up truck with a covered bed. The ones you're looking for here are blue in color; you'll need to haggle a price.
Visit the Golden Triangle Monument
Is the Golden Triangle dangerous? Well, only if you're a drug smuggler! Otherwise, the main "danger" is slipping on wet pavement as you walk down to the Saam Liam Trong Kam monument, or up to Wat Phrathat Du Khao, which overlooks the very point where Thailand meets Laos and Myanmar, i.e. the Golden Triangle. This vicinity is small in size, but rich in experiences.
Educate Yourself at the Opium Museum(s)
I mentioned drug smuggling in the last paragraph not because I believe you will engage in it during your Chiang Rai to Golden Triangle journey, but because the illegal drug trade (in particular opium) is a notorious part of this region's history. As you'll see at both at the closer-in House of Opium and the Hall of Opium, which is a short ride away, strategic efforts by Thailand's royal family stamped out the dueling epidemics of drug addiction and dealing.
End in Chiang Saen
You can enjoy Thailand Mekong River views throughout the Golden Triangle region, but some of my favorites are found in Chiang Saen. The end of the line as far as Golden Triangle day trippers are concerned, this small town sits right over the river from Laos. In addition to the scenery, a night market pops up here on weekends, allowing you to enjoy a casual, tasty dinner before getting a bus back to Chiang Rai.
Continue to Laos or Myanmar
Traveling from Thailand to Myanmar is easy via the Golden Triangle. The border crossing is literally right there in Mae Sai! You should keep a couple of things in mind when doing this. The first is that while it's technical possible to pay a bit of money in order to cross over for the day, I would recommend getting a Myanmar visa in advance if you plan to go deeper into the country, i.e. not returning to Thailand.
As far as getting to Laos, it's a bit more complicated. The most common way to go is not traveling from Chiang Rai to Golden Triangle, but rather to the city of Chiang Kong, which is a bit farther away. From here, you can cross the Mekong to Laos' Huay Xai, where a slow boat to Luang Prabang awaits you. To be honest, this is one of my favorite journeys in all of Southeast Asia!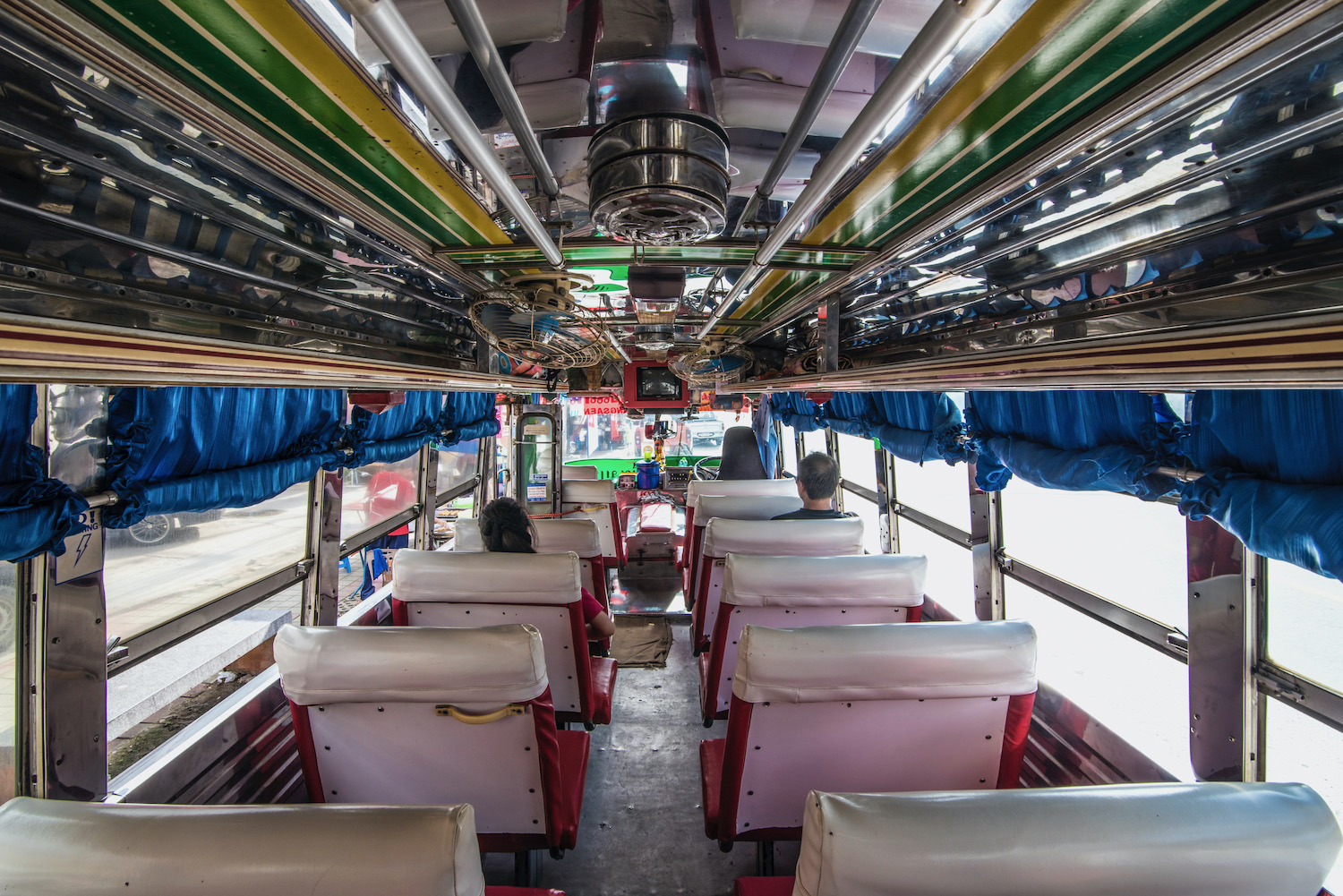 Things to Do in Chiang Rai
The good news? I've created an entire post that essentially doubles as a Chiang Rai itinerary. The better news? I will summarize it below in case you're too lazy to click:
Spend 1-2 days exploring Chiang Rai temples, including the famous "white, black and blue" ones
Watch one sunset behind Chiang Rai Clock Tower (and enjoy food experiences nearby)
Take a day trip to coffee and tea farms in rural Chiang Rai province
Enjoy your second (or third) sunset at Wat Huay Pla Kang, a massive seated Guan Yin statue
I've also dug deep into the
Chiang Rai vs. Chiang Mai
debate. Want to leverage my expertise in a more personalized way? Commission a custom Thailand itinerary!
Other FAQ About Thailand's Golden Triangle
What is the Golden Triangle in Thailand?
The Golden Triangle is the region of Thailand where the country meets Myanmar and Laos (three countries = "triangle"), located in Chiang Rai province approximately 1-2 hours from Chiang Rai city. Popular destinations include the Golden Triangle Monument, the Hall of Opium Museum and Mae Sai, a town with a decidedly Burmese flair.
What is Golden Triangle famous for?
Although it's not a renowned tourist destination, Thailand's Golden Triangle was once notorious for something else. Namely, it was (along with the Burmese and Laotian sides of the Mekong) the largest producer of opium in Southeast Asia. Thailand, anyway, has cleaned up its act; the history of opium production here is memorialized in a pair of museums.
Is the Golden Triangle worth visiting?
The Golden Triangle is absolutely worth visiting! If you're feeling non-committal, do it on a day trip. Ride a bus from Chiang Rai to Mae Sai, then get a Song Thaew to the Golden Triangle monument and on to Chiang Saen. Once you finish there, ride all the way back to Chiang Rai city by bus.
The Bottom Line
Regardless of what you get up to after you travel from Chiang Rai to Golden Triangle, you're going to love this magical part of the Kingdom. I generally started in Mae Sai, on the Thailand-Myanmar border, before riding a song-thaew along the Mekong to the Saam Liam Trong Kham monument itself. Following a stroll through (and dinner in the night market of) Chiang Sean, I return to Chiang Rai in time to have a walk around the town center. This assuming I don't spend a night in the Golden Triangle, which is always an option!