One of my biggest regrets about my most recent two-year stint in Thailand's capital was not availing day trips from Bangkok as often as I could.
I took excursions, of course, particularly when people were visiting me. I arranged a day trip to various Bangkok floating markets for a Mauritian fling of mine; when a good American friend of mine visited from Paris, where she expatriated herself, we spend a day exploring the temples of Ayutthaya.
But Bangkok, as you'll discover if you ever live there, can be hard to leave behind, both for emotional reasons as well as practical one. The next time you visit Thailand's City of Angels, force yourself to get out, if only for a day!
How Many Days Do You Need in Bangkok?
Before you consider taking day trips from Bangkok, you need to make sure you have enough time within the city limits to justify getting out. Generally speaking, I'd say the minimum amount of time necessary for this is 3 days in Bangkok. This gives you a day in the old city of Rattanakosin (and maybe Thonburi), a day exploring the city's modern parts and then one day to get out of town.
Of course, having lived in the City of Angels on more than one occasion, the issue of how many days in Bangkok you should spend isn't as simple as that. While I recognize that not everyone can or will follow in my footsteps and move to Bangkok, I think that for certain Thailand trip ideas, it might make sense to think of your time in Bangkok as a week or longer, as opposed to any number of days.
My Favorite Day Trips from Bangkok
The Floating Market(s)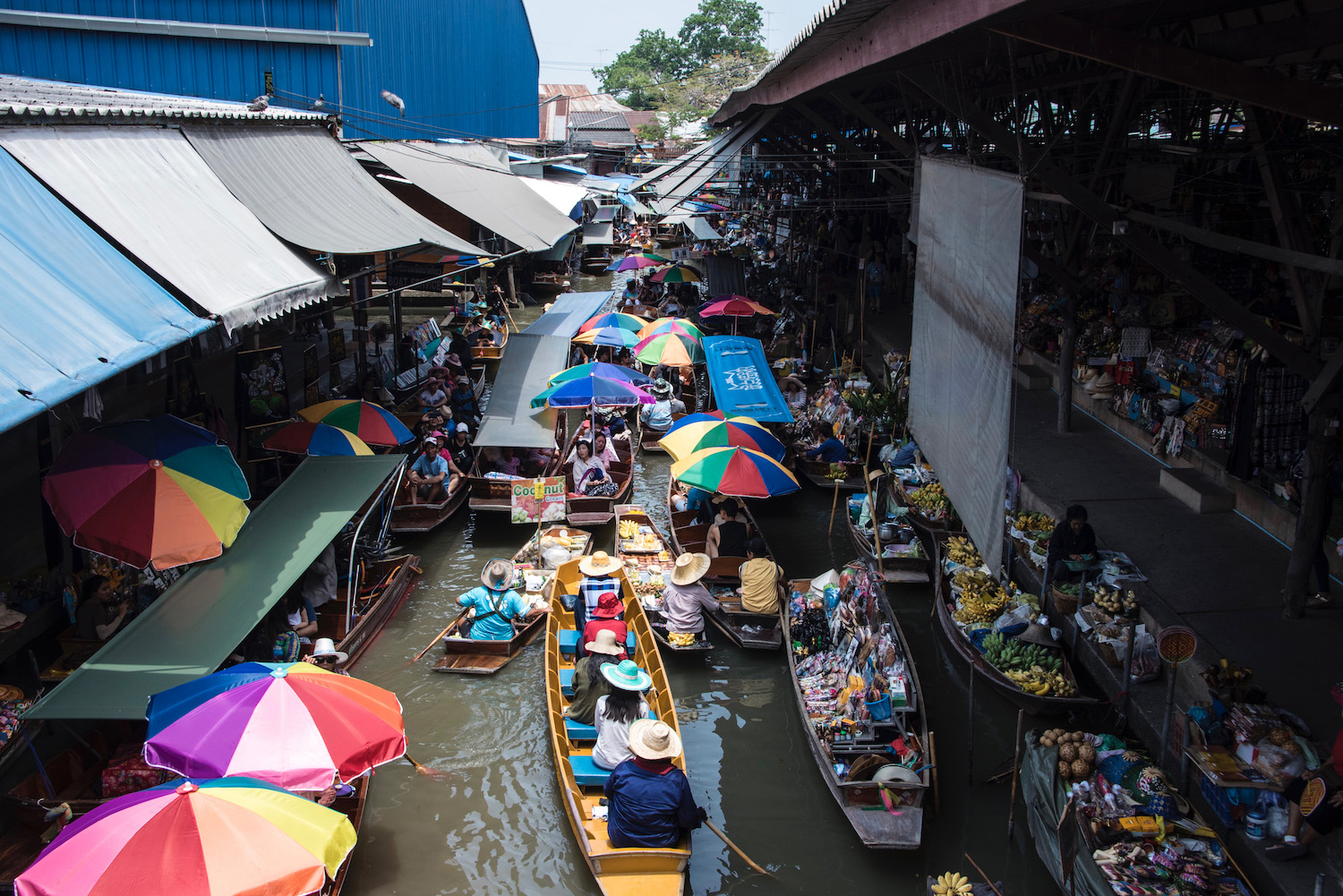 Contrary to popular belief, there are several floating markets near Bangkok. The most famous one is probably Tha Kha Floating Market, which is located in Samut Songkhram province. A second possibility would be to visit Amphawa. While the floating market here is less impressive (or at least, less picturesque), it's also just a stone's throw from Maekhlong Railway Market, a visit to which will drive your Instagram followers crazy.

Nakhon Pathom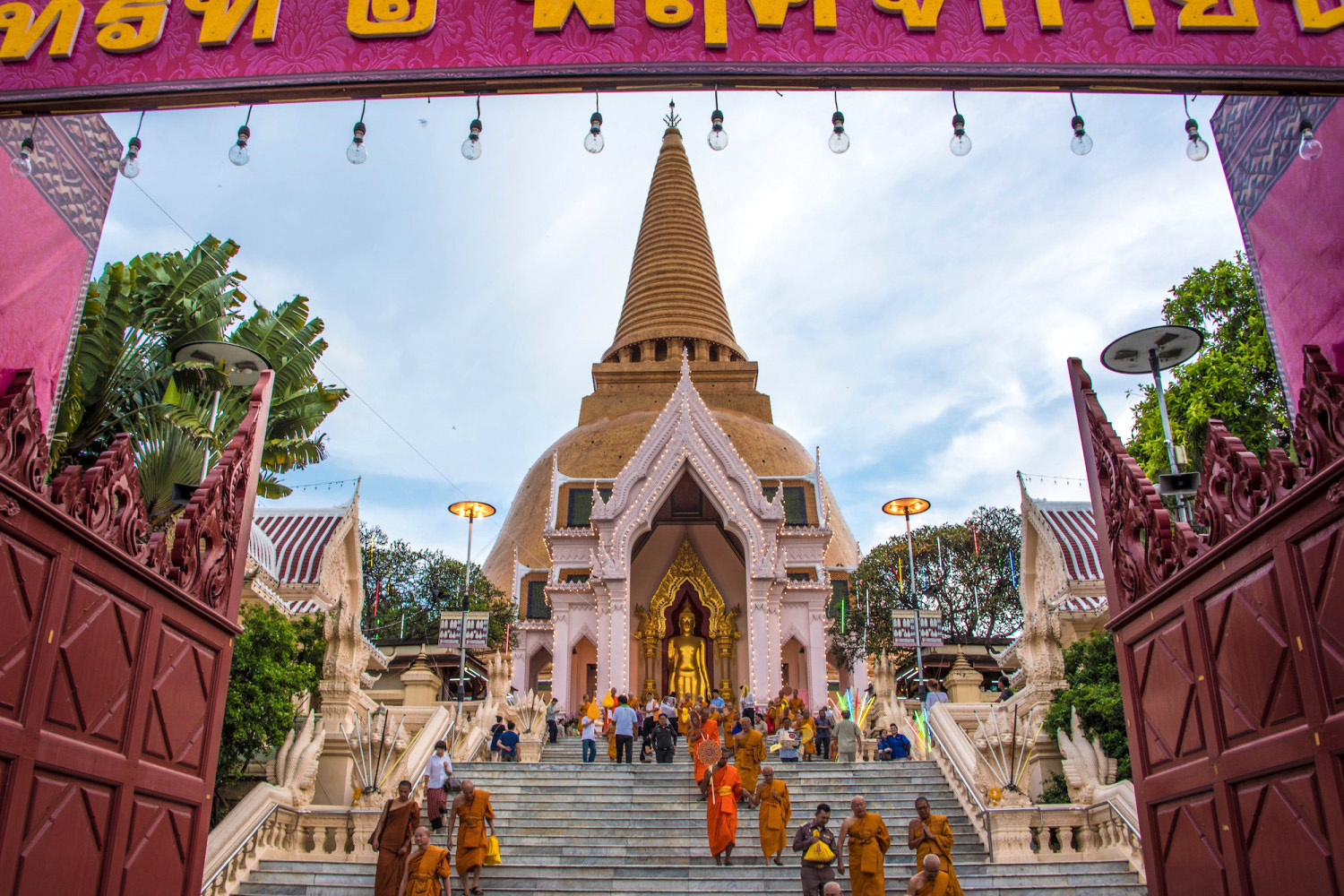 Another option for day trips from Bangkok is the city of Nakhon Pathom, which is located about an hour to the northwest of the city center by train. Although central Nakhon Pathom itself is far from cosmopolitan, the main attraction here is worth the entire price of admission. Phra Pathom Chedi, to be sure, is apparently the tallest such Buddhist structure in the world, at around 130 meters in height.

Ayutthaya
The good news? There are many ways to get from Bangkok to Ayutthaya, including several direct trains a day. The not-so-great news? In addition to the fact that Ayutthaya temples like Wat Chai Watthanaram and Wat Yai Chaimongkol have been…questionably re-built in the wake of recent flooding, the entire place is likely to be drowning in tourists. Go to Sukhothai instead, if you can!

The "UFO Temple"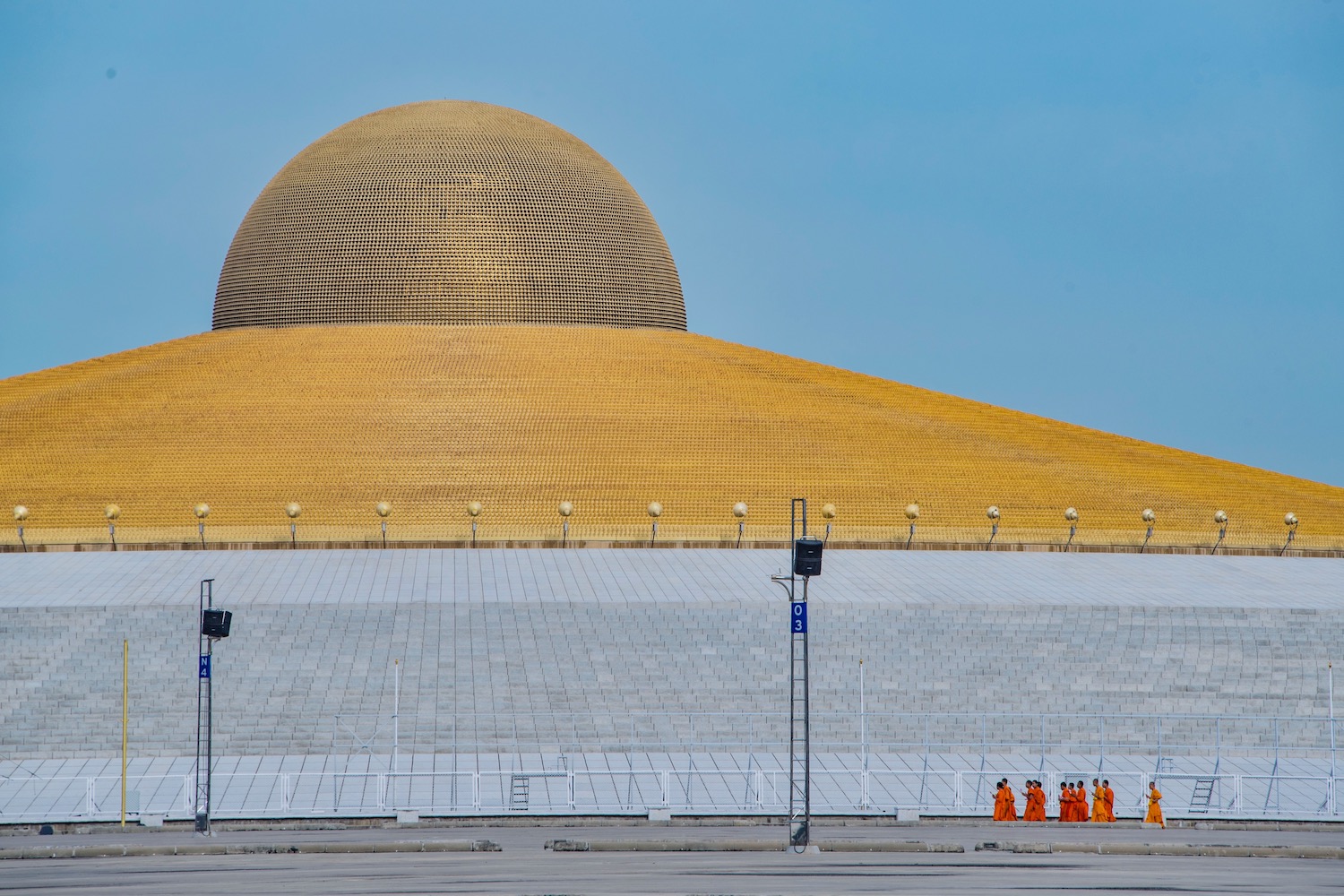 Some day trips from Bangkok are less popular than others, but that doesn't mean they aren't worth taking. A case in point is Wat Phra Dhammakhaya, which is located about 20 minutes by Grab or taxi from Don Mueang Airport. Owned by the Dhammakaya organization, a group many mainstream Buddhists believe to be a cult, this massive temple (by some measures, the world's largest) is said to have a million Buddha images on site.
Ratchaburi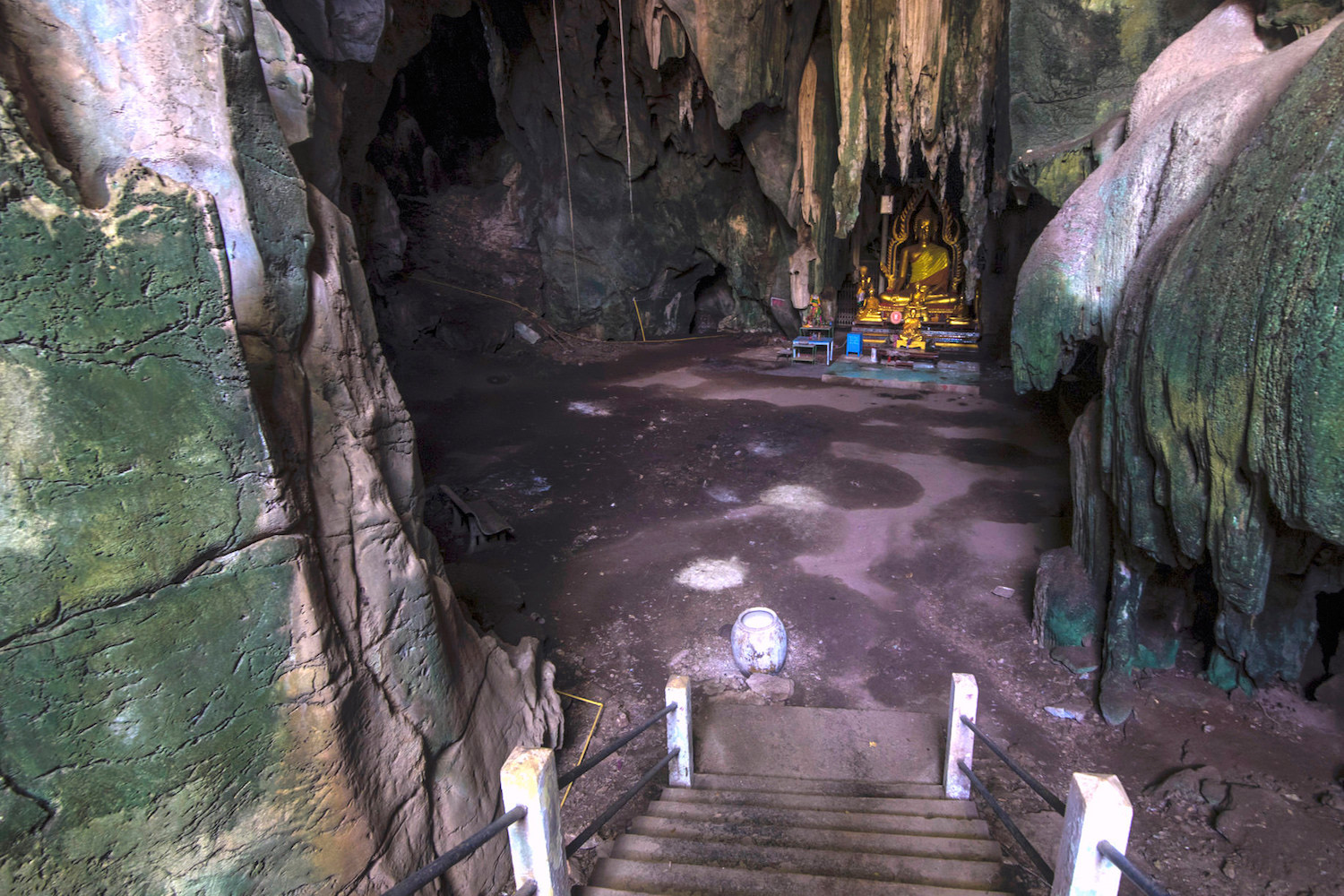 To be sure, if we're going to have a real discussion about the best temples near Bangkok, it would be irresponsible not to talk about Ratchaburi province. Spots worth visiting here include Wat Nong Hoi (the massive mountaintop Buddha featured in the main image of this article) as well as Wat Tham Sarika, the mysterious cave Buddha pictured above. Furthermore, the Khao Ngu Stone Park is very worth visiting.

What About Weekend Trips from Bangkok?
Whether you're dreaming of a lush getaway from Bangkok to Kanchanaburi, or prefer a more beach-y destination, here are some popular weekend getaways from Bangkok:
Hua Hin
Kanchanaburi
Khao Yai National Park
Koh Samet
Pattaya
Note that while some of these are technically possible as day trips from Bangkok, I would recommend spending at least a night in each.
Plan the Ultimate Trip to Bangkok
Whether you're stumped about things to do in Bangkok, don't know how long to spend in the city or are even on the fence about where to stay in Bangkok or when to visit the capital, I have good news for you—and I have better news. The good news is that the free articles I provide on this site give you more than enough information to plan an amazing Bangkok, trip, without spending a single extra Baht.
Other FAQ About Bangkok Day Trips
Where should I go outside of Bangkok?
Some of my favorite Bangkok day trips include the Damnoen Saduak Floating Market, Wat Phra Dhammakaya "UFO Temple" and the ancient city of Ayutthaya. If you want to spend a weekend outside of Bangkok, you could visit Koh Samet island, Khao Yai National Park or hilly, lush Kanchanaburi.
What can you do in Bangkok for a day trip?
Some of the most popular Bangkok getaways include the various markets west of the city, including the Damnoen Saduak Floating Market. Many travelers also go by train or private car to Ayutthaya, an ancient settlement that was once the capital of Thailand.
How much do I need for 4 days in Bangkok?
Not factoring in the cost of weekend trips out of Bangkok, you need somewhere between 100-400 USD per person for four days in Bangkok. On the lower end (25 USD, or about 800 THB), this account for accommodation in a backpacker's hostel, street food accommodation and a reliance on public transport. With 100 USD (or 3000 USD) per person per day, on the other hand, you can stay in fancy hotels, eat in restaurants and travel by Taxi or Grab.
The Bottom Line
There are as many amazing day trips from Bangkok as there are things to do in the city—the key is mustering the will to get out of town. Whether you hire a taxi for the day at visit one of the floating markets near Bangkok, or take a rough-and-tumble trip to Ayutthaya using public transport, many of Bangkok's treasures are on the city's periphery. Likewise, if you have a longer amount of time in the capital region, you could stay the night at any of the day-trip destinations I've mentioned, or expand your horizon to places like lush Kanchanaburi, which is too far away—and too rich in experiences—to see in just a day.