It only recently dawned on me that Phuket is not so much an island as a peninsula barely split off from the mainland. The strait that separates the two is like a river that got too big for its banks; they are like a couple that have just recently divorced, but still keep in touch, maybe too much.
Crossing the Sarasin Bridge from Phang Nga to Phuket, alongside my friend Allano and his family, hammered this home. The bridge couldn't have been longer than a kilometer; because there was a rainbow amid the storm clouds just to the east of it, I almost didn't notice when our time on the saphan began or ended.
To put it bluntly, this realization—that Phuket is not an island, at least not in the way the Similan or Phi Phi islands or even the Yao islands are—allowed me to feel better about my long-held negative perception of Phuket: That a trip here is something to be endured more than enjoyed.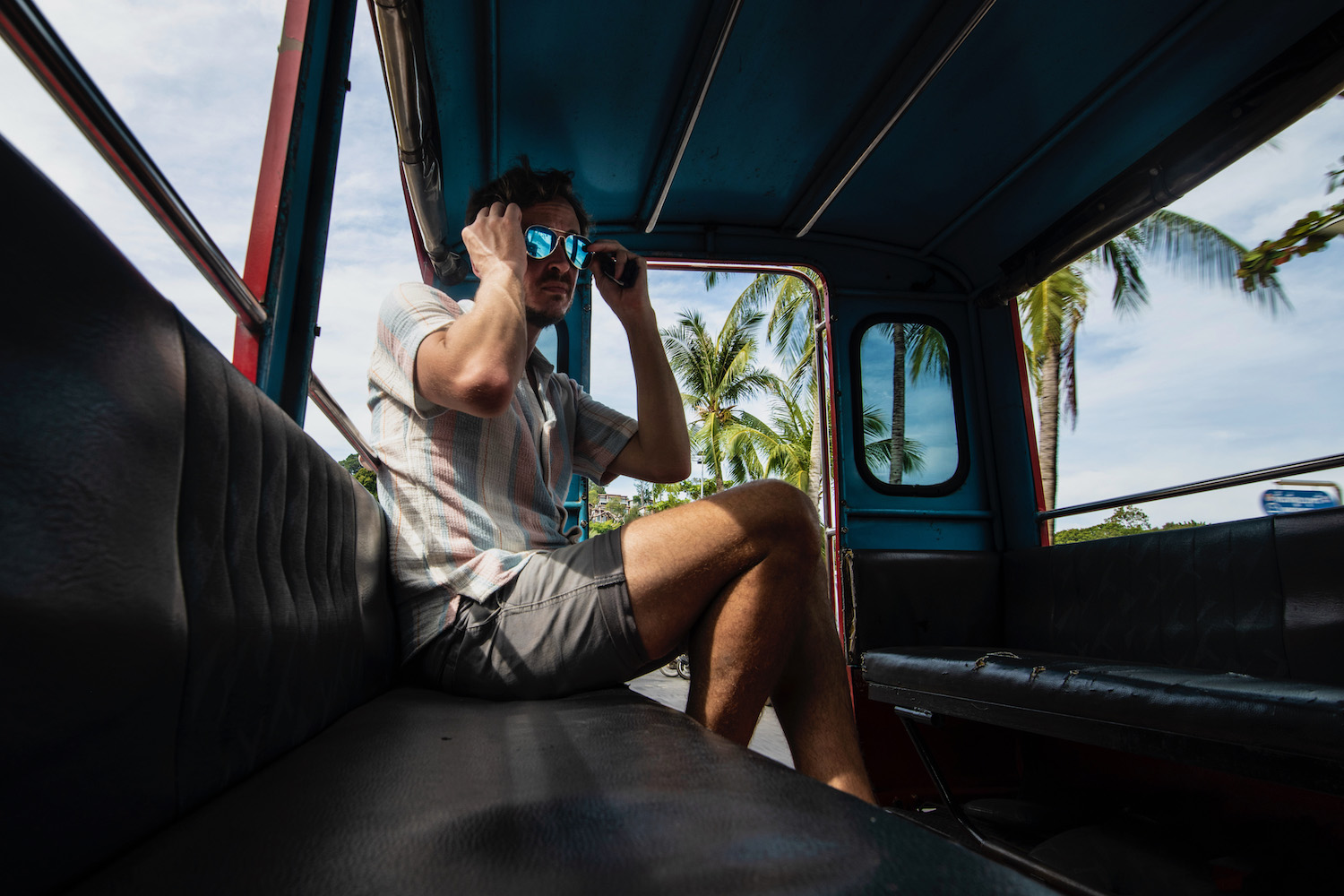 I was never fond of Phuket, not even in its heyday. So on the second Sunday of 2022, as the clouds of the pandemic were clearing, I tried to be understanding.
And yet while the birds were awake and the power lines were buzzing at 5:42 am, not a single convenience store was open, or even in operation. Open 24 Hours, insisted the sign on the FamilyMart near my Kata Beach hotel. Its windows were covered in newsprint on one side and a layer of dust on the other.
I would see seven shattered 7-Elevens—I didn't count the other brands—during my two hour walk between the southern end of Kata Beach and the southern end of Patong, where I planned to turn left and traverse the kilometer-long uphill path to Freedom Beach on foot as well.
Unfortunately, a trio of feral dogs blocked the path less than 100 meters into my sojourn; I'm not afraid of dogs, but I am afraid of rabies. I walked back to the blighted main road, where half a dozen abandoned hotels stood eerily behind a faded billboard advertising Simon's Cabaret, Phuket's most acclaimed ladyboy song and dance extravaganza.
The driver of the yellow songthaew, which was apparently operating as a private taxi, sniffed me out before I could even begin to look for him.
Saam roy baat, he offered when I told him where I was going, justifying the exorbitant fare on account of the steepness of the road leading there—as if that made a difference for a vehicle with an engine. Since I am here, ostensibly, to contribute to the local economy, I only haggled him down to 250.
The bad news? Freedom Beach, in addition to being a fucking bitch to access, was nothing special compared to what I've seen elsewhere in Thailand, or even really compared to Kata or Karon—it may be better than Patong, which isn't saying much.
In addition to having been disappointed by the overgrown vegetation blocking the viewpoint I paid a hundred baht to look down from, the beach itself emanated an unmistakable sewage smell, which strangely didn't seem to bother any of the other tourists. I would say they all had Covid, except for the fact that people with omicron don't lose their taste or smell.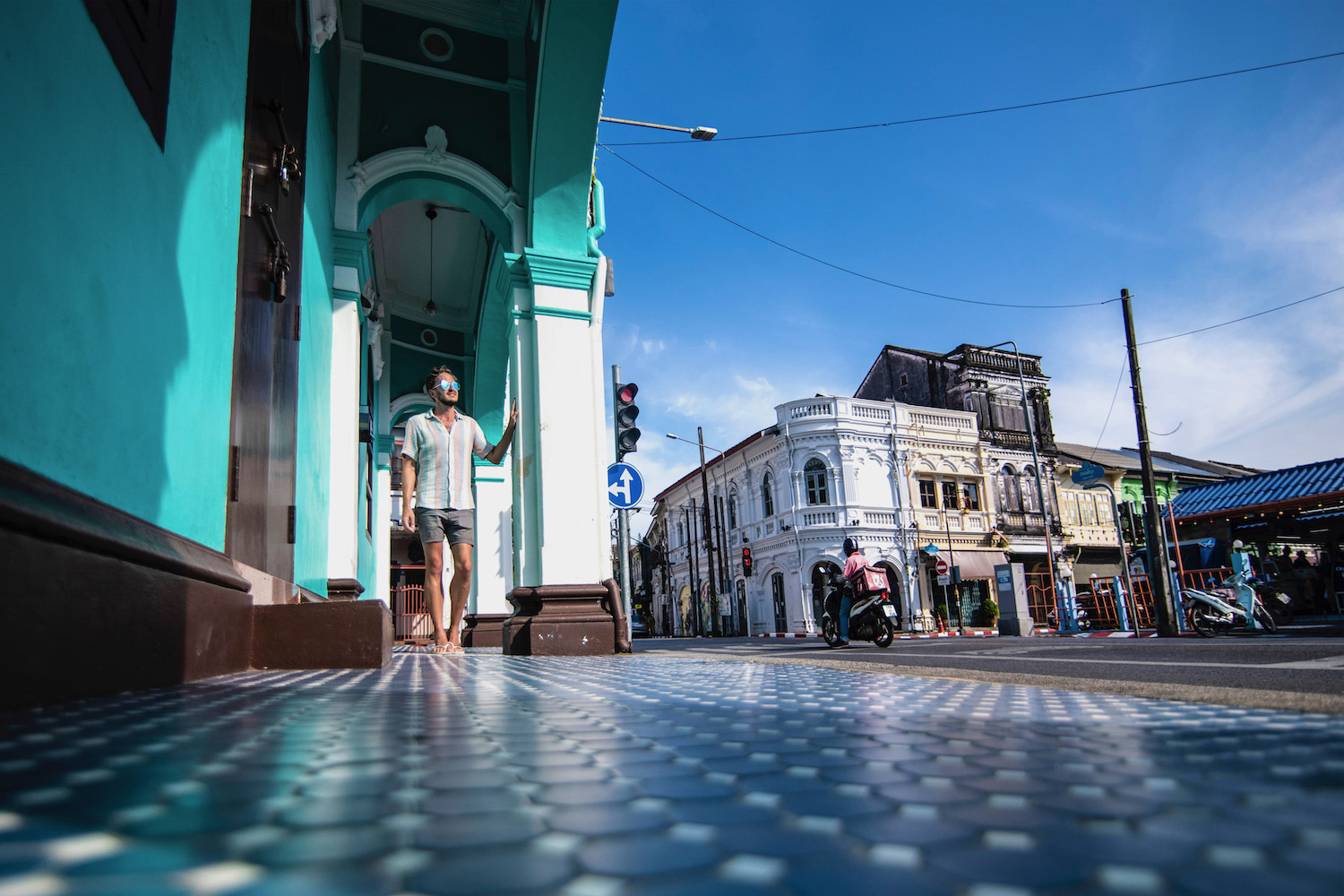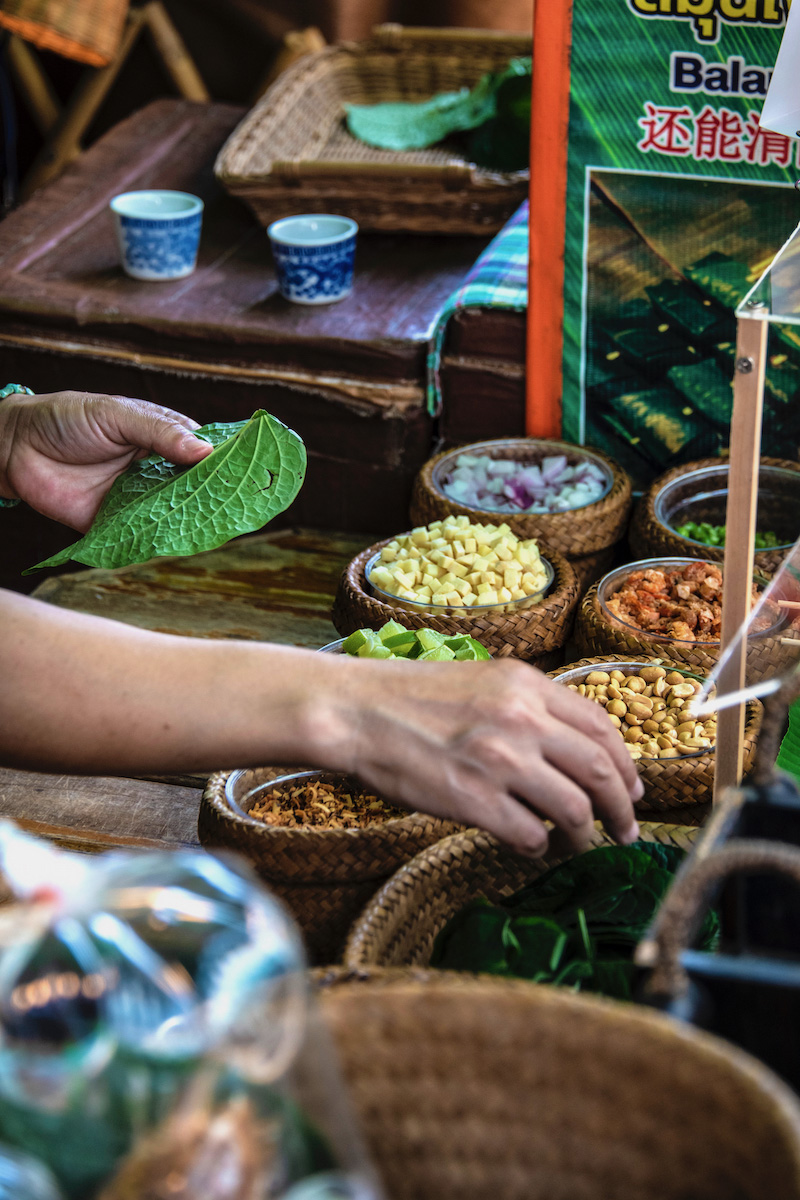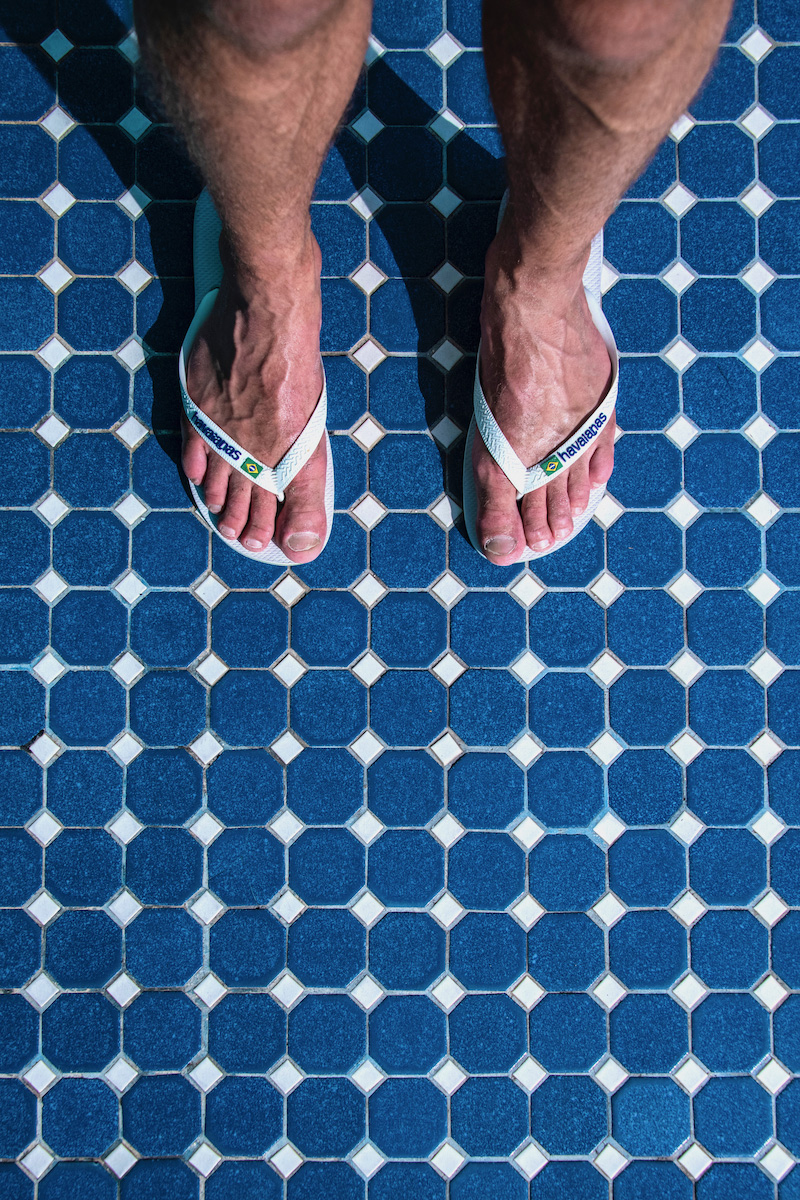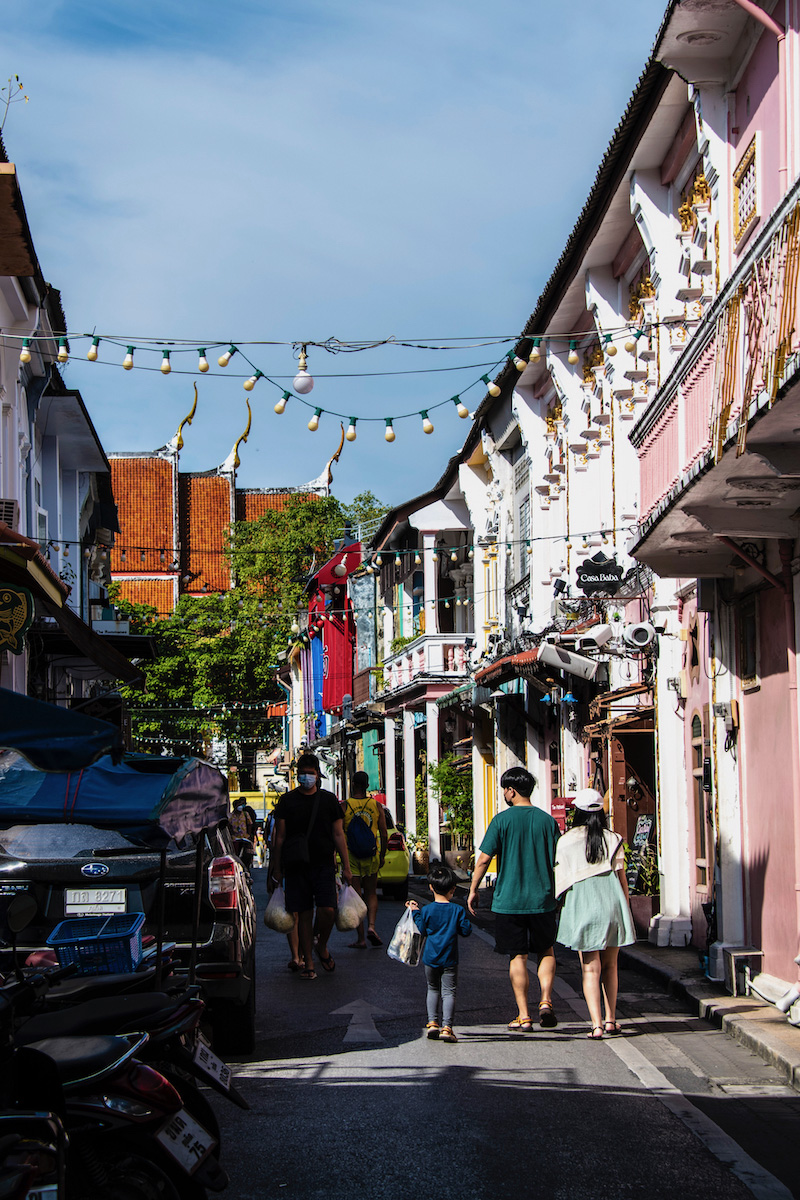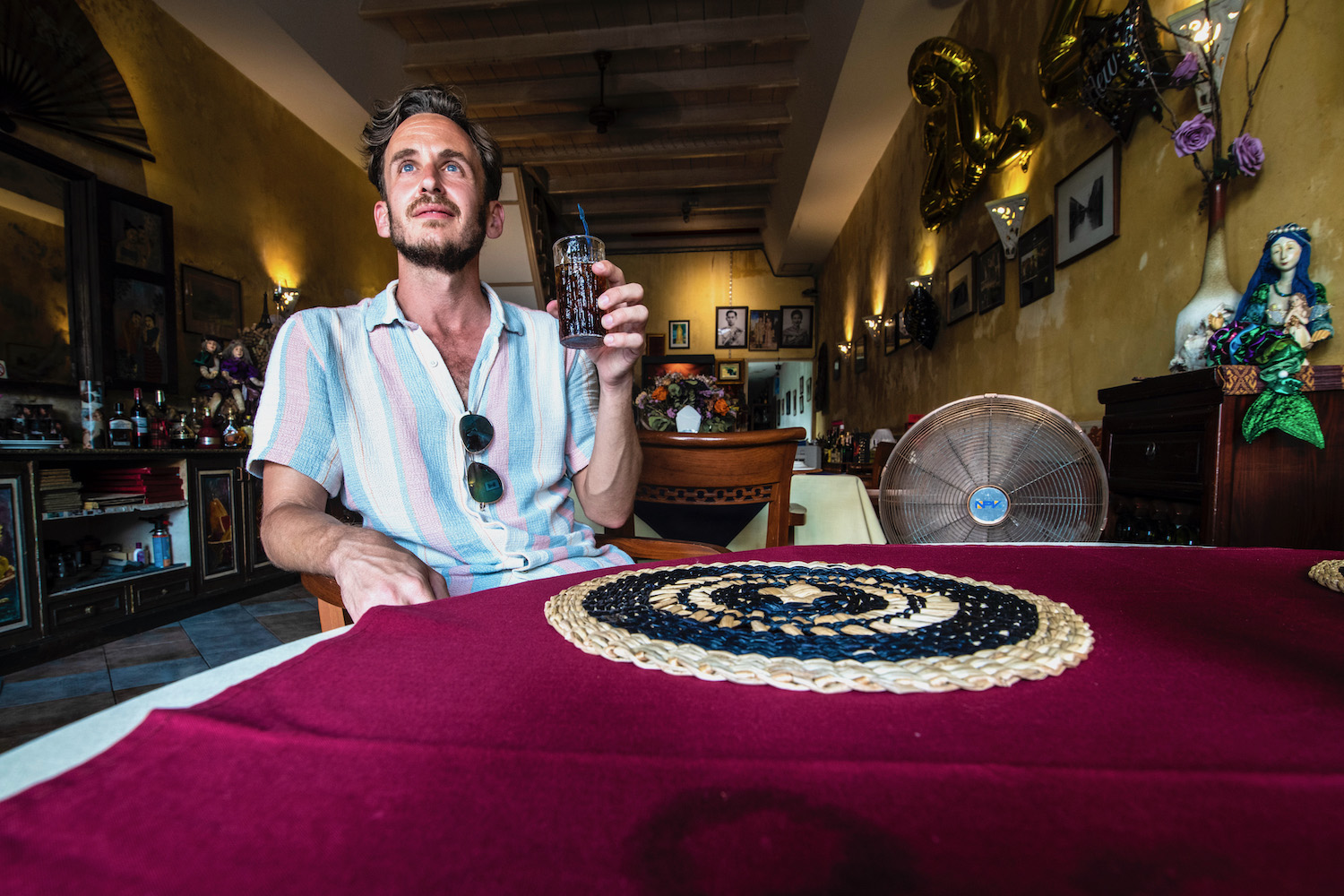 The silver lining of my semi-shitty morning was that it teed up my afternoon, which I spent on the other side of the island in Phuket Town, to be excellent. Well, once I got there: I ended up having to wait an hour for the bus (which was also a songthaew), during which time I shot down no less than half a dozen scamming taxi drivers.
I want to contribute to the local economy, but not that much.
The old town impressed me a great deal more this time than it had the last time I walked amid the colorful Sino-Portuguese shophouses of Soi Rommani and Soi Dibuk; this was strange, given how man other places I've traveled since then. Indeed, I still prefer Georgetown on Malaysia's Penang island, which I visited long before I ever visited Phuket Town.
And yet at some point between fixating on the blue-and-white tiles under the turquoise arches of the Standard Chartered Bank Building, and downing a Thai whisky and coke at a kitschy Thai-French restaurant I'm not ashamed to admit I visited solely because I wanted to take photos there, the suddenly perfect sun of a day that had started off cloudy colored my entire mood brighter.
Like the good Phuket tourist I've never really been, I finished off the day with sunset at Promthep Cape, where I downed another Sangsom cocktail nearby two young and relatively attractive men who, based on their loud conversation, were nonetheless sex tourists.
On the way back to Kata with a taxi driver I'd paid more than I should've—I was too physical famished to fight or complain—the emerladine lights of distant fishing boats dotted the horizon, not unlike how you could spot of all Patong's hookers from hundreds of meters away back in the day when they were plentiful and in-demand
(That's not a fair metaphor to use, actually. I had an indisputably good first day back in Phuket, even if my experience at Promthep Cape had hammered home that I should've stayed in Nai Harn instead of Kata.)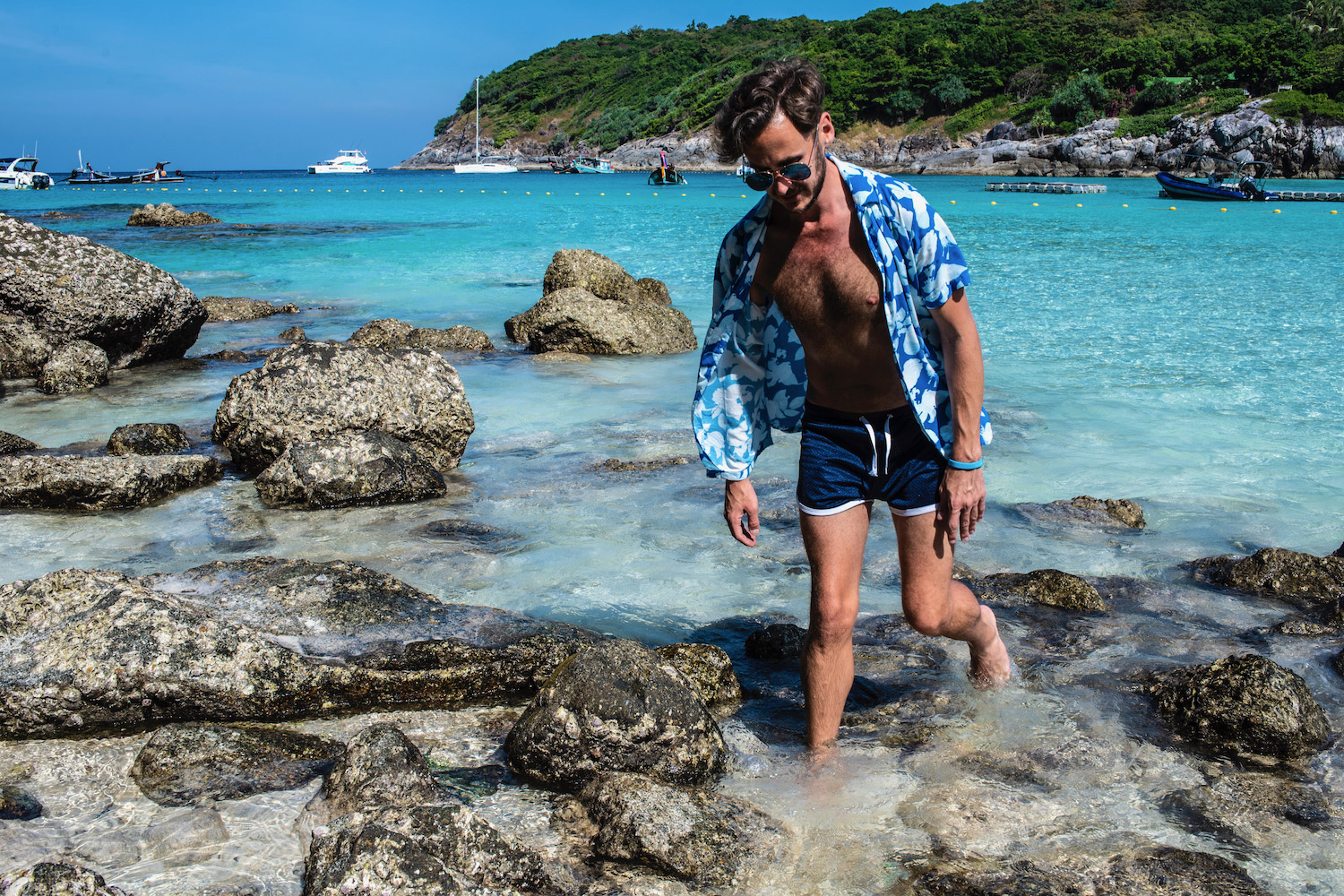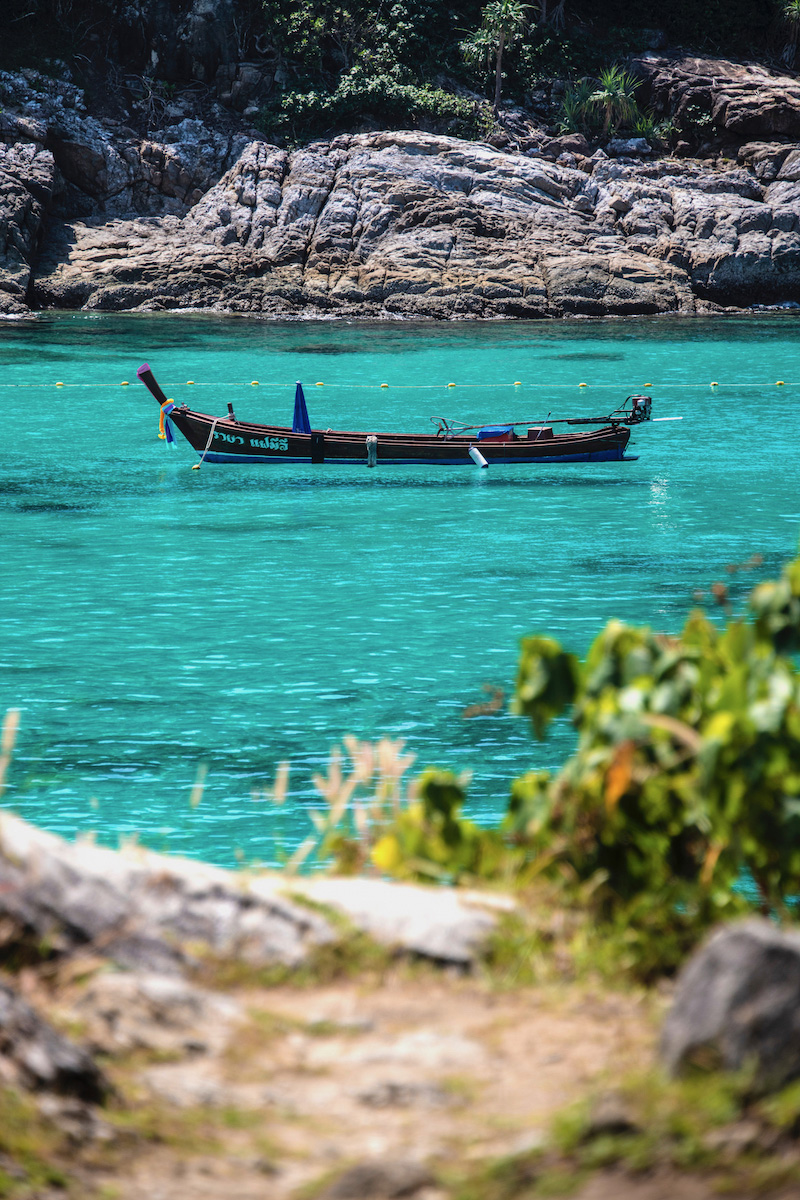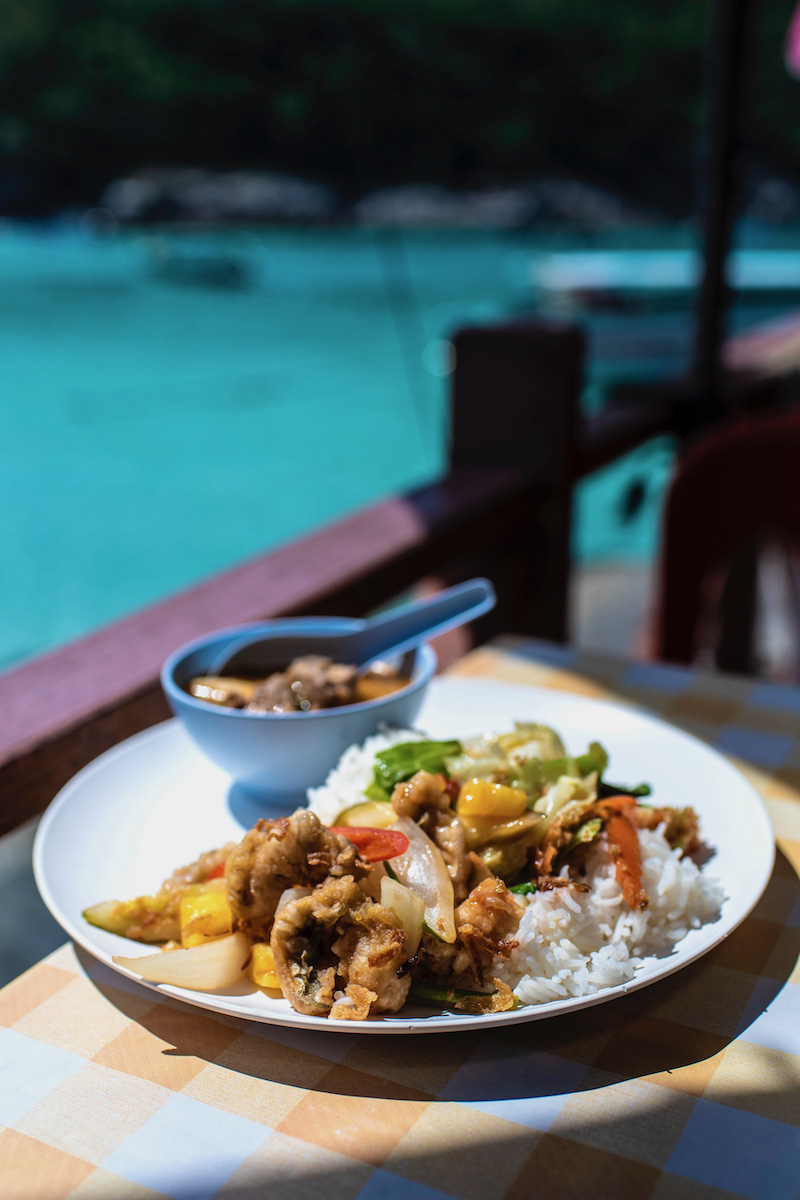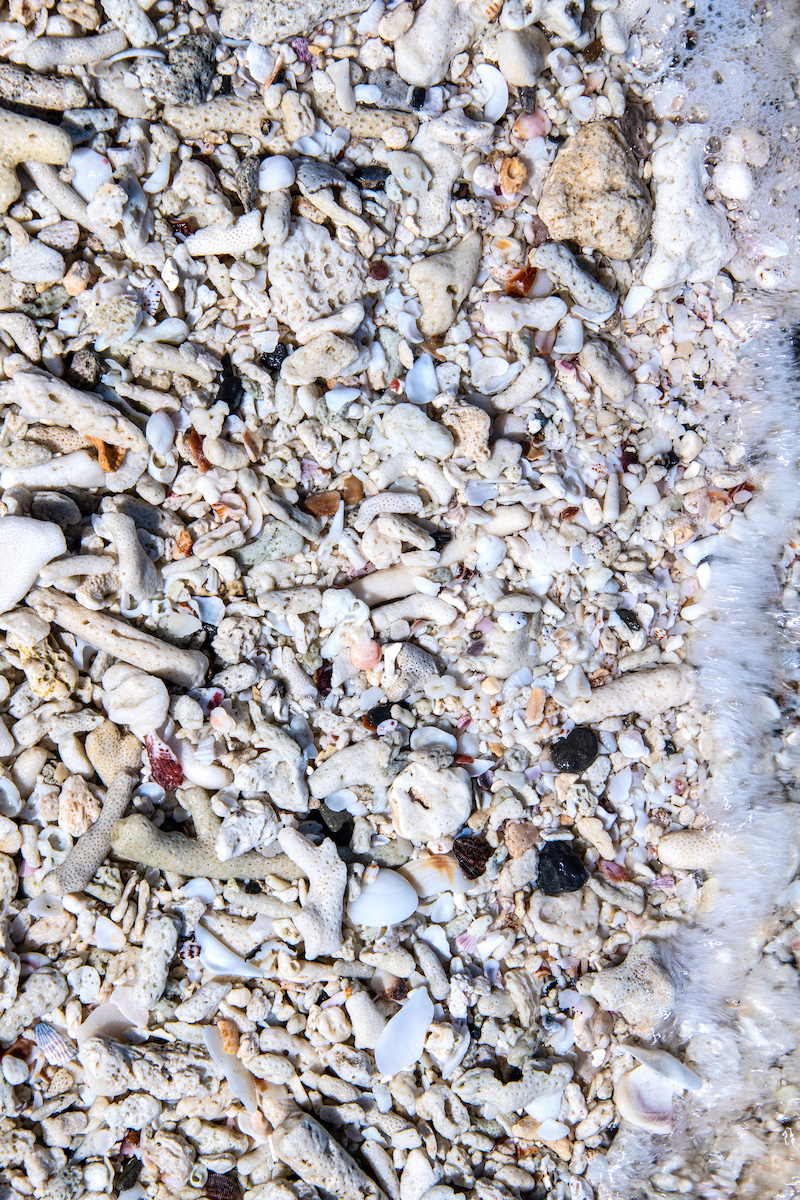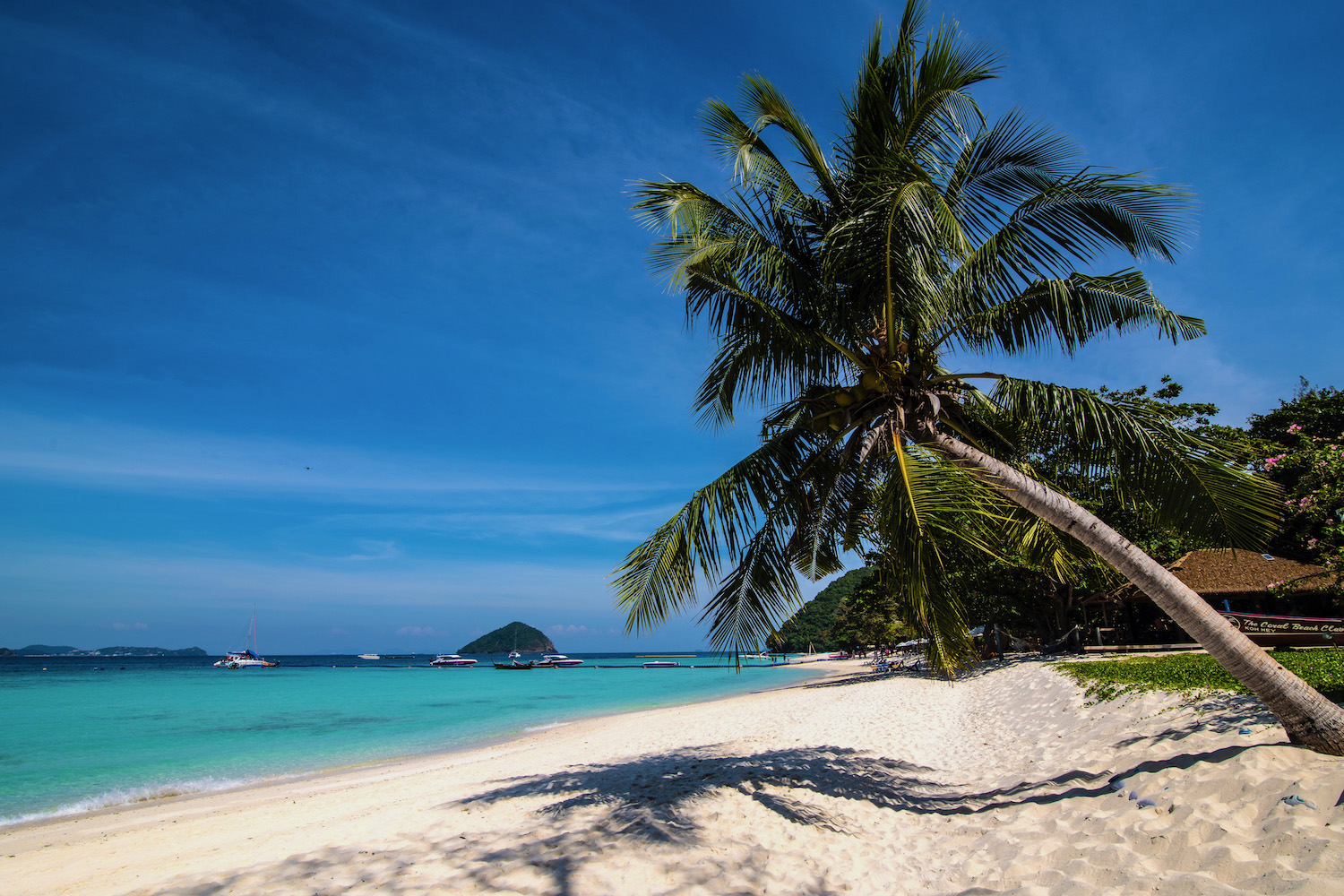 The ghosts of prostitutes pasts were the last thing on my mind Monday morning as I sped away from Chalong Pier toward Racha Island. I also tried, mostly on account of the tour's low price, to jettison expectations: 1,000 Baht doesn't buy you much in 2022, at least not in Phuket.
Indeed, I knew that neither Koh Racha nor Koh Khai were going to be as spectacular as the Similan Islands had been—and I tried not to think about how Koh Haa or Koh Rok might've compared, had I had the chance to visit either of those places. So I fixated on Phuket, which quickly disappeared behind me as the boat traveled southward, the Big Buddha first imposing and then imperceptible in the blink of an eye.
Once I bored with the horizon, I focused on the water, the way the vessel braided and unbraided the surface of the sea as it shot through like a bullet. How had I never noticed this phenomenon before? It was like a physics problem in 3D; aerodynamics—no, hydrodynamics—in living color.
Before I could so much as come to grips with how to solve it, my speed suddenly decreased. An object in motion does not always stay in motion.
The beauty of Koh Racha, as with that of most Thai islands, sneaks up on you. The sea is dark and deep until it isn't; by the time you realize you're atop a crystalline, coral-bottomed pool, its fluorescence has practically blinded you. While I would've appreciated the perfection of the half-moon beach more without the cacophony of disparate long-tails and yachts and speedboats dotting the harbor, I took it all in for what it was worth.
While Koh Racha did not live up to the standards its cousin Koh Similan set, it looped me in with serendipitous references to my own biography.
On shore, as my feet sank so deep into wet powder that the broken coral pieces beneath it stabbed them, a black butterfly that followed me around like a stray puppy. Its presence evoked a 2010 bike trip to the Blue Lagoon of Vang Vieng, Laos, which had ended up birthing one of my favorite photos I've ever taken.
The shipwrecked-looking restaurant where the tour group had our buffet lunch called to mind Monsoon Marge's at Six Flags Hurricane Harbor near St. Louis. I'd worked my first summer job in 2000 at the gift shop, wholly unaware of the castaway adventures that awaited me in middle age.
Coral Island, to be sure, was more sensually satisfying, probably because I actually gave myself time to roll around in the bathtub-warm shallows where sea meets land. As I dug my fingers deep into the sugary slurry, shell pieces sifted out of it—the sand was still in the process of becoming itself.
It's like playing with the past, I thought to myself, feeling slightly deranged as I pondered the reality of the situation: The decomposed bones of all our ancestors were slipping through my fingers; I was as happy as the clams lurking just offshore, with a shit-eating grin at least as long as the Sarasin Bridge.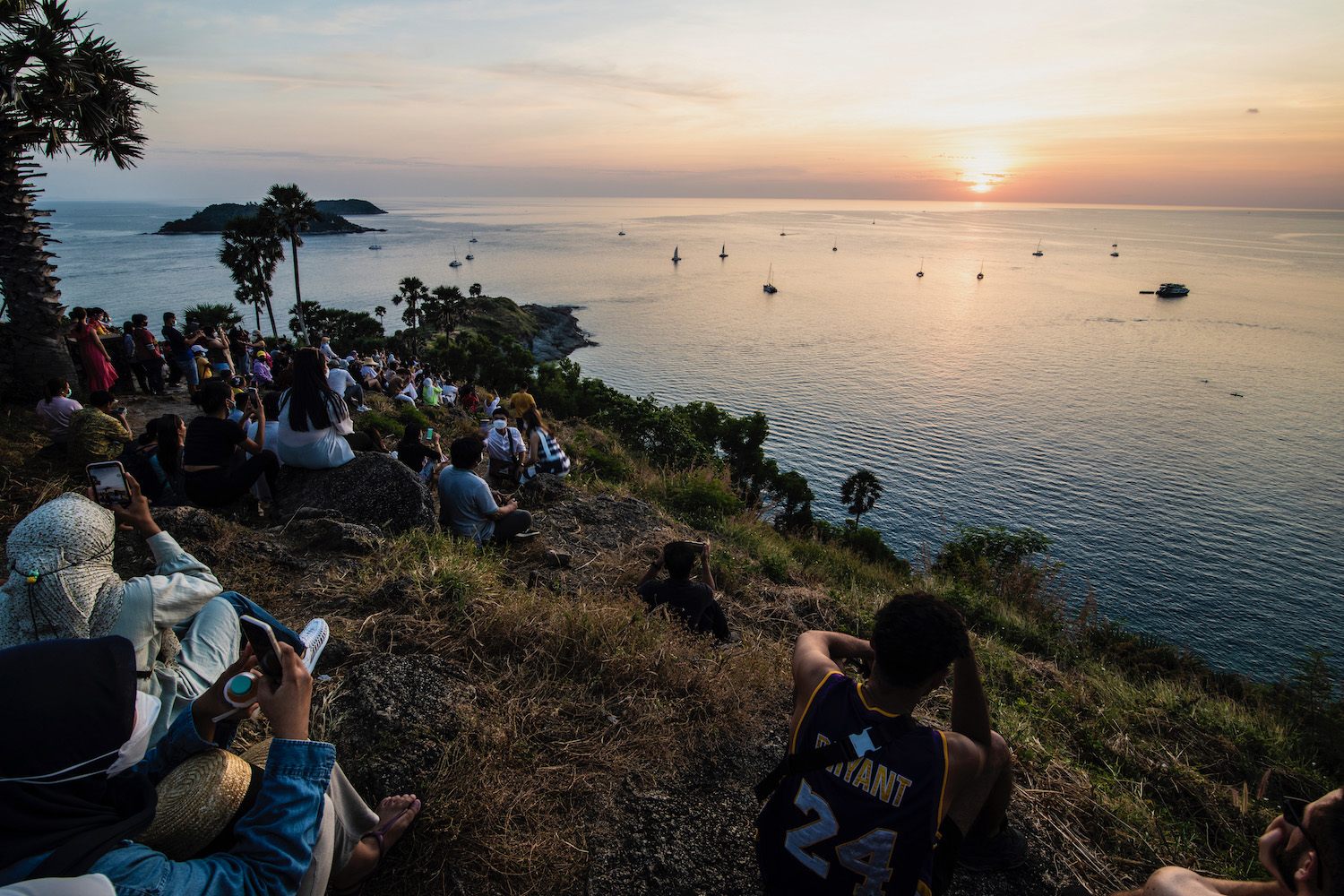 Everywhere in Phuket is really a day trip when you think about the island as I do: A renegade mainland peninsula for which the tides had different ideas. Phuket Town is a day trip from Kata, Karon and Kamala; Promthep Cape is a day trip from Mai Khao and Phuket Airport, the Big Buddha is a day trip from everywhere.
One day trip I didn't take was to Koh Khao Ping Kan, more popularly known as James Bond Island. As I sat in my hotel room on my last morning in Phuket, awaiting my ride back to Phang Nga, I wondered if I might regret having skipped the landmark, which Allano had insisted to me was disappointing and not worth the money required to see it.
The wind rustling in the palms above my bungalow was uncharacteristically strong for a clear morning. It had a cooling cadence, of precisely the sort my sunburnt shoulder craved. It sounded cold, as if a snowstorm (and, therefore, the apocalypse) might've manifested just outside my window.
Other FAQ About Day Trips from Phuket
Can you do a day trip to Phi Phi island from Phuket?
Although you can technically do a day trip to Phi Phi from Phuket by speedboat, it would be a very rushed day trip indeed. A better option might be to spend one night on Koh Phi Phi, using the first day to explore the main island. Then, on morning two, take a speedboat trip to Maya Bay, traveling back to Phuket that evening.
Can you do a day trip from Phuket to Krabi?
You can day a day trip from Phuket to Krabi, although this really depends on what you want to accomplish in Krabi. While you can see Krabi landmarks such as Koh Phi Phi and Railay Beach on a day trip, I personally think they're worth spending a night to enjoy.
Which is better, Phuket or Phi Phi?
If you are looking for beautiful nature, stunning beaches and iconic Thai scenery, Phi Phi is your best bet. Phuket, while ostensibly an island, is arguably more about city-type culture than it is about island life. Take this to mean what you will!