When most people happen upon a Phuket travel guide they're shocked, both by the variety of destinations on offer here, as well as in their eclecticness. Although a perception of Phuket as a tropical idyll persists, it is in fact Thailand's largest island, and the distances between its cities, towns and beaches can be great.
Over the next several paragraphs, I'll be giving you an overview of Phuket attractions, but also doing my best to explain them in relation to one another, and to the island's geography. I won't outline a detailed itinerary, but after reading this article, it should be easy enough for you to piece together your own (assuming you don't commission one from me).
Whether you're looking for the best beaches in Phuket, an amazing Phuket hotel, are curius about Phuket weather or simply want general Thailand travel inspiration, you're in the right place: Phuket starts here.
Where to Stay in Phuket
Before I begin my Phuket travel guide in earnest, I thought I'd outline some of the best areas to stay on the island, both in terms of general location and specific properties. The majority of visitors to Phuket will stay either on the island's west coast, which runs from Phuket Airport all the way down to Cape Promthep, or in Sino-Portuguese Phuket Town, which is in the southeastern part of the island.
If you're searching for the best Phuket resorts, most of those are near the beach—no surprise here. From the relatively secluded Anantara Mai Khao Villas, which is along a long golden stretch of sand just south of the airport, to Kalima Resort and Spa, Phuket has no shortage of amazing beach hotels. Meanwhile, my favorite boutique hotel in Phuket Town is Casa Blanca, an old-world style property that evokes a glamorous past.
The Best Places to Go in Phuket
Phuket Town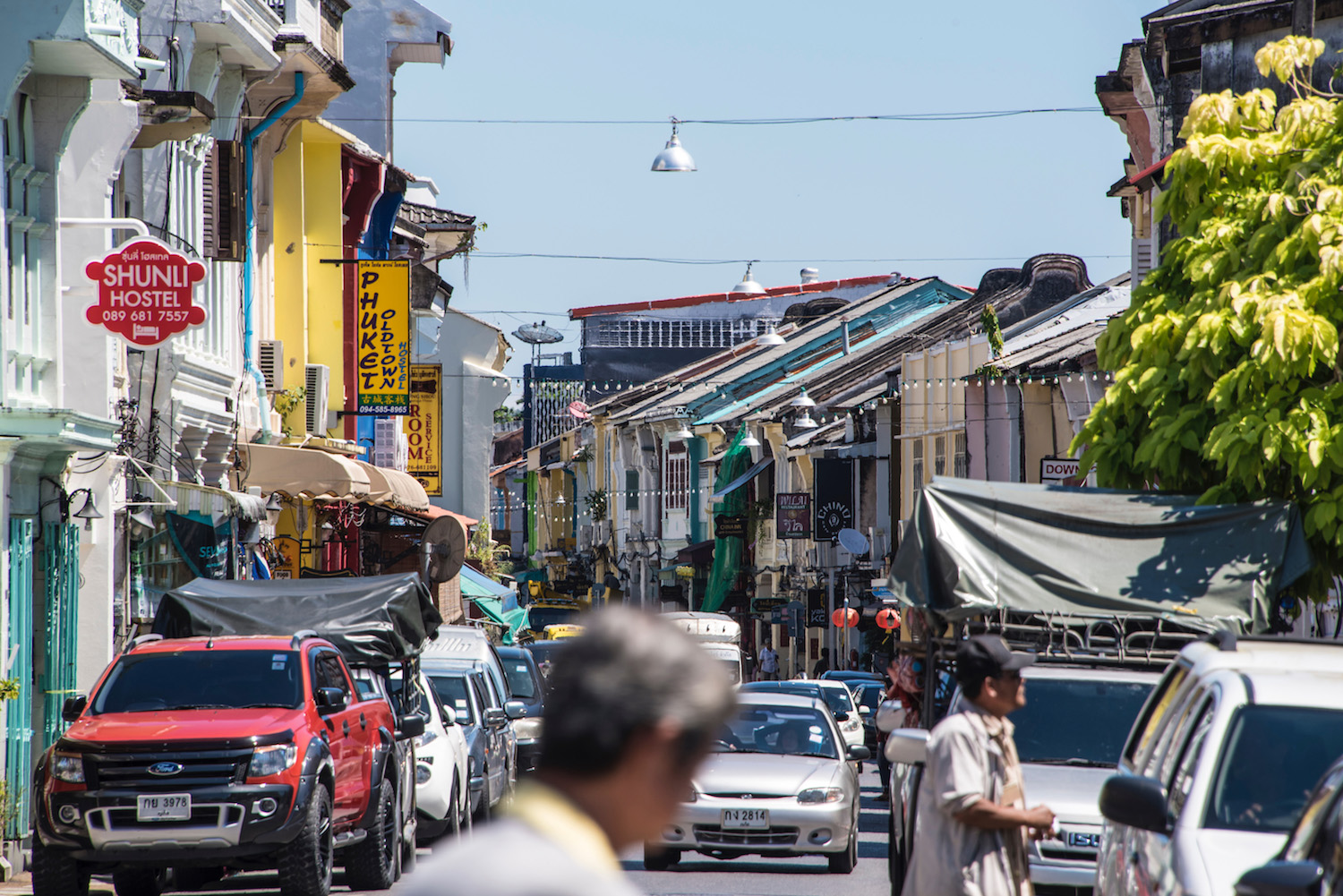 While the array of things to do in Phuket Town isn't quite as extensive as what you might find in, say, Penang, there's still some excitement to be found amid its quasi-colonial shop houses—and I'm not just talking about the coffee shops and restaurants that have been opened within them. If you happen to be in town on the weekend, for example, make sure to eat or drink at the Sunday Walking Street Night Market. A more evergreen (and weather proof!) activity, meanwhile, is the interactive Phuket Trickeye Musem.
Kamala, Karon or Kata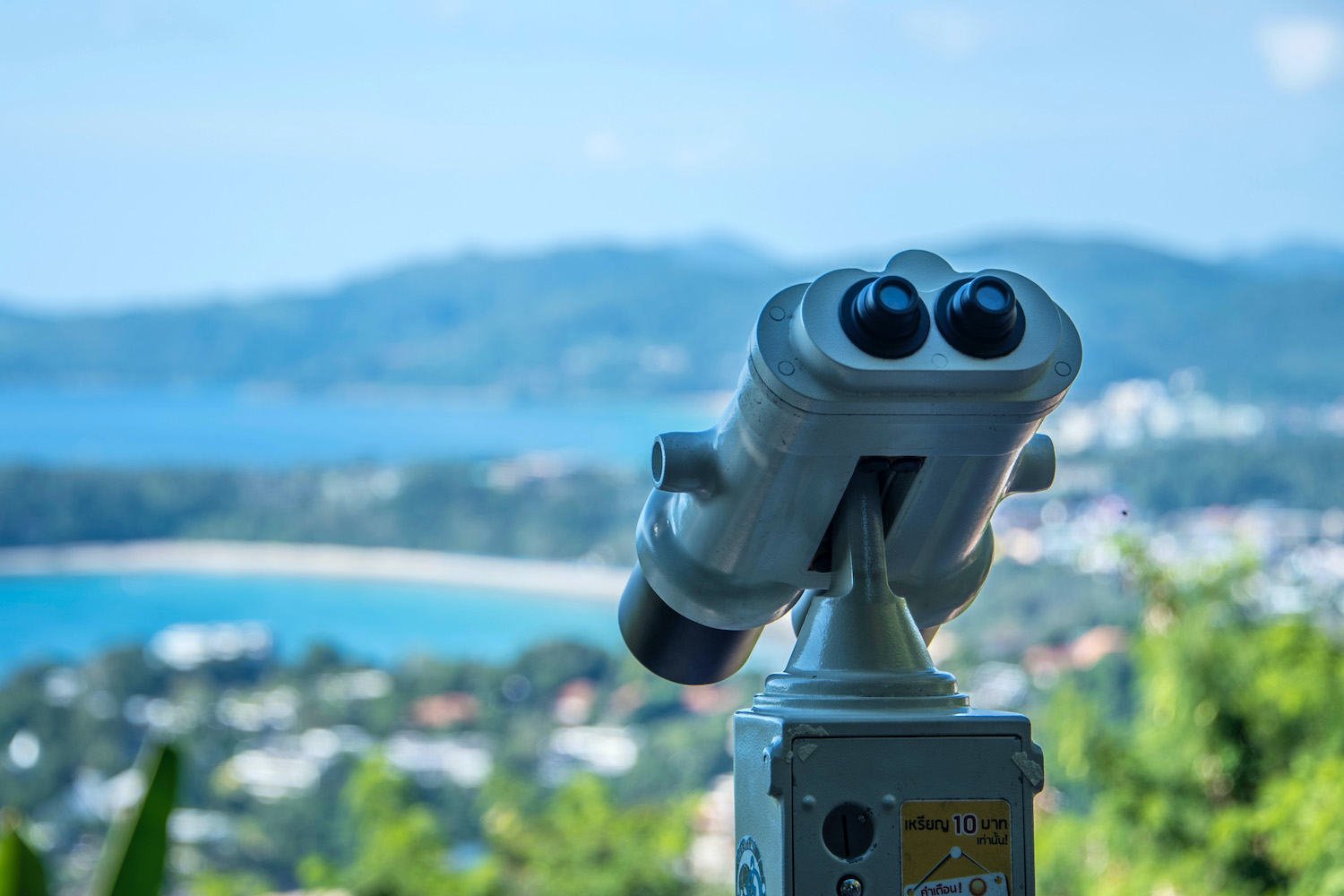 The topic of the best Phuket beaches is one for another post, but I have a couple of personal favorites. If you're looking for a beautiful beach with authentic local culture, look no farther than Kamala, which is just north of Patong. Named for the Sanskrit word that means "lotus," this flower of a beach backs up to a welcoming Muslim village. Karon, meanwhile, sits further south and feels more downtrodden, while Kata is where you'll want to stay if a good selection of restaurants is high on your list of priorities.
Phuket Big Buddha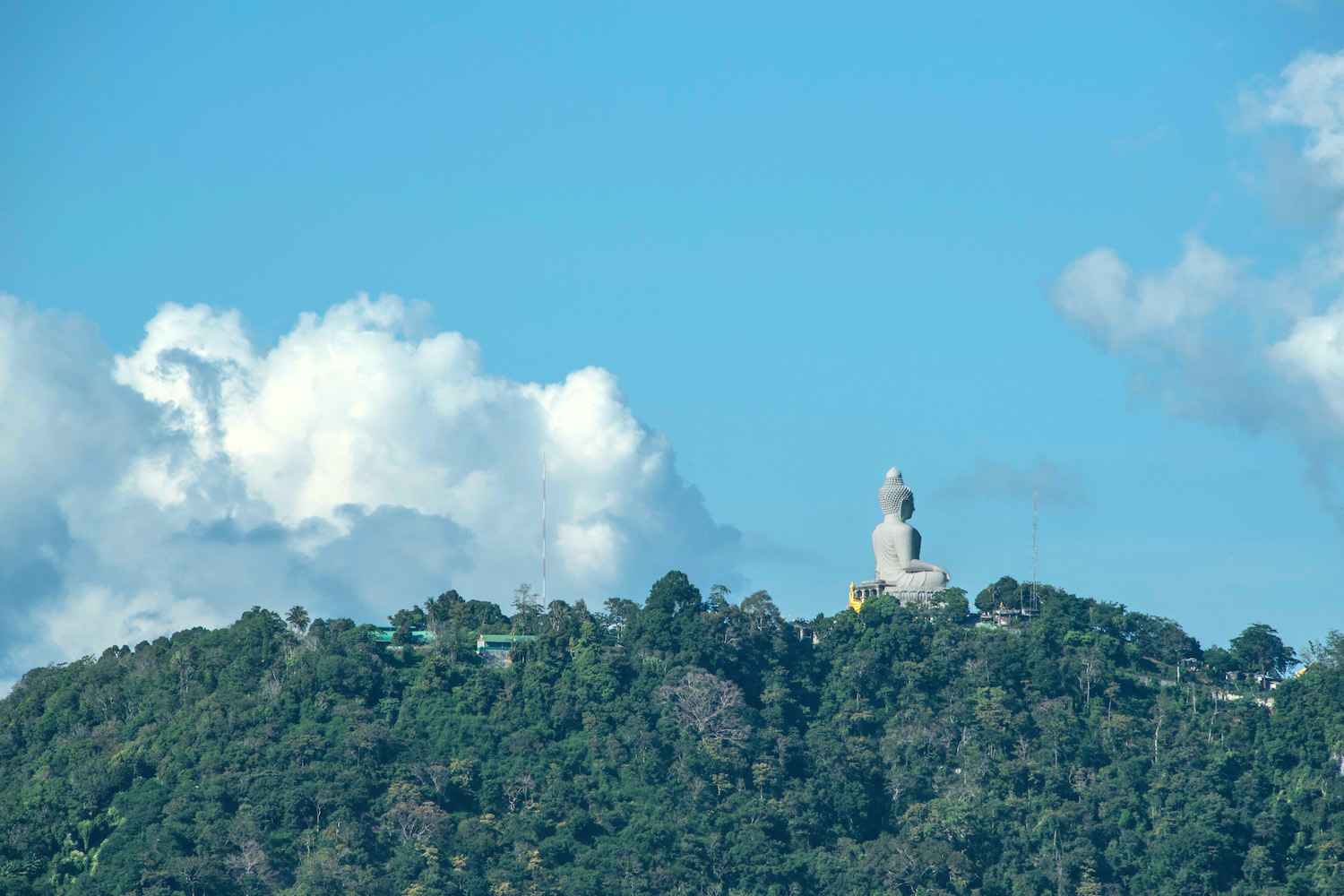 When it comes to places to visit in Phuket, few combine a great view with a must-visit tourist attraction like the so-called Big Buddha. Located in the middle of the island due east of Kata and Karon beaches, the Big Buddha is notable because it's still under construction (albeit rather minor expansions, at this point) after more than 15 years. If you can time it right, this is a great place to watch sunset, since part of the viewing platform faces west toward the Andaman Sea!
Cape Promthep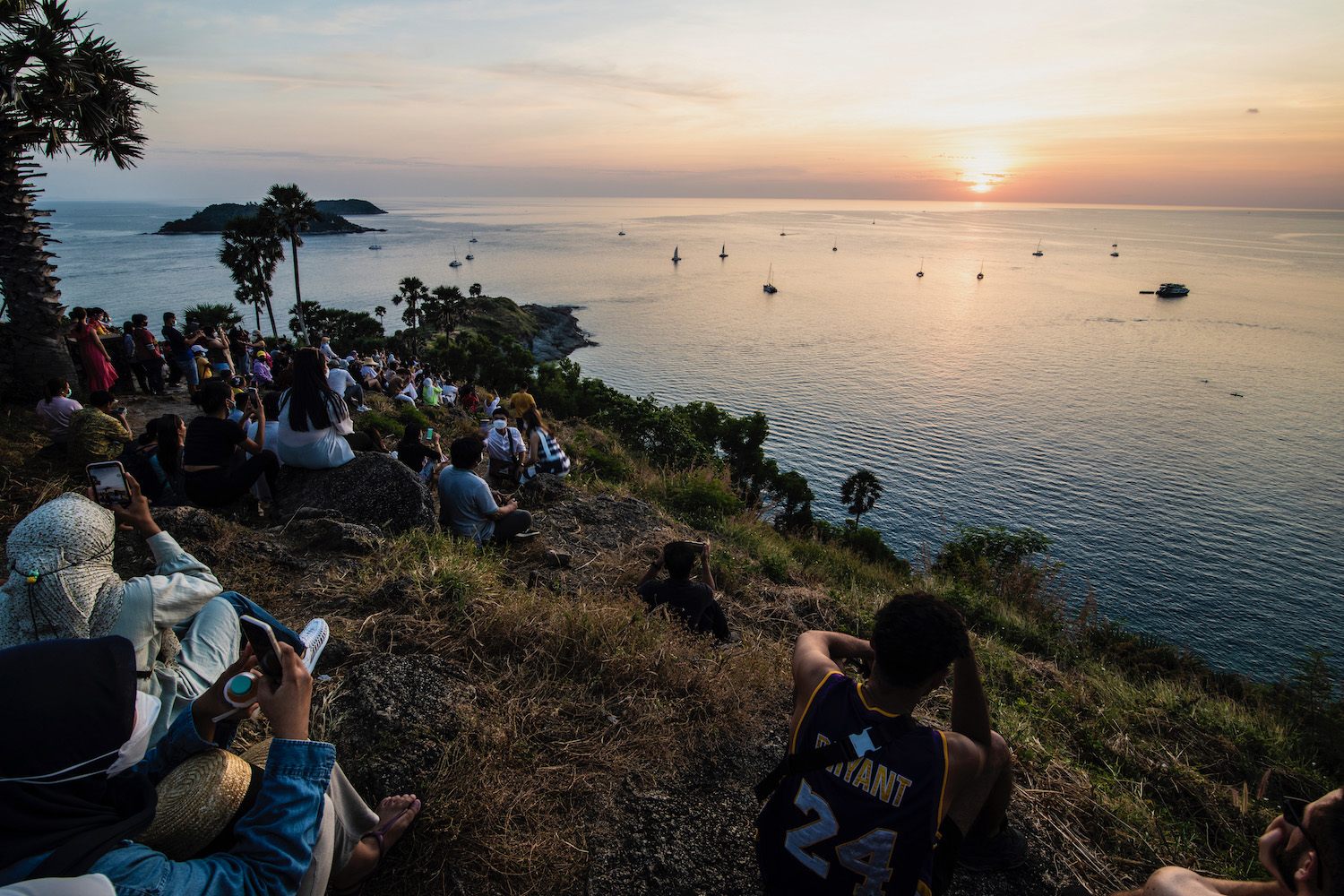 Another answer to the question of where to watch the sunset in Phuket is located at the southern tip of the island, on Cape Promthep. While this can be a bit difficult to access—if you don't have a car, you'll need to arrange a taxi through your hotel, or take Grab and have the driver wait), this most extreme appendage of Phuket afford you a wide panorama of the sun setting into the Andaman Sea. It's also, on account of its remoteness, somewhat less crowded than the Big Buddha (and, certainly, the shores of Patong or even Karon); nearby beaches like Rawai and Nai Harn are objectively some of the most beautiful on the island.
The Question of Patong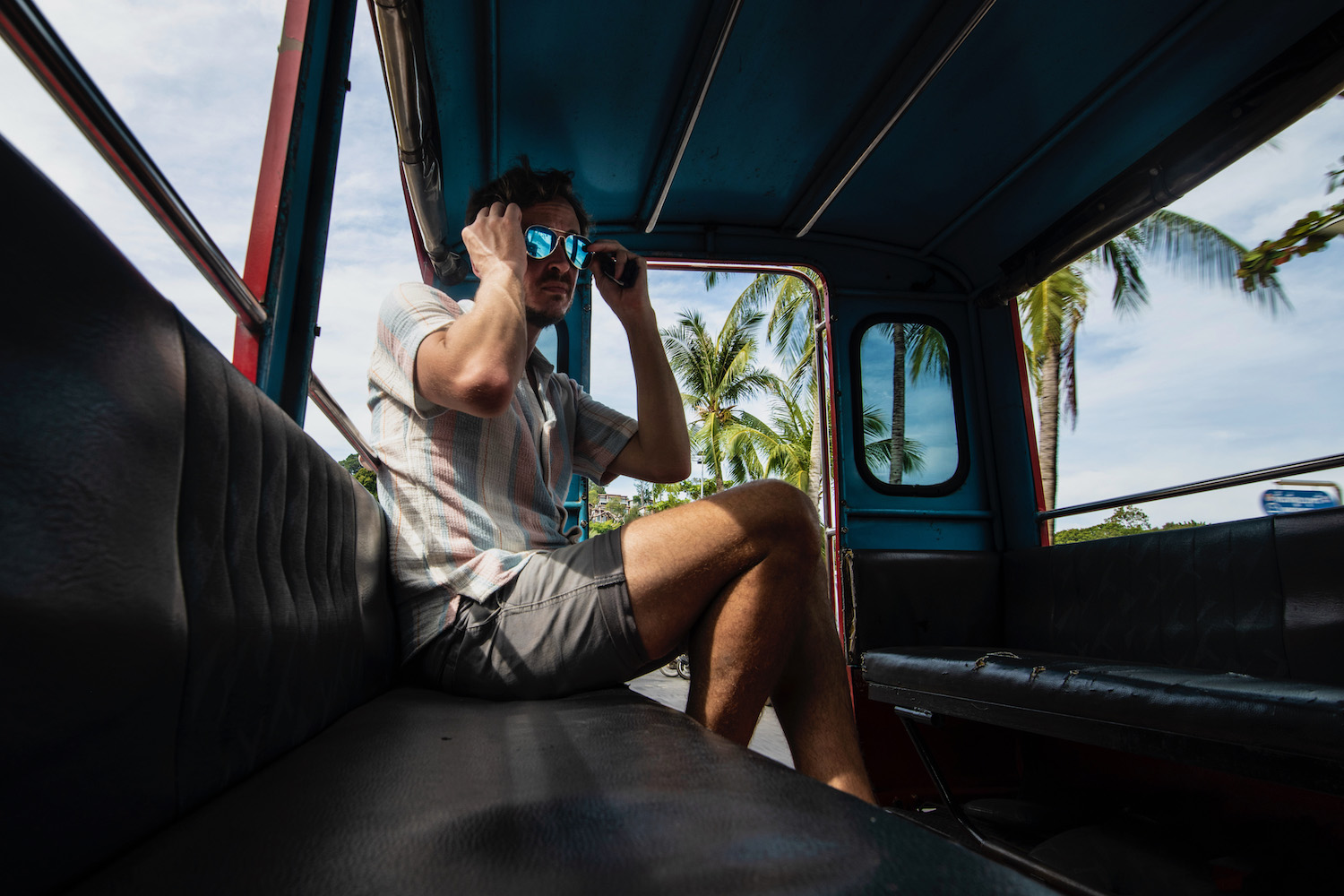 Is Patong worth visiting? I would say yes, though that assumes you won't stay here—I think that would be a dubious decision indeed, given all the other—better—places I suggest in this Phuket travel guide. It's difficult to deny that Patong is convenient, whether because it's right in the middle section of Phuket's west coast, or due to the sheer quantity of restaurants and bars, or the proximity of everything to Patong Beach. On the other hand, Patong (and in particular Bangla Road Phuket) is about as seedy as Phuket gets, to say nothing of the fact that it's far from the best beach in Phuket. If you're asking "what is Patong like?", there's a high chance you might not like the answer.
How Many Days in Phuket is Enough?
Phuket is a huge island, which might not be clear to you now, on the other side fo the world, looking on a map. As a result, if you want to explore in-depth, the "right" answer to how many days in Phuket you should spend is likely higher than you're anticipating—I'd say a minimum of three. This will allow you a full day to lounge on whichever beach is closest to where you're staying, a day in and around Phuket Town and a day of exploration around the island.
Or off the island. Indeed, while you could spend three days just exploring places to visit in Phuket, I imagine that a lot of you reading this will want to take day trips (which I will explain more in another articles). Whether that's to mainstream destinations like Koh Phi Phi, to less crowded islands like Koh Yao Yai and Koh Yao Noi or even northward to hyper-local Phang Nga province—well, that's a topic for another article as well! (Speaking of other articles, you should probably check out this one, about the best time to visit Phuket.)
Phuket vs. Krabi
Another important question to consider as you plan your Phuket paradise adventure: Is Krabi or Phuket a better choice for you? Obviously, there are other beach destinations to visit in Thailand (most notably Koh Samui), but I find a lot of travelers end up choosing between Phuket and Krabi—which makes sense, given that they are somewhat similar, and are just on opposite sides of Phang Nga Bay from one another.
On one hand, the debate is somewhat moot. Many of the best islands to visit in Thailand, from the aforementioned Koh Phi Phi to lesser-known ones, are accessible both from Phuket and Krabi. On the other hand, I personally prefer the aesthetic of Krabi's Railay Beach to any beach in Phuket, even if (with the possible exception of Rayavadee) no hotel there is really equal in ambiance or opulence to anything you find in Phuket.
Other FAQ About Visiting Phuket, Thailand
What should I avoid in Phuket?
In my opinion, Patong Beach is one of the most overrated places in all of Thailand, and not just Phuket. Rather than hanging out in this sleazy spot, head south to any number of better beaches. These could include rural Kamala, which is also located on the west coast, or south-facing Rawai.
Is it expensive in Phuket, Thailand?
Although Phuket is home to some truly expensive luxury hotels, you can easily enjoy an affordable vacation here. Sleeping outside of crowded beaches like Patong and Mai Khao, or indeed choosing a boutique hotel in Phuket town, can help drive down your travel costs. Likewise, joining group tours to outlying islands can help you avoid the high cost of private excursions.
Is Phuket a safe place to travel?
On one hand, Phuket is very safe. Violent crime is low and even petty theft is fairly uncommon, presuming you don't wander around drunk at night with lots of valuables in plain sight. On the other hand, Phuket's roads are just as dangerous as those elsewhere in Thailand. If you do self-drive, do so with the utmost vigilance.
The Bottom Line
Rather than listing all the places to visit in Phuket—they're infinite—what I've tried to do with my Phuket travel guide is to help you narrow down the best of the best. Combining this with my thoughts on just how long you should spend in Phuket (not to mention, some awesome day trip options and whether Phuket or Krabi is the best choice for you), many travelers will be able to easily create a Phuket itinerary. On the other hand, if you would rather allow someone else to fashion the perfect Phuket trip for you, you can always commission a custom Thailand itinerary from me. I leave absolutely no stone unturned!