Krabi is not an island. This fact often comes as a surprised to first-time visitors to Thailand who assume that, like Phuket and Koh Samui, it is. Nope.
Krabi province is home to many islands, the most famous among them Koh Phi Phi. However, Krabi's most popular beaches are both on the mainland: Sprawling Ao Nang and Railay, which is more hidden (and, since it's only accessible by boat, might as well be an island).
I've written extensively about Krabi more broadly, so today I want to really hone in, asking one particular question. Is Railay Beach worth visiting?
Where to Stay in Railay
As a general rule, Railay Beach hotels fit within a few categories. Some of them are near the main pier at Railay East, i.e. the "mangrove" side of the Railay isthmus. My favorite option here is probably Sunrise Tropical Resort, although this has become increasingly difficult to book online. A good substitute for this, should you not be able to reserve a room, is Railay Princess Resort.
Others are on Railay West (the "beach" side), although I find most of these to be relatively tacky and dates. Instead, I'd probably recommend you stay "on the hill" Railay Phutawan Resort, unless you can afford to splurge at Rayavadee, which has a beachfront area but feels much more exclusive than properties on Railay's crowded, noisy main drag.
What to Do in Railay Beach
Hike up to the Viewpoint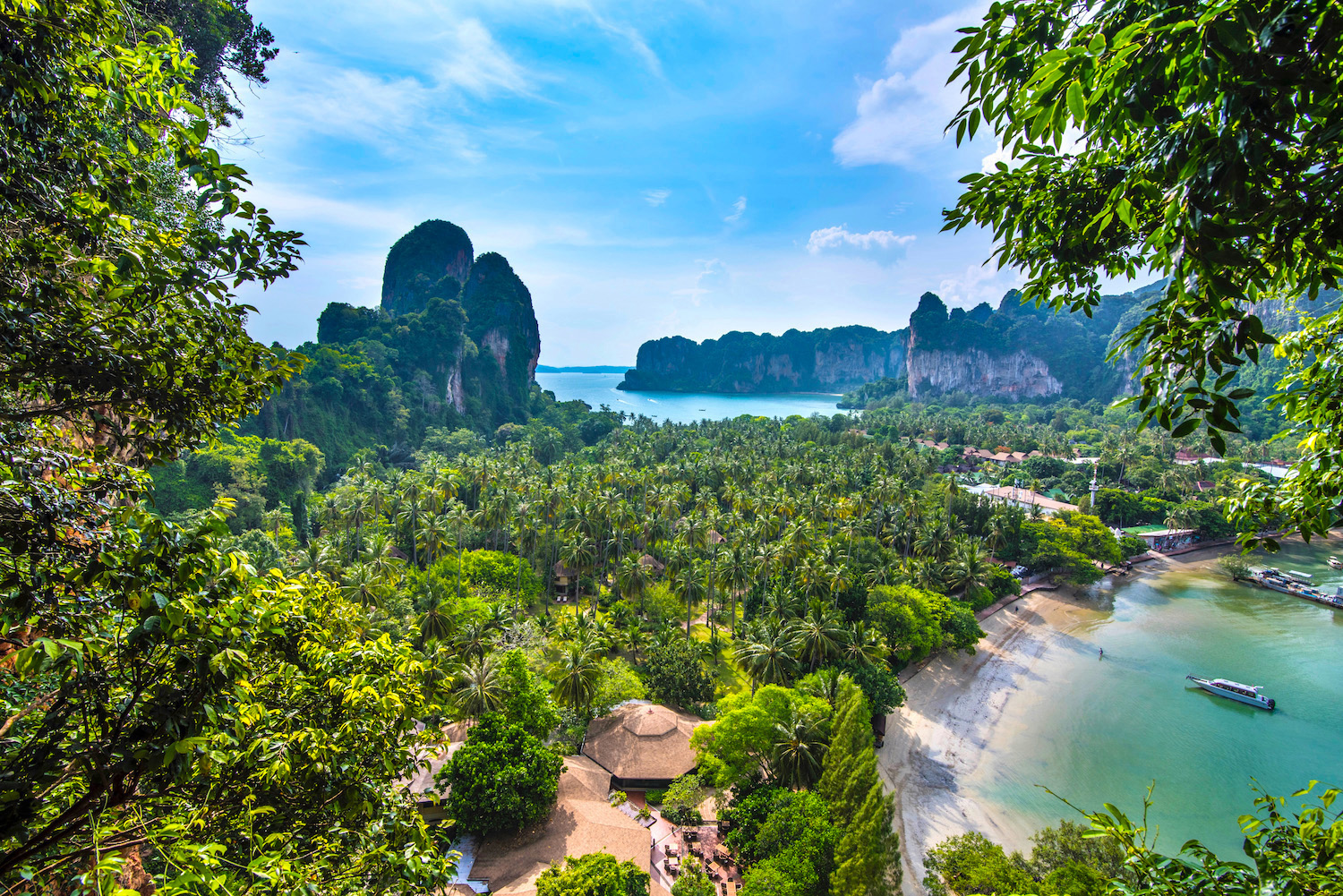 Want to get an awesome view of Railay Beach like the one above? Follow the signs to The Viewpoint (there's only one)—but don't be intimidated by the ropes! Intimidating terrain notwithstanding, it only takes about 15-20 minutes to reach the precipice, which provides an absolutely breathtaking perspective.
Swim at Railay West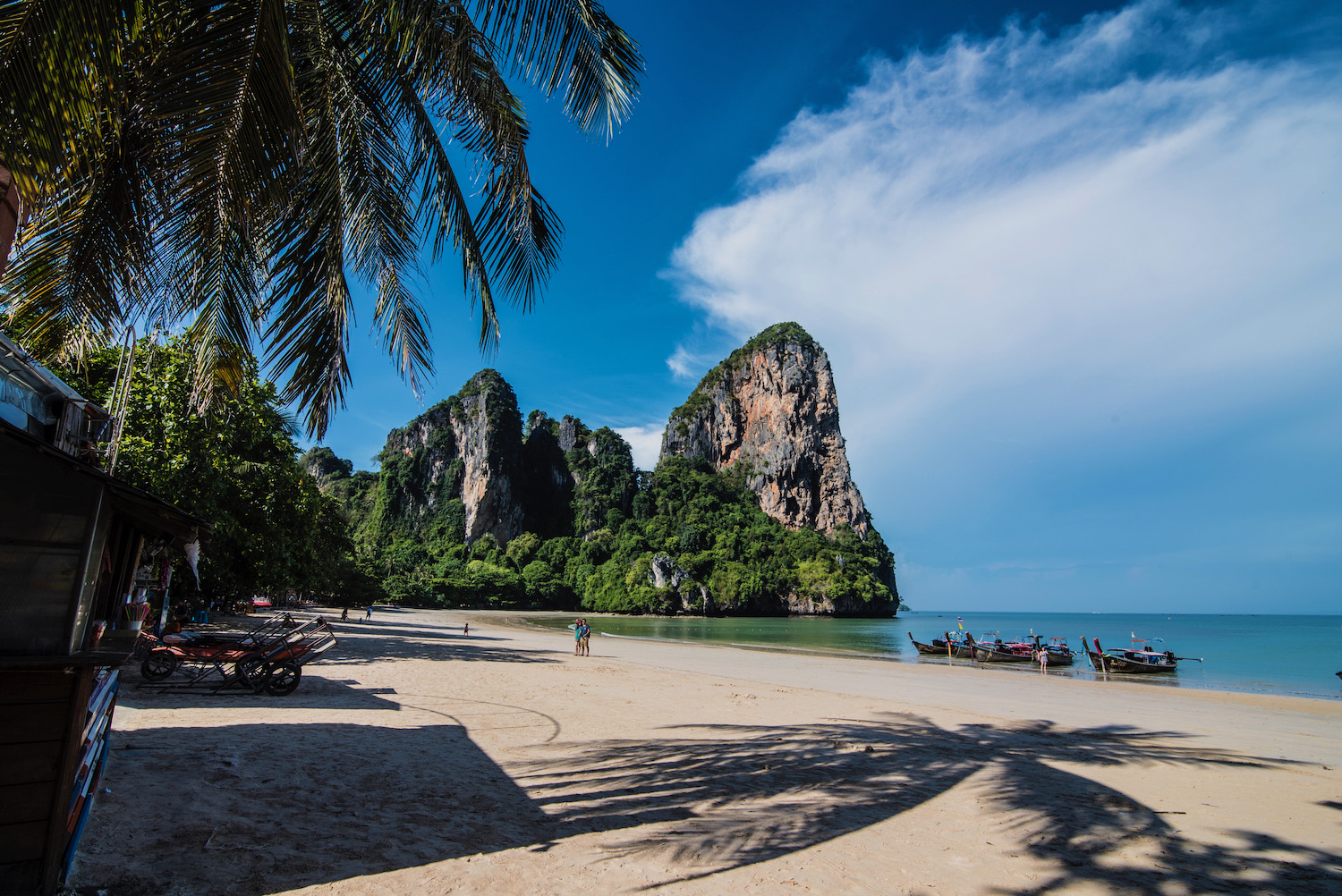 As I mentioned earlier, only one "half" of Railay is swimmable—Railay West. As a result, if you actually want to get in the water (or indeed, to sun yourself on the sand rather than at your hotel's pool), you'll want to follow the signs to Railay West.
Watch sunset at Phra Nang Cave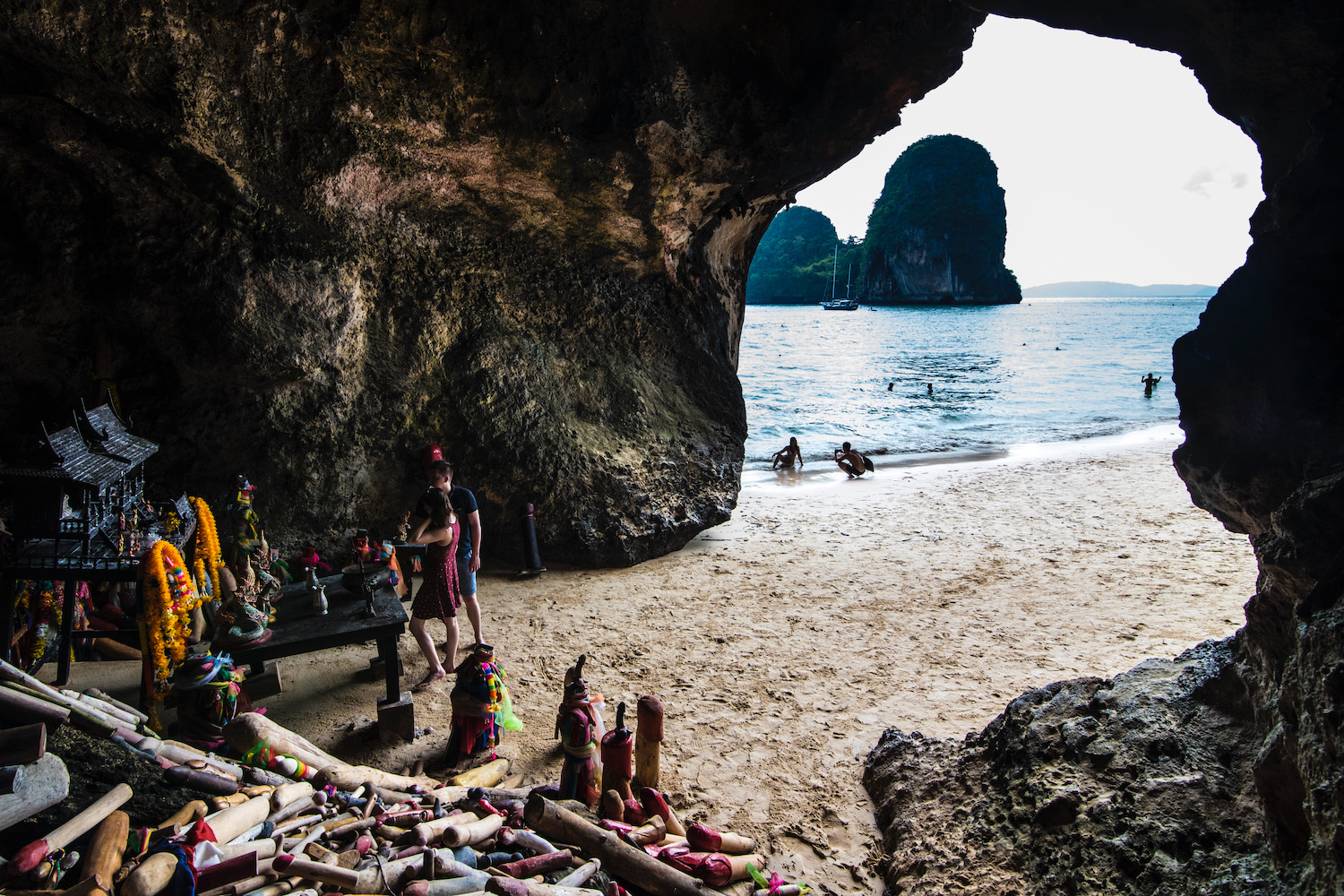 Most travelers know Phra Nang Cave because of the penis shrine (and related, random phalluses) that lurks within it. For me, however, its dramatic scenery makes it one of Thailand's best sunset spots, although I'd be lying if I said the cocks were't a bit of fun.
Take a "four island" day trip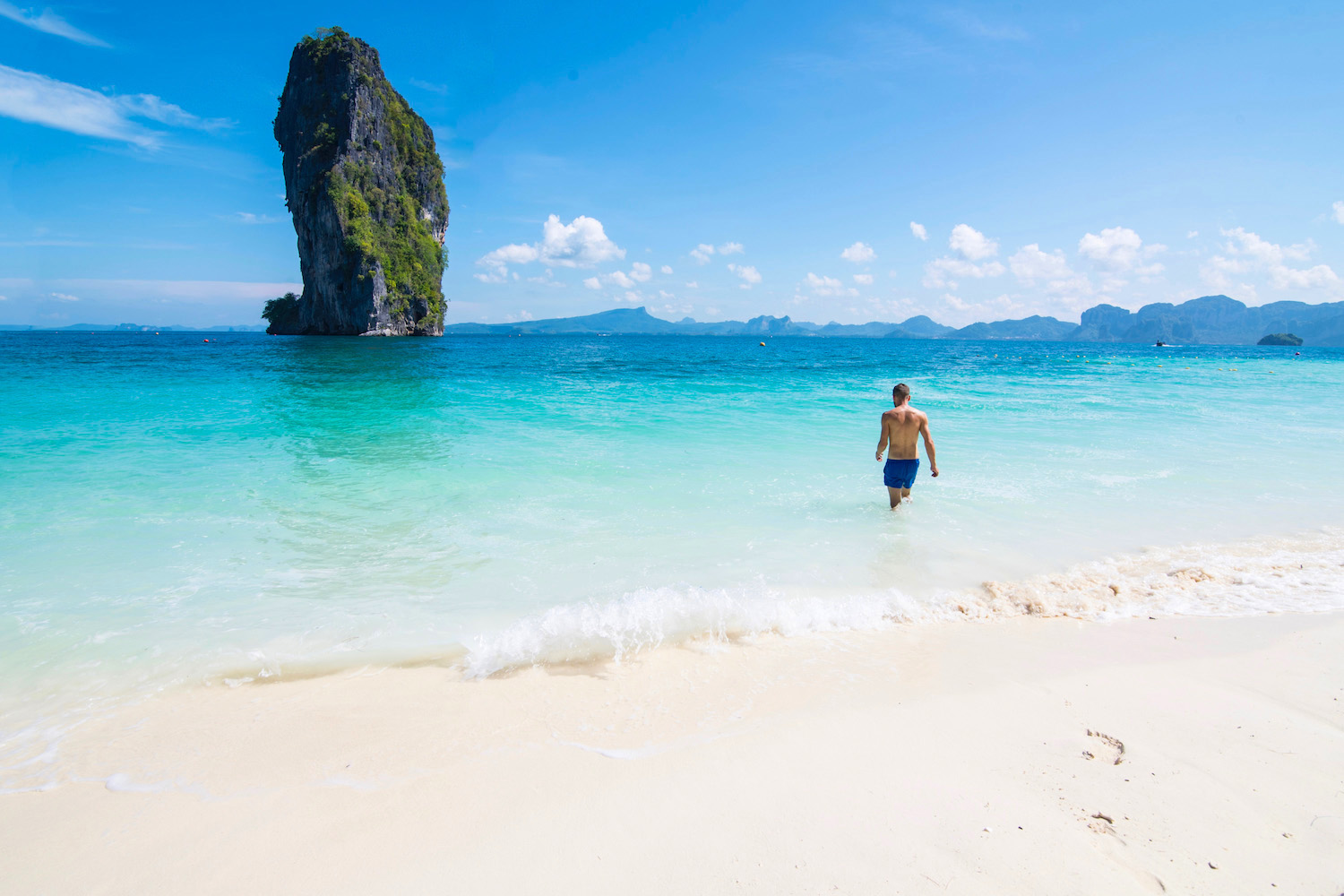 Regardless of how many days in Railay you spend, I definitely recommend you book a "Four Island" day trip. Among these, Koh Poda (pictured above) is the most beautiful. Want to enjoy it without the crowds? Book a private four island tour, and request the earliest pick-up time possible.
(Or one to Krabi's lush interior)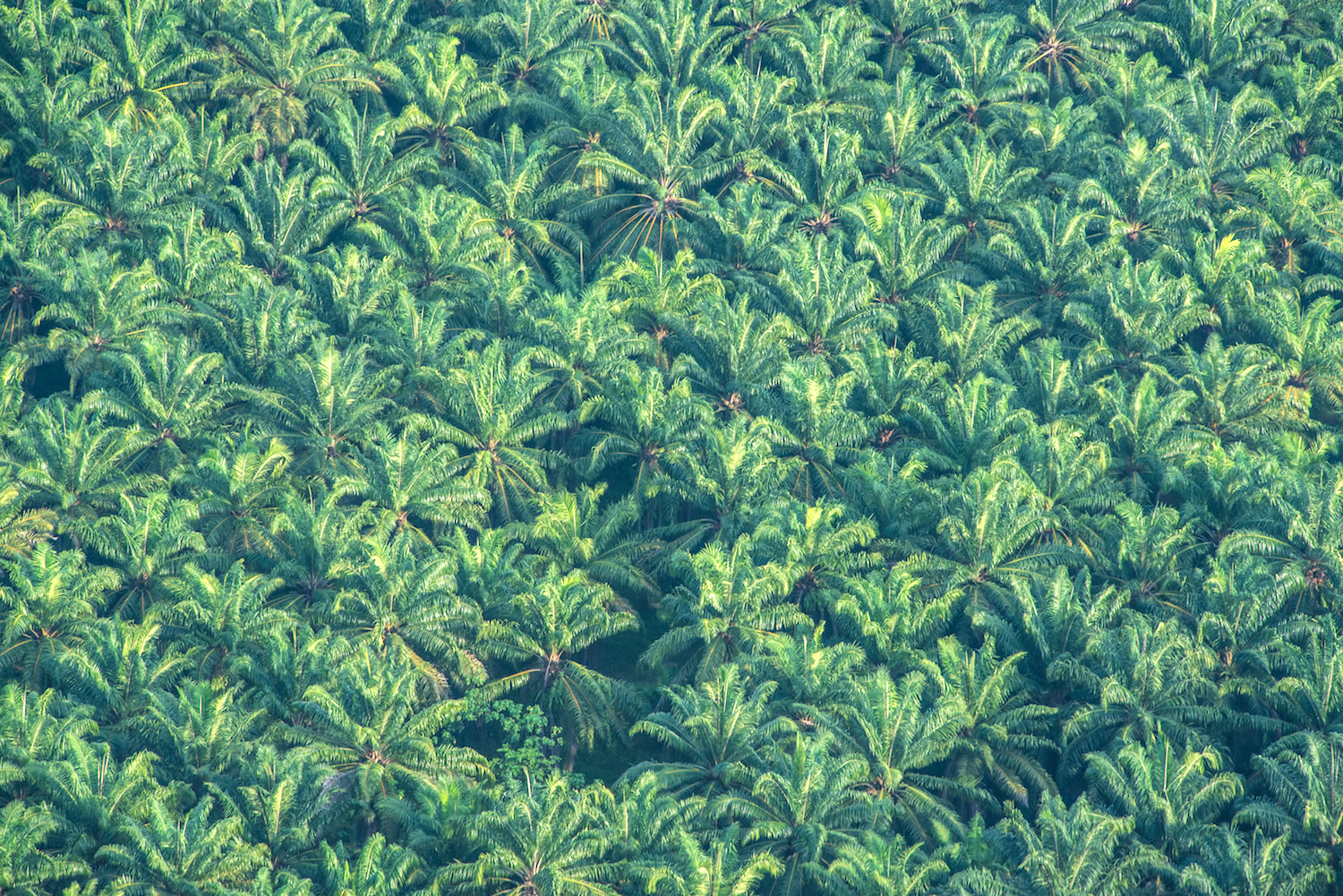 Krabi is most famous for its beaches, but that doesn't mean you should sleep on its interior. Whether you book through your hotel or online, make sure to choose a tour that not only visits Wat Tham Suea (Tiger Cave Temple), but also the Sa Morakot Emerald Pool and the hot springs waterfall.
Railay vs Ao Nang
I'll be honest: I don't have a desire to return to Ao Nang ever again. While it's obviously more convenient than Railay (you can get a taxi or shuttle there directly from Krabi Airport, rather than having to transfer to a boat), to me this is the root of its problems. Everyone can go there—so everyone does. Unless you go during the off-season, it's difficult to relax.
There's also the fact that Railay (perhaps, once again, because of its geographical isolation) is more dramatic than Ao Nang in terms of its scenery, whether or not you hike up to the Viewpoint to take it all in. My advice? If the thought of making the journey from Krabi Airport to Railay intimidates you, consider the on-the-ground experience of being in Ao Nang instead.
Other FAQ About Railay Beach
Is Railay worth visiting?
Railay Beach is absolutely worth visiting! For my money, it's the best "mainstream" beach in Thailand, and is far more beautiful than Ao Nang or anywhere you can go in Phuket. Plus, it's easy to access even more beautiful islands (such as Koh Poda and Koh Phi Phi) from here.
How do you get around in Railay?
After arriving in Railay from the mainland, the area is mostly navigable my foot. You can easily cross between Railay East and Railway West; the path to Phra Nang is also pretty flat. If you want to hike up to the Viewpoint or to certain hotels, there's a minor change in elevation, but nothing super difficult. Notably, Tonsai Beach is only accessible via a secondary longtail boat ride.
Is Railay Beach only accessible by boat?
The only way to access Railay Beach is by boat. The good news is that they are many ways to do this. If you arrive at Krabi Airport, get a shuttle or taxi to Ao Nammao pier, where you can transfer boat. Direct boat services also operate from Railay from Koh Phi Phi and Koh Lanta.
The Bottom Line
Is Railay Beach worth visiting? Absolutely, even if you weren't already planning to go there. In fact, when it comes to mainstream beaches in Thailand, it's far and away my favorite, with the possible exception of some beaches on Koh Tao in the Chumphon archipelago. Even better? You can take a day trip from Railay to even more stunning tropical destinations like Koh Poda, and use it as a jumping off point for a multi-day excursion to the Phi Phi Islands. No matter how many days you spend in Railay, make your next Thailand trip one for the record books when you hire me to plan it.