Recently, someone asked me where they should go during the few "extra" days they'd have during an upcoming trip to Thailand. "Lampang," I answered without hesitation. "It's probably my favorite destination in Thailand right now."
Lampang, to be sure, isn't a flashy place, or one with an easily marketable list of things to do. It also doesn't have a massively developed tourist infrastructure—even if it ended up on a hundred lists tomorrow, the city would have a difficult time accommodating all its new visitors.
It is relatively convenient, however—it takes just 90 minutes to drive from Chiang Mai to Lampang—which means that if you're going to be in Thailand's North anyway, you should definitely consider visiting.
Is Lampang Worth Visiting?
Before I delve into this Lampang itinerary, I want to make something abundantly clear: Lampang is 100% worth visiting. From the quality of its temples—its food!—to the fact that very few foreign tourists wonder the cacophonous streets of its charming, authentic center, Lampang is maybe the most authentic place you can experience northern Thailand, and for that alone justifies the flight or bus/taxi ride required to get there.
Of course, there are circumstances where I might recommend against Lampang. If you only have a week or less in Thailand, for example, there may be more attraction-rich places to spend your time. Likewise, if the primary reason you want to visit Thailand is beaches and islands, then landlocked Lampang might not be a great choice for you.
My Favorite Things to Do in Lampang
Get lost in Lampang's Old Town
On one hand, Lampang's individual attractions are extremely impressive, whether that's Lanna-style temples like Wat Pong Sanuk, or the Ban Sao Nak old teak house. On the other hand, part of the magic of Lampang is simply losing yourself amid the cacophony of the old town, where locals go about their business as they have for decades, largely oblivious to modern trends, let alone tourism.
Keep an eye out for horse-drawn carriages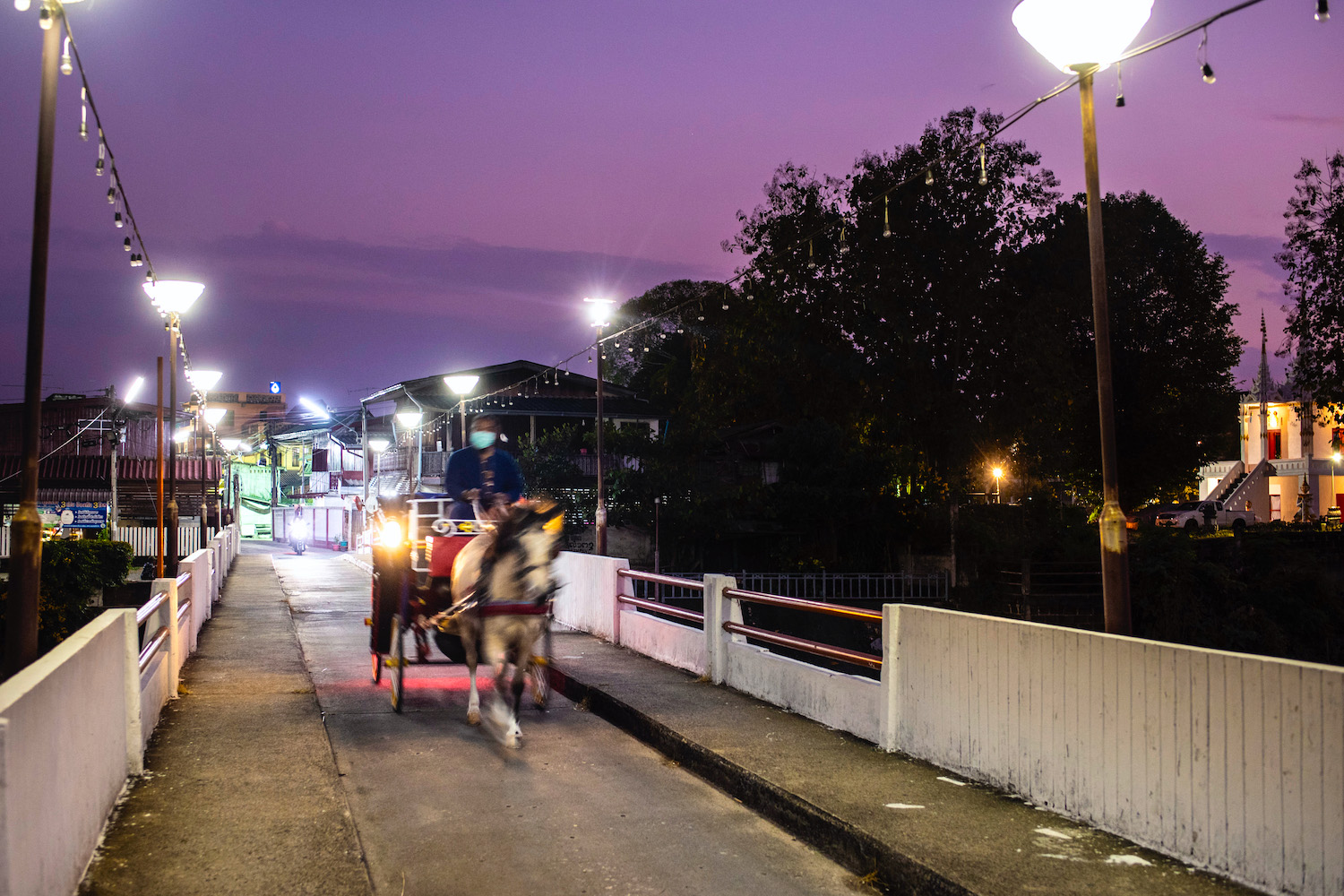 There's a reason that most every Lampang travel guide depicts people being pulled by carriages—they're everywhere here! With this being said, I've never personally taken one, as I don't generally condone the way animals are treated in Thailand. Still, they add a certain je ne sais quoi to the experience of being here, and add to the decidedly old world appeal of Lampang.
Fill your belly at Aroy One Baht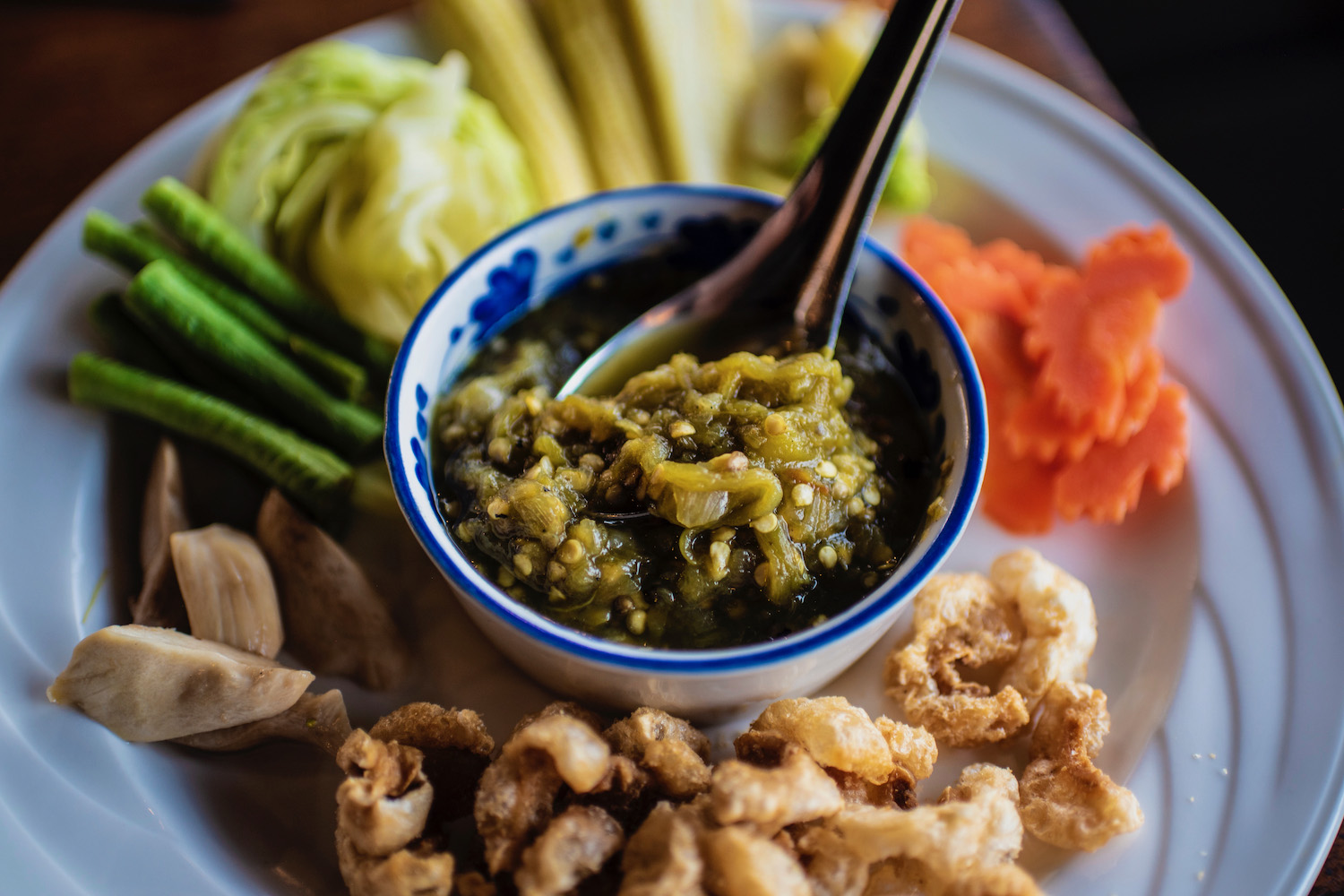 Lampang is a low-key culinary gold mine. In addition to the fact that it's arguably the best place in all of Thailand to eat khao soi chicken curry soup, one particular restaurant (Aroy One Baht) is maybe the cheapest place in the entire Kingdom to sample local food, including Lampang-only specialties. Think of it as Thailand's answer to a Japanese kaitenzushi join, except with real humans instead of a conveyor belt.
Wake up with the Wang River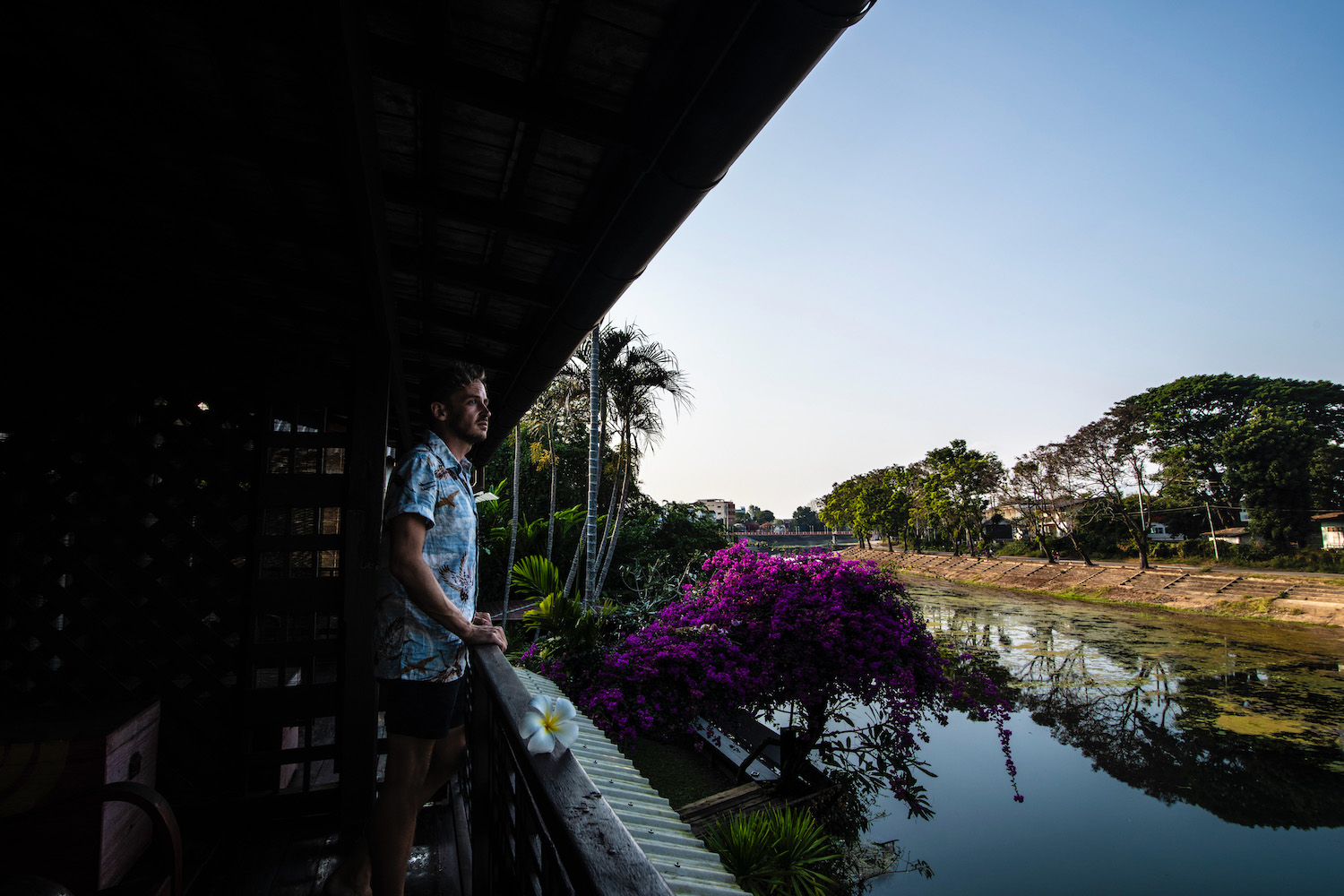 No matter how many days in Lampang you have, make sure to wake up early at least one morning. As soon as you do, walk down to the Wang River, and walk along its banks as the people who live along them slowly wake up. Whether you end up stumbling upon an awesome breakfast, or simply find the early light revelatory, seeing Lampang as day breaks is not to be missed.
Kiss the sky at Wat Chalermprakiat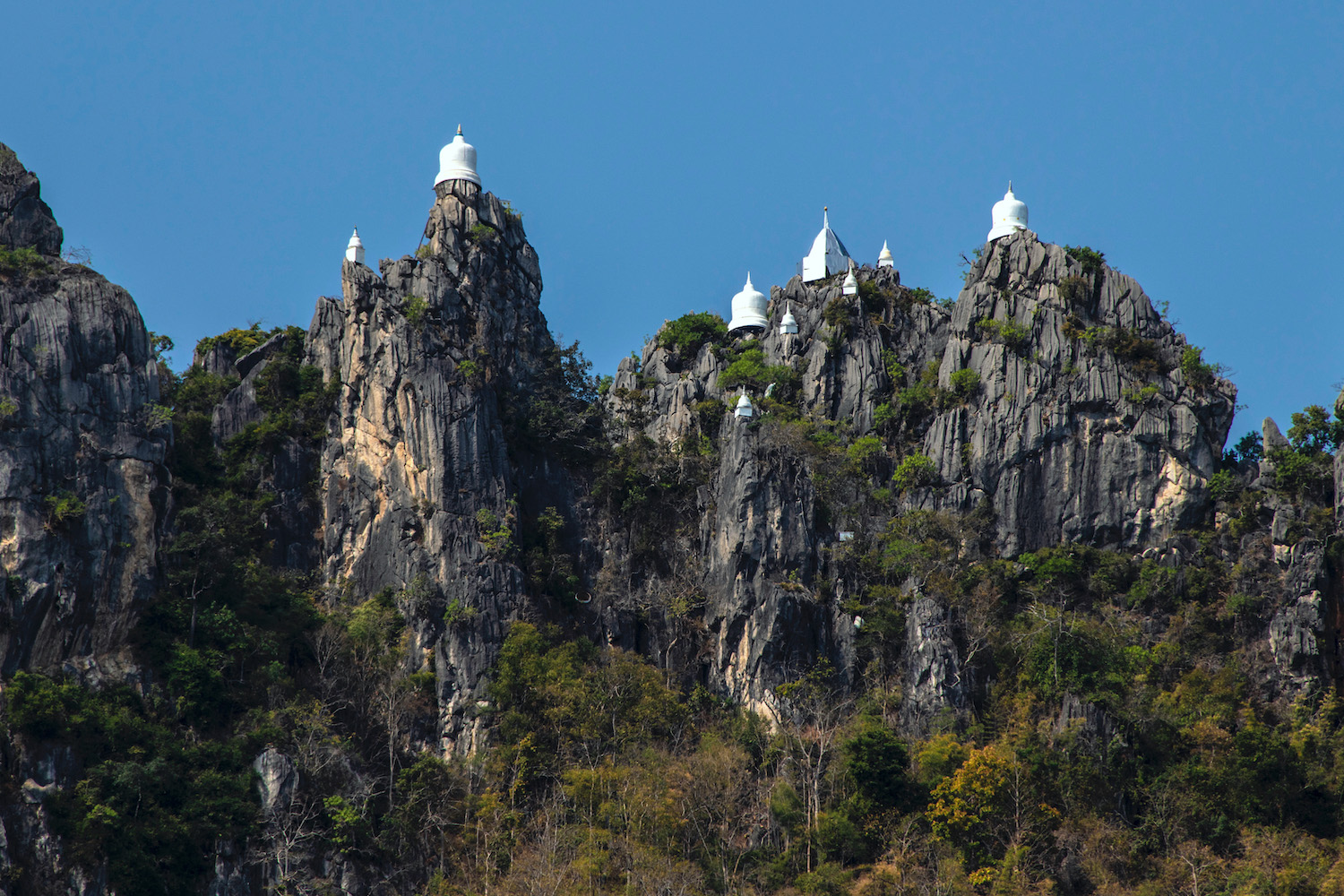 One reason to stay the night in Lampang, as opposed to making a day trip? This gives you time to visit the "sky temple" of Wat Chalermprakiat, which is one of the most magical places in all of Thailand. On your way back, ask the driver to stop at Wat Prathat Lampang Luang which, in spite of being Lampang's most important temple, is located a fair way outside the center of town.
Where to Stay in Lampang
I'll be honest: If you're planning a trip to Lampang and Riverside Guest House isn't available, it's probably best to change your dates. For me, this charming above right on the Wang River in the heart of town is Lampang, and not just because of how authentic its old-school teak architecture is. The hospitality of the owner, who is Italian but has lived in Thailand for 30 years, really brings it all home.
On the other hand, it's possible that you are simply taking a Lampang day trip from Chiang Mai, in which case you obviously won't need a place to stay—well, at least not on that particular trip. It's difficult for me to imagine someone visiting Lampang for a day and it not inspiring them to come back for longer, even if doing so ends up taking many months or years.
Other FAQ About Visiting Lampang
How far from Chiang Mai to Lampang?
Chiang Mai is about 90 minutes from Lampang by taxi or private car; the journey takes longer if you take a bus or train. In any case, it's definitely within day-trip distance, although I recommend spending a night in Lampang if you have space within your Thailand itinerary.
What is Lampang known for?
Lampang is known for the horse-drawn carriages that clack through its city center, which is filled with some of the most authentic (and least-visited) Lanna-style temples in all of Thailand. It's also well-known for the so-called "chicken bowls" that originated here, but are now popular throughout the Kingdom.
How many days do you need in Lampang?
While some people can see the best of Lampang on a day trip from Chiang Mai, I recommend spending at least a night or two here. This will give you time not only to discover Lampang's charming and underrated town center, but also to take a day trip to Wat Chalermprakiat, which is a destination in and of itself.
The Bottom Line
Whether you take a day trip from Chiang Mai to Lampang or stay the night, this underrated Thai city—the true star of Thailand's north, in my opinion—will work its magic on you. Lampang, to be sure, is not as convenient as Chiang Mai, or the anchor of a larger region, as Chiang Rai is for the nearby Golden Triangle. Yet it has an authenticity that no other place in northern Thailand (and very few places in Thailand, in general) retains, all in a package small enough to appreciate, no matter how much or little time you have. Hire me to plan your trip to Thailand to make the experience even more unforgettable.