Deciding between Ayutthaya or Sukhothai is difficult, even if you have a pre-existing preference. Both cities have an important place in Thailand's history, and their own merit as tourist destinations.
Is it worth going to Ayutthaya? I mean, of course it is; the city is also swamped with tourists (largely Chinese ones on disruptive group tours on any given day).
Then again, Ayutthaya is also a great deal more convenient than Sukhothai—do you see what I'm getting at? If not, you will soon. This article is going to be deeper than simply answering perfunctory questions like "how far is Sukhothai to Bangkok?" and indeed, simply rehashing the tired Sukhothai vs Ayutthaya debate.
A Brief Lesson in Thai History
If you're using history to decide whether to visit Sukhothai or Ayutthaya, the simple answer is that Sukhothai is bit  older than Ayutthaya and features more structures in their original condition. Generally regarded as the first Thai capital, Sukhothai was founded in the 13th century by King Si Inthrathit, who coalesced local people (known as the Tai, at that point) to protest Khmer rule.
Ayutthaya, in context of the history of Thailand, isn't much newer than Sukhothai, having been started about a century later. However, some of the structures here are downright modern. What I mean by this is that when restoration work was following the 2011 floods, certain…liberties were taken. Needless to say, I doubt King Uthong knew anything of the Greco-Roman columns that now stand in certain spots when he founded Ayutthaya in 1350!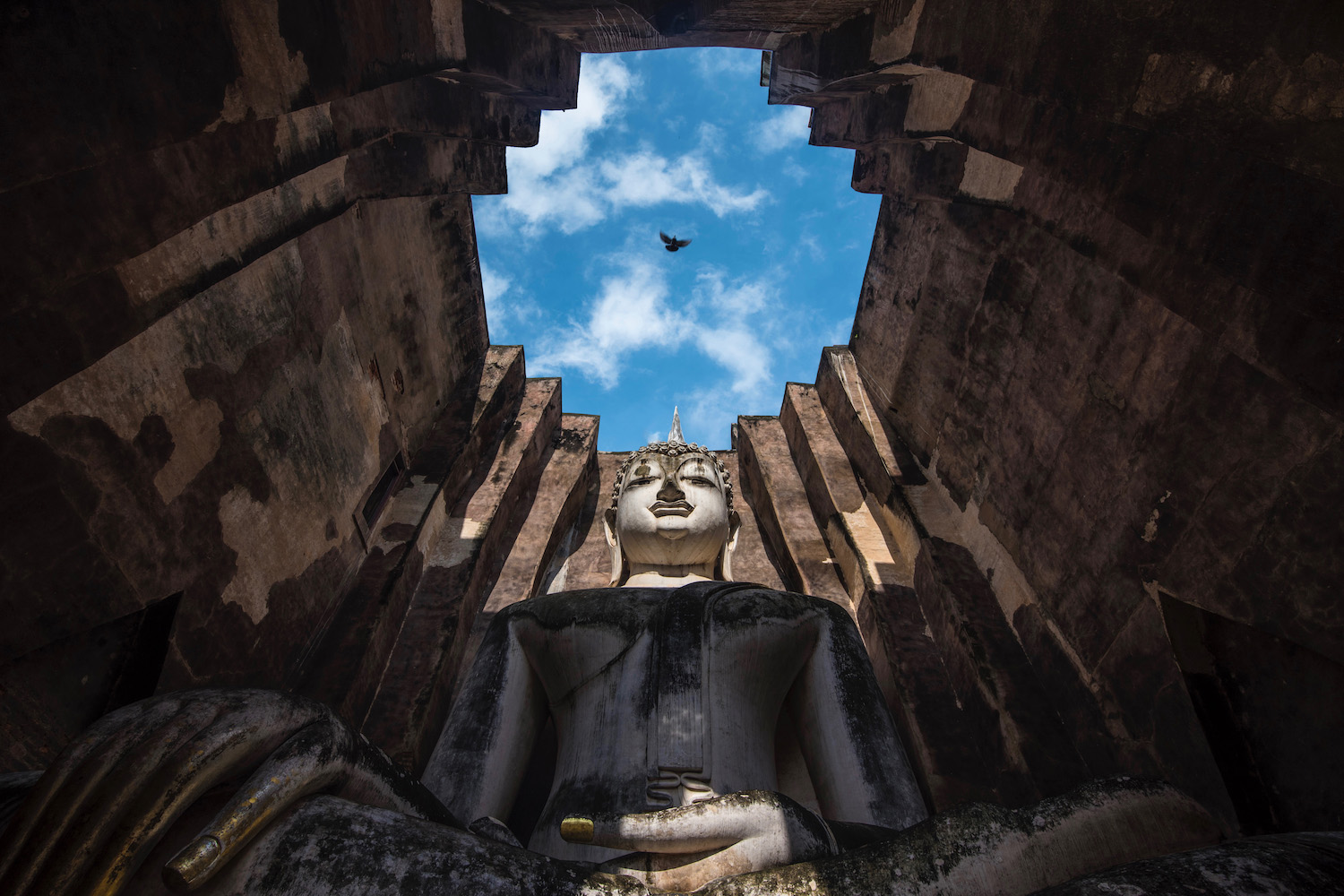 Comparing Ayutthaya vs. Sukhothai
Distance from Bangkok
How far is Ayutthaya to Bangkok? Well, that depends upon how you get there, but it shouldn't take you more than two hours. (TIP: I'd recommend taking the train to avoid Bangkok's famous traffic!). Sukhothai, on the other hand, requires you to take the train to Phitsanulok and a taxi from there, or to fly either to Phitsanulok or Sukhothai's own airport, which is served exclusively by Bangkok Airways.
Crowds and Cost
Another important means of comparing Ayutthaya vs. Sukhothai is in the quality of experience. While Ayutthaya is easier to visit, for example, it's also a lot more crowded, and you can expect to pay more for food (and, if you choose to stay overnight, hotels). You don't have a choice but to stay overnight in the vicinity of Sukhothai, meanwhile, but both accommodation and food here are significantly cheaper, to say nothing of lighter crowds.
Variety of Activities
Things to do in Sukhothai, as is the case in Ayutthaya, focus primarily on the historical architecture, which in both ancient cities is spread out amid a large geographical area. If you can bear the heat, I'd recommend renting a bike in both cases, which will allow you to explore at your own pace! With this being said, since you're likely to see Ayutthaya on a day trip from Bangkok, the relative sameness of activities here might not seem as bothersome.
Food and Drink
I mentioned food earlier, so let's talk about which city—Sukhothai or Ayutthaya—is best for this. Sukhothai is famous around Thailand for Sukhothai noodles, which feature rice noodles with a variety of delicious toppings, available either "dry" or with soup. Ayutthaya, meanwhile, is famous for its giant river prawns, which you can enjoy grilled à la carte, or part of classic Thai food dishes like Pad Thai.
Hotels
As I mentioned earlier, many tourists won't need to avail Ayutthaya hotels, since they don't plan to stay the night in Ayutthaya. In spite of this, many excellent hotels do exist in Ayutthaya, particularly bucolic properties along the river. Sukhothai, on the other hand, is home to more guest houses and B&B style properties, which pair well with its more rustic ambiance.
Can You Visit Both Sukhothai and Ayutthaya?
As you plan your trip to Thailand, you're ultimately trying to achieve a good balance. This is importantly not only if you have a shorter visit in mind and want to avoid inefficiency, but also if you're spending a longer time in the Kingdom and want to keep yourself inspired the whole while. Sukhothai is quite different from Ayutthaya in some ways, but in terms of the experience—or at least, however you feel when it's over—both are relatively similar.
If you take the long view, my advice for settling the Sukhothai vs. Ayutthaya score on your own terms would be to visit each on different trips. For example, you can easily visit Ayutthaya on a day trip from Bangkok, so you might build that into your next Thailand adventure, since you're likely to spend time in the capital anyway. You can visit Sukhothai, meanwhile, on your way back south from destinations in the north.
Other Historical Places to Visit in Thailand
In Thailand, history and nature often intermingle—both are more enjoyable when they do. As a result, one of my favorite destinations in Thailand is the Golden Triangle, the wedge of land along the Mekong that juts up against the border between Myanmar and Laos. From ancient temples in Mae Sai and Chiang Saen, to impressive riverine scenery throughout, this is a part of Thailand that is both historical and timeless.
Speaking of Thailand's north, I've also written an article addressing the Chiang Mai vs. Chiang Rai debate, which I hope you'll read—and not just because of the history that perfumes both cities, particularly in the form of Chiang Rai temples. Bangkok, for its part, is also home to a great deal of Thailand's history, especially in the ancient districts of Rattanakosin and Thonburi.

Other FAQ About Ayutthaya vs Sukhothai
Which is better, Ayutthaya or Sukhothai?
In my opinion, Sukhothai is a more fulfilling experience than Ayutthaya. There are fewer tourists, due to its longer distance from Bangkok, which results in the architecture (which, in Sukhothai, is more diverse and geographically spread out than in Ayutthaya) seeming all the more impressive.
Is Sukhothai Ayutthaya?
Sukhothai and Ayutthaya are totally different! In addition to the fact that they are separated by hundreds of kilometers, they represent entirely distinct historical periods within Thailand. Ayutthaya was more recently the capital than Sukhothai, which was Thailand's first capital, and where the currently ruling Chakri dynasty began.
Is it worth going to Ayutthaya?
Ayutthaya is definitely worth visiting, but there are steps you can take to make it even more worth your while. First, go during the week instead of on the weekend. Secondly, spend the night so you can explore temples early (and come back late!), when most of the day-trippers will have gone. Third, rent a bicycle so you can get around within the aid of taxi or tuk-tuk drivers, who may be unscrupulous and take you somewhere you don't want or need to go.
The Bottom Line
Is Sukhothai worth visiting? What about Ayutthaya? Well, the obvious answer to these questions is that you simply might not have time. This is especially likely if you're spending two weeks in Thailand, or even less. In general, I'd say that travelers who are short on time can visit Ayutthaya as one of their day trips from Bangkok, while those who have longer in the Kingdom can visit Sukhothai, and stay at least a night. On the other hand, if you really love history, you might want to visit both, regardless of how long you plan to spend in Thailand. No matter where on this spectrum you fall, consider hiring me to help you if you think ironing out the details will bring you stress.