Kanchanaburi is misunderstood. Tourists visiting Thailand think it's much closer to Bangkok than it is, and that there isn't much to do there. Bangkok residents, meanwhile, tend to put it in the same category as much farther away and more dynamic destinations—I can't decide if this is a good or bad tendency.
Regardless of which group you fall into, this post should clarify things. By the time you navigate away, you'll have a clear idea of the Kanchanaburi trip you should take, and whether or not you even need to visit.
From practical questions such as how many days in Kanchanaburi you should spend, to more subjective observations about the destination and its merits—frankly, "is Kanchanaburi worth visiting?"—I hope you'll give me a few more minutes of your time.
How to Get to—and Around—Kanchanaburi
Let's set along how long you need in Kanchananburi for just a second, in order to answer two more fundamental questions. First, how do you get to Kanchanaburi from Bangkok? Many Bangkokians have their own set of wheels, but if you don't, you have two basic options: 1) Hiring a private taxi; or 2) Going by public transport, namely via train or bus.
Next, you need to understand how to get around Kanchanaburi. If you don't have your own set of wheels (spoiler alert: This is really preferable, if at all possible), you'll realistically need to hire taxis to get you around the province. Ideally, you would negotiate a daily rate with your hotel or guest house, although you can alternatively book round-trip taxis from the town center on an à la carte basis.
What to Do in Kanchanaburi
Admire the Wat Tham Suea Tiger Cave Temple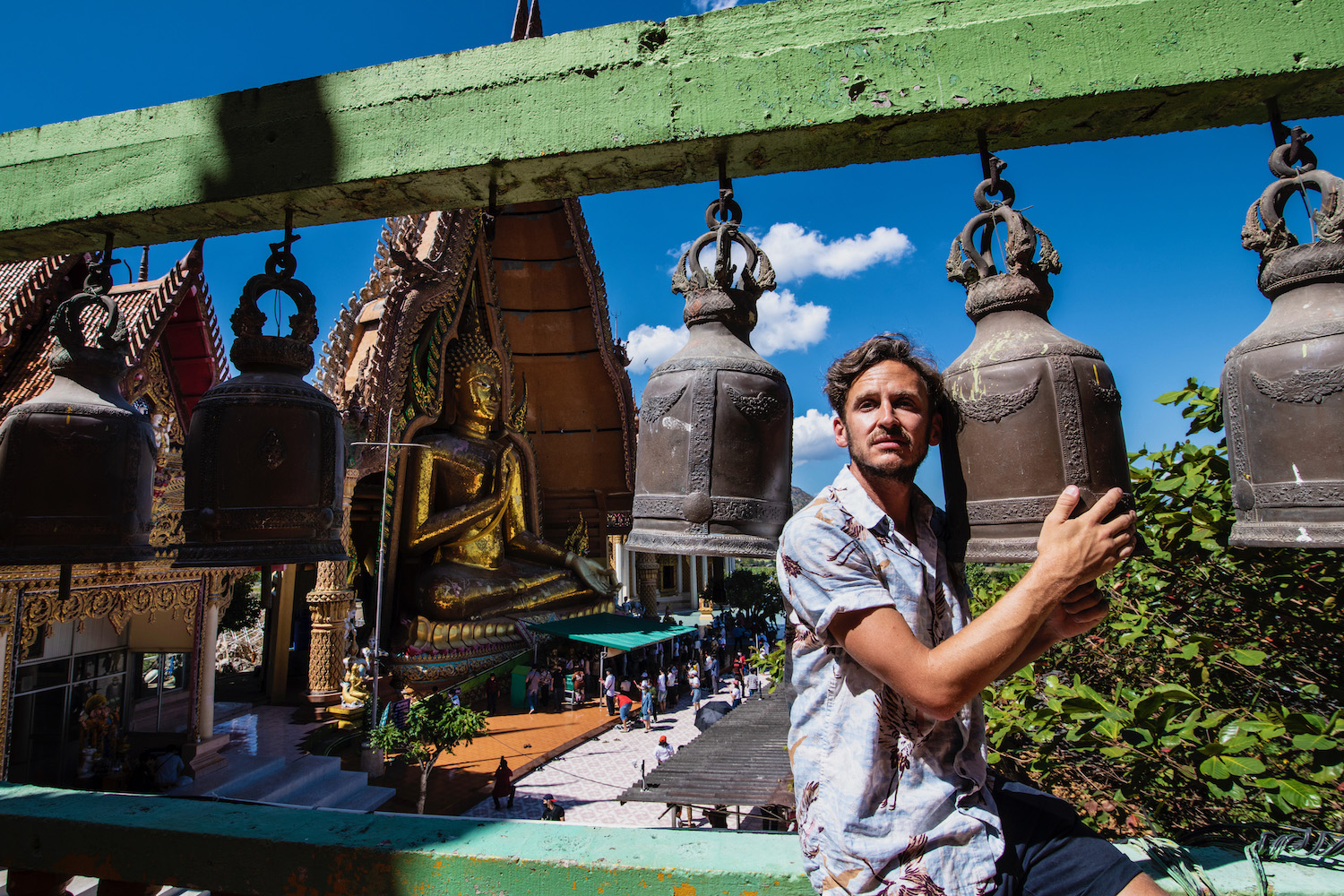 Although Kanchanaburi is generally known as a natural destination, my favorite place here is Wat Tham Suea, aka the Tiger Cave Temple. The way its dramatic structure rises over the surrounding countryside is almost supernatural, and manages to feel both ancient and futuristic.
Ascend the Wat Ban Tham Dragon Temple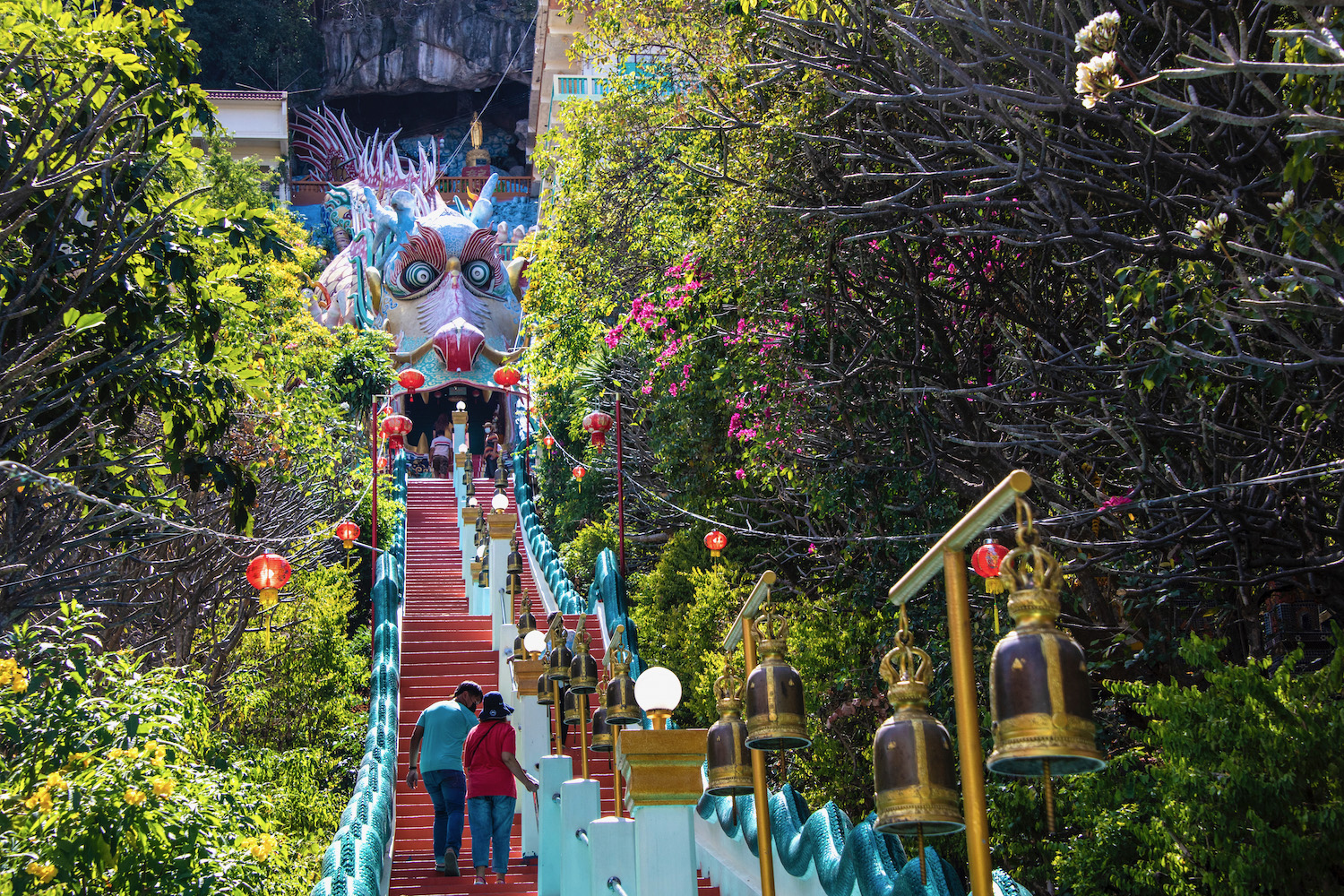 Right down the road from Wat Tham Suea is Wat Ban Tham, aka the Dragon Temple. While getting here takes a bit more sweat (literally) than reaching its neighbor, I recommend ascending the viewpoint, regardless of how many days in Kanchanaburi you end up spending.
Take a waterfall hike through Erawan National Park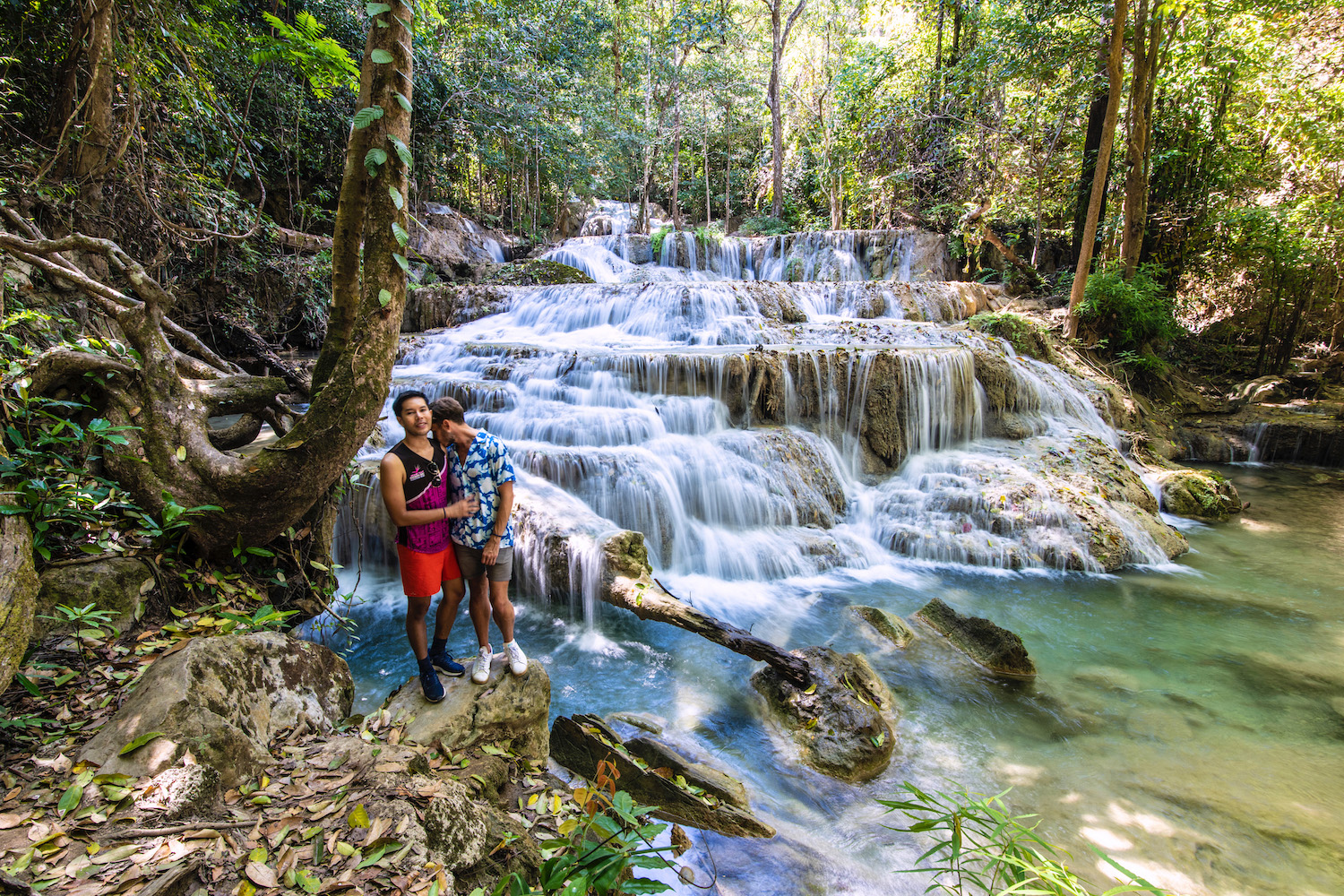 Don't be intimidated by the far that the trail through Erawan National Park leads you to seven distinct waterfalls. In addition to the fact that only a few of these are even worth stopping at, the trail itself is relatively flat, and is easy for people of basically any fitness level to complete.
Dine along the river—and ride a boat down it, too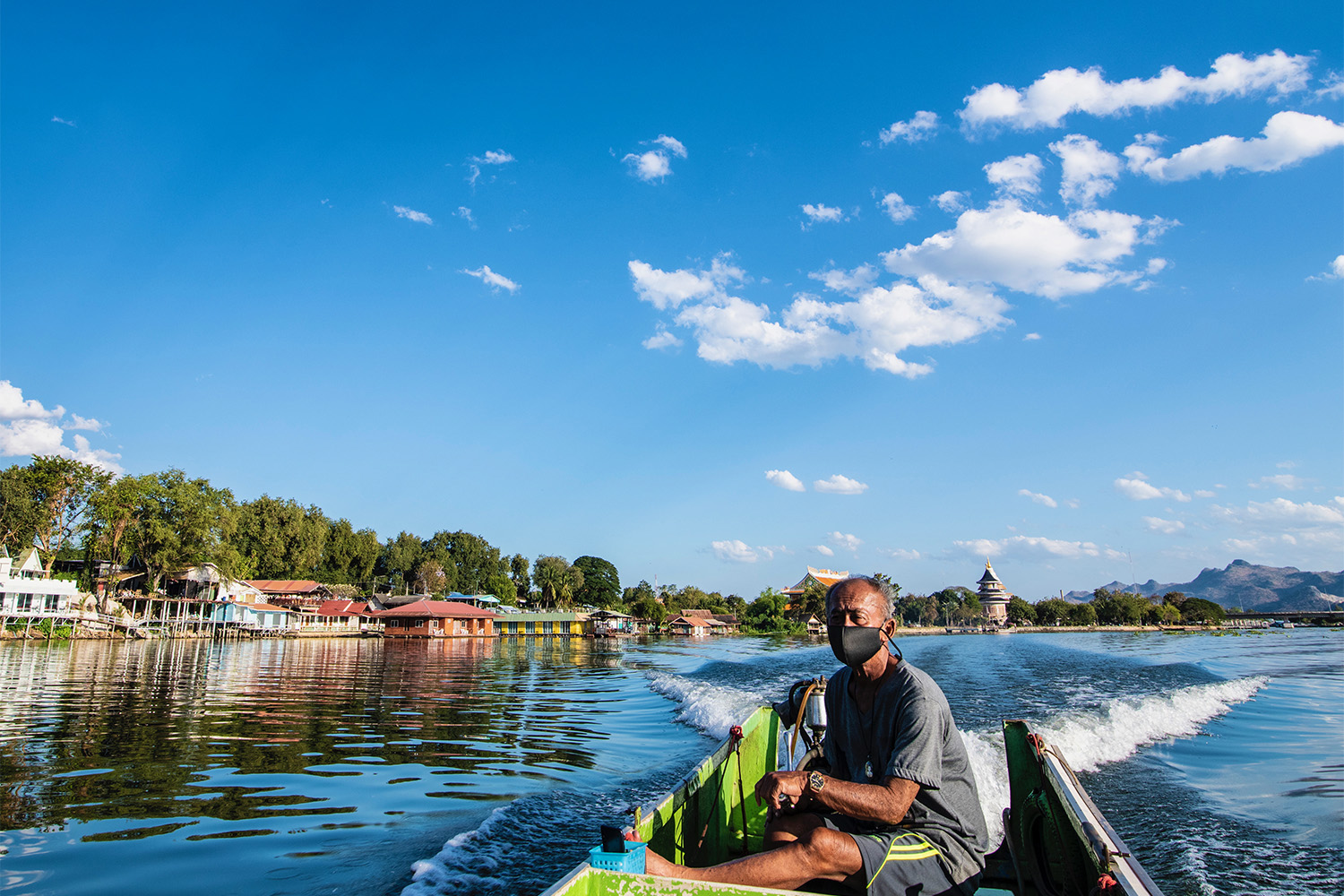 The River Kwai is central to the identify of Kanchanaburi. No matter how long you spend in Kanchanaburi, try to do one of two things: Ride a boat along the river; and dine along it, ideally eating fresh-caught seafood (although any Thai food will do).
Watch sunset behind the River Kwai Bridge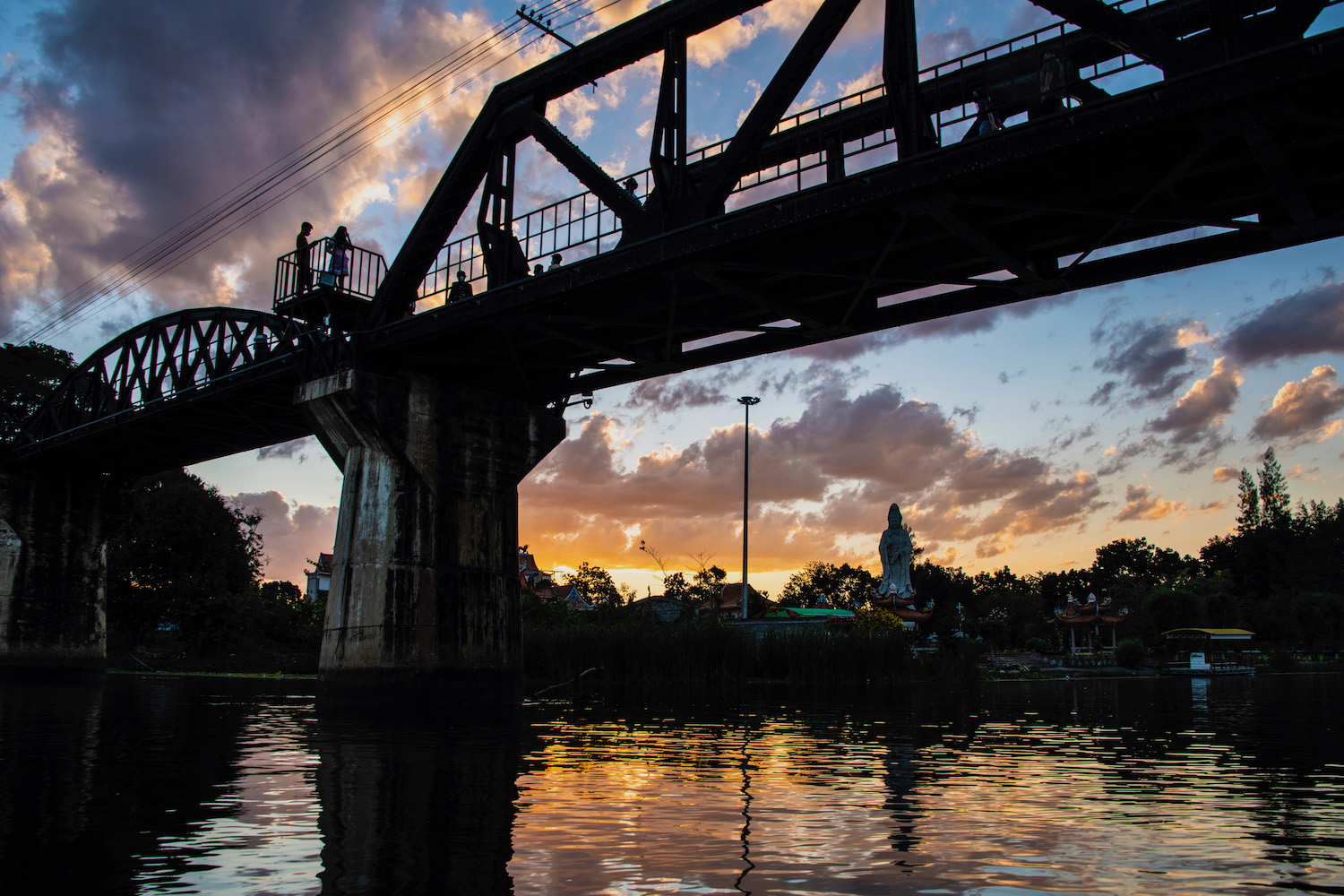 I'll be honest: I don't necessarily believe that riding the "Death Railway" toward Thailand's border with Myanmar is a must-do. I do, however, think that the bridge over the River Kwai makes a great foreground for sunset, particularly if you watch it from somewhere on the water.
Where to Stay in Kanchanaburi
Kanchanaburi's town center isn't big, which means that if you stay in it, you will be able to access most necessities on foot. Central accommodations like Baan Chaokoh Homestay are simple, but are priced as such; when you consider their convenience, the value proposition really becomes quite high, especially for ones on the water, such as The Glory River Kwai.
Ideally (once again) if you have your own vehicle, you can stay at a waterside property just out of town, like Royal River Kwai Resort. Although these lodgings are obviously not as convenient as those in central Kanchanaburi, they certainly give you a feeling of being more immersed in the destination. Not surprisingly, the immersion can come at a cost.
Other FAQ About Visiting Kanchanaburi
Is it worth going to Kanchanaburi?
Kanchanaburi is absolutely worth visiting, although I say this with a couple of caveats. First, you need to spend enough time here—if you're planning on seeing everything on a day trip from Bangkok, you'll probably feel rushed and stress the whole day (and you won't see it all, too boot). Secondly, having a plan for how you're going to get around is really necessary.
Is there a one-day trip to Kanchanaburi from Bangkok?
As a general rule, a day trip from Bangkok to Kanchanaburi is neither practical nor ideal. If you want to do this, I'd probably recommend booking an organized tour, as opposed to trying to do it on your own—at least not via public transport. If you have your own car, you can of course see Kanchanaburi on a (very long) day trip from Bangkok.
How much is a taxi from Bangkok to Kanchanaburi?
If you Google taxis prices from Bangkok to Kanchanaburi, many websites will quote you unrealistically low prices—I've seen some as low as 1,000 Baht each-way. In my experience, you will need to pay a minimum of 3,000 Baht to get to and from Kanchanaburi, and that's if you hire the same driver to take you there and back; that doesn't include what he will charge you to drive you around the province.
The Bottom Line
Is Kanchanaburi worth visiting? No matter how many days you end up spending in Kanchanaburi, I think you'll find this destination is much more than the afternoon so many travelers believe it is. From luxuriant waterfalls, to dramatic temples, to a laid-back town center with both history and scenery in spades, Kanchanaburi is easily one of Thailand's most underrated destinations. I definitely hope you make time for its, whether as a weekend (or very long) day trip from Bangkok, or more ideally for several days. Make sure your entire Thailand trip flows perfectly when you hire me to plan it.