It comes as a surprise to some people, but not all places in this Krabi travel guide are beaches. Some of the best ones, in fact, are nowhere near the sea—well, not really. (Although I'll be honest: The question of how many days in Railay Beach you need will figure heavily into what I'm about to say.)
Which is not to say Krabi's beaches aren't amazing. Generally speaking, I find them to be the best of any "mainstream" destination in Southern Thailand, and certainly better than Phuket's.
It's just that Krabi is so much more than a beautiful beach. Let's start the discussion of where to go in Krabi on this premise, whether that sees you spend 1 week in Krabi, or simply sketching out an Ao Nang itinerary.
Where to Stay in Krabi
Before I dig deeper into this Krabi travel guide, allow me to recommend a couple of hotels. If you're on the higher end of travelers, you won't want to miss Railay Beach's Rayavadee, which some people consider to be the best hotel in all of Thailand. A more reasonably priced property, meanwhile is Sunrise Tropical Resort, which is also in Railay but is more, shall we say, accessible.
Beyond the best beach hotels in Krabi, there are other places in this province to make your home. I'm not going to recommend any hotels in Koh Phi Phi or Ao Nang, for reasons I'll explain in just a moment, but I am a fan of the cozy and comfortable Sasi House in Krabi town. This laid-back yet stylish hotel is built inside an old Thai house, and has a charming feel you won't find at any place where waves lap nearby.
My Favorite Places to Visit in Krabi
Railay Beach
When it comes to the best beach in Krabi (at least those that are easily accessible), Railay Beach takes the cake, no question. As far as actual swimming is concerned, Railay West is where you'll want to head, while many of my favorite hotels and restaurants are located at Railay East. I also like to include Phra Nang Cave Beach, the Railay Viewpoint and Tonsai Beach, where you can see bioluminescent plankton, within the topic of Railay. When it comes to the question of "how many days in Railay Beach," my answer is usually "as many as you can possibly spend"!
Koh Poda

Among places to visit in Krabi that require a bit more effort, meanwhile, I think that Koh Poda is probably the best beach you'll find in the province. This is usually visited on a day trip from Railay, during which you visit several other islands (like Koh Gai, or "Chicken Island"), and which also gives you the opportunity to do some snorkeling. TIP: Book a private tour so you can visit Koh Poda early, before the crowds arrive.
Koh Phi Phi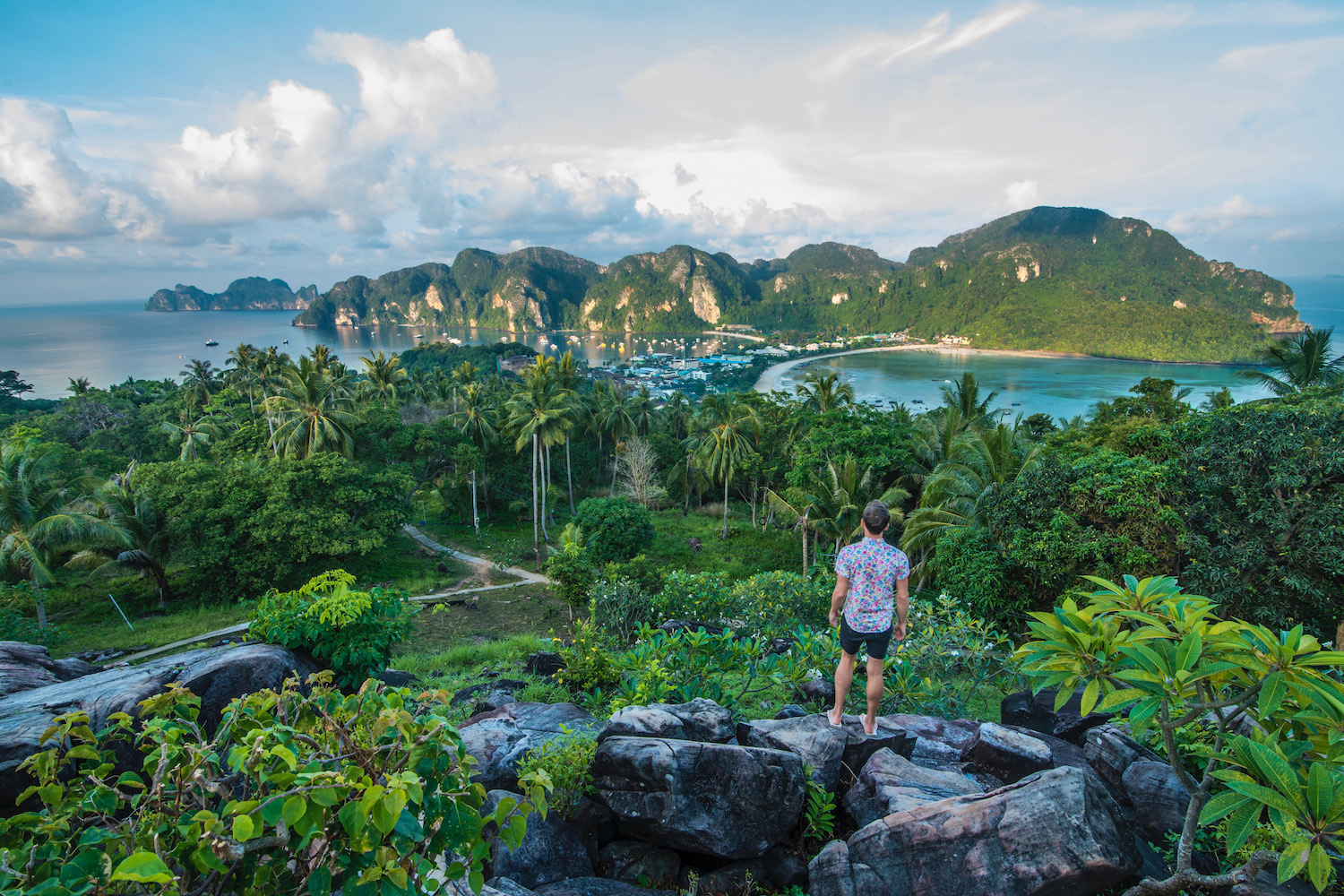 Ferries leave from Railay to Koh Phi Phi often enough that you don't need to think too much about the time you devote to the Phi Phi Islands, which is for the better. To be sure, while the beautiful of Koh Phi Phi is hard to over-estimate, where at the Phi Phi Viewpoint or at iconic Maya Bay, it's also difficult to underestimate how obnoxious the crowds can be, even if they're likely to be lighter in the wake of coronavirus.
Wat Tham Suea Temple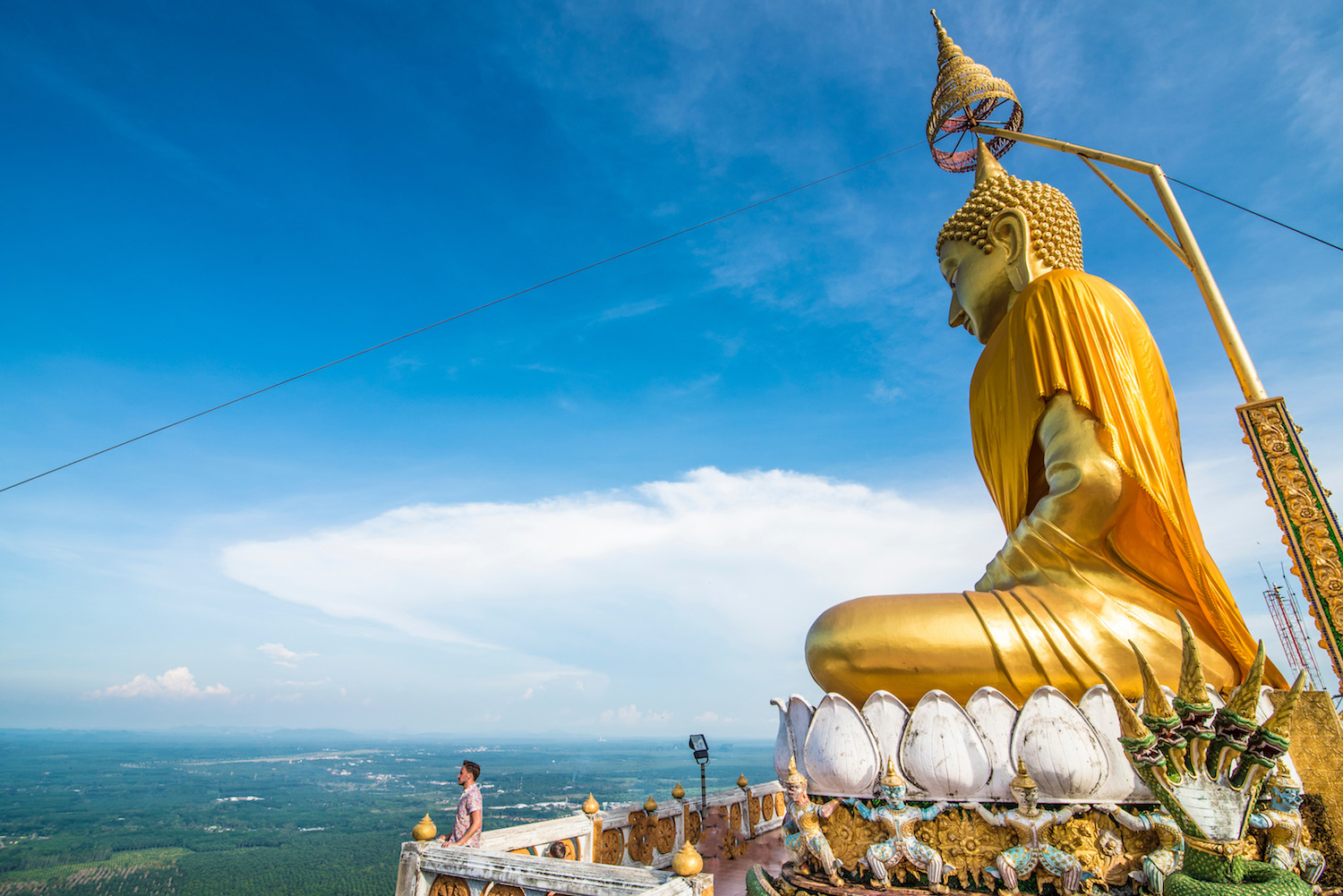 The first destination within this Krabi travel guide that doesn't involve a beach is Wat Tham Suea, aka the Tiger Temple. Visiting this temple isn't easy—after getting a taxi, you'll need to climb up about 1,200 steps, which is a chore even if you're fit, given how hot it's likely to be. The view from the top, however, is just stunning, to say nothing of how the breeze hundreds of meters up will cool your sweaty body.
Sa Morakot (The Emerald Pool)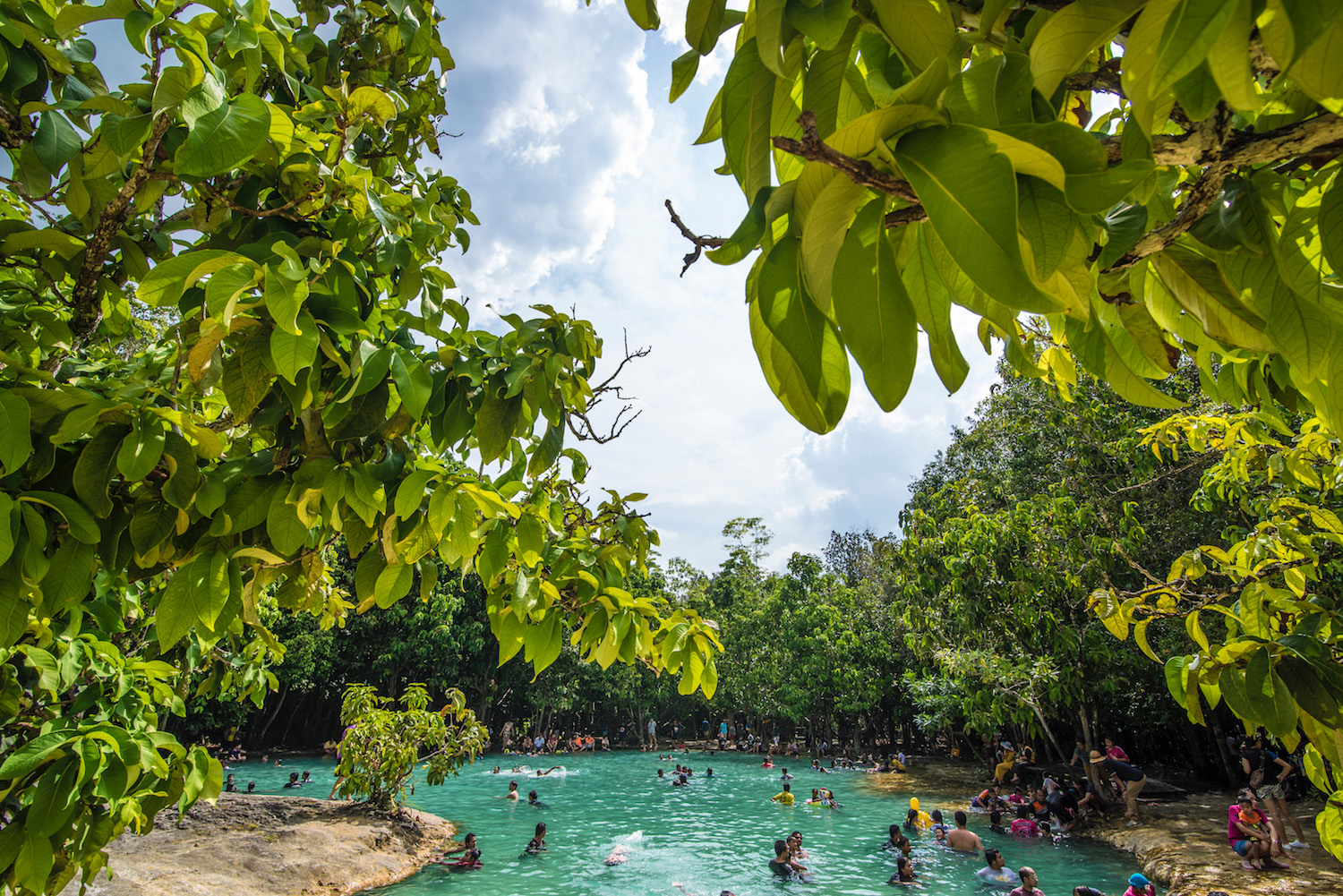 When it comes to day trips from Krabi (assuming you stay in Railay), I like to combine several into one, if I can. To be sure, you can visit the Sa Morakot "Emerald Pool" using the same taxi you book to take you to the Tiger Temple. Additionally, you can add a third attraction—the so-called Hot Springs Waterfall—if you want, but beware. Although this place is cool, figuratively speaking, it is literally scalding!
The Truth About Ao Nang
The good news? Many of the cheap hotels in Krabi (at least the ones on the beach) are in Ao Nang, which is the closest thing to a "main" beach Krabi has. The bad news? Ao Nang's accessibility (you don't need to take a boat to get here, as you need to do with Railay) means that anyone and everyone goes here, which gives the area a crowded, claustrophobic feel that just isn't very pleasant to me.
To be sure, while Ao Nang isn't near the top of places to visit in Krabi as far as I'm concerned, it isn't horrible. If you've already booked a refundable night (or three!) there by the time you read this, I wouldn't recommend taking the loss. I just think that when you dive deeper into Krabi, both its beaches and some of its inland treasures, you will see what I mean about Ao Nang, and why it's not a place I'm rushing to return.
Krabi vs. Phuket
The topic of the best islands in Thailand, more generally, is one I've left to another post. What I will say, when simple comparing Krabi and Phuket, is that it's not really close for me. While Phuket island does have some merits, which include both charming places inland and great beaches, Krabi generally has scenery that is more iconic of Thailand, even if it isn't as culturally interesting.
This takes into account the fact that some things to do in Krabi (such as excursions to Koh Phi Phi, the Koh Yao islands and James Bond Island) are also accessible from Phuket. Click here to visit Leave Your Daily Hell and read more about my thoughts comparing Phuket vs. Krabi, which I hope will give you insights to make your own decision to this end.
Other FAQ About Travel to Krabi
How many days do you need in Krabi?
Krabi province is huge, so I recommend spending at least 3-5 days here. This will afford you a night or two either in Railay or Ao Nang (including the potential for a 4-island day trip), two nights in Koh Phi Phi and at least a full day exploring the attractions of inland Krabi province.
What part of Krabi is best to stay?
Personally, I find that Railay Beach is the "sweet spot" of Krabi. Although it's not an island, it is only accessible via a (short) boat trip from the mainland, which gives it a castaway feel and a less busy atmosphere than Ao Nang. The scenery is gorgeous, featuring towering limestone karsts and calm, clear waters; islands deeper in the Andaman are either a day trip (Koh Poda, Koh Gai) or a weekend excursion (Phi Phi) away.
How much is the 4 island tour in Krabi?
Depending on how many people you have, whether you choose a private tour and your preference (speed boat or longtail), the 4-island day trip from Krabi starts from 500 Baht per person. As of January 2023, you can hire a private long-tail and driver for a half day for around 3,000 Baht. However, if you're a solo travel or on a budget, you might want to join a group tour. In either case, any travel agent on the main street between Railay West beach can hook you up, presuming you aren't afraid to haggle.
The Bottom Line
Should you visit Koh Phi Phi or Railay Beach? The breadth and depth this Krabi travel guide embodies precisely why this is one of my favorite Thailand destinations, even if it is a rather "mainstream" one. There's simply very few sights in the Kingdom as iconic as the towering limestone karsts of Railay Bay, let alone with dozens of long-tail boats splayed out beneath them. I hope you'll follow in my footsteps to this paradisiacal part of Thailand. And I hope, if you aren't able to mold the advice I've laid out about Krabi vacations here into an itinerary, you'll consider hiring me to create one for you.