Bangkok's reputation precedes it, in good and bad ways. One of the city's worst claim to fames? Its terrible traffic, and the general nightmare of navigating it.
The good news is that Bangkok is actually an easy city to get around, at least once you've internalized its layout and logic, and have accepted certain truths about it. The better news? This article is me condensing nearly 15 years of knowledge about Bangkok into a few paragraphs.
Getting around Bangkok can be hellish—but it doesn't have to be. Here's how to trade horns for a halo as you navigate Thailand's City of Angels.
Understanding Bangkok's Design
In order to understand how to get around Bangkok in the most efficient way, you need to understand how Bangkok is laid out. Broadly speaking, it's divided into "Old Bangkok" and "New Bangkok," the latter of which sits to the east of the former. Old Bangkok is further subdivided by the Chao Phraya River: Thonburi City sits on its west bank, while Rattanakosin Island (Bangkok's tourism hub) sits on the east Bangkok. To the south of Rattanakosin sits Yaowarat Chinatown.
For the purposes of most travelers, new Bangkok is divided into three or four areas around Lumphini Park, aka Bangkok's central park. Clockwise from the north, these include Siam, Sukhumvit, Sathorn and Silom. Beyond this, destinations far to the north (such as Chatuchak Market and Don Mueang Airport – DMK) and east (Suvarnabhumi Airport – BKK) of Bangkok's modern core are relevant to foreign visitors. There are further subdivisions besides this, but for now, I'd recommend only concerning yourself with this very big picture.
Ways to get around Bangkok
BTS SkyTrain
In New Bangkok, the most common way to get around is using the BTS SkyTrain, which locals usually just call the "BTS." With just two lines that meet at Siam (where you find Siam Paragon and CentralWorld) this system is extremely easy to navigate: The Sukhumvit Line heads north and east from Siam; the Silom Line heads south and west. Popular stations include the Silom Line's National Stadium (MBK Center), Saphan Taksin (Sathorn Pier) and Sala Daeng (Silom Road) and the Sukhumvit Line's Asok (Terminal 21), Mo Chit (Chatuchak Weekend Market) and Phaya Thai, which is where the BTS meets the Airport Rail Link.
MRT Underground
Another option for getting around in Bangkok is the MRT, aka the city's underground railway system. For most tourists, the Blue Line (which was for many years the only line) is the most useful. This circular line connects New Bangkok stations like Sukhumvit, Lumphini and Silom to Old Bangkok ones like Wat Mangkon, Sam Yot and Sanam Chai. Bangkok's two railway stations are found at Hua Lamphong and Bang Sue stations; you can transfer to the Airport Rail Link at Phetchaburi and access Chatuchak Weekend Market via Kamphaeng Phet. The newer Purple Line, which serves suburban northwestern Bangkok, isn't useful to most tourists.
Public and private riverboats
Traveling by boat in a city as large as Bangkok might seem strange, but it's actually very useful, when you consider how many of Bangkok's attractions are right on the river. The city's awful traffic (which river boats bypass) is also a factor here. If you're staying in New Bangkok, ride the BTS to Saphan Taksin, where you can ride a river boat to Tha Tien Pier (Wat Arun, Wat Pho and the Grand Palace) or Phra Athit, which is just steps from the Khao San Road backpacker's area.  You can also ride a boat along Saen Saeb Canal from Hua Chang (near MBK) and Pratunam (near CentralWorld) piers to Panfa Lilat pier near Old Bangkok's Golden Mount.
Grab and taxis
If you absolutely must resort to a private vehicle to get around in Bangkok, you have two main choices. The first choice is to hail one of the multi-colored taxis that crawl Bangkok's congested streets, although this comes with a big problem: They often refuse to use the meter (and instead charge a crazy flat fee), and sometimes even refuse to take you to your destination at all. The second choice is to use the Grab application, aka the Uber of Southeast Asia. While this is more honest (it tells you the price before you agree) and is guaranteed (a driver can't refuse once they pick you up), it still leaves you at the mercy of Bangkok traffic.
Other ways to get around Bangkok
To reach central Bangkok from the airport, you can ride the Airport Rail Link from Suvarnabhumi, while two possible routes (taxi all the way, or bus to MRT Chatuchak Park) are practical from Don Mueang. Once you'e in the city, alternative transport options include motorbike taxi (if you're willing to trade a bit of safety for speed compared to normal taxis) and tuk-tuk auto rickshaws, which are iconic but also a rip-off. More rarely, you may avail the Bus Rapid Transit (BRT) system. Note that while some Bangkok neighborhoods are walkable, you'll need to use other transport to travel between them.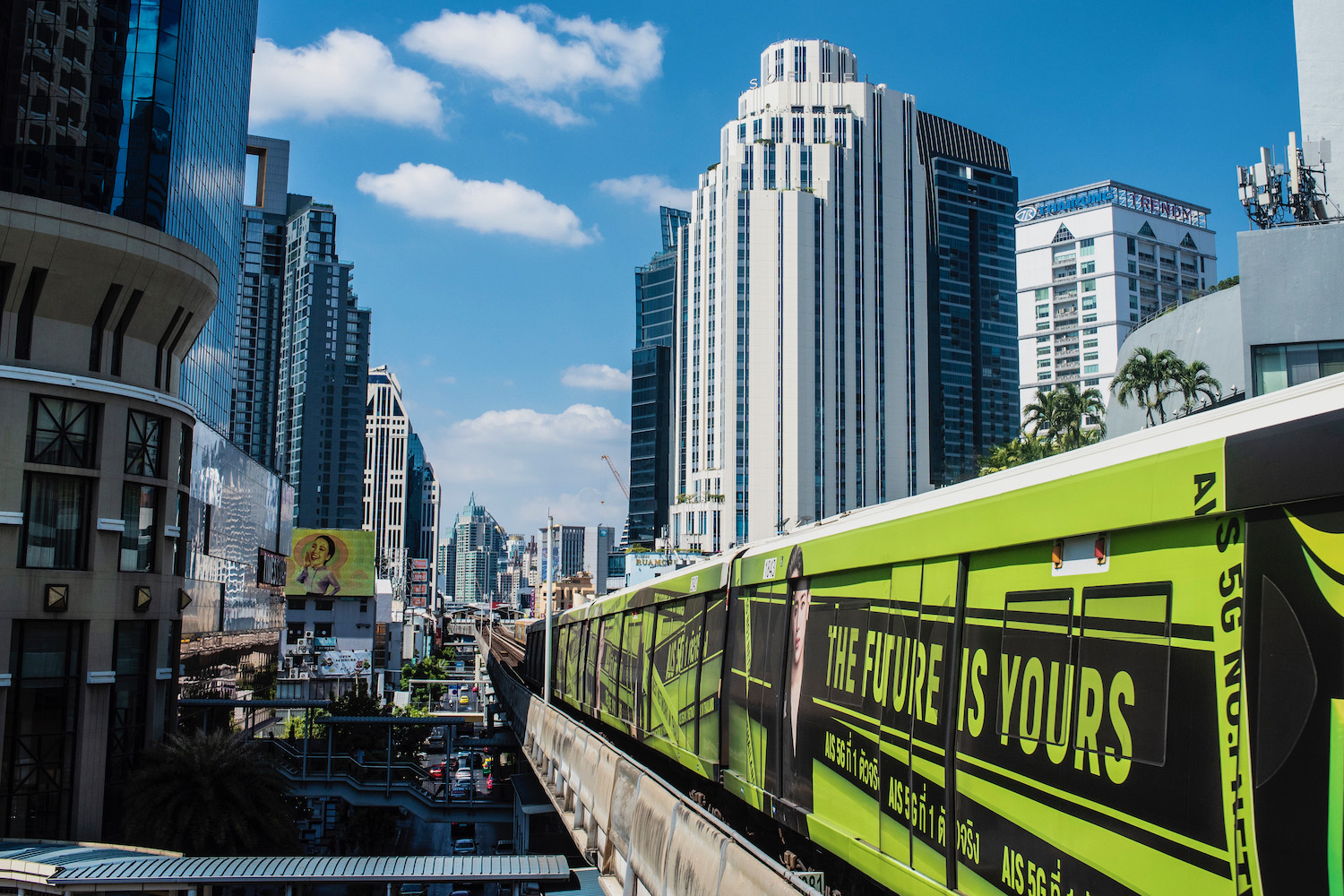 How Bad is Bangkok's Traffic?
I'll be perfectly frank: Bangkok's traffic is so bad that I avoid getting into a motor vehicle unless I have absolutely no other choice. During the years I lived in Bangkok, I got around in the city at least 90% via rail, boat and foot. The only times I took a non-motorbike taxi was for Grab journeys to and from the airport outside the operating time of trains, and at the insistence of people I was with.
Now, your mileage may vary. For example, without knowing the city's intricacies as well as I do, it might be intimidating to get around in Bangkok only using public transport. This is especially true when you consider that as unreliable as Grab can be, it nonetheless takes you from a certain address to a certain address. As a general rule, however, I would recommend following in my footsteps as much as possible, especially as you're learning the finer points of how to get around in Bangkok. Reliability aside, is it safe to take Grab in Bangkok? Absolutely.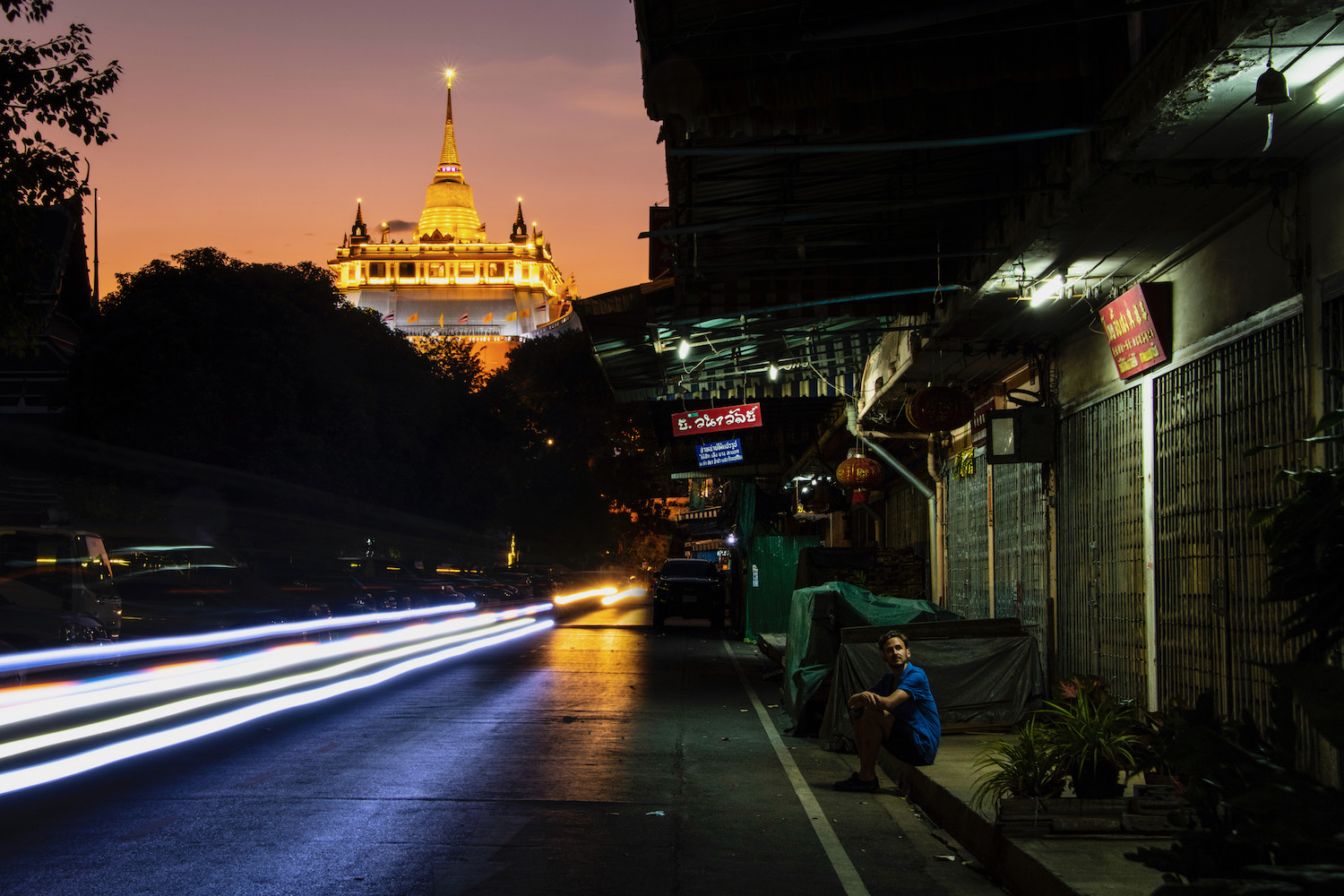 Other FAQ About Navigating Bangkok
Is there Uber in Bangkok?
Uber stopped operating in Bangkok in the mid-2010s—that's the bad news. The good news? The Grab application, which bought Southeast Asia's Uber business, functions almost exactly as Uber does. I'd recommend downloading it before you arrive in Thailand.
How do you roam around in Bangkok?
As a global city, Bangkok is navigable by a variety of rail, bus, road and water connections. While taxis in Bangkok are plentiful and cheap, the city's traffic is no joke. As a result, I'd recommend familiarizing yourself with the city's public transport, and utilizing it as much as possible.
Is Bangkok a walkable city?
Certain neighborhoods of Bangkok are quasi-walkable, although you need to keep a few things in mind before you hit the streets. These include the heat (and, in some seasons, smog) that chokes Bangkok's air, and the poor quality (or non-existence) of sidewalks in many places. It can also be said that pedestrians don't exactly have the right of way in Bangkok.
The Bottom Line
I hope this post has helped demystify getting around Bangkok for you. Living in the city as long as I did allowed me to develop my own understanding of the city, which I think will be more digestible to you than looking at a map or reading most other travel guides. I also don't mince words when it comes to truth and reality. For example, in spite of Bangkok taxis being cheap and plentiful, I still go out of my way to travel by rail and foot (rather than road) whenever humanly possible—Bangkok traffic is just too bad. Love the way I break things down here? Consider hiring me to plan your trip to Thailand.