Many people say they know a given city like the back of their hand, but for me, that's really true with Bangkok. I've lived here on two separate occasions which, combined with my literally dozens of other trips here, has given me and insight into Thailand's capital that few other foreigners can claim.
In some cases, ordinary life experience has led me to my discovers. The second time I called Bangkok home, for example, a friend of a friend led me to living on underrated Suan Phlu Soi 8, which is one of the off-the-beaten-path places I recommend in this article.
In other cases, my discoveries in Bangkok off the beaten path have occurred just as your might one day: With a little bit of time, a lot of curiosity and an allergy to crowds of farang. Here are some of my favorite underrated places in Bangkok.
Use Bangkok's Sprawling Size to Your Advantage
Some of the Bangkok hidden gems I'm about to list are hidden in plain sight, while others take some digging to reach. Both of these phenomena are because of the same fact: That Bangkok is unruly in its size and scope, and can overwhelm you if you don't know what to expect. This also means that you can appreciate the spots I've curated, whether or not you have the time or inclination to make sense of Thailand's "City of Angels."
For example, if you've read my other Bangkok content (this piece, for example, allows you to quickly make sense of the city's layout; this one tells you the best places to stay), you'll have at least a general idea of how to think about the city's larger contours. This will allow you to be even more methodical about which of my secret spots you visit—and leave time for you to discover new ones all on your own.
Where to Enjoy Bangkok Off the Beaten Track
Thonburi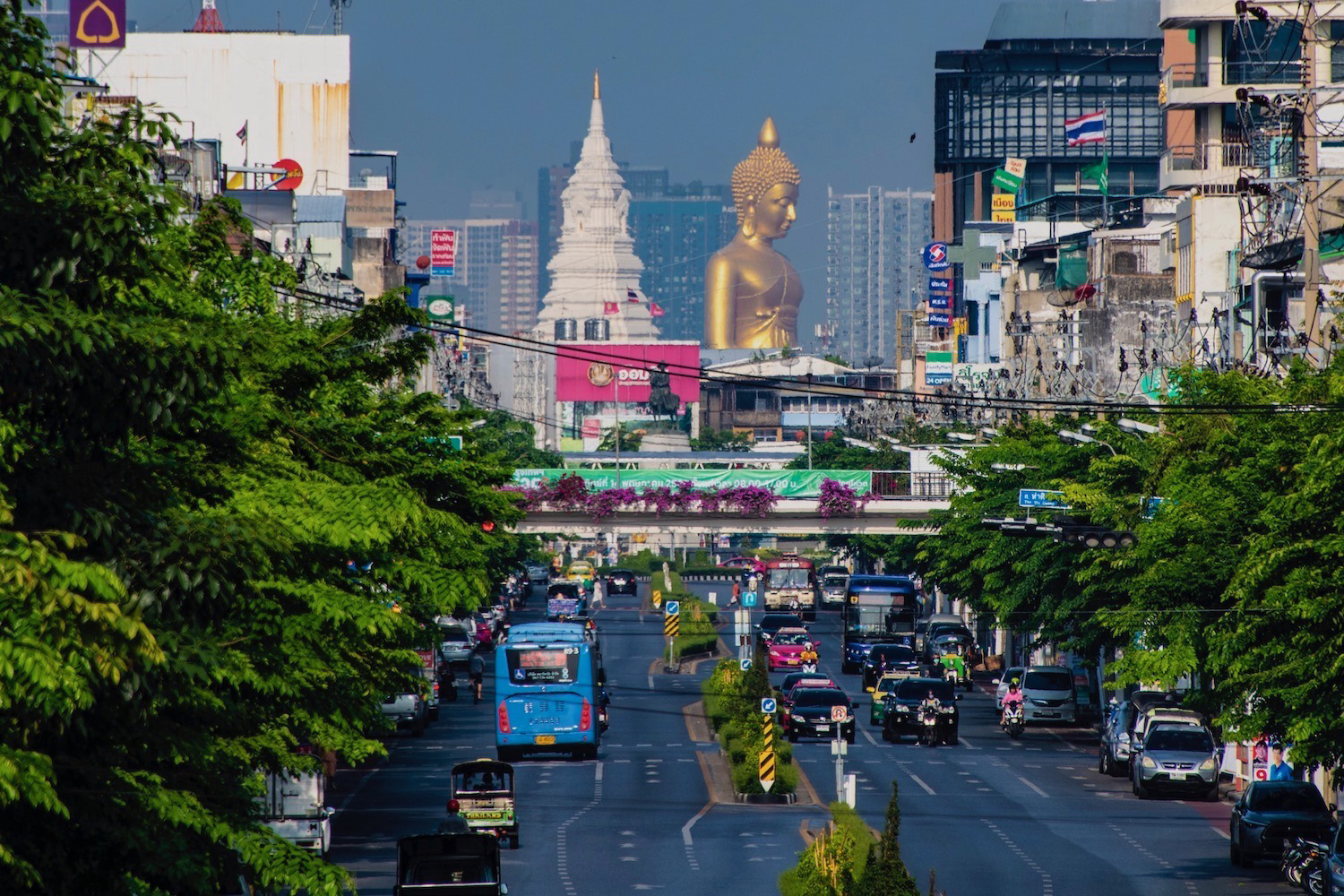 Many of the best non-touristy things to do in Bangkok are located not far away from the most popular historical areas of Rattanakosin and Yaowarat (Chinatown). Specifically, you'll want to head just across the Chao Phraya River to Thonburi. From Rattanakosin, you can ride the ferry from Wat Pho to Wat Arun, and then walk down the river's west bank to Wat Prayoon temple. Or, from Chinatown, ride the MRT Blue Line from Wat Mangkon to Bang Phai, which is just a short walk from Wat Pak Nam and its towering Buddha statue.
Charoen Krung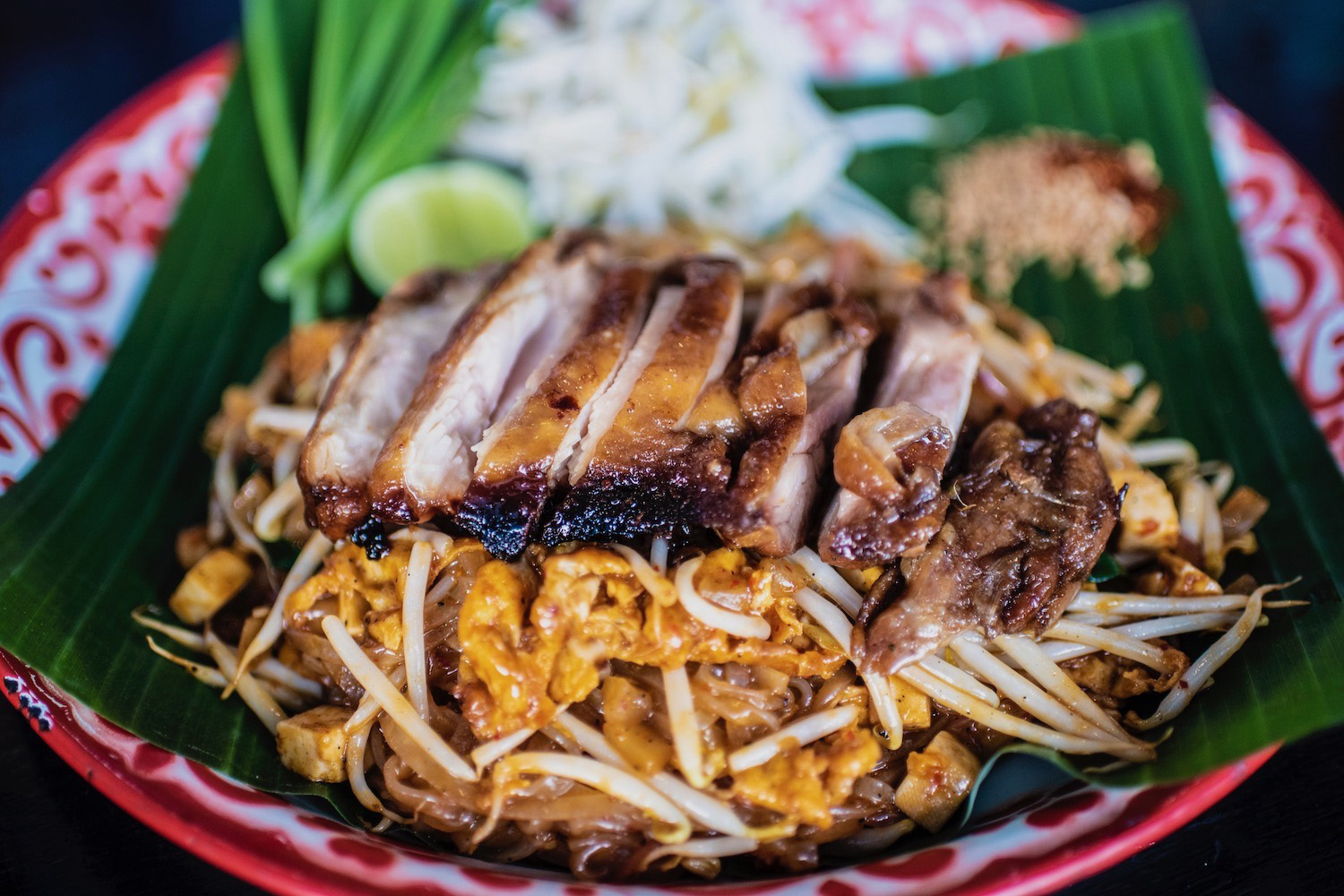 Sometimes in Bangkok, treasures are hidden in plain sight. A great example of this is Charoen Krung—that is, the length of Charoen Krung Road between Saphan Taksin (to the south) and Hua Lamphong (to the north). There aren't a lot of "attractions" here (even if the Old Post Office is impressive; the food at Baan Padthai is excellent). Rather, it's simply nice to wander in and out of small sois, and to see how in spite of being wedged between two transit hubs, life along the khlongs that run through here is still as it was decades ago.
Phra Nakhon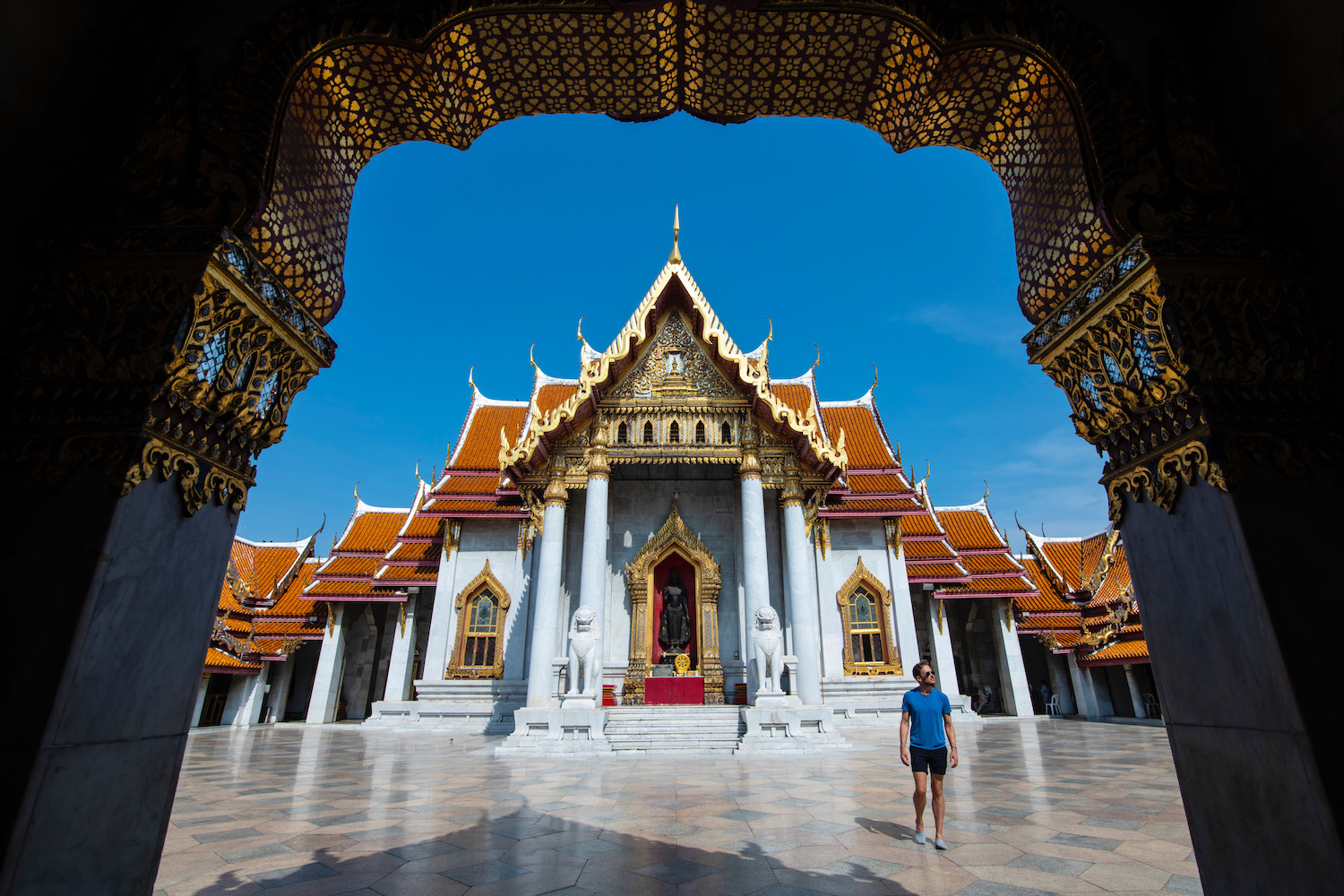 Likewise, the Phra Nakhon royal city is close to Bangkok's main tourist trail—it's less than 15 minutes north of Khao San Road by foot. Some of my favorite places in Bangkok are here, which makes the relative lack of crowds even more satisfying. I sometimes like to walk up to the Wat Indharaviharn standing Buddha and then cross Thewet Canal to the Dusit Royal Palace. From there, the Wat Benjambophit "marble temple" (one of my favorite spots in Bangkok to take selfies) is only a short distance away.
Suan Phlu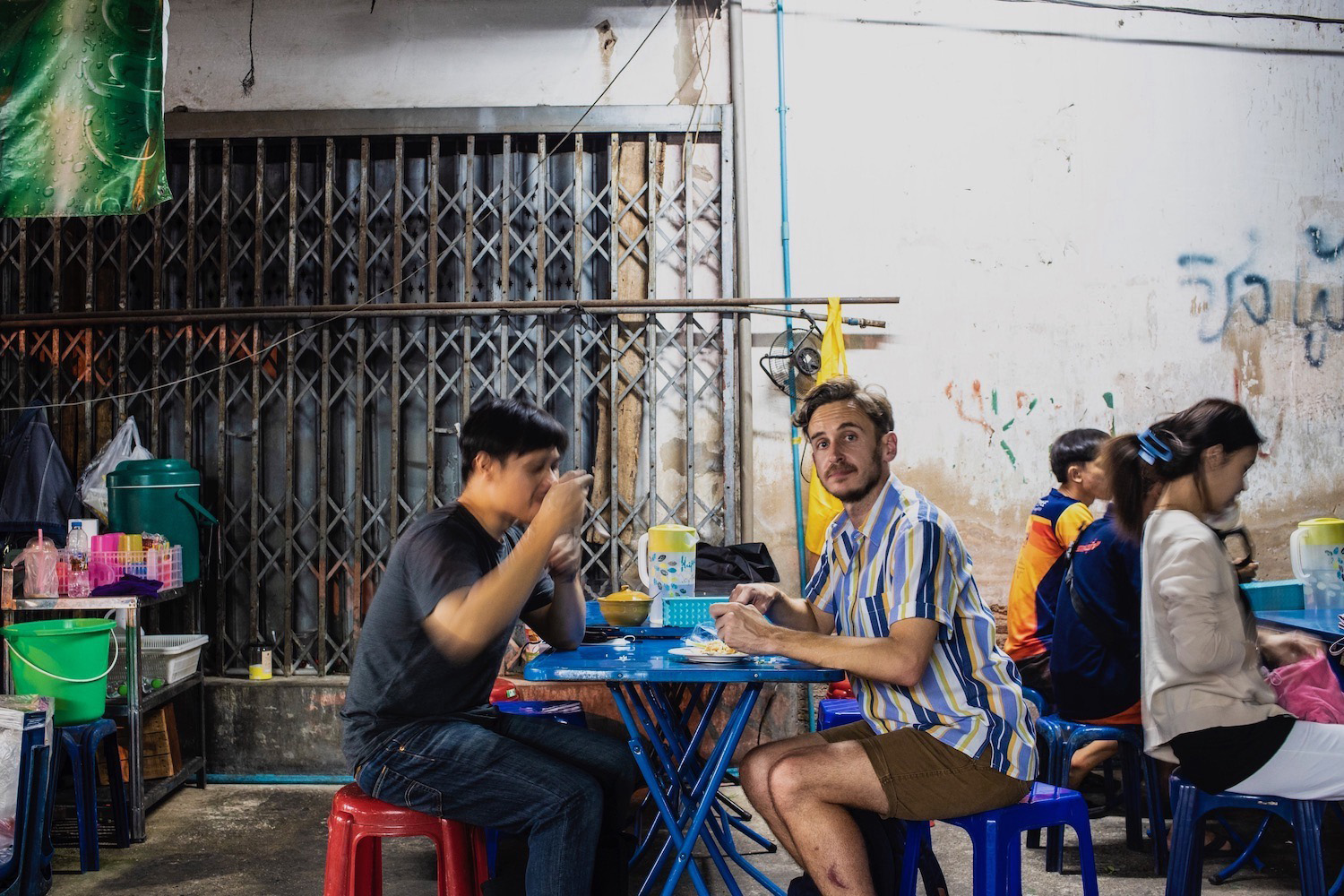 It might sound odd, given the traffic and noise and crowds, but one of the most relaxing things to do in Bangkok (for me, at least) is walking. A great place to do this is heading south from Sathorn Road along Suan Phlu Road. Of all the small soi sub-streets that extend east and west, my favorite is Soi 8—and not just because I used to live there. A foodie paradise from morning until night, it's also adjacent to Suan Phlu Market, which is as much a feast for the eyes as it is for the stomach.
Victory Monument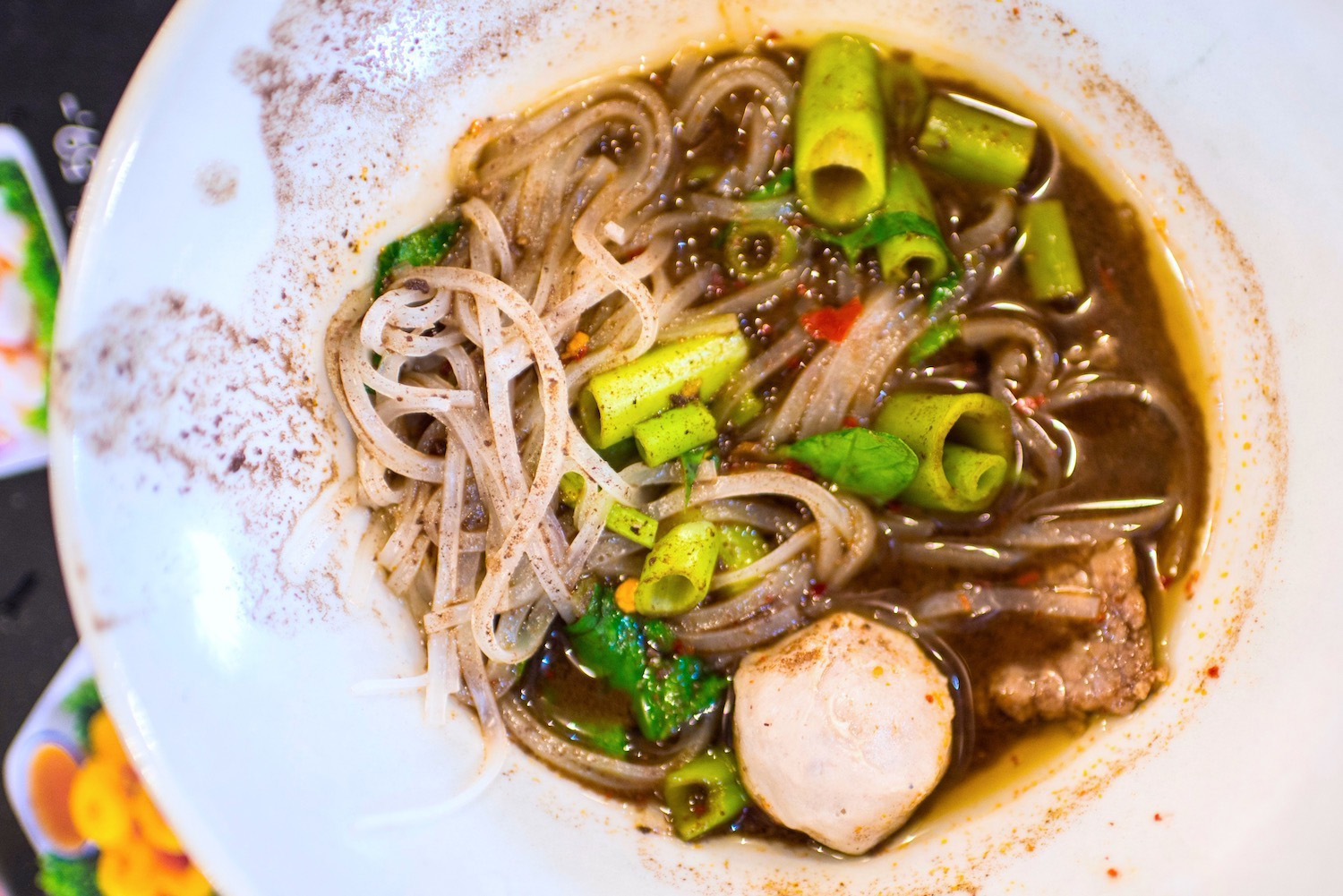 Rounding out this list of unique things to do in Bangkok is the Victory Monument area. As its name suggests, you'll just take the BTS to Victory Monument station. If you walk around the west side of the monument and turn left, you'll reach Phaya Thai Palace, a European-style royal residence hiding in plain sight. On the northeastern side of the monument, meanwhile, is Boat Noodle Alley, where famous (if somewhat divisive) boat noodle soup is said to have originated.
How Many Days Do You Really Need in Bangkok?
I've often said that you can get to know Bangkok in as few as three days, or two if you're really efficient with your time. You can effectively spend one day each in the old and new cities, although I like to leave a buffer day for something else, be that a morning at Chatuchak Weekend Market followed by a night on a rooftop, or simply an entire day of shopping at Bangkok's fabulous malls.
The thing is, if you want your time exploring the hidden gems of Bangkok to be more than touch-and-go, I'd really suggest staying longer. In fact, if you can spare the time in your itinerary, an entire week in Bangkok is really a good idea. Although it can be dangerous: The longer you spend in Bangkok, the more comfortable you'll get there—and the likelier it'll be that you decide to move there as well.
Other FAQ About Off the Beaten Path Bangkok
Is Bangkok overwhelming?
Bangkok can be overwhelming, in both absolute and relative senses. The heat, humidity and pollution can overwhelm even people who've spent a lot of time in the city, and know what to expect. On the other hand, neither the crowdedness nor the traffic nor the general chaos seem as bad once you've gotten accustomed to them, and certainly not if you aren't coming off a long flight.
Is Bangkok worth the hype?
Take it from someone who first came a skeptic and wound up a devotee: Bangkok is 100% worth the type. Whether you end up preferring temple hopping in the old city, street food in Chinatown or world-class retail therapy in the modern city center, Bangkok has something for everyone—and in a lot of ways, it's all things to all people. Bangkok is also a city, however, that reveals itself best over multiple visits (and years, if you can come back during different phrases of your life).
How to not look like a tourist in Bangkok?
The easiest way not to look like a tourist in person is not to dress like one. Wearing shorts and flip-flops is fine, but a nice guy's shirt or lady's blouse will work wonders for your appearance. As will showering frequently, doing your hair and wearing cologne or perfume, especially given Bangkok's heat. Additionally, speaking softly in public, trying to learn some Thai and riding public transport instead of overpriced tuk-tuks will greatly increase your non-tourist street cred.
The Bottom Line
While my recommendations for seeing Bangkok off the beaten path aren't exhaustive, they'll get you started—and then some. For some travelers, a small diversion is all it takes: Suan Phlu after Silom, or a walk northward to Phra Nakhon after being on Khao San Road all day. Alternatively, you may really want to commit to it: A half- or full-day across the Chao Phraya River in the Thonburi "lobe" of Old Bangkok, or exploring Phaya Thai Palace in the morning followed by lunch at Victory Monument. Want to make sure every part of your trip to Thailand includes plenty of hidden gems? Hire me to plan it!